Huge television screens, flags, flashy lights and a 10,000-bike cavalcade.
Prime Minister Narendra Modi's homecoming was nothing short of being spectacular.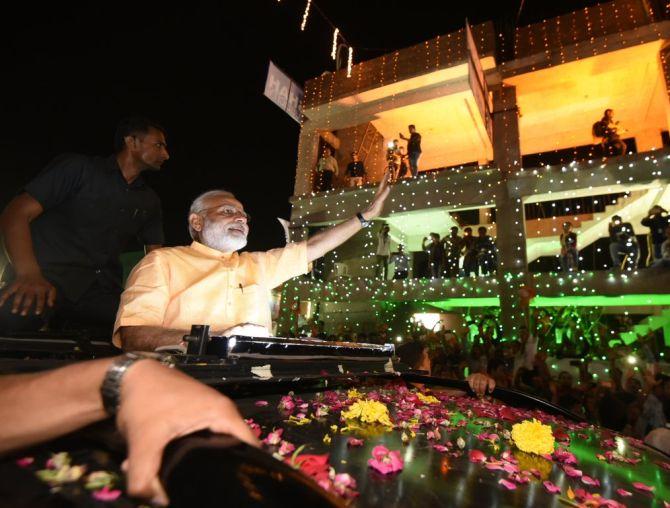 IMAGE: PM Modi's roadshow was 11 kilometre long and the PM rode the stretch waving to the frenzied crowds. Photograph: narendramodi.in
The PM began his two-day visit to his home state of Gujarat in Surat with a 11-kilometre long roadshow.
Chants of 'Modi, Modi' could be heard through the entire stretch as Modi rode a SUV, standing and waving through its sun-roof at the frenzied crowds.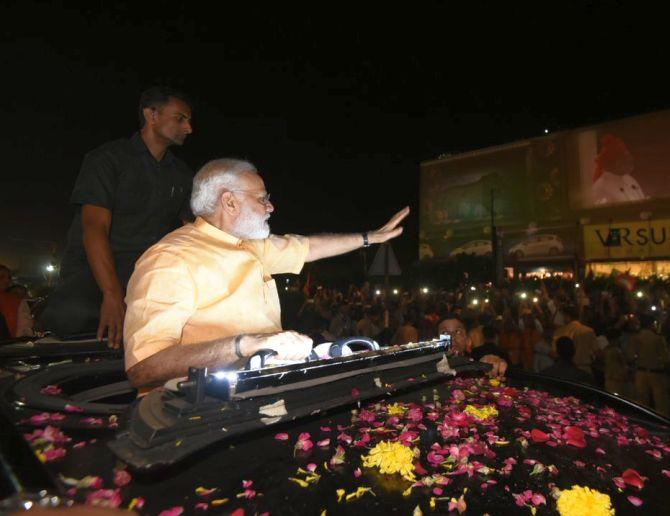 IMAGE: Thousands and thousands of Modi's supporters turned up for the roadshow and chanted his name. Photograph: narendramodi.in
Modi arrived in Surat after the Bharatiya Janata Party's National Executive in Odisha. This is his eighth visit in nine months to his home state, which is going to polls in November.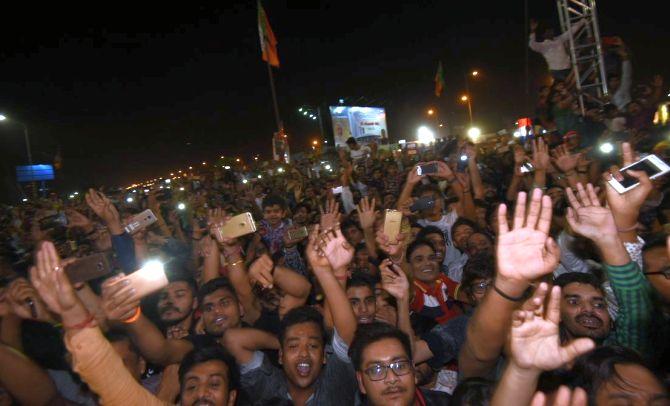 IMAGE: The PM's supporters thronged the streets of Surat hoping to catch a glimpse of their hero. Photograph: narendramodi.in
"He is visiting Surat for the first time after the BJP's landslide victory in the assembly elections in Uttar Pradesh and Uttarakhand. We are very excited to receive him," state BJP chief Jitu Vaghani was quoted as saying by NDTV.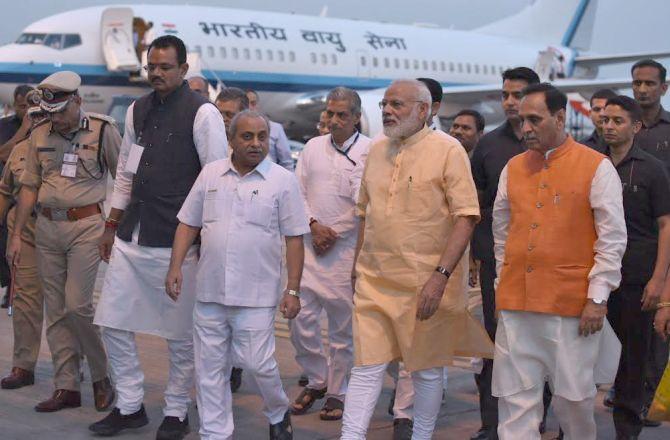 IMAGE: Modi being welcomed by Gujarat Chief Minister Vijay Rupani, Deputy Chief Minister Nitinbhai Patel and other dignitaries, on his arrival, at Surat Airport. Photograph: Press Information Bureau
The buildings along the road from airport to Circuit House were illuminated and decorated. Following the roadshow, Modi will meet BJP leaders at the Circuit House.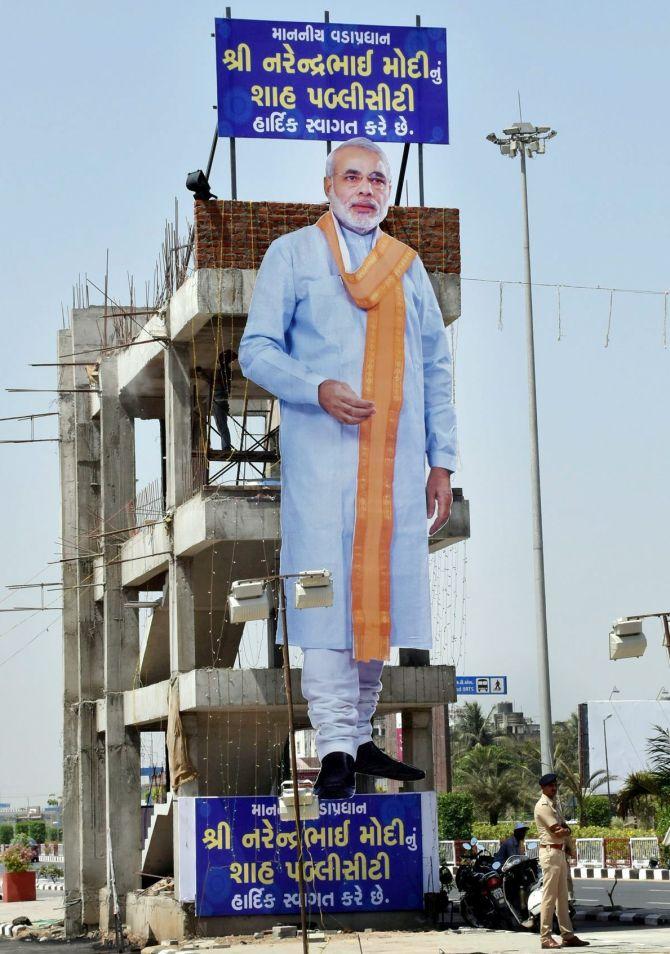 IMAGE: A 40-feet tall cutout portrait of Prime Minister Narendra Modi ahead of his visit. Photograph: PTI Photo
Modi has a packed schedule for Monday, including inauguration of a Rs 400-crore hospital in Surat and an ice-cream facility of Surat District Co-operative Milk Producers Union at Bajipura village.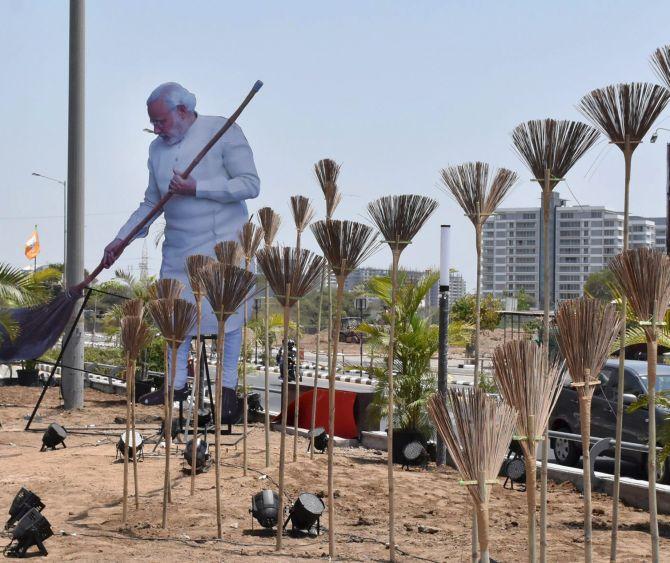 IMAGE: Rajhans Group put jhadu along a road in support of PM Narendra Modi's Swachh Bharat Mission. Photograph: PTI Photo
Modi will then visit Silvassa in the Union Territory of Dadra and Nagar Haveli where also he will address a gathering apart from inaugurating new projects and distributing assistance to beneficiaries.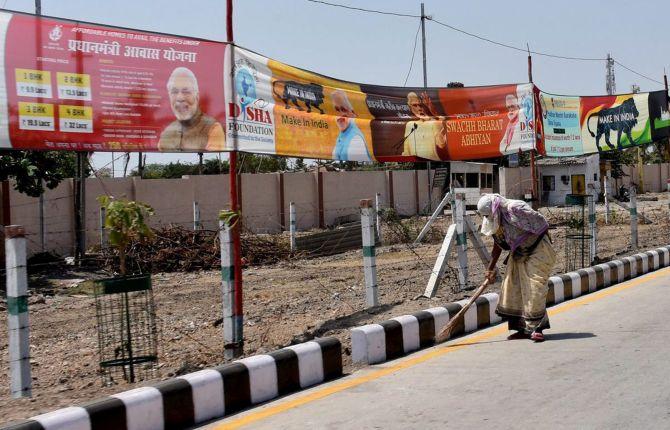 IMAGE: A 12-km long saree with BJP slogans at Airport Road ahead of Prime Minister Narendra Modi's roadshow. Photograph: PTI Photo