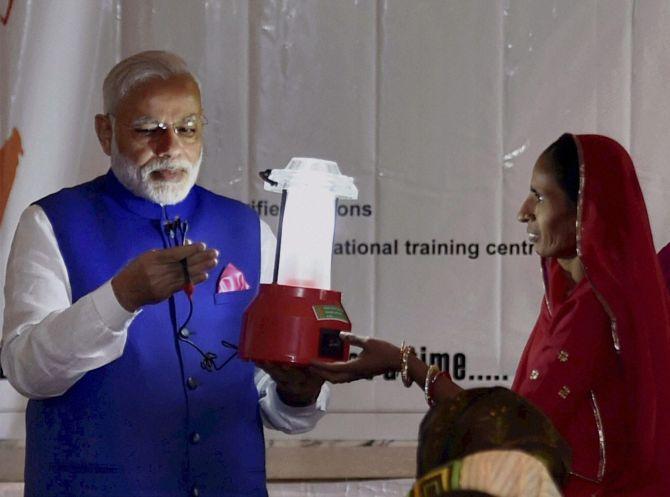 Seeking to enhance its ties with resource-rich Tanzania, India on Sunday extended its full support to the country to meet its development needs and signed five agreements, including one for providing a Line of Credit of $92 million (Rs 617 crore) in the water resources sector.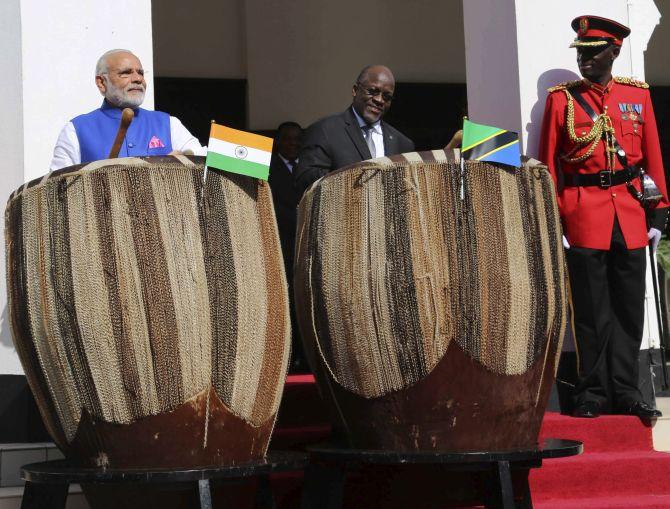 IMAGE: "New beats to the #IndiaAfrica rhythm!" tweeted external affairs ministry spokesperson Vikas Swaroop, as PM Modi played traditional drums with President Magufuli. Photograph: PTI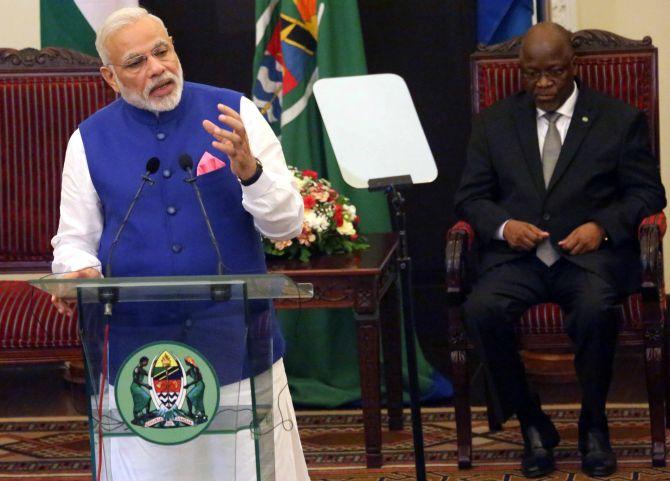 IMAGE: Prime Minister Narendra Modi addresses a news conference as Tanzania President John Magufuli listens during the official welcoming ceremony at the State House in Dar es Salaam, Tanzania. Photograph: Saad Said/Reuters
Describing India as a trusted partner in meeting Tanzania's development priorities, Prime Minister Narendra Modi said he along with President John Pombe Joseph Magufuli "agreed to deepen our overall defence and security partnership, especially in the maritime domain".
"Our in-depth discussions on regional and global issues reflected our considerable convergence on issues of common interest and concern," he said at a joint press interaction after his bilateral meeting with President Magufuli.
The two leaders agreed to work closely, bilaterally, regionally and globally to combat the twin threats of terrorism and climate change.
In a joint statement, the two leaders expressed their strong condemnation of terrorism in all its forms and manifestations and stated that there can be no justification for terrorism whatsoever. They expressed satisfaction on the holding of bilateral counter-terrorism consultations in early-2016.
"India's cooperation with Tanzania will always be as per your needs and priorities," Modi said.
IMAGE: Discussing India-Tanzania relations with President Magufuli during the bilateral meeting and delegation talks. Photograph: PTI
The two sides signed an agreement under which India will provide a Line of Credit of $92 million for rehabilitation and improvement of Zanzibar's water supply system.
Other agreements signed include an MoU on water resource management and development, MoU for establishment of vocational training centre at Zanzibar, MoU on visa waiver for diplomatic/official passport holders and an agreement between National Small Industries Corporation of India and Small Industries Development Organisation Tanzania.
The PM said the two countries are also working on a number of other water projects for 17 cities in Tanzania. "For this India is willing to consider an additional $500 million line of concessional credit," he said.
Modi said during his meeting with President Magufuli, they had detailed discussions on the full spectrum of bilateral partnership.
"Our focus was to shape an action oriented agenda of cooperation, so that we talk less of potential and more of achievements on the ground. We agreed that our common desire of economic prosperity for our societies is creating new opportunities for expanding our cooperation," he said.
To achieve this, the two nations agreed to deepen partnership in agriculture and food security, including through enhanced export of pulses from Tanzania to India.
They also decided to work together in development and use of natural gas. India agreed to partner Tanzania in building of industrial economy, capacities and institutions.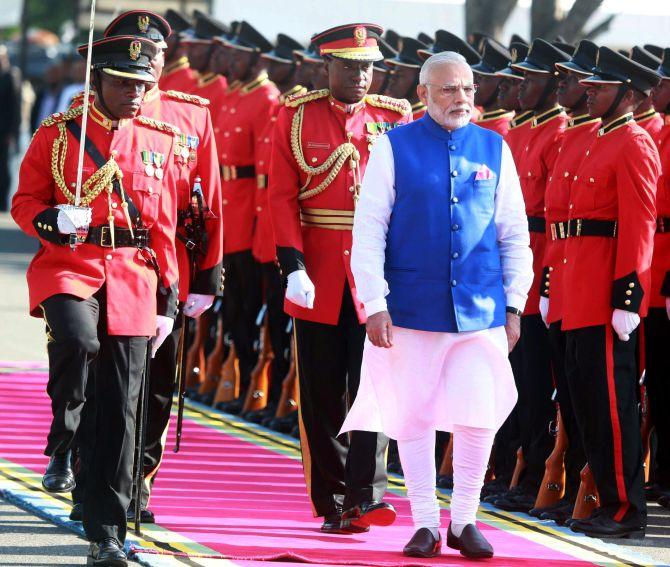 IMAGE: Prime Minister Narendra Modi inspects a guard of honor during his official welcoming ceremony at the State House in Dar es Salaam, Tanzania. Photograph: Saad Said/Reuters
The two leaders also decided to deepen bilateral trade and investment partnership by encouraging greater industry to industry ties.
India is already a substantial economic partner of Tanzania. The whole range of our economic ties are healthy and on upswing. Two way annual trade stands at around $3 billion. Indian investments in Tanzania already total around USD 3 billion.
"The Eastern coast of Africa, and Tanzania in particular have enjoyed strong links with the India. We are old maritime neighbours. Together, our leaders and our people have fought colonialism and racial oppression," Modi said.
"Our merchants have traded since early nineteenth century. And, the vast stretch of Indian Ocean has kept our societies and our people connected."
The two leaders agreed to ensure that the Tanzania India Joint-Commission Meeting and Joint Trade Committee session is held within the coming year to take advantage of the current momentum of cooperation between the two countries, the joint statement said.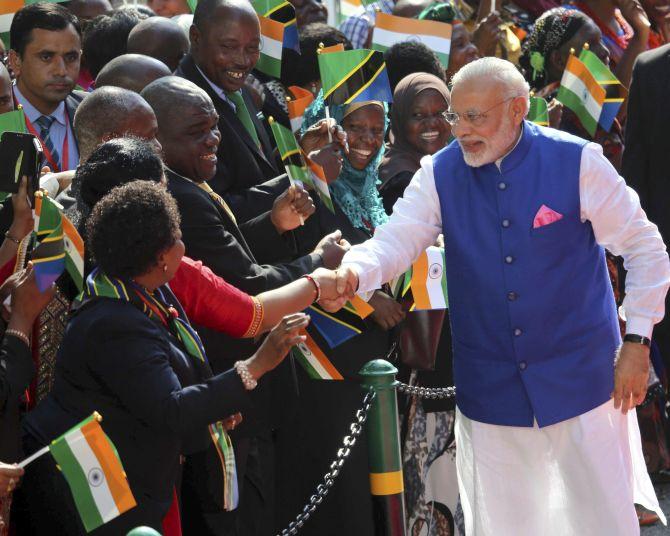 IMAGE: Modi being warmly welcomed by the locals at the airport late Saturday night. Photograph: PTI
As a developing country, Modi said India understands the need and urgency to improve the lives of our people.
"In this regard, the completion of 100 million dollar water supply augmentation project for Dar es Salaam is a good achievement," he said.
Describing public health as another important area of bilateral engagement, Modi said India is ready to meet the healthcare priorities of the Tanzanian government, including of supply of medicines and equipment.
"I am told that an Indian radio-therapy machine is being installed at Bugando medical centre to treat cancer patients," he said.
"Education, vocational training and skill development are other areas of your priority and where India is willing to offer all possible assistance."
"I also understand that the IT Resource Centre at the Nelson Mandela African Institute of Science & Technology, Arusha is close to completion," he said.
"President Magufuli has a vision for nation building, development and industrialisation – a vision that is my dream for India too," he said.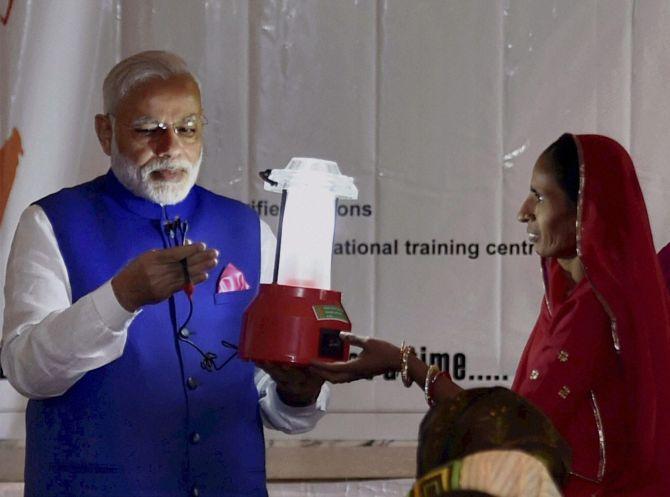 IMAGE: Modi with the Solar Mamas. They are a group of women solar engineers who have been trained under government of India-supported programmes. Photograph: PTI
On climate change, Modi said India had led the efforts to form an International Solar Alliance at climate conference in Paris.
"In this Alliance, which has the support of over 120 countries, we welcome Tanzania as a crucial partner," Modi said.
In the joint statement, India and Tanzania expressed satisfaction at the conclusion of bilateral agreements that covered fields of water, small scale industries, development partnership and economic cooperation.
Modi and Magufuli recognised positive developments in terms of bilateral trade, investment and collaboration between the businesses of the two countries in various areas and appreciated the contribution of the Indian duty free tariff preference scheme towards boosting considerably Tanzania's exports to India in recent years.
In the joint statement, Modi welcomed the resolve of the President of Tanzania for nation-building through industrialisation, developing agro-based enterprises and promoting small and medium sector businesses in the country which would create opportunities for enhanced business cooperation between the two countries.
The two leaders agreed that it was imperative to broaden cooperation to include potential areas such as manufacturing, development of small scale industries for rural developmental needs, power production and distribution, gas exploration and usage, infrastructure development, agriculture especially in crops like pulses, mining and information technology.
The two leaders commended the recent completion of Upper Ruvu potable water supply project that was executed with support from India through concessional credit, which will more than double the supply of clean water to the city of Dar es Salaam and its surroundings.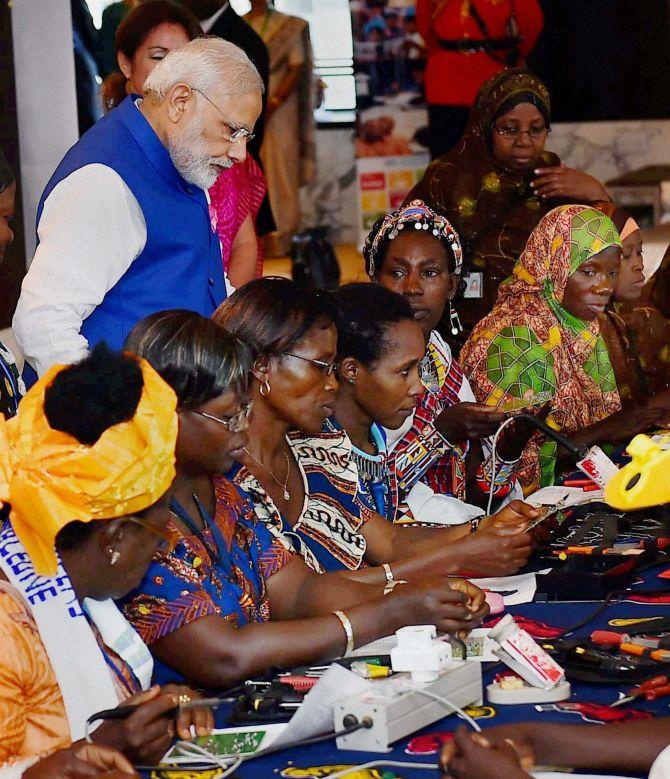 IMAGE:

Modi interacting with the Solar Mamas, in Dar es Salaam, Tanzania. Photograph: PTI
They noted the excellent progress of other water supply projects to include that of distributing and utilising waters of Lake Victoria in the towns of Tabora, Nzega and Igunga as well as the water project in Chalinze region.
They welcomed the extension of Indian concessional credit facility for the water supply project in Zanzibar.
Prime Minister Modi affirmed India's continued readiness to extend further support towards development objectives of the government of Tanzania in line with its development vision in the fields of water, small scale industries, e-governance, and health care.
The two leaders recognised the growth in vibrancy of people-level relations between the two countries that were encouraged by the introduction of e-tourist visas to Tanzania last year and the subsequent removal of visa fees for Tanzanian business travellers to India since December 2015.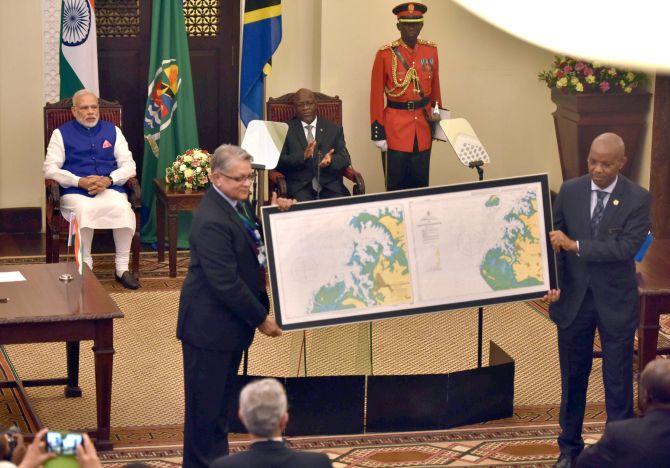 IMAGE: Modi and the President of the United Republic of Tanzania, Dr John Magufuli, witnessing handing over of a navigational chart of Mkoani Harbour prepared by the Indian Hydrographic Survey, at the State House, in Dar es Salaam. Photograph: PIB
The two leaders then jointly announced the holding of a festival of Indian culture in Tanzania within a year.
President Magufuli reiterated Tanzania's continued support for India as a permanent member of an expanded UN Security Council.
Prime Minister Modi extended an invitation to the President to pay a reciprocal visit to India in the future and Magufuli accepted the invitation.
Earlier, the Prime Minister was accorded a ceremonial welcome when he arrived at the State House in Dar-es-Salaam.
He arrived late Saturday night on the third leg of his four-nation Africa tour.