Prime Minister Narendra Modi on Wednesday presented his Irish counterpart reproductions of a selection of historic manuscripts and papers pertaining to two Raj-era Irish officials, Thomas Oldham and George Abraham Grierson, in recognition of their contributions in India.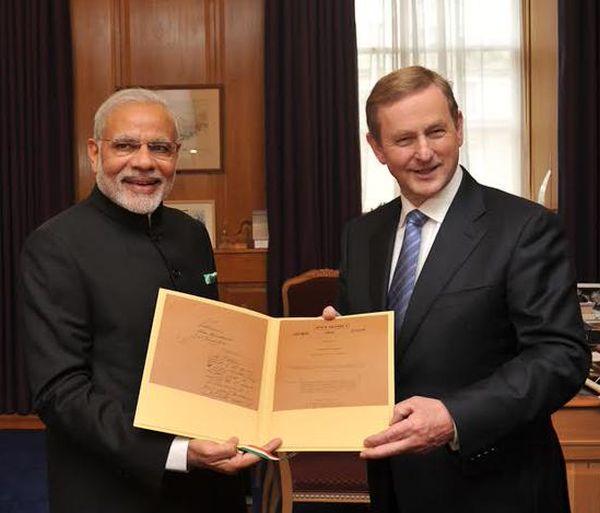 Prime Minister Narendra Modi gifts his Irish counterpart reproductions of historic manuscripts. Photograph: @PIBIndia/Twitter
Modi also gifted Irish premier Enda Kenny a specially handcrafted piece of silver, marble and roughly-hewn sandstone rock that imagines the Irish symbol of shamrock as a votive candle-stand or an 'aarti' lamp, with a peacock perched by the side of shamrock leaves, along with silver-tipped crystal dewdrops signifying serenity and purity.
The original manuscripts and papers which Modi presented to Kenny are preserved in the National Archives of India.
Born in Dublin, Oldham (1816-1878) was appointed as geological surveyor in 1850 to conduct a survey in India and his services were placed with the then Government of Bengal.
He assumed charge in March 1851 and his joining day is celebrated as the foundation day of the Geological Survey of India. Apart from conducting the first systematic coal mapping of India -- and later initiating mapping of other minerals – he wrote extensively on the fossils of India.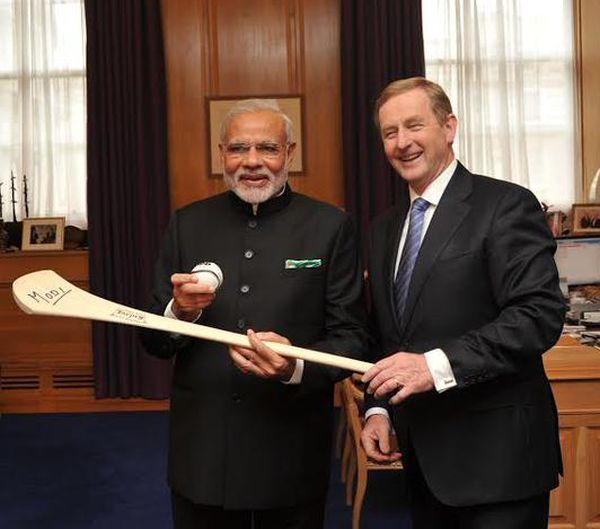 Irish premier Enda Kenny presents Modi with a Hurling (Irish national sport) bat and ball. Photograph: @PIBIndia/Twitter
Grierson (1851-1941) was an Irish civil servant and philologist who, starting 1898, conducted the first Linguistic Survey of India. The survey was later published over several years during 1903-28.
It was Grierson's Survey that provided the first scientifically-based taxonomy of the Indo-Aryan languages within which the linguistic status of various forms of Hindi, Urdu and other Indo-Aryan speech forms is based.
The separation of Hindi into Western and Eastern dialect zones is the direct result of Grierson's classification efforts. As a student of mathematics at TrinityCollege, Dublin, Grierson took prizes in Sanskrit and Hindi.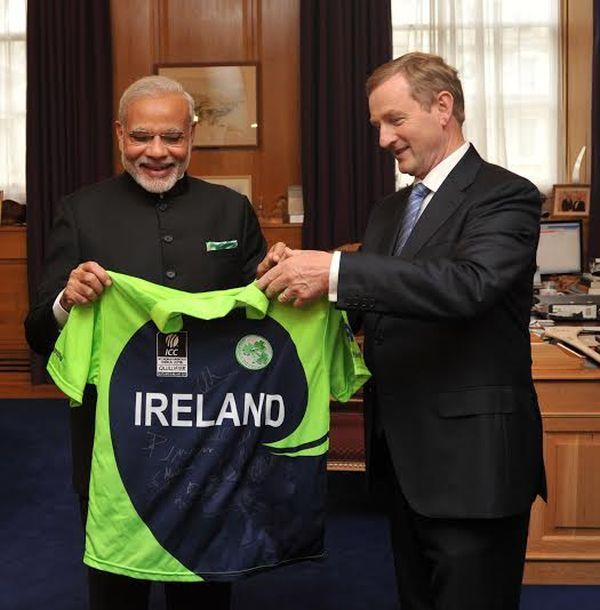 Modi was also presented a jersey. He's the first PM to visit Ireland since Jawaharlal Nehru in 1956. Photograph: @PIBIndia/Twitter
Grierson went to Bengal in October 1873, where, in addition to carrying out his duties in a succession of government posts until 1898, he devoted much time to language research. Two of his most important works are Seven Grammars of the Dialects and Sub-dialects of the Bihari Language (1883-87) and Bihar Peasant Life (1885).
The latter work, in addition to offering much linguistic information, describes the life, farming methods, and beliefs of the Bihar peasantry.
In 1994, India instituted an award in his honour that is given to foreign scholars who have made significant contributions to Hindi.