Prime Minister Narendra Modi on Thrusday rode the dream of a high-speed bullet train to reach out to people in his home state, saying it would go from 'my Ahmedabad to our Mumbai'.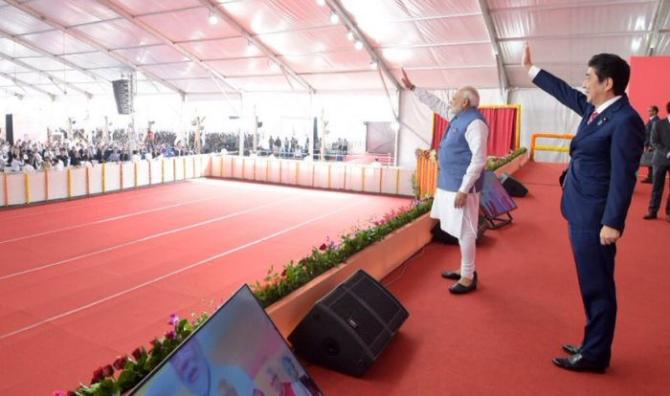 India's first bullet train will connect Ahmedabad, the largest city in Gujarat, to Mumbai, cutting travel time from seven hours to less than three.
The project, which was launched in Ahmedabad on Thursday by Modi and his Japanese counterpart Shinzo Abe in the packed Athletics Stadium, is expected to bring in employment, revenue and even international trade to both the cities.
Addressing the large crowd in the commercial capital of Gujarat, the state where elections are due in the next few months, he said the bullet train 'will not just reduce distance but also bring the people closer'.
He said the train will go from 'aapnu Amdavad to aamchi Mumbai (my Ahmedabad to our Mumbai)', using Gujarati and Marathi phrases.
"It will mean less cars on roads, it will mean a cleaner environment and also bring in revenue," he said.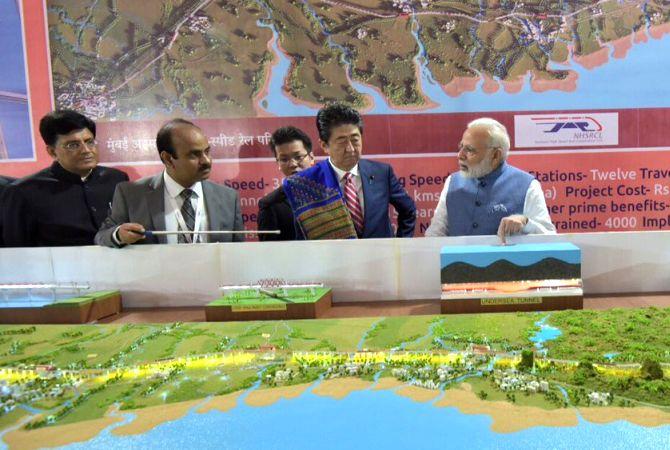 The area between Mumbai and Ahmedabad would become a Shinkansen economic zone where trade will get a push, he added to roaring applause.
Modi, sometimes breaking into Gujarati during his Hindi speech, addressed his constituency by praising their art of bargaining.
"We Indians, especially Gujaratis, when we go to buy or sell anything, we always bargain, we take stock of every penny. When we go to buy a small bike, to take a loan, we visit 10 banks and calculate which bank is giving less interest. Then we calculate and we are happy even with half per cent less interest," he said.
Japan has extended a soft loan for the ambitious Rs 1.10 lakh crore project, conceptualised by Modi. It is a joint venture between Indian Railways and Japan's Shinkansen Technology.
Lauding Japan, he said the country was such a friend that it gave a loan of Rs 88,000 crore at 0.1 per cent interest for the project.
"The bullet train is in a way a big gift from Japan to India. It is in a way a project being constructed for free," the prime minister said.
The high-speed rail project between the two cities, about 500 km from each other, is expected to be completed by 2022.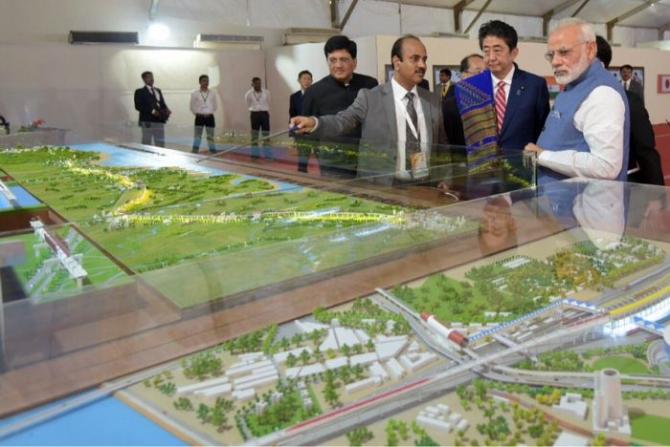 "Now is not the time to develop slowly, time doesn't wait. Technology is growing at a fast rate and now our priority is high speed. Speed badegi, distance ghategi (speed will increase and distance will decrease) economic opportunities will open up. In any country economic growth can only happen when productivity happens," said Modi.
Allaying fears that the new technology is for the rich only, Modi said it can also be used for empowerment of the poor.
"Our aim is to make technology so affordable through maximum use that it becomes associated with the life of the poor," he said, indicating that the bullet train will be affordable to all.
The prime minister also said the high speed training institute for the bullet train coming up in Vadodara, the foundation for which was also laid today, is 'many times more important'.
The Japanese prime minister said a strong India is in Japan's interest, and vice versa, and left no stone unturned to praise Modi and even Gujarat.
"I hope that in a few years when I come to Ahmedabad, I ride the Shinkansen train with Modi while chatting with him and viewing beautiful sights from the train's window," he said.
"My good friend Prime Minister Narendra Modi is a farsighted leader. And he took a decision two years ago to bring high speed rail in India and to create a New India," he said, adding that his country had decided to fully support Modi's vision, culminating in the progress of the project.
Abe, some say, has already won hearts in Gujarat by choosing it over Delhi for his visit.
"When we add Ja of Japan and I of India, it makes 'Jai'. 'Jai Japan and Jai India' -- me and PM Modi will work together for this," he said, much in the manner of Modi himself.
For the opposition, Abe's visit to Gujarat and the bullet train project in particular is setting the stage for the Bharatiya Janata Party's high voltage campaign in the state.
The Congress raised questions over Abe's visit to Ahmedabad and Gandhinagar and not the country's national capital.
"With an election in Gujarat round the corner, it does raise a question, and I hope this is not the case, that a state visit is actually being used for political purposes because the manner in which it is structured is rather awkward to say the least," Congress spokesperson Manish Tewari told reporters on Wednesday.
Photographs: @PIB_India/Twitter