'The politician in him saw to it that the foundation stone was laid in Ahmedabad in the run-up to the assembly election in Gujarat in 2017.'
'But the statesman in him also wants it to be his legacy.'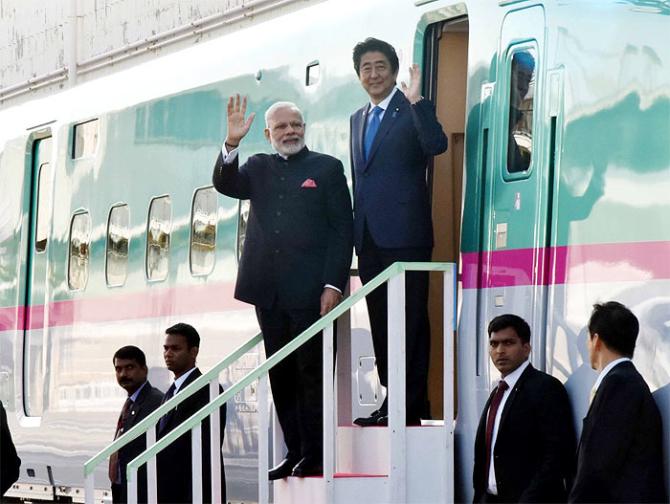 IMAGE: Prime Minister Narendra D Modi and Japanese Prime Minister Shinzo Abe at Kawasaki Heavy Industries during Modi's visit to Japan last year. Photograph: Kind courtesy Narendra Modi/Twitter
In 1964, just before the Tokyo Olympics, Japan launched its first bullet train from Tokyo to Osaka.
Fifty-three years later, in 2017, India's Prime Minister Narendra D Modi and Japan's Prime Minister Shinzo Abe will inaugurate India's first bullet train project.
The 508-km Mumbai-Ahmedabad Rail Project will be built at an estimated cost of Rs 110,000 crore (Rs 1.1 trillion).
Japan will lend Rs 88,000 crore (Rs 880 billion) to this project at an interest rate of 0.1 per cent, which has to repaid in 50 years, with a 15-year grace period.
M R Venkatesh, chartered accountant and political commentator, tells Rediff.com's Shobha Warrier why the bullet train project will revolutionise the Indian Railways.
Many people want to know why we need high speed bullet trains when we have rail accidents at regular intervals. Don't you think the need of the hour is the maintenance of the existing railway lines and not high-speed trains?
The Indian Railways has a huge problem with safety and maintenance. But this challenge also is an opportunity.
It is an inflection point for the railways, where the railways can peter out from a public sector undertaking with huge State patronage, where express trains run at 70km/hour and passenger trains at 35km/hour, to a modern economic and technological power house.
One way of looking at this issue is that we can be incremental -- on speed, maintenance and passenger friendliness.
The other way is to take a quantum leap.
I think we have to have both approaches; it is not this or that.
A country like India cannot do away with passenger trains, but a country like India, at her current state of development, cannot shy away from bullet trains either.
If you want to take a quantum leap, there will be risks and this is a risk worth taking.
In what way is this project going to help India, other than having a high-speed bullet train in the country?
One, it will spin off a range of connected industries that will help the Make in India initiative.
Two, it will compete with the airline industry, which means you are manufacturing aircraft in India without getting into aircraft manufacturing.
Three, if you look at it from a geopolitical angle, Japan is going to invest Rs 88,000 crores at 0.1% interest over a period of 50 years.
The terms and conditions of this loan will be the benchmark for future loans taken by India.
Four, this will change the way the railways function.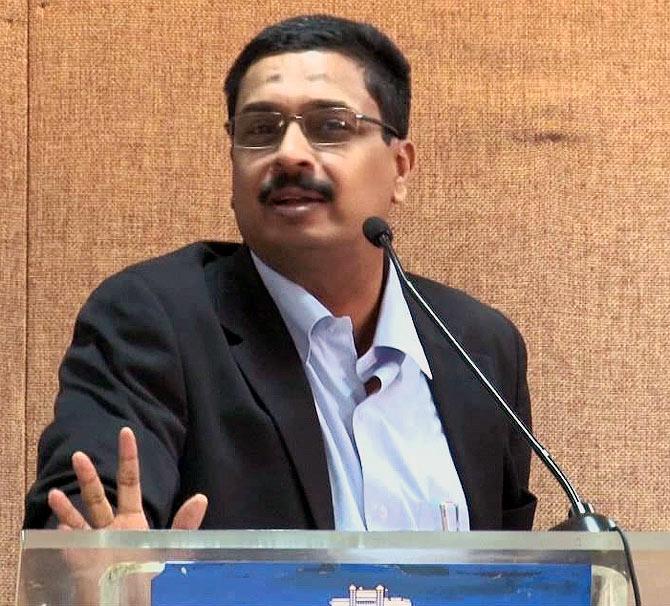 IMAGE: The fact that Japan has agreed to lend India Rs 880 billion at an interest rate of 0.1 per cent is testimony to Modi's negotiating skills, says Venkatesh. Photograph: Kind courtesy M R Venkatesh
Why do you think Japan is investing so much money at such a low interest rate?
I would say that is the power of Narendra Modi's negotiating skills.
It also shows the true potential of the Indian economy in attracting such investments.
Till now, we were saying borrowing at 7 per cent interest rate is a great success.
After this, the benchmark will be a 0.1 per cent interest rate.
Tomorrow, if we were to do business with the Americans or the French or the Germans, we have the 0.1 per cent benchmark for the deal.
As a student of economics, I am sure this low interest rate is a huge insurance against any economic risks in future.
That, in my view, is significant.
What do the Japanese gain from this deal?
If we are surprised at this deal, it shows that we do not have confidence in our economic market.
If people are rushing to invest in this country, it is because we are giving them a huge market and we are simultaneously ensuring technology transfer.
Given our track record, the Japanese are ready to take the risk.
That shows their confidence in the Indian economy in general and Narendra Modi in particular.
Remember what happened to the automobile industry when we brought in Suzuki from Japan?
In my opinion, this bullet train is going to create a revolution in the railways.
When Suzuki came to India, we only had Ambassadors and Fiats (cars).
If you had booked an Amabassador in Pune, they would drive it all the way from Uttarpara in West Bengal to Pune and would hand over a car that had already been driven for over 2,500 km.
There was no concept of dedicated service stations then.
All these things changed within the last 20, 30 years.
In the process, lakhs of people have gained jobs.
Maruti revolutionised the car sector in India.
Who would have thought, 30 years ago, that India would be a global manufacturing hub for cars and India would export cars?
For that, we must thank Maruti.
Likewise, when computers came in the 1990s, people pooh-poohed it and said computers would take over human jobs.
Today, even a semi-literate person cannot do without his smart phone.
What we miss out in these silly debates is India's amazing ability to absorb technology.
We need to shake up the technology Indian Railway uses and this will happen with the entry of bullet trains.
This will probably bring in a new culture of punctuality, cleanliness, safety, passenger friendliness... so many things the railways, as a public sector undertaking, never thought about.
The railways was the fiefdom of successive railway ministers.
With this, I sincerely hope that economics and technology dominate over politics in the Indian Railways.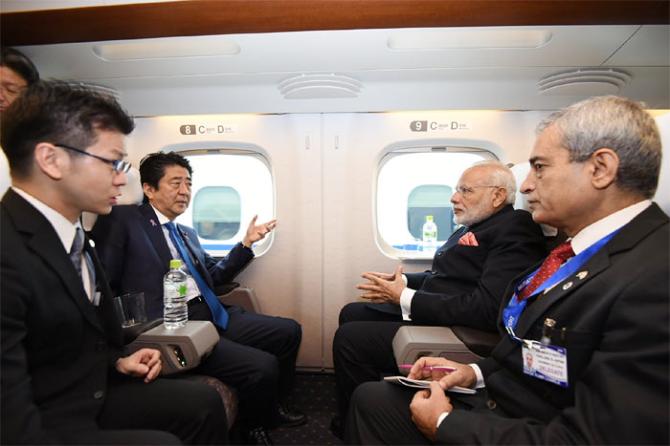 IMAGE: Modi and Abe travel to Kobe on the Shinkansen bullet train. Photograph: Kind courtesy Narendra Modi/Twitter
Don't you think the Opposition can use this against Modi, saying he caters only to the rich, the Ambanis and the Adanis, and not the common man?
When private airlines began in India, they said the same thing; that it was for the Ambanis and the Adanis.
But you must understand that technology and economics have to go hand in hand.
What gravity is to physics, competition is to economics.
Remember, the loan of Rs 88,000 crore from the Japanese has virtually no interest, while, if the government had taken it from Indian banks, the interest rate would have been 12% to 14%.
Tomorrow, you may perhaps see the French building bullet trains from Chennai to Bengaluru! Who knows?
Yes, the train is for the common man to travel, but that doesn't mean that he has to travel at 35km/hr.
In the initial years, the ticket prices may be high.
But, remember, when the mobile telephone was introduced, the call rates were Rs 16.80 per call only to fall to less than 50 paise in the next few years.
And who benefitted by this? The common man.
Likewise, let us have faith in economics and technology.
Do you feel Modi is looking at the 2019 election when he is joining hands with Japan to launch bullet trains in the country?
There are two facets to Narendra Modi; the politician who thinks of elections and a statesman who wants to leave a legacy.
Atalji's legacy is the Golden Quadrilateral, Indira Gandhi's is Bangladesh and Narasimha Rao's is liberalisation.
Similarly, the bullet train can be Modi's legacy.
The politician in him saw to it that the foundation stone was laid in Ahmedabad in the run-up to the assembly election in Gujarat in 2017.
But the statesman in him also wants it to be his legacy.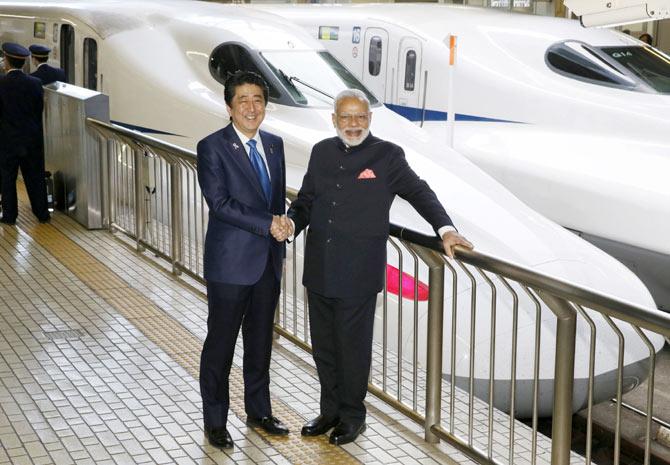 IMAGE: Abe will lay the foundation stone for India's first bullet train project. Photograph: Kind courtesy Narendra Modi/Twitter
Sanjeev Sinha, who is in charge of the project, said the project needs meticulous planning over a few years and cannot be done overnight.
We have this habit of announcing projects and then planning them. But the Japanese are famous for their meticulous planning.
Mr Sinha also said India was behind many developing nations as far as its railways were concerned...
That's why I said that the railways has always been some sort of a fiefdom of the railway minister.
The railways was never run on scientific, technological and economical parameters.
Today, the operating cost of the railways is approximately 93 per cent of its revenue, which means it is not a viable proposition.
This has to change.
The bullet train project might make the railways think of efficiency and economics!
With this, the old order will make way for the new.
In one stroke, we are dealing with geopolitics, technology and economy.
I would say India's tryst with bullet trains has come, and I am sure Nehru would be happy.