Islamic State has recruited at least 400 children in Syria in the past three months and given these so-called "Cubs of the Caliphate" military training and hardline indoctrination, a monitoring group said on Tuesday.
The Syrian Observatory for Human Rights said the children, all aged under 18, were recruited near schools, mosques and in public areas where Islamic State carries out killings and brutal punishments on local people.
One such young boy appeared in a video early this month shooting dead an Israeli Arab accused by Islamic State of being as spy. A French police source said the boy might be the half-brother of Mohamed Merah, who killed three soldiers, a rabbi and three Jewish children in Toulouse in 2012.
But Syrian children fighting street battles isn't something new. With their childhood reduced to rubble in the ongoing strife, these kids are easy recruits for rebels and ISIS alike.
Let's take a look at some such child soldiers: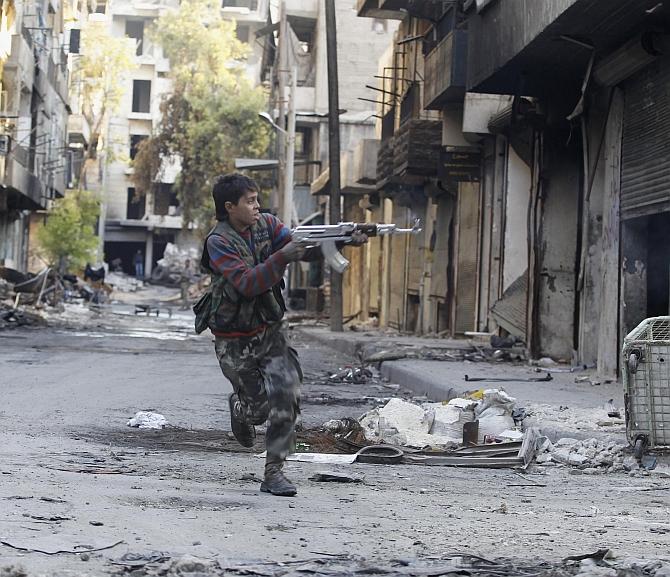 Image: Mohammad (right), a 13-year-old fighter from the Free Syrian Army, aims his weapon as he runs from snipers loyal to the Syrian regime in Aleppo's Bustan al-Basha district. Mohammad joined the Free Syrian Army after his father died during clashes with the Syrian regime. The gun he is using was his father's. Photograph: Molhem Barakat/Reuters
---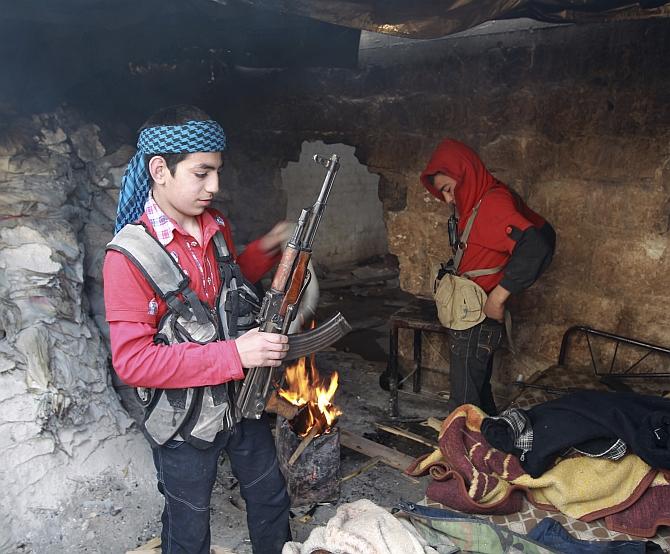 Image: Free Syrian Army fighters Mohamad-Noor (right), 14, and Hadi, 15, prepare their weapons at the frontline of Khalidiya neighborhood in Aleppo. Noor and Hadi joined the Free Syrian Army 6 months ago along with their friend Khaled who died from sniper fire. Noor's father died from sniper fire too, and Hadi's father fights with the Free Syrian Army. Photograph: Jalal Al-Mamo/Reuters
---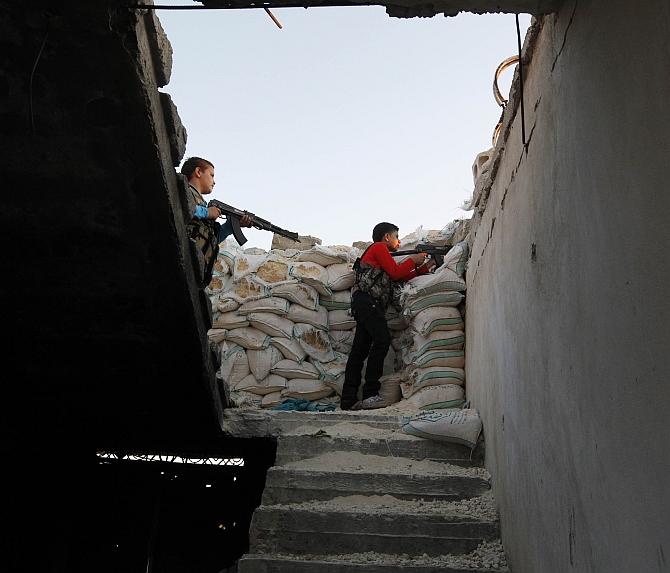 Image: Abboud (left), 12, and his brother Deeb, 14, stand with their weapons behind sandbags in Aleppo's Sheikh Saeed neighbourhood. Abboud and Deeb, both school-going children before the civil war, joined the Free Syrian Army after the deaths of two of their brothers and an uncle in the conflict. Photograph: Muzaffar Salman/Reuters
---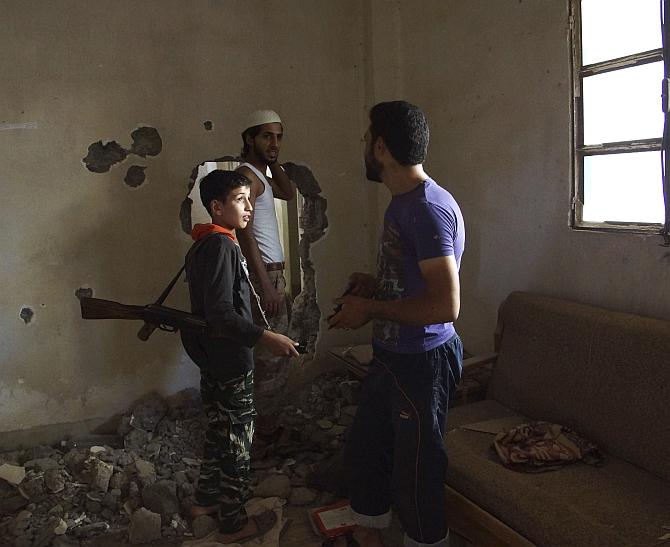 Image: Dany, a 14-year-old fighter, whom activists say is the youngest fighter in the Khadraa brigade operating under the Free Syrian Army, chats with his fellow fighters in Deir al-Zor. Photograph: Khalil Ashawi/Reuters
---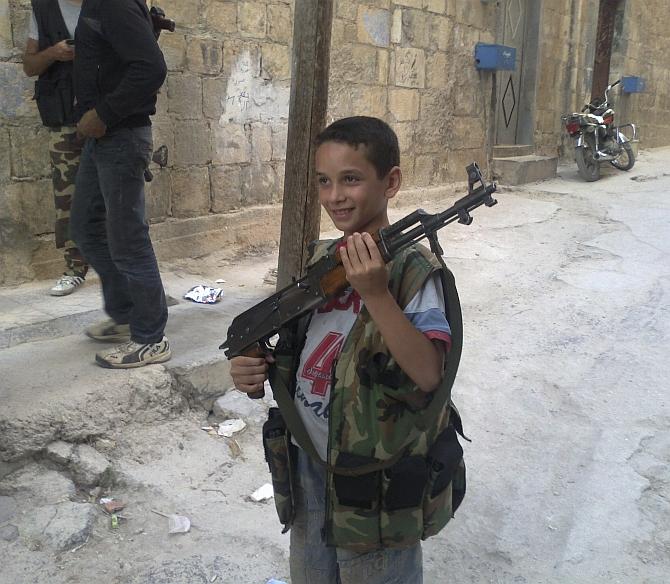 Image: A boy poses with a rifle in Kafr Takharim, on the outskirts of Idlib. Photograph: Shaam News Network/Handout/Reuters
---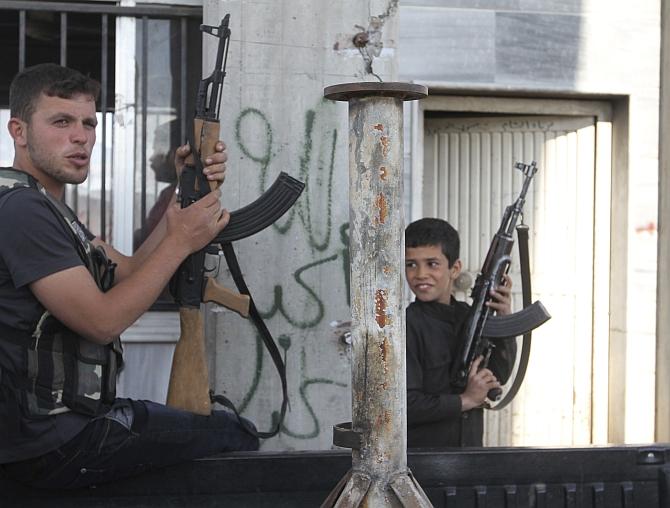 Image: A Free Syrian Army fighter and a boy hold up weapons on a street at the Syrian town of Tel Abyad, near the border with Turkey. Photograph: Hamid Khatib/Reuters
---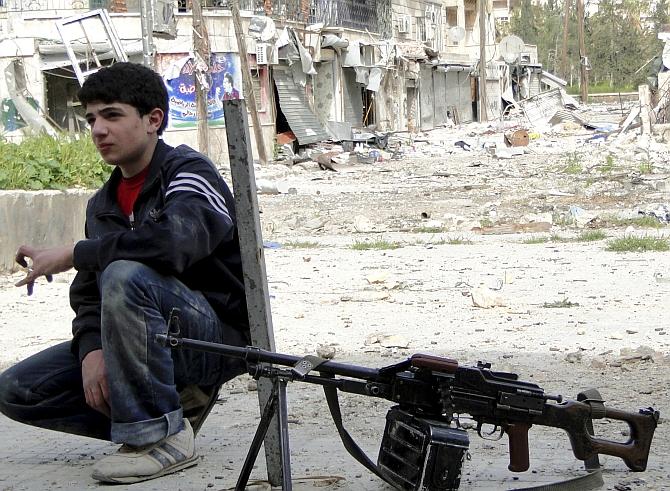 Image: A boy sits near a weapon in Aleppo's Salaheddine district. Photograph: Mahmoud Hassano/Reuters
---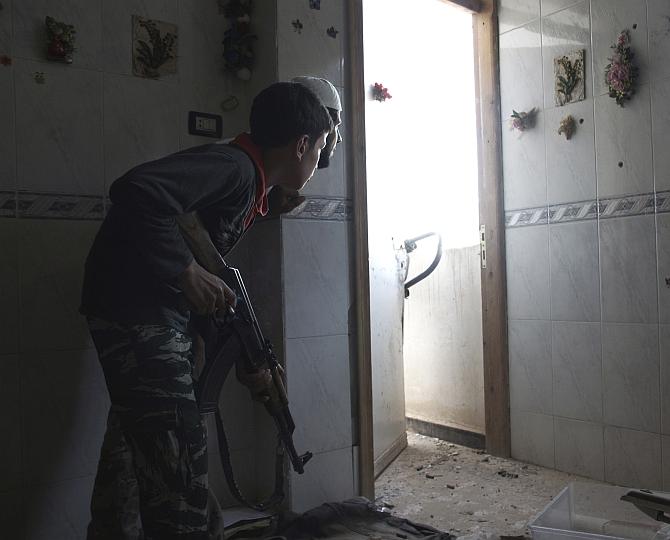 Image: Dany, a 14-year-old fighter, whom activists say is the youngest fighter in the Khadraa brigade operating under the Free Syrian Army, takes position inside a house in Deir al-Zor. Photograph: Khalil Ashawi/Reuters