Action, not assurance is the demand of the families of two soldiers whose bodies were mutilated by the Pakistan army.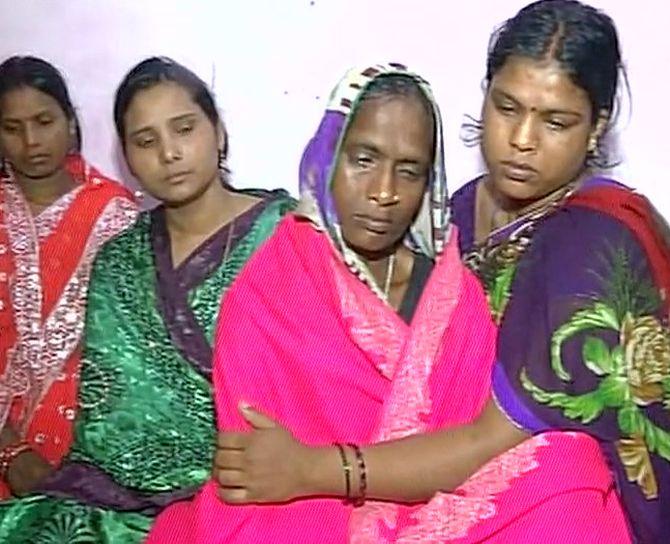 IMAGE: BSF head constable Prem Sagar's family mourns his demise. Photographs: ANI
Shattered and traumatized with the news of her father's horrific death at the hands of the Pakistani Army in Krishna Ghatti, Jammu and Kashmir, the daughter of Border Security Force head constable Prem Sagar on Tuesday demanded '50 heads in return' of her father's life.
"His sacrifice should not be forgotten. We want 50 heads in return for his life," said Saroj while consoling her mother, who was still coming to terms with her husband's gruesome death.
The relatives of the late solider also rebuked the Centre's 'lax attitude' against Pakistan, and asserted that due to the government's inaction, such brutalities were happening again.
"The government is not acting properly on such issues. We should retaliate to this inhuman act of Pakistan. The Centre should not just sit idle and let Pakistan carry on its atrocities," said the constable's relative.
"I am proud of my brother that he sacrificed his life for the nation, but is it very heart-wrenching the way he has been beheaded by the Pakistan military," said Dayashanker, Prem Sagar's brother.
Earlier on Monday, the Pakistan's brutal Border Action Team mutilated the bodies of two Indian soldiers in Krishna Ghati sector along the Line of Control, where they had beheaded Lance Naik Hemraj in 2013.
The Indian Army confirmed the involvement of the BAT in the gruesome act beheading Indian soldier.
"Pak Army carried out unprovoked rocket and mortar firing on two forward posts on the Line of Control in the Krishna Ghati sector. Simultaneously, a BAT action was launched on a patrol operating in between the two posts. In a unsoldierly act by the Pak Army, the bodies of two of our soldiers in the patrol were mutilated. Such despicable act of Pakistan Army will be appropriately responded," read the Indian Army's statement.
It is the same Krishna Ghati sector where the Pakistani BAT had beheaded Lance Naik Hemraj and badly severed the head of Lance Naik Sudhakar Singh of 13 Rajputana Rifles, on January 8, 2013.
Indian Army killed terrorist Anwar Khan in August 2015 in Poonch area of Jammu and Kashmir. He was part of a 15 member team of Lashkar and Jaish terrorists in the BAT team that killed Hemraj and Sudhakar.
Pakistan's brutal and barbaric BAT acts along the Line of Control (LOC) may be not in public domain, but the Indian Army has been bearing its brunt for long. The raiding members of BAT are specially instructed not be caught on the Indian side.
Defence experts say that the Pakistan's Special Services Group (SSG) forms the BAT which employs highly trained terrorists for Trans-LoC action up to a depth of 1 to 3 kilometres.
In February 2000, seven months after the Kargil War, a Pakistani BAT killed seven Indian soldiers in Nowshera in Rajouri district. The army was shocked to discover the headless body of a soldier, Sepoy Bhausaheb Talekar.
Defence experts say that the Pakistani BAT beheads and mutilate the bodies of Indian soldiers to terrorise troops and wage psychological warfare.
If war is the only solution, so be it: Naib Subedar Paramjit Singh's brother
IMAGE: Naib Subedar Paramjit Singh's brother points out at the newly-build house where Singh was supposed to shift.
Brother of Naib Subedar Paramjit Singh who hails from Punjab's Tarn Taran has called on the Centre to assure justice and go to war with Pakistan if they have to.
"The Centre should take strict action. If war is the solution, then we should just go to war with Islamabad and finish the issue once and for all. By any chance if the issue can be sorted out with dialogue then even that should be tried," said the brother of the slain jawan.
"He built this house and was supposed to shift here on May 10. Instead of him, now his body will enter into house. We are very proud of him and would never forget his sacrifice," his brother added pointing towards the newly-build house, in which Singh was supposed to shift.
"I am proud of my father for being declared a martyr. My father sacrificed his life for the country, and I'm proud of him," said Simrandeep, Singh's elder daughter.
Meanwhile, the body of the slain hero has been brought to his hometown here and will be cremated with full honors.
Mother of jawan beheaded in 2013 reminds governemnt of '1 for 10' promise
Mother of Lance Naik Hemraj, whose body was mutilated by Pakistan's Border Action Team along the Line of Control in 2013 called on the Centre to step up and retaliate.
"They beheaded my son and now we are witnessing numerous incidences every day. The government had promised that they will behead ten people if they beheaded one of ours, till now nothing has been done. The government should take stern action against Pakistan now," said the mother of Hemraj.
She further called on the government to try and understand how painful it is to lose one child and pressed for retaliation.
"The government must take stern action against Pakistan. They have not fulfilled any of the promises made to the martyr's family till now," she added.
Resonating similar sentiments, Hemraj's brother asserted that the situation is very upsetting and India must resonate to Islamabad's atrocities.
"It is a very sad situation. The way our soldiers are losing their lives and the government is not taking any action in this regard. The centre should take stern action against Pakistan so that such incidents are not repeated in future," he said.
"Under Modi government, almost every day one soldier is losing his life. The government is not at all concerned about the people. They don't have any solid strategy to tackle this kind of situation," said another relative.