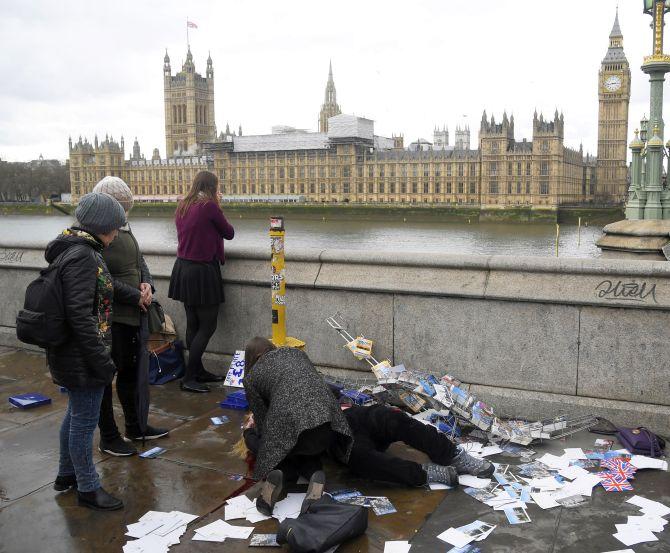 External affairs minister Sushma Swaraj on Wednesday said that there is no Indian casualties so far in the terror attack near the United Kingdom Parliament in which four people, including the attacker and a police officer have been killed and over 20 people are injured.
Swaraj also said that she is in constant touch with Indian high commission.
"I am in constant touch with Indian High Commission in London. There is no Indian casualty reported so far. #LondonAttack @HCI_London (sic)," she said on Twitter.
"Indian High Commission is there to help all Indian nationals in London. Please note the Telephone nos: 020 8629 5950 & 020 7632 3035 (sic)," Swaraj wrote.
The minister advised people to avoid going to Parliament Square.
"All are advised strongly to avoid Parliament Square and check Met Police website for further details on the attack. Stay safe! (sic)," she tweeted.
Wednesday was the anniversary of suicide bombings in the Brussels airport and subway that killed 32 people.
Earlier, India condemned the terror strike, saying there is no place for terrorism in democracies and civilised societies.
"India strongly condemns Westminster terrorist incident & condoles loss of life. No place in democracies & civilised societies for terrorism (sic)," Spokesperson, Ministry of External Affairs, Gopal Baglay tweeted.
At least three people were killed and 20 injured as terror struck the British capital when a man mowed down pedestrians on a bridge and stabbed a police officer outside Parliament complex before being shot dead by Scotland Yard officers.
The head of counterterrorism at London's Metropolitan Police, Mark Rowley said the dead policeman was among the armed officers who guard Parliament while the other victims died on Westminster Bridge after the attacker mowed down pedestrians in a car, leaving at least 20 people injured.
At least three other police officers were also injured in the attack.
IMAGE: An injured woman is assisted after the terror attack on Westminster Bridge in London. Photograph: Toby Melville/Reuters