As many as 100 passengers were injured as ten bogies of the Kaifiyat Express derailed in Uttar Pradesh's Auraiya district on Wednesday after dashing against a dumper carrying construction material for railway work, officials said.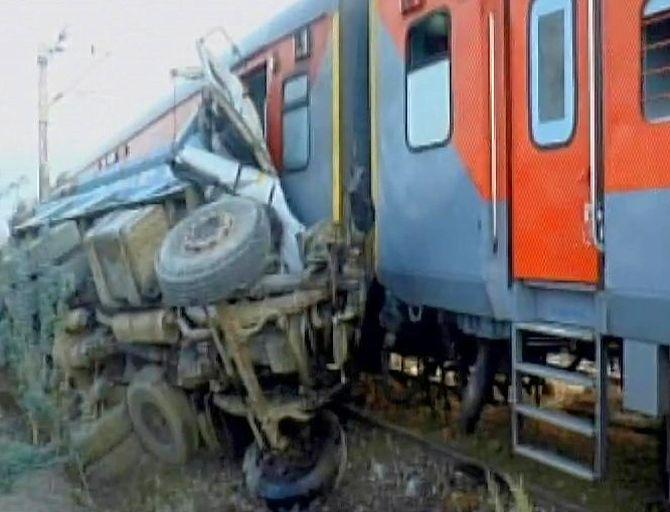 However, the railways said 25 persons were injured in the incident and that the dumper did not belong to them.
Superintendent of Police, Auraiya, Sanjay Tyagi said 10 bogies of the train derailed of which one overturned leading to injuries to 100 passengers of which four with serious injuries were rushed to Saifai and Etawah hospitals.
Some of the injured were discharged from hospitals after first aid, the SP said, adding that there is no report of any casualty so far.
The train travelling from Azamgarh to Delhi collided with the dumper at around 2:50 am between Pata and Achhalda railway stations, a spokesperson for the North Central Railway said.
Secretary, Home, Bhagwan Swarup said the accident took place due to a loader carrying material for work on dedicated freight corridor.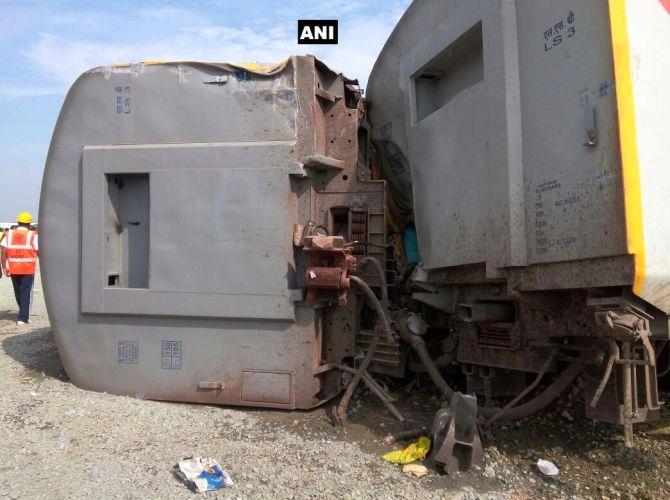 "The accident took place because of a loader carrying sand for track working for dedicated freight corridor. It overturned and came on the track," he said.
"It was not an unmanned crossing. But there was a road parallel to the track on which the loader overturned," he said.
DRM Allahabad S.K Pankaj, who reached the accident site, told newspersons that prima facie it was the fault of the driver of the private dumper who has fled.
The disrupted rail route between Kanpur and Etawah will be restored by Thursday, he said and added that repair work on the route was going on.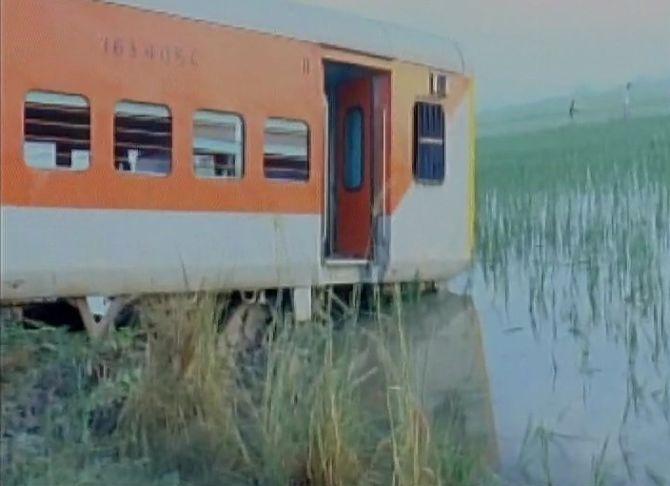 As back-to-back accidents in the last five days triggered demands for his resignation, Railway Minister Suresh Prabhu met Prime Minister Narendra Modi and took full moral responsibility for the recent train accidents.
Prabhu said he was "extremely pained by the unfortunate accidents, injuries to passengers and loss of precious lives".
Kaifiyat Express travels between Azamgarh in Uttar Pradesh and Delhi and the collision has impacted the train operations on the Delhi-Howrah route.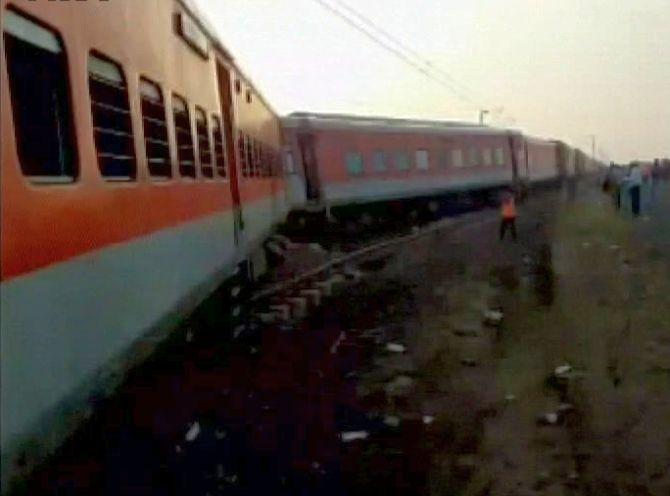 Five trains including the Howrah-New Delhi Rajdhani have been diverted and seven trains including Kanpur-New Delhi Shatabdi express have been cancelled. Since both UP and DOWN lines are blocked, around 40 local trains were also being diverted.
A spokesman for NCR said rescue operations have been concluded and all injured were sent to hospitals nearby.
Additional forces and ambulance were rushed to the spot from Auraiya, Etawah and Kannauj while NDRF team was dispatched from Lucknow to provide succour to the passengers.
This is the second train accident in Uttar Pradesh in five days. On Saturday, a passenger train derailed in Muzaffaragar district leaving over 22 dead and 156 others injured.
Photographs: ANI