This test fire is the second time in less than a month and followed the sixth and most powerful nuclear test by North Korea to date on September 3.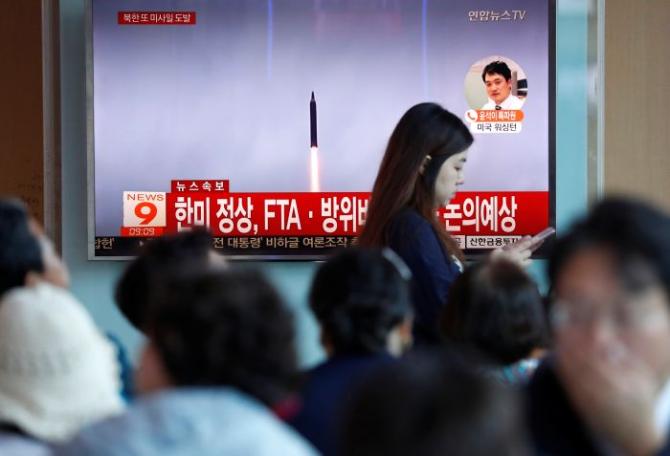 IMAGE: People watch a television broadcasting news of North Korea firing a missile that flew over Japan's northern Hokkaido. Photograph: Kim Hong-Ji/Reuters
North Korea fired a ballistic missile over Japan, its latest act of aggression against a neighbour and key Western ally amid an escalating war of rhetoric with the United States.
The Japanese government said the missile, which was launched from Pyongyang's Sunan district, passed over Hokkaido. Japan issued a nationwide alert that urged residents in the country's north to take shelter, and Japanese Chief Cabinet Secretary Yoshihide Suga told reporters he condemned the attack in the strongest possible terms.
This is the second time in recent weeks that a North Korean missile has flown over Japan, putting the country on high alert and emphasising the stakes as North Korea accompanies hostile language with displays of more sophisticated military technology.
The latest missile reportedly travelled 3,700 kilometre, farther than the 2,700 km logged by the prior missile hurled over Japan and far enough to potentially strike the American territory of Guam.
North Korea has issued a series of threats against Guam, which hosts a substantial American military presence, and Korean state media called the prior test of a missile over Japan a "a meaningful prelude to containing Guam".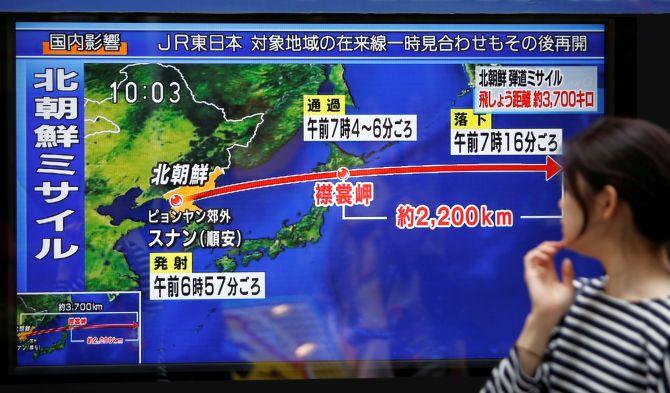 IMAGE: The missile reportedly travelled 3,700 kilometre, farther than the 2,700 km logged by the prior missile hurled over Japan. Photograph: Issei Kato/Reuters
However, the launch did not pose a threat to the United States, the US Pacific Command said on Friday.
In a statement United States Pacific Command said it "detected and tracked" what it assess was a single North Korean ballistic missile launch at 11:57 am (Hawai time).
"Initial assessment indicates the launch of an intermediate range ballistic missile. The launch occurred in the vicinity of Sunan, North Korea and flew east," Cmdr Dave Benham, Director of Media Operation PACOM said.
"The ballistic missile overflew the territory of northern Japan before landing in the Pacific Ocean east of Japan. We are working with our interagency partners on a more detailed assessment and we will provide a public update if warranted," Benham said.
The North American Aerospace Defense Command determined this ballistic missile did not pose a threat to North America. It further determined this ballistic missile did not pose a threat to Guam.
"Our commitment to the defence of our allies, including the Republic of Korea and Japan, in the face of these threats, remains ironclad. We remain prepared to defend ourselves and our allies from any attack or provocation," Benham said.
Center for National Interest Director of Defense Studies Harry J Kazianis said North Korea has once again defied the international community with another missile test --and once again flying over Japan.
"This launch, or any provocation from North Korea, should not shock us anymore," he said.
"Kim Jong Un, despite years of sanctions and international pressure, seems committed to the goal of developing a full-fledged nuclear weapons program -- and is willing to take increasingly dangerous steps to achieve his objective," Kazianis said.
To build out its nuclear deterrent, Pyongyang will continue to test all sorts of different types of missiles and nuclear weapons, he said.
"We should expect many more tests in the months and years to come, and every time, the world will hold its collective breath that such tests do not create a crisis that could result in a shooting war -- a war that could be waged with nuclear, chemical or potentially biological weapons," he said.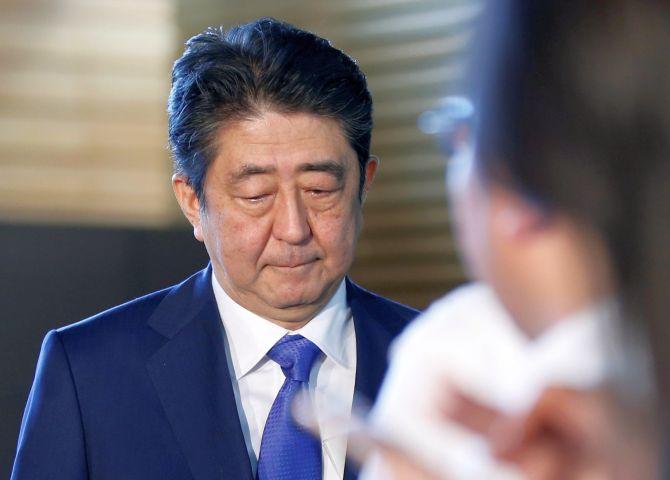 IMAGE: J

apanese Prime minister Shinzo Abe said that Japan would "never tolerate" what he called North Korea's "dangerous provocative action that threatens world peace" following a missile launch over his country. Photograph: Toru Hanai/Reuters
Meanwhile, the White House said President Donald Trump has been briefed about the missile launch.
The US President has been briefed on the latest North Korea missile launch by General Kelly," White House spokeswoman Sarah Huckabee Sanders said.
Following the test, the US once again asked China and Russia to take direct action against North Korea to "indicate their intolerance".
"China supplies North Korea with most of its oil. Russia is the largest employer of North Korean forced labour. China and Russia must indicate their intolerance for these reckless missile launches by taking direct actions of their own," US Secretary of State Rex Tillerson said in a statement after Pyongyang carried out another missile test that flew over Japan.
"North Korea's provocative missile launch represents the second time the people of Japan, a treaty ally of the US have been directly threatened in recent weeks," he said.
These continued provocations only deepen North Korea's diplomatic and economic isolation, he added.
-- With inputs from Agencies