Japanese Prime Minister Shinzo Abe and his wife Akie on Wednesday touched down in Ahmedabad for a two-day visit. He was warmly welcomed by Prime Minister Narendra Modi with a bear hug.
During his visit, Abe will be laying the foundation stone for India's first bullet train -- to run between Ahmedabad and Mumbai -- and to attend the 12th Indo-Japan Summit.
Here are the best moments from Abe's visit on Day 1.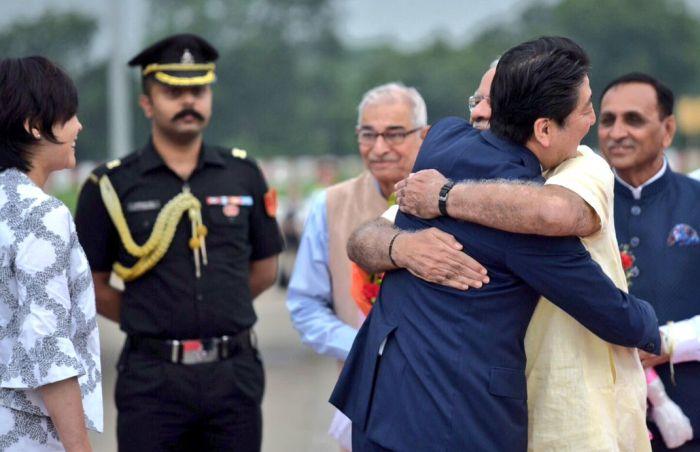 Prime Minister Narendra Modi broke protocol and welcomed his Japanese counterpart and his wife Akie. Modi accorded Shinzo Abe with a warm hug to convey the close relations the two countries share.
Photograph: @MEAIndia/Twitter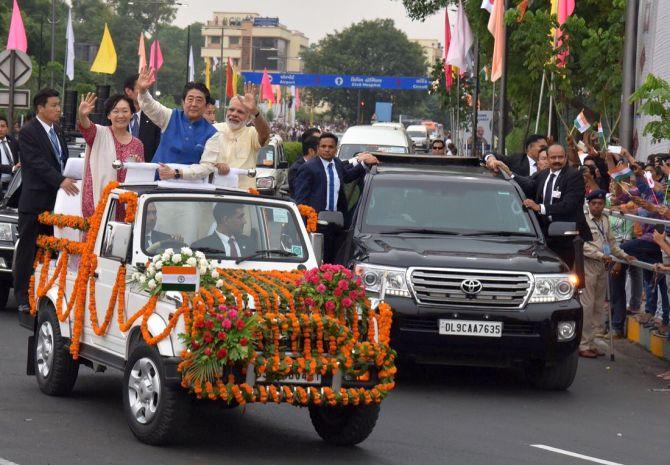 The two leaders got into an open-top Gypsy decorated with flowers for the 8-km roadshow. Along the route, 28 huge stages were built on which schoolchildren held performances highlighting India's varied culture.
Photograph: @MEAIndia/Twitter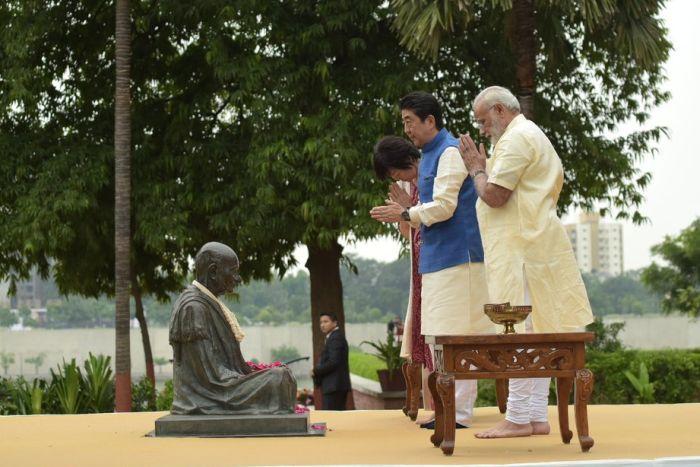 Abe and his wife Akie then paid homage to Mahatma Gandhi at the Sabarmati Ashram where Modi played the guide as he showed them around the place. The guests took a round of different wings of the Ashram, where Gandhi lived for about 12 years with his wife Kasturba, guiding the non-violent struggle for freedom from colonial rule.
Photograph: @MEAIndia/Twitter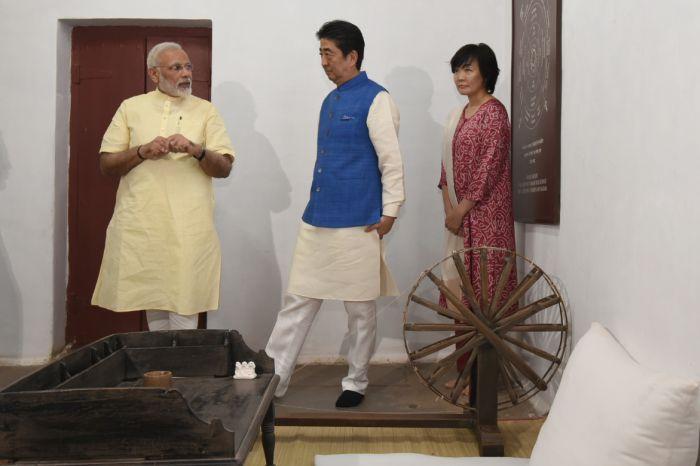 The couple, dressed in traditional Indian attire, went inside 'Hriday Kunj', the small house where Gandhi lived, and had their photographs clicked with a 'charkha' (spinning wheel), which was emblematic of India's quest for self- reliance during the freedom struggle.
Photograph: Press Information Bureau of India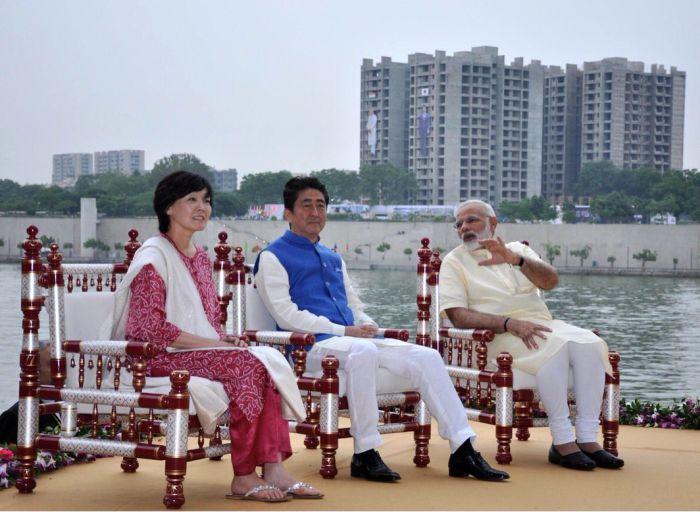 Like a courteous and indulgent host, Modi showed the couple around the ashram. The three sat for a while by the Sabarmati Riverfront on the backside of the Ashram.
Photograph: @MEAIndia/Twitter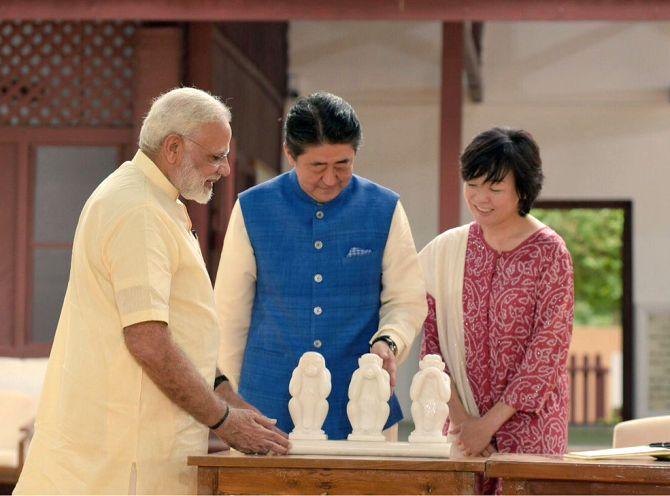 The Indian PM also showed them the statuettes of Gandhi's famous 'three monkeys' that symbolised his philosophy of peace and tolerance, with one of them covering its eyes, the second its mouth, and the third its ears in the gesture of 'see no evil, hear no evil, speak no evil'. The three wise monkeys, also called mystic apes, are said to have their origin in Japan in the 17th century.
Photograph: @MEAIndia/Twitter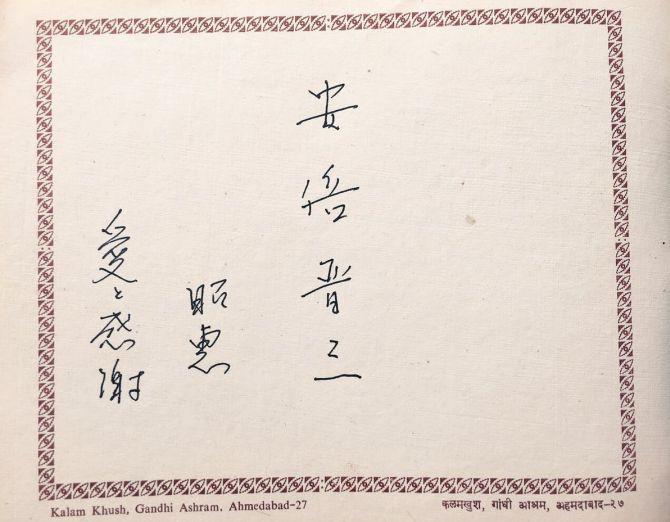 'Love and Thanks', Abe wrote in a short message in Japanese on the visitors' log book which was also signed by his wife.
Photograph: @MEAIndia/Twitter
They later visited the iconic medieval era mosque-- Sidi Saiyyed--an architectural marvel located in the eastern part of the world heritage city Ahmedabad.
Photograph: @PMOIndia/Twitter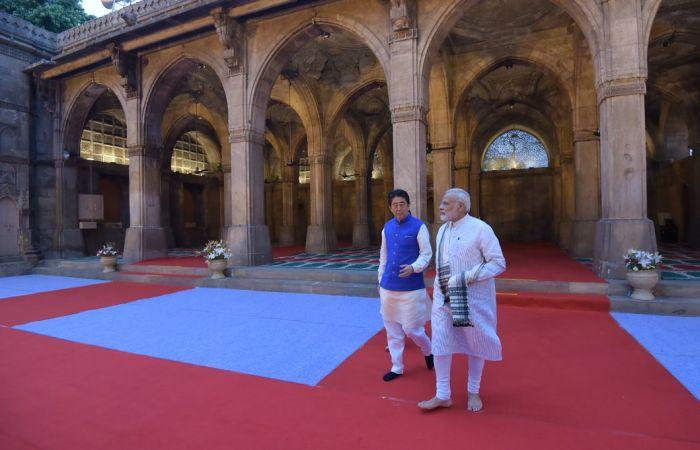 The 16th century mosque is known across the world for its intricate stone lattice work locally known as 'jalis'. The mosque is popularly called 'Sidi Saiyyed ni Jali'.
Photograph: @PMOIndia/Twitter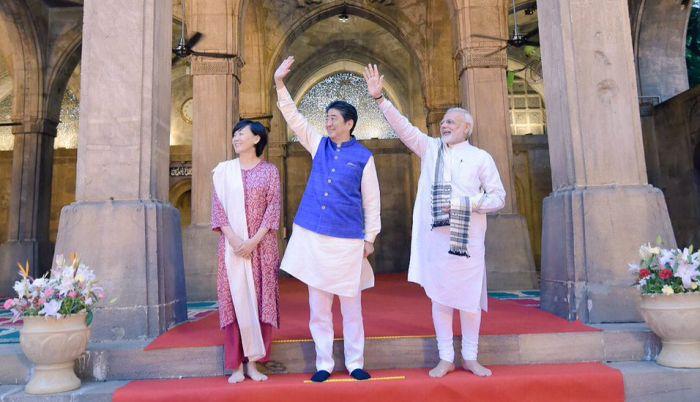 Modi took the couple on a brief tour of the mosque and explained to them the importance of the heritage monument built in 1573. The iconic 'jali' on the wall of the mosque is the official logo of the Indian Institute of Management, Ahmedabad.
Photograph: @MEAIndia/Twitter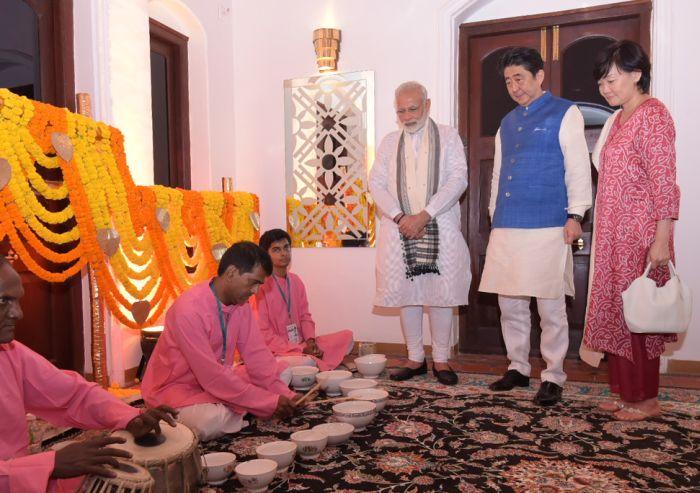 PM Modi later hosted a dinner for his Japanese counterpart and his wife at famous 'Agashiye' restaurant in Ahmedabad, known for its elegance and kosher Gujarati cuisine.Modi and the Abe couple took a brief tour of the heritage hotel property and enjoyed the a performance of musical instrument 'Jal Tarang'. It is located in the vicinity ofthe main heritage attractions like Bhadra Fort, Juma Masjidand Manek Chowk. Though the hotel is famous for offering traditional Gujarati food, the menu for the Japanese premier and his wife was mostly kept under wraps.
Photograph: Press Information Bureau of India