The death toll from the powerful 6.2-magnitude earthquake that struck central Italy on Wednesday has climbed to at least 247.
Fabrizio Curcio, head of Italy's civil protection agency, revised the death toll after Prime Minister Matteo Renzi earlier gave a toll of 120 dead and 368 injured.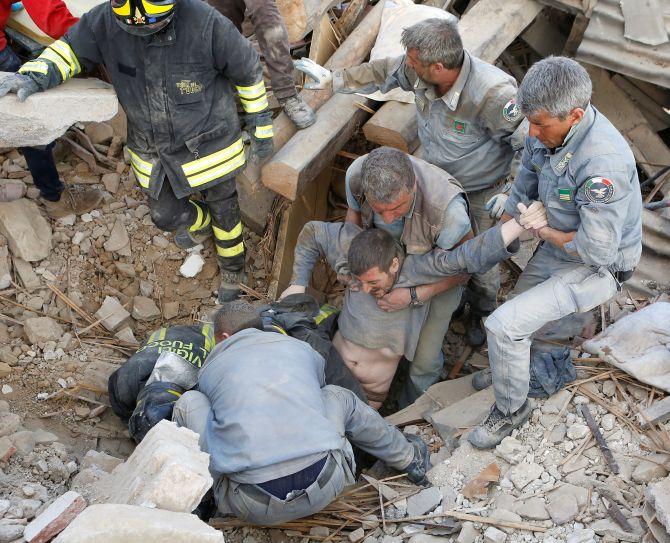 IMAGE: A man is rescued alive from the ruins following an earthquake in Amatrice, central Italy. Photograph: Remo Casilli/Reuters
Rescuers were working through the night to pull survivors from the rubble and "won't slow down", Curcio told public broadcaster Rai.
The quake also left a trail of destruction across several mountain villages packed with holidaymakers.
Renzi said the disaster had caused "a pain without limits", and insisted it was too early to begin a debate on what might have been done to prevent the disaster.
"Today is the time for tears and emotion," he said.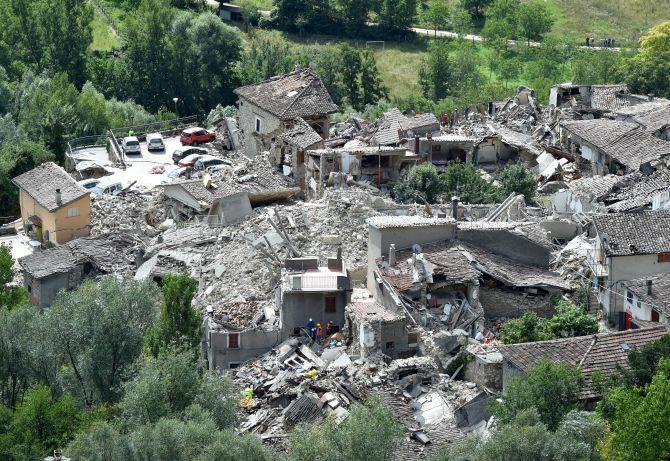 IMAGE: A general view of Pescara del Tronto town destroyed by the earthquake. Photograph: Giuseppe Bellini/Getty Images
The earthquake flattened the town of Amatrice, where the mayor said residents were buried under debris and the town "isn't here anymore." The town traces back centuries, to the Roman era.
Tourist Eve Read described what she felt.
"My husband and I woke up, being shaken from side to side in the bed…and probably continued for 6 or 7 seconds after we had woken up," Read said.
Read and her family were not hurt, but their vacation home did suffer some damage, including a collapsed ceiling.
10-year-old pulled from rubble after spending 17 hours trapped upside
IMAGE: A man walks through rubble following an earthquake in Amatrice, central Italy. Photograph: Stefano Rellandini/Reuters
A ten-year-old girl was pulled from the rubble after spending 17 hours trapped upside down in debris from the Italian earthquake.
The child was hauled to safety by rescuers who shouted 'she's alive' as they carried her from the ruins of a building in the devastated central Italian town of Pescara del Tronto.
Footage shows just the dust-covered legs of the youngster as emergency crews tried desperately to free her from the rubble.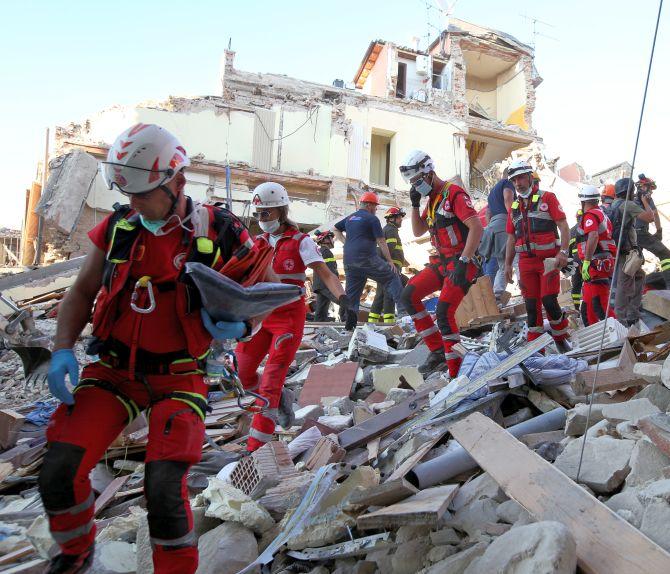 IMAGE: Rescuers walk through rubble following the earthquake in Amatrice, central Italy. Photograph: Stefano Rellandini/Reuters
One rescuer could be heard saying: "You can hear something under here. Quiet, quiet." He then urged the child to wriggle free one rescue worker said: "Come on, Giulia, come on, Giulia. ... Watch your head."
Cheers broke out when she was pulled out.
Chefs rally to help Italy quake victims
IMAGE: People cover themselves with blankets as they prepare to spend the night in the open following an earthquake in Amatrice, central Italy. Photograph: Stefano Rellandini/Reuters
Chefs in Italy and around the world are using their talents, and Amatrice's signature dish, to help raise money for earthquake victims.
Before Wednesday's devastating, 6.2 magnitude earthquake, the Italian town was best known for spaghetti all Amatriciana, a tomato-based sauce that traditionally includes pork jowl, olive oil, white wine, chili and pecorino cheese.
More than 600 restaurants are putting the pasta dish on their menus and have pledged to donate €2 (Rs 151) from each sale to the Italian Red Cross.
Art experts fear serious damage to historic Italian buildings
IMAGE: A statue of the Virgin Lady stands outside a destroyed niche following an earthquake at Pescara del Tronto, central Italy. Photograph: Remo Casilli/Reuters
Art experts fear numerous historic Italian buildings and their contents were damaged in Wednesday's earthquake, across a region where almost every hilltop town and village has beautiful churches and monuments.
The Dutch classicist David Rijser, an expert on the culture of Abruzzo, said there had been damage to the central region's many churches, funeral monuments and museums. "It has been a true drama, there is a lot that has been lost," he told Dutch radio.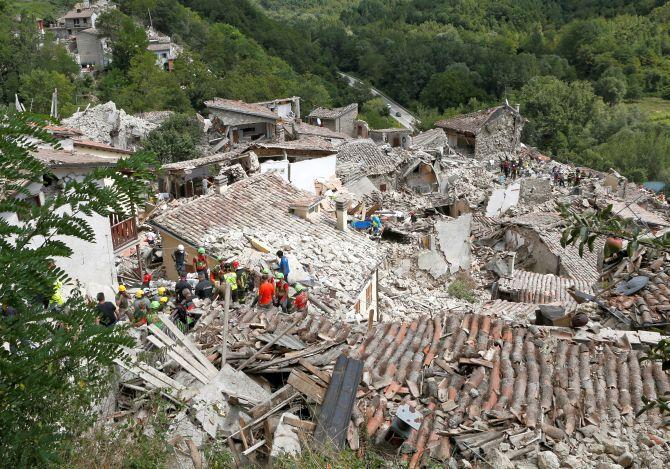 IMAGE: escuers clear debris while searching for victims in damaged buildings in Arquata del Tronto, Italy. Photograph: Giuseppe Bellini/Getty Images
Some of the greatest destruction was in Amatrice, which was voted one of Italy's most beautiful towns last year and is celebrated for its Cento Chiese, 100 churches filled with frescoes, mosaics and sculptures.
Half the facade of the 15th-century church of Sant Agostino has collapsed, taking with it the beautiful rose window. The courtyard of one of the town's Renaissance palaces has been turned into a temporary morgue.
The town clock in the 16th-century bell tower remains frozen at just after 3.36 am, the moment the earthquake struck.