The Simhastha Kumbh Mela, the largest congregation of any faith in the world held after every 12 years, began on Tuesday with the traditional hoisting of flags as tens of thousands of sadhus and other people took a holy dip in Kushavart and Ramkund in Godavari river.
The mela will see the spectacular 'shahi snan' (royal bath), when seers and sadhus of various 'akharas' (sects) take dip in river in large numbers folowing colourful procession, at Trimbakeshwar on August 29, September 13 and 25. Nearly three lakh sadhus are expected to be in Nashik and Trimbakeshwar for the religious gathering.
The Kumbh Mela is celebrated at four places in the country depending on the positions of planets and stars. When the Jupiter and the Sun are in zodiac sign Leo (Simha Rashi), it is celebrated in Trimbakeshwar, Nashik.
Rediff.com takes a look at the devout flock that attends the Simhastha Kumbh Mela to take a dip into the holy waters and purify themselves.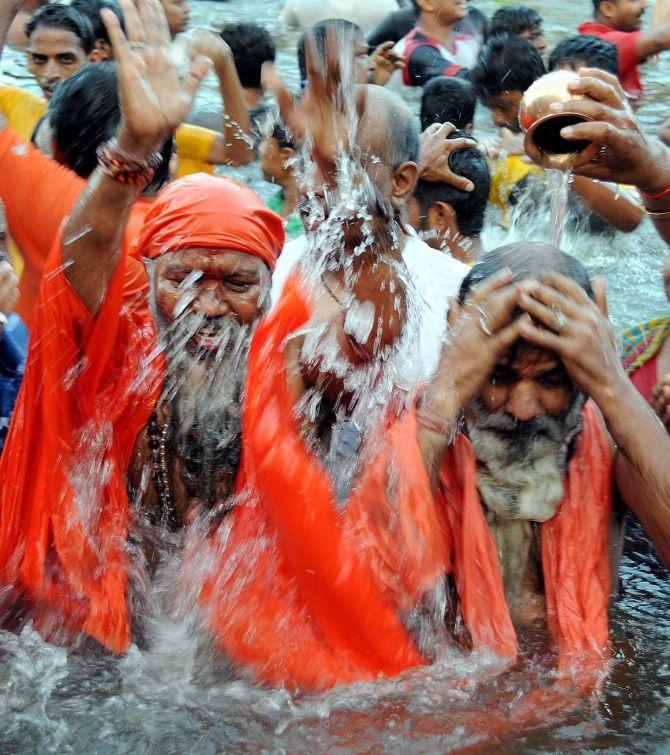 Devotees taking holy bath in Godavari River during the Simhastha Kumbha Mela in Nashik. Photograph: PTI
---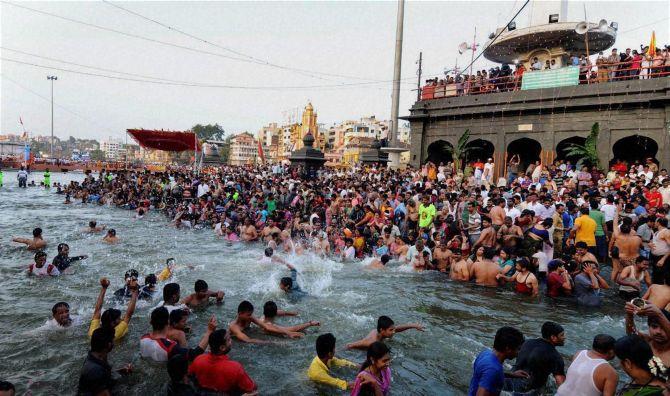 Devotees taking holy bath in Godavari River during the Simhastha Kumbha Mela in Nashik. Photograph: PTI
---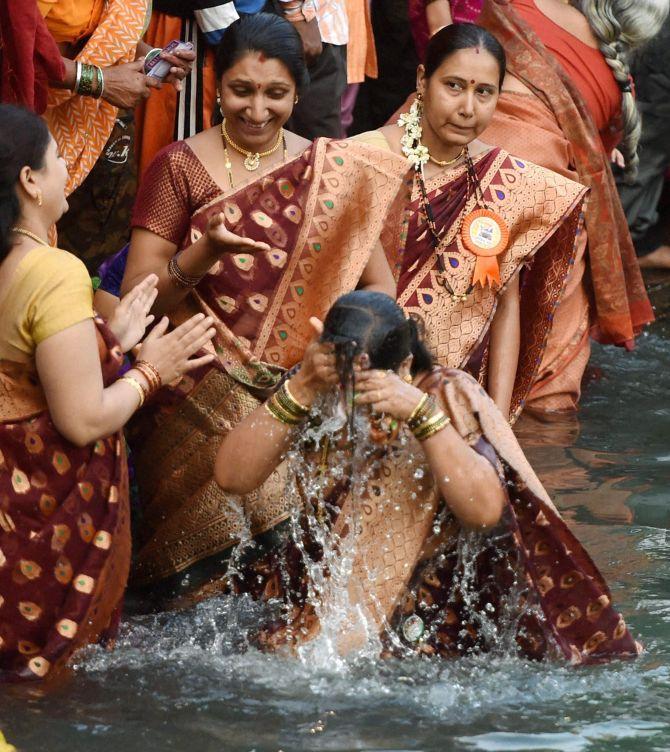 Devotees taking holy bath in Godavari River during the Simhastha Kumbha Mela in Nashik. Photograph: PTI
---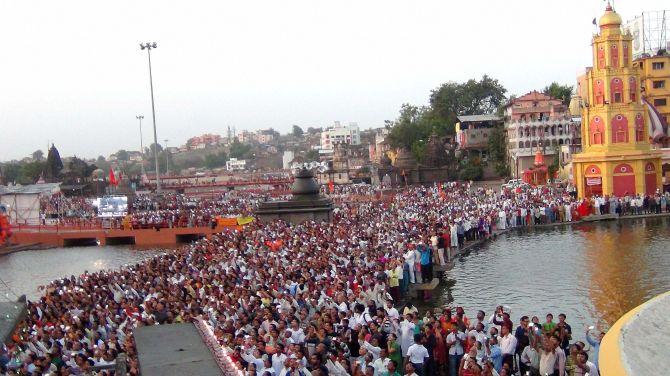 Devotees gather during the flag hoisting ceremony of Kumbha Mela on the bank of River Godavari in Nashik. Photograph: PTI
---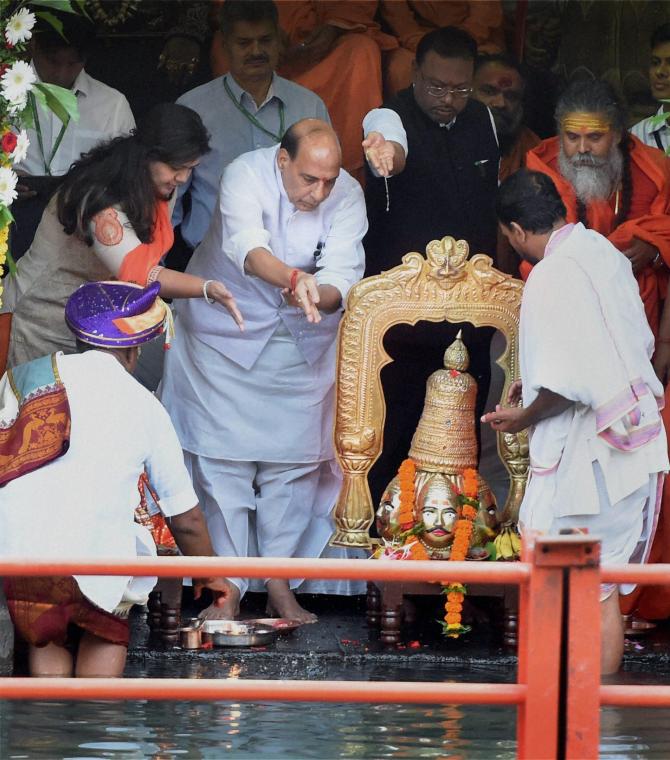 Union Home Minister Rajnath Singh along with Maharashtra Women and Child Development Minister Pankaja praying at Trimbakeshwar in Nashik. Photograph: Shashank Parade/ PTI
---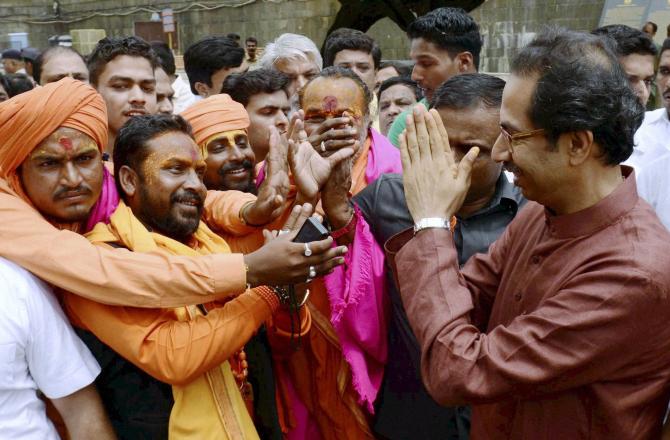 Sadhus greet Shiv Sena President Uddhav Thackeray at Kushavrat (origin of river Godavari) at Trimbakeshwar near Nashik after the beginning of Kumbh Mela. Photograph: PTI
---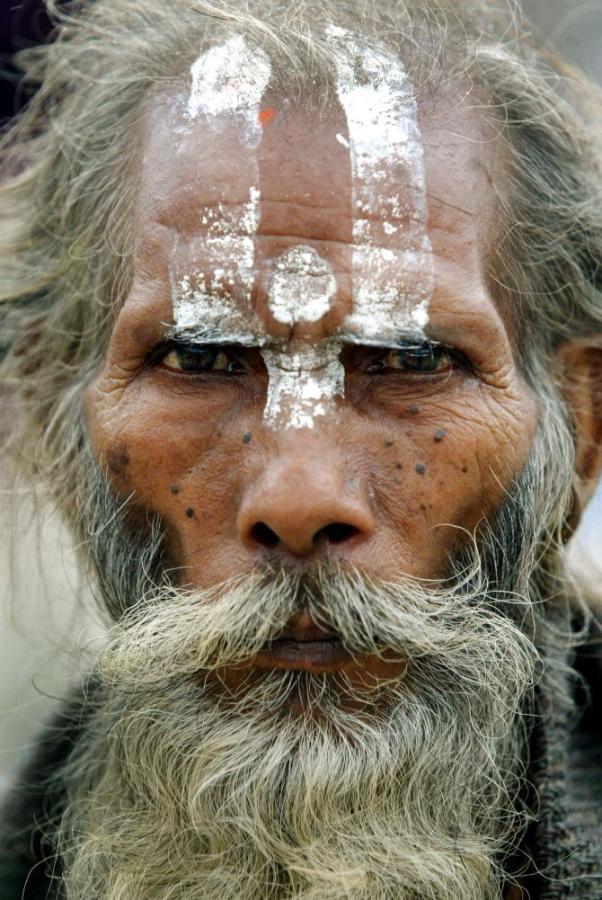 A Hindu holyman attends the Kumbh Mela festival in Nasik town. Photograph: Reuters