The winners of the 60th annual World Press Photo Contest have been announced.
The winning shot was taken by Turkish Associated Press photographer called Burhan Ozbilici, with an image he has simply titled An Assassination in Turkey. Showing Mevlut Mert Altintas shouting after shooting Andrei Karlov, the Russian ambassador to Turkey, at an art gallery in Ankara, Turkey, on December 19 2016.
This year, 80,408 photos were submitted for judging, made by 5,034 photographers from 125 different countries.
Winners in eight categories were announced, including Contemporary Issues, Daily Life, General News, Long-Term Projects, Nature, People, Sports, and Spot News.
World Press Photo has been kind enough to allow us to share some of this year's winning photos here with you.
(Please click on an image to know more about it)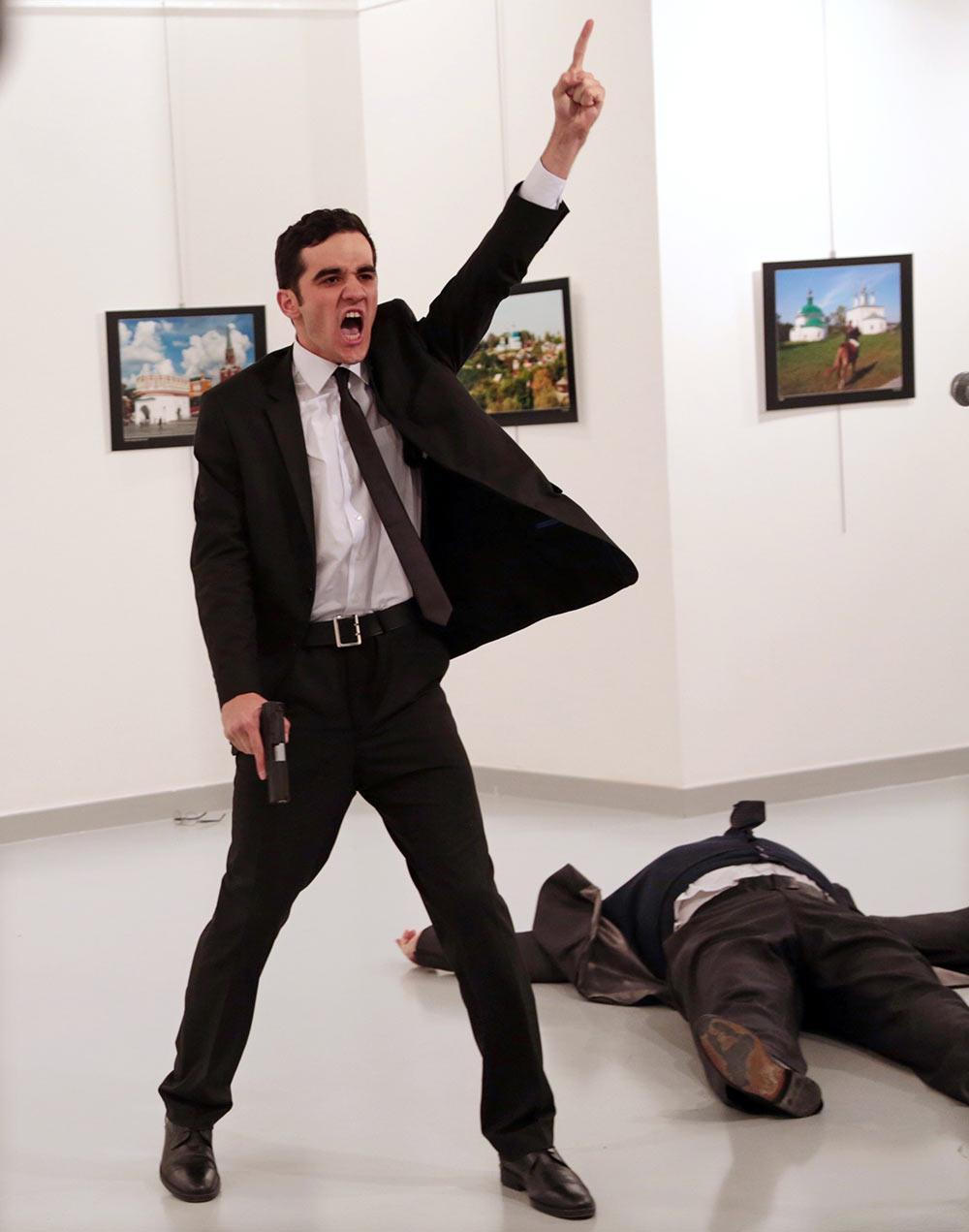 An Assassination in Turkey
World Press Photograph winner
Mevlut Mert Altintas shouts after shooting Andrey Karlov, the Russian ambassador to Turkey, at an art gallery in Ankara, Turkey. Mevlut Mert Altintas assassinated the Russian ambassador to Turkey, Andrey Karlov, at an art exhibition in Ankara, Turkey, on December 19, 2016. He wounded three other people before being killed by officers in a shootout.
Photograph: Burhan Ozbilici/Associated Press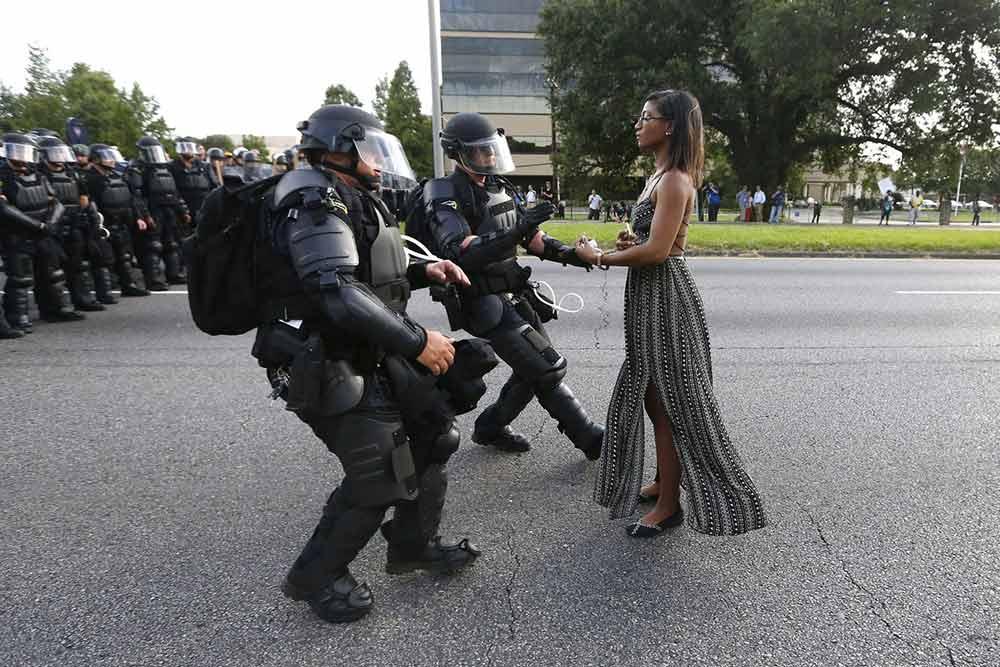 Taking A Stand In Baton Rouge
Contemporary Issues - First Prize, Singles
Lone activist Ieshia Evans stands her ground while offering her hands for arrest as she is charged by riot police during a protest against police brutality outside the Baton Rouge Police Department in Louisiana, USA, on 9 July 2016. Evans, a 28-year-old Pennsylvania nurse and mother of one, travelled to Baton Rouge to protest against the shooting of Alton Sterling. Sterling was a 37-year-old black man and father of five, who was shot at close range by two white police officers. The shooting, captured on a multitude of cell phone videos, aggravated the unrest coursing through the United States in previous years over the use of excessive force by police, particularly against black men.
Photograph: Jonathan Bachman/Thomson Reuters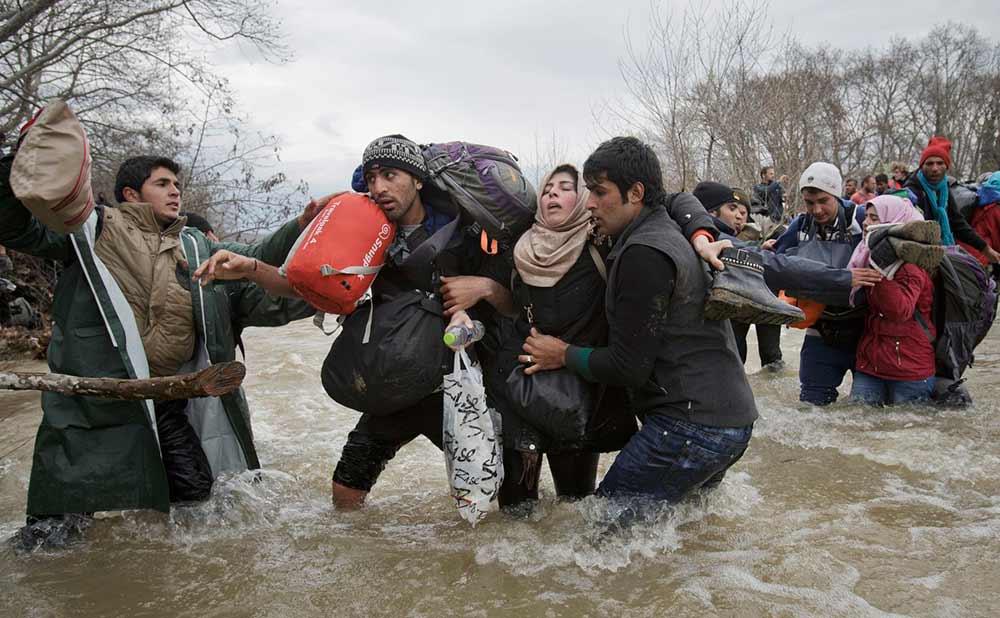 Migrant Crossing
Contemporary Issues - Second Prize, Singles
A woman is supported by two men while crossing a river, as refugees attempt to reach Macedonia on a route that would bypass the border fence, on March 14, 2016. Hundreds of refugees walked out of an overcrowded camp on the Greek-Macedonian border on this day, shortly after the closure of Macedonia's borders, determined to head north despite the dangers of the crossing.
Photograph: Vadim Ghirda/The Associated Press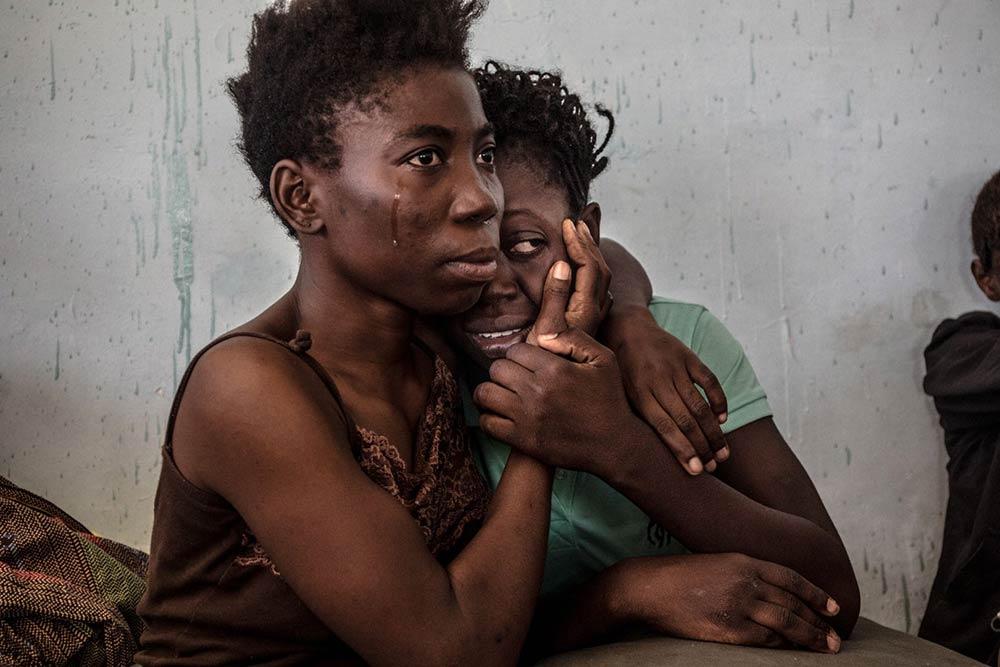 The Libyan Migrant Trap
Contemporary Issues - Third Prize, Singles
Two Nigerian refugees cry and embrace in a detention center for refugees in Surman, Libya, on August 17, 2016. The detention center houses hundreds of women escaping precarious conditions. Many claim they are regularly beaten or sexually assaulted, and receive insufficient amounts of food and water at the center. Most of these women were attempting to reach Europe by being smuggled across the Mediterranean in boats setting sail from neighbouring Sabratah.
Photograph: Daniel Etter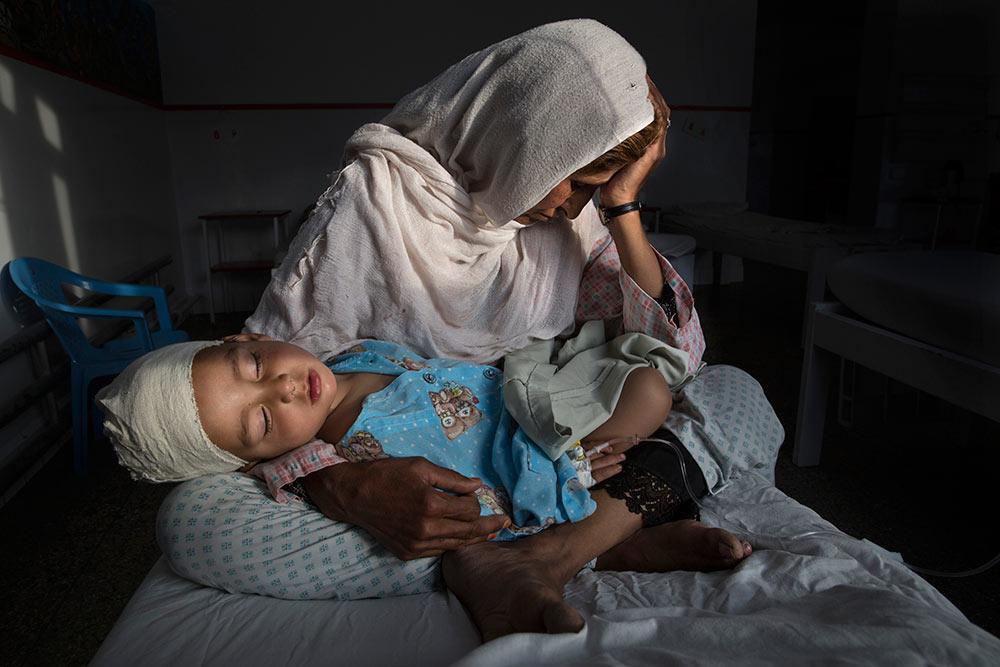 The Silent Victims Of A Forgotten War
Daily Life - First Prize, Singles
At the hospital, Najiba holds her two-year-old nephew Shabir who was injured from a bomb blast in Kabul on 29 March 2016. Afghanistan has endured armed conflict since 1979, when the Soviet Union invaded. Afghan civilians are at greater risk today than at any time since Taliban rule, which ended in 2001. According to UN statistics, in the first half of 2016 at least 1,600 people died, and more than 3,500 people were injured. Despite billions of dollars spent by the international community to stabilize the country, Afghanistan has seen little improvement in terms of overall stability and human security.
Photograph: Paula Bronstein, for Time Lightbox/Pulitzer Center For Crisis Reporting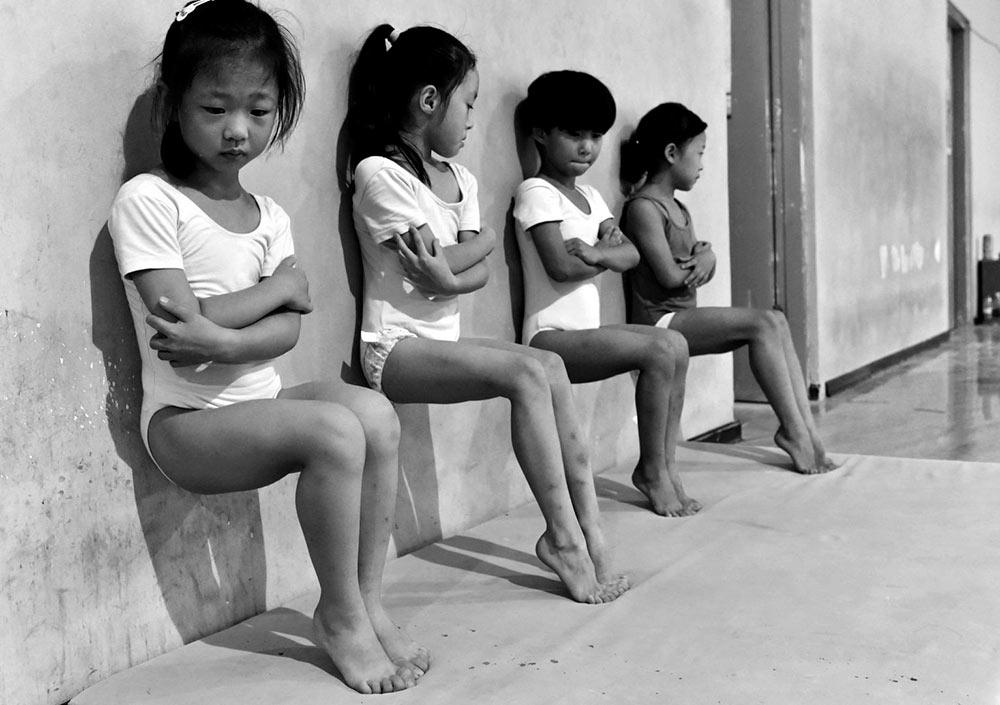 Sweat Makes Champions
Daily Life - Second Prize, Singles
Four students of a gymnastics school in Xuzhou, China, do toe-pressure training for 30 minutes in the afternoon.
Photograph: Tiejun Wang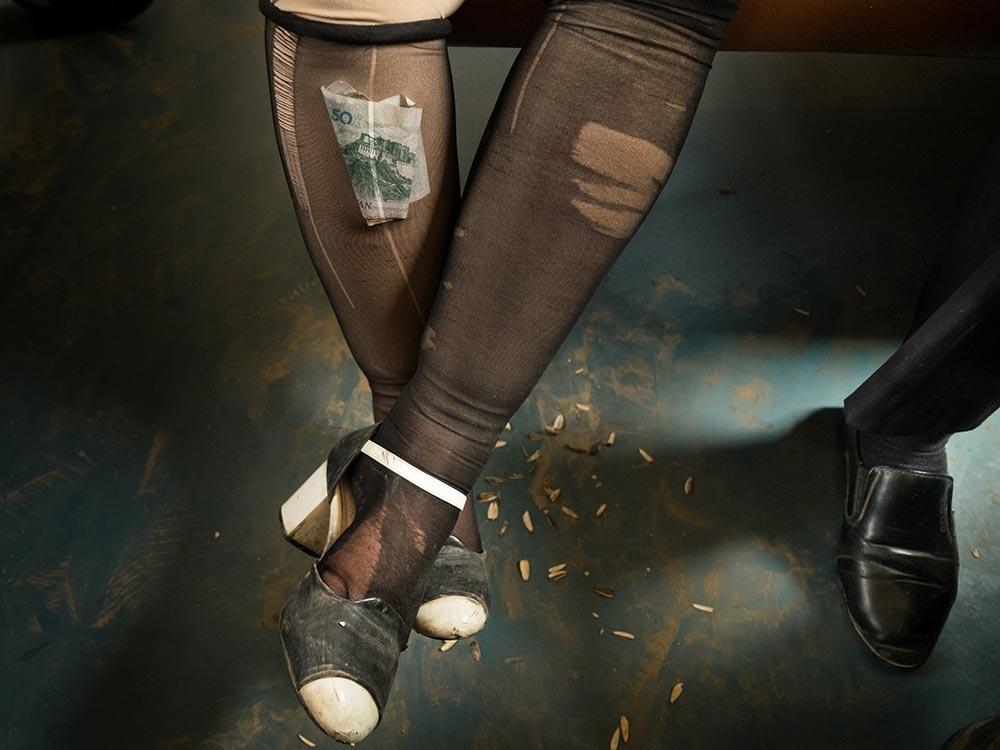 China's Wild West
Daily Life - Third Prize, Singles
An Uyghur woman carries money in her stockings, a common practice. Uygur women, while Muslim, typically do not adhere to the conservative dress code that women in neighbouring countries follow. On this train from Kashgar, you see a lesser known side of China. Most of the passengers are Uygur, a Chinese minority who live mostly in the west. One of the longest train journeys in the world -- 2,910 miles (4,683 kilometres) -- runs across China from Hong Kong to Urumqi, made up of 18 wagons, traveling over 160 kilometres per hour, and taking over five hours to complete its journey. China is transformed with every mile, from verdant jungle and arid steppe to the Taklamakan desert, the second largest shifting-sand desert in the world in the Southern branch of the Silk Road, China.
<p
>Photograph: Matthieu Paley/National Geographic Magazine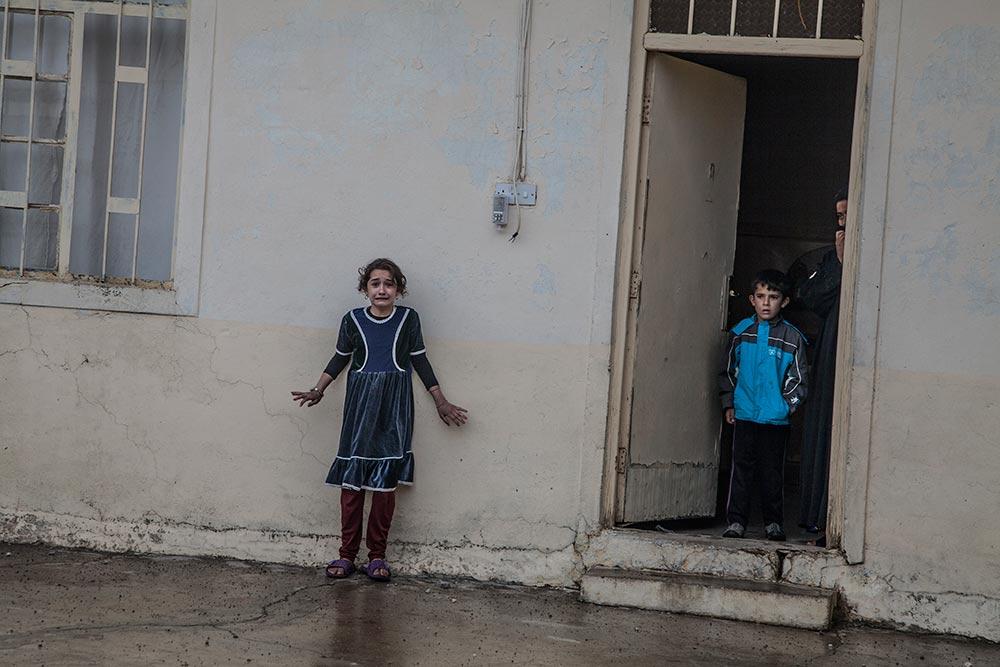 Offensive On Mosul
General News - First Prize, Singles
The Iraqi Special Operations Forces search houses of Gogjali, an eastern district of Mosul, looking for Daesh members, equipment, and evidence on 2 November 2016. The Iraqi Special Operations Forces, also known as the Golden Division, is the Iraqi unit that leads the fight against the Islamic State with the support of the airstrikes of the Coalition Forces. They were the first forces to enter the Islamic State-held city of Mosul in November 2016.
Photograph: Laurent Van der Stockt/Getty Reportage for Le Monde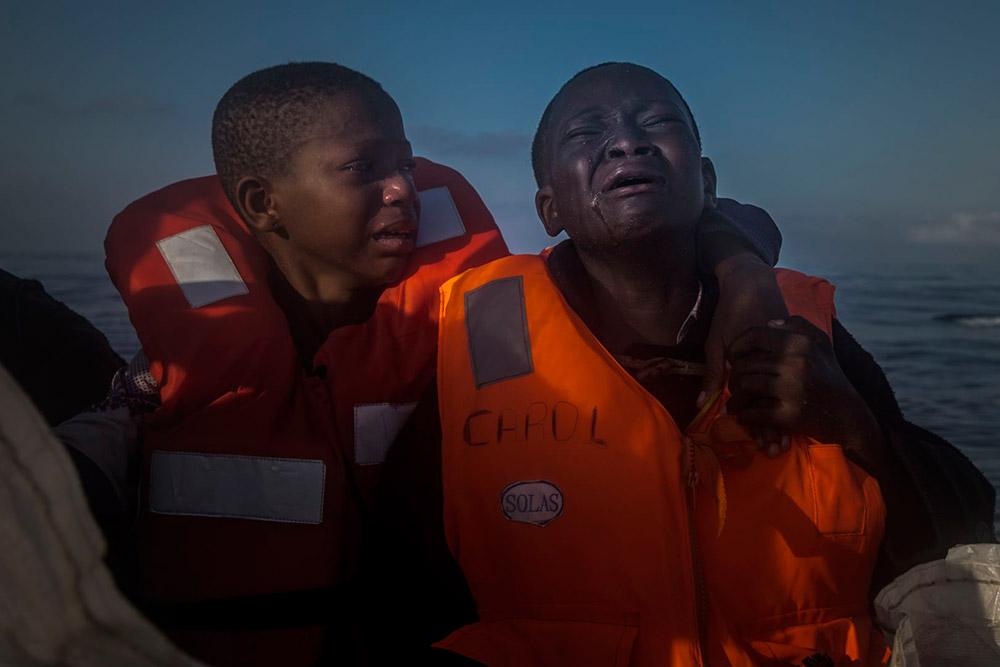 Left Alone
General News - Second Prize, Singles
An 11-year-old girl from Nigeria (left), who said her mother died in Libya, cries next to her 10-year-old brother aboard an NGO rescue boat, on July 28 2016. The children had sailed for hours in an overcrowded rubber boat with other refugees during a rescue operation on the Mediterranean Sea, about 23 kilometres north of Sabratha, Libya. Libyan smugglers often take advantage of refugees, charging anywhere from $750 to $3500 for a place on typically dangerous boats they say are heading to Italy.
Photograph: Santi Palacios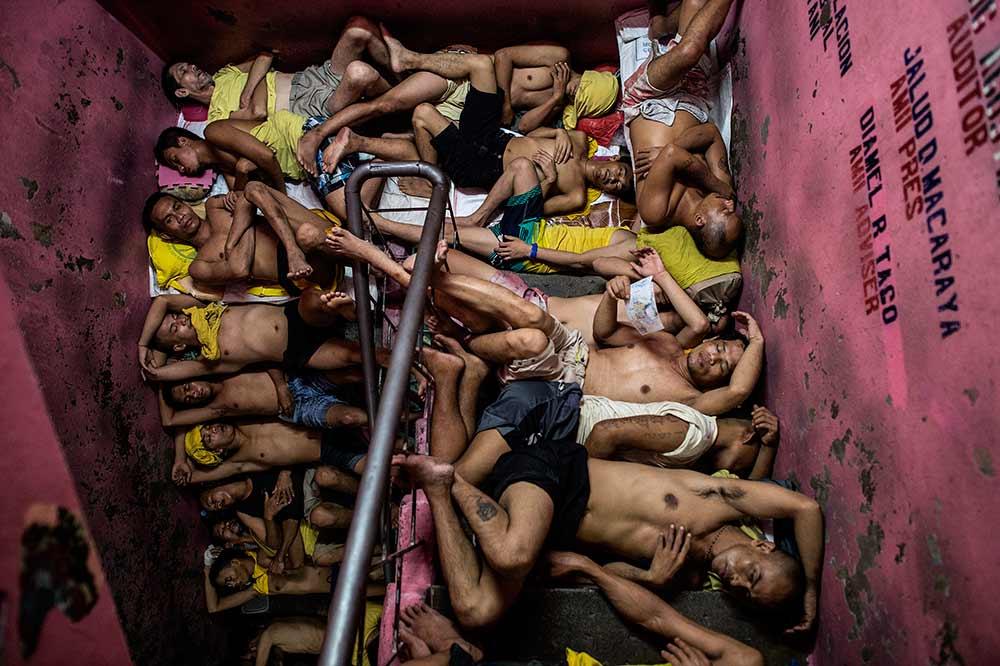 Life Inside The Philippines' Most Overcrowded Jail
General News - Third Prize, Singles
The photos show scenes from Quezon City Jail, one of the Philippines' most overcrowded prisons. Conditions are getting worse as police wage an unprecedented war on crime. There are 3,800 inmates at the jail, which was built six decades ago to house 800, and they engage in a relentless contest for space. Men take turns to sleep on the cracked cement floor of an open-air basketball court, the steps of staircases, underneath beds and hammocks made out of old blankets.
Photograph: Noel Celis/Agence France-Presse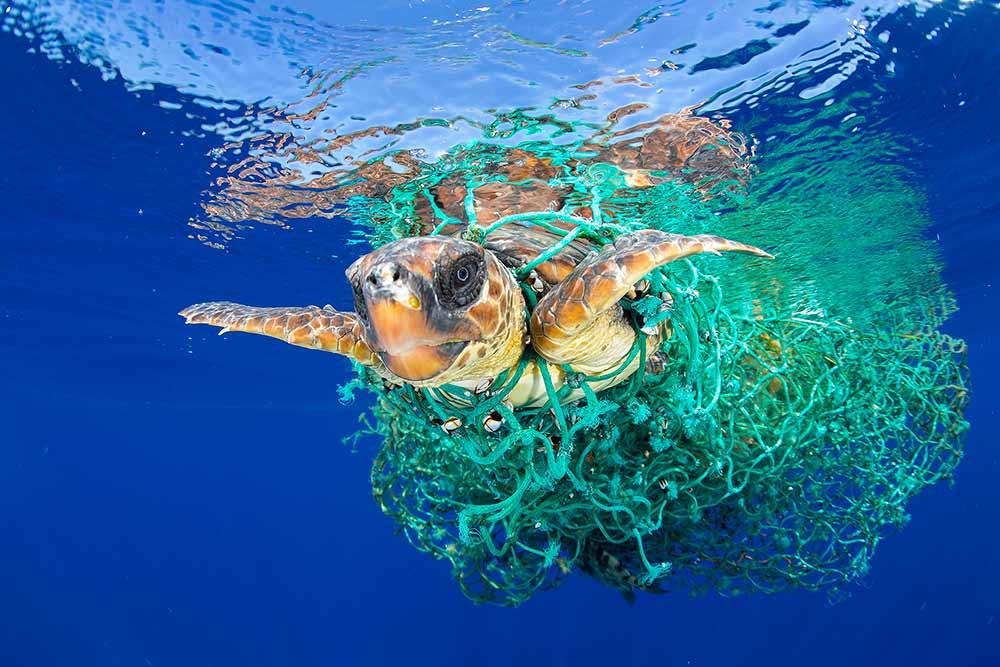 Caretta Caretta Trapped
Nature - First Prize, Singles
A sea turtle entangled in a fishing net swims off the coast of Tenerife, Canary Islands, Spain, on June 8 2016. Sea turtles are considered a vulnerable species by the International Union for Conservation of Nature. Unattended fishing gear is responsible for many sea turtle deaths.
Photograph: Francis Pérez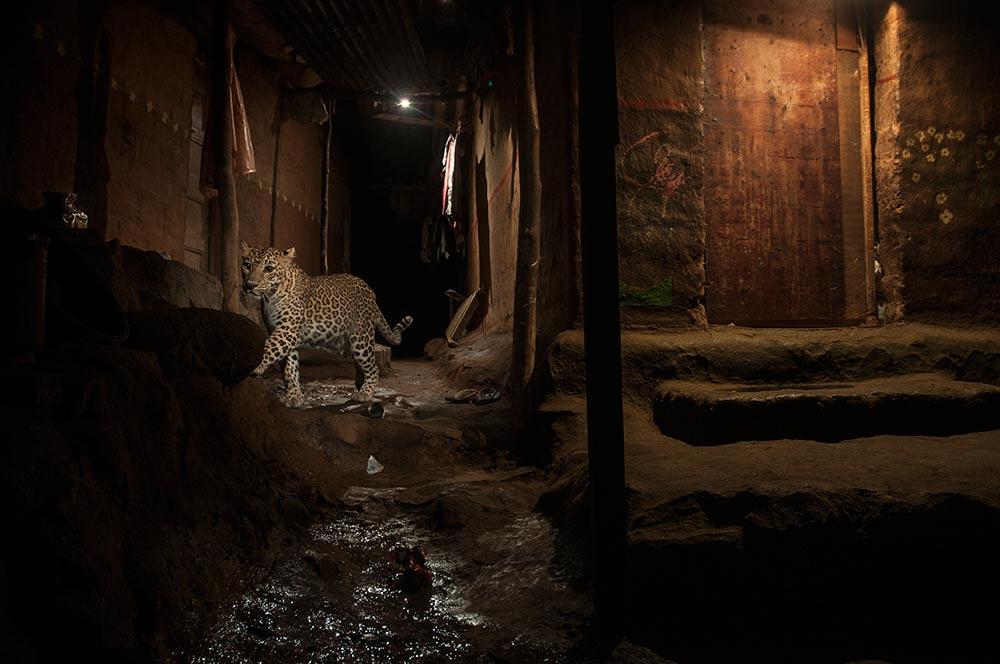 Big Cat In My Backyard!
Nature - Second Prize, Singles
A wild leopard strolls through Sanjay Gandhi National Park, a protected area in the northern part of Mumbai city, India, on 24 September 2016. The leopard is on its nocturnal prowl in the adjacent human settlements in search of food, which in these areas is typically dogs or pigs.
Photograph: Nayan Khanolkar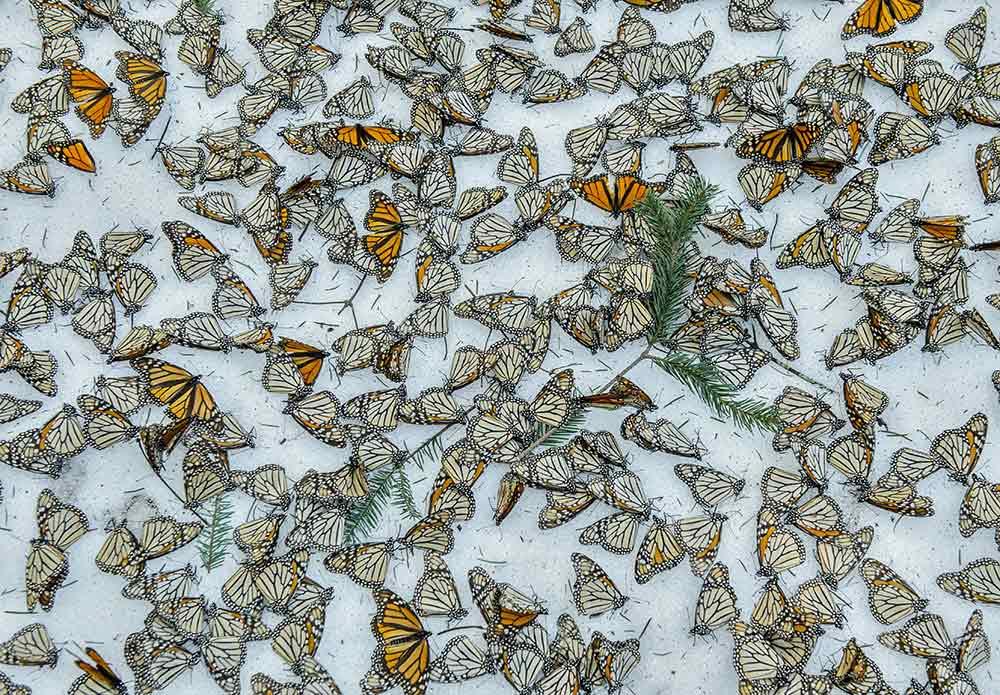 Monarchs In The Snow
Nature - Third Prize, Singles
A carpet of monarch butterflies covers the forest floor of El Rosario Butterfly Sanctuary, in Michoacán, Mexico, on March 12, after a strong snow storm hit from 8 to March 9, 2016. The storm hit the mountains of Central Mexico, creating havoc in the wintering colonies of monarch butterflies just as they were starting their migration back north to the USA and Canada.Climate change is creating an increase of these unusual weather events, representing one of the biggest challenges for these actually resilient insects during their hibernation.
Photograph: Jaime Roj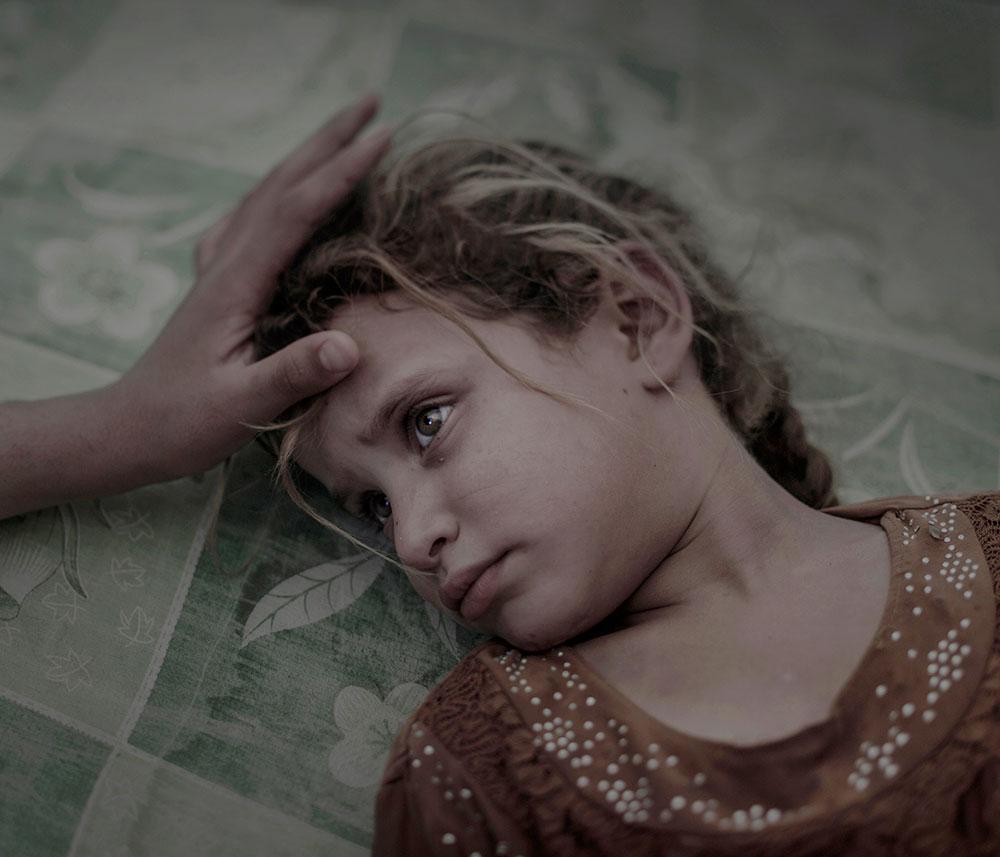 What ISIS Left Behind
People - First Prize, Singles
Five-year-old Maha and her family fled from the village Hawija outside Mosul, Iraq, seven days ago. The fear of so-called Islamic State and the lack of food forced them to leave their home, her mother says. Now Maha lays on a dirty mattress in the overcrowded transit center in Debaga's refugee camp. "I do not dream and I'm not afraid of anything anymore," Maha says quietly while her mother's hand strokes her hair. After two years under Islamic State control, Iraqi and Kurdish troops launched an operation in October 2016 to retake Iraq's second largest city and last IS stronghold in the country: Mosul. This was a task that would prove far more difficult than anyone imagined. 2
Photograph: Magnus Wennman/Aftonbladet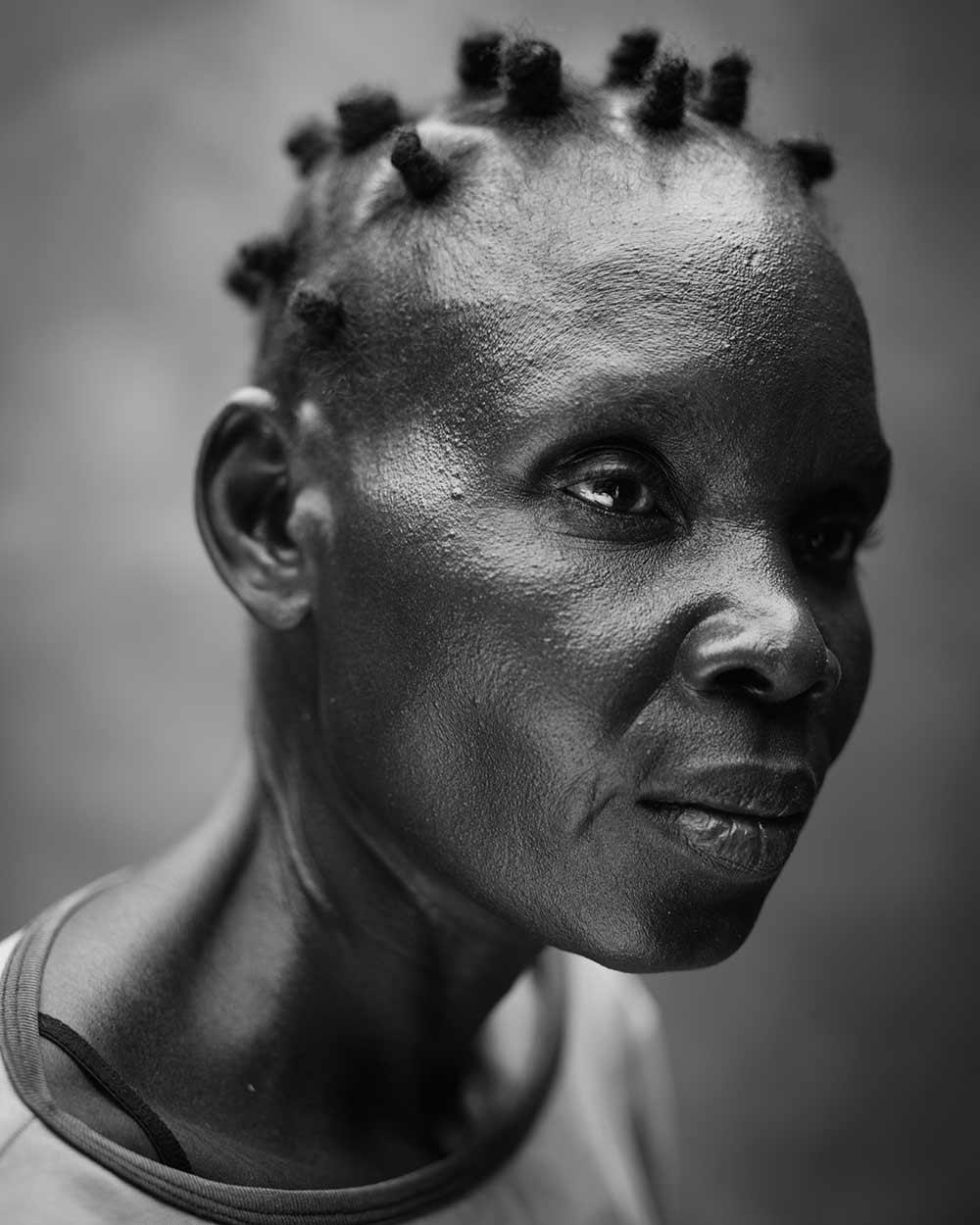 Praying for a miracle – mental health problems in disabling environments in Africa
People - Second Prize, Singles
Hellen (41) lives with a mental health problem. Her illness developed later in life. In developing countries, over 80 percent of people living with mental health problems do not receive any treatment. In African countries, treatment often comes in the form of prayer from a pastor or traditional healer. Modern medicine is available to very few. A mental health problem often means relegation to the margins of society; life in mental health facilities often doing more harm than good, and coming attached with crippling social stigma. Cultural beliefs and associations that link mental disorders to witchcraft are deeply rooted in some communities.
Photograph: Robin Hammond/NOOR Images for Witness Change
Fidelity
<p
People - Third Prize, Singles
A woman strokes a girl's head as she rests on her lap whilst sitting on a sofa in a police station in Camaguey, Cuba, on 12 February 2016, with a portrait of Fidel Castro hanging above them. Fidel Alejandro Castro Ruz was a Cuban revolutionary and politician who governed the Republic of Cuba as prime minister from 1959 to 1976 and then as president from 1976 to 2008.
Photograph: Kristina Kormilitsyna/Kommersant Newspaper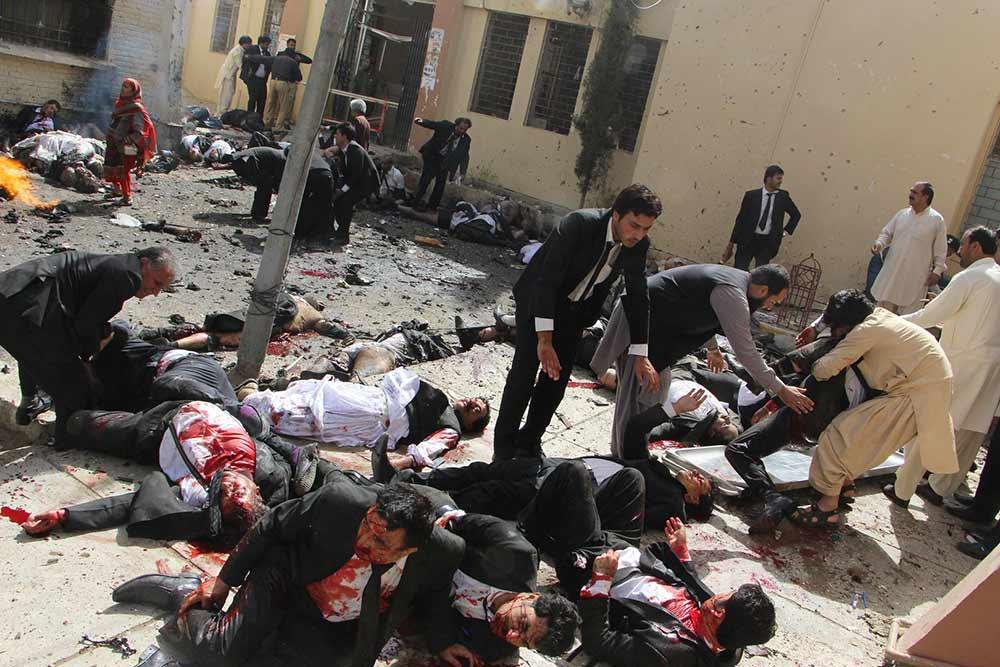 Pakistan Bomb Blast
Spot News - First Prize, Singles
Lawyers help their injured colleagues after a bomb explosion in Quetta, Pakistan, on August 8, 2016. Seventy people were killed when a bomb exploded outside a civil hospital where a crowd of lawyers and journalists had gathered to mourn Bilal Anwar Kasi, a senior lawyer who had been assassinated hours earlier.
Photograph: Jamal Taraqai/European Pressphoto Agency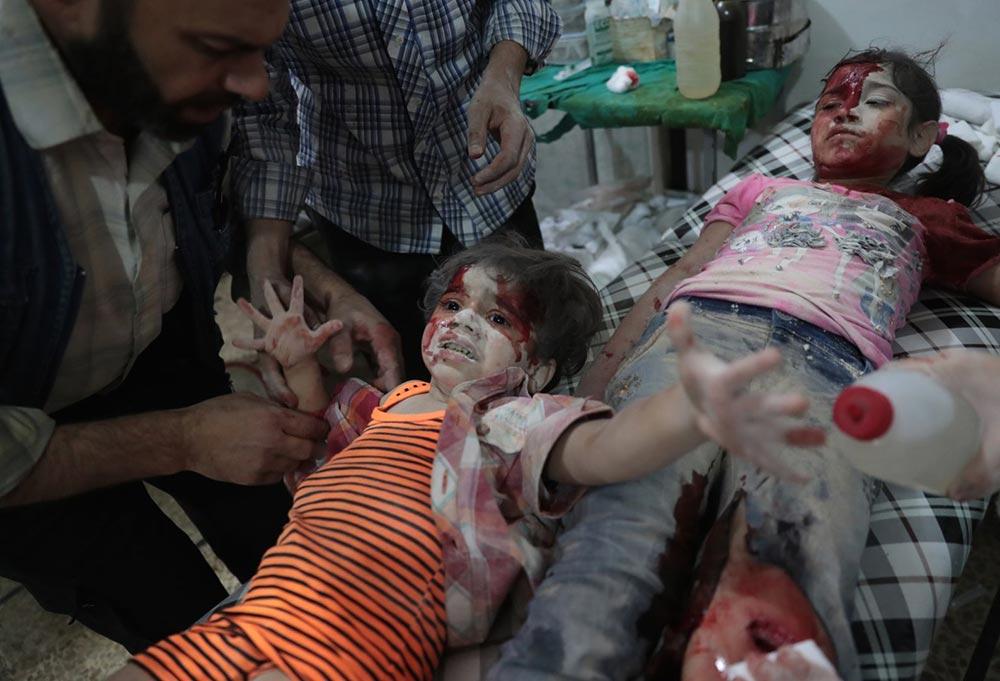 Medics Assist a Wounded Girl
Spot News - Second Prize, Singles
A Syrian girl cries out as a wounded child lies next to her at a makeshift hospital on September 12 2016. She had been injured in reported government airstrikes on the rebel-held town of Douma, east of Damascus, Syria.
Photograph: Abd Doumany/Agence France-Presse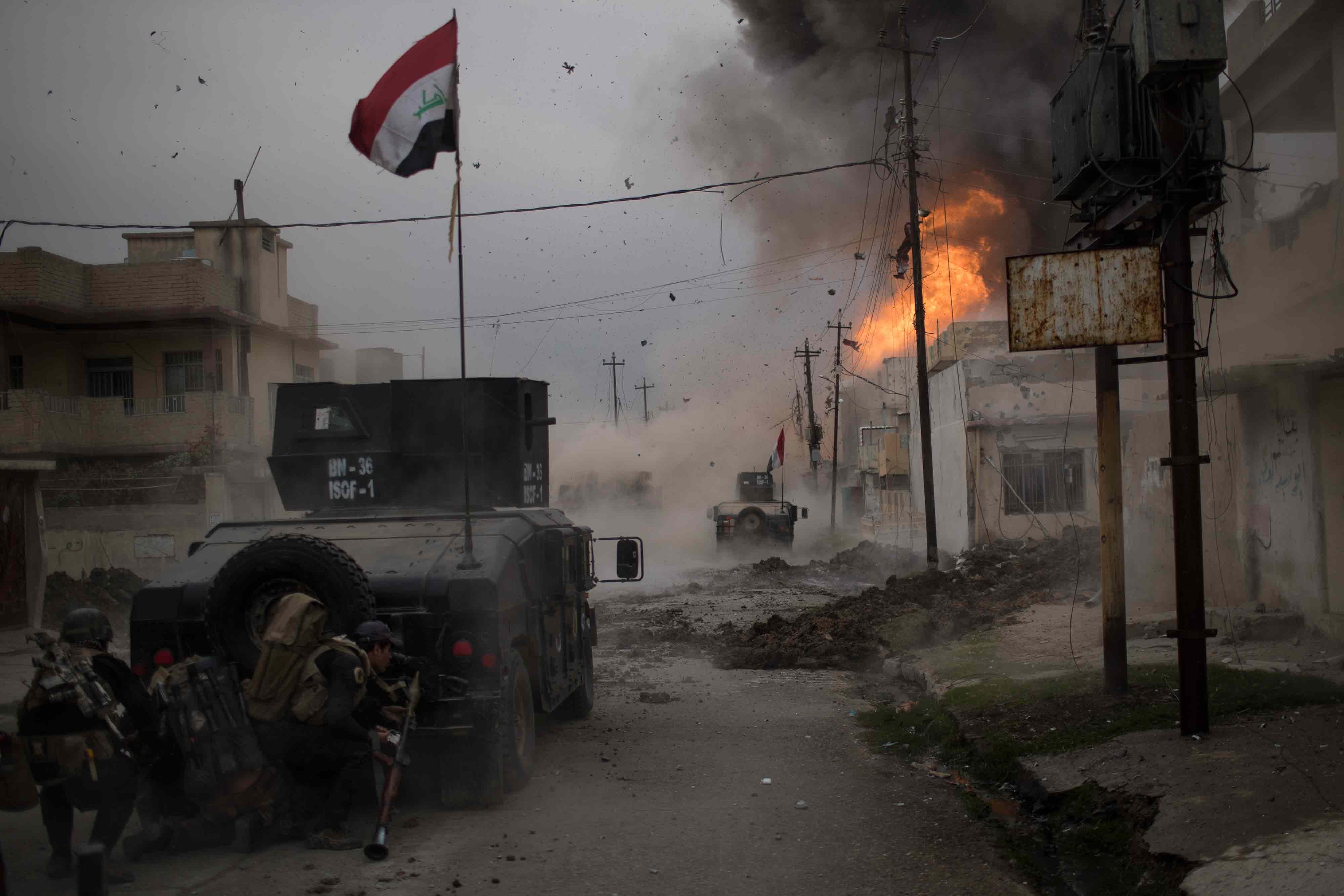 Battle For Mosul
Spot News - Third Prize, Singles
A car bomb explodes next to Iraqi special forces armored vehicles as they advance towards Islamic State-held territory in Mosul, Iraq, on November 16 2016. The Iraqi Special Operations Forces, also known as the Golden Division, is the Iraqi unit that leads the fight against the Islamic State with the support of the airstrikes of the Coalition Forces. They were the first forces to enter the Islamic State-held city of Mosul in November 2016.
<p
Photograph: Felipe Dana/The Associated Press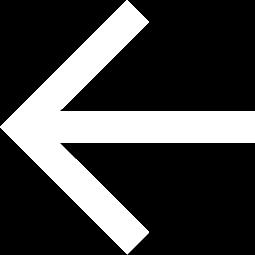 '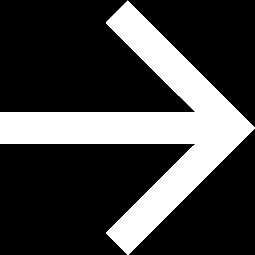 X