More than 80 women have accused the movie mogul, once the most powerful man in the American film industry of sexual misconduct, including rape, with some allegations dating back to decades.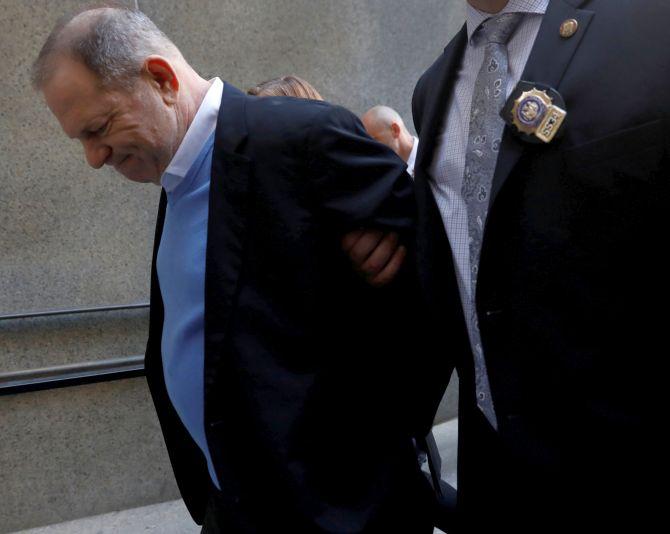 Harvey Weinstein was arrested and arraigned in a court on Friday on charges that he raped one woman and forced another to perform oral sex on him, months after the disgraced movie mogul was accused by over 80 women of sexual misconduct which sparked the global #MeToo movement.
The 66-year-old former American film producer, once one of the most powerful men in Hollywood, walked into a police station house in Lower Manhattan, surrounded by several detectives and police personnel after being arrested by New York City detectives early Friday morning.
Carrying three large books under his right arm, he looked up without saying a word as a sea of reporters and onlookers yelled "Harvey!"
He was processed at the station house, the First Police Precinct, and arraigned in a New York court on charges of first-degree rape and third-degree rape in one case, and first-degree criminal sex act in another, law enforcement officials said.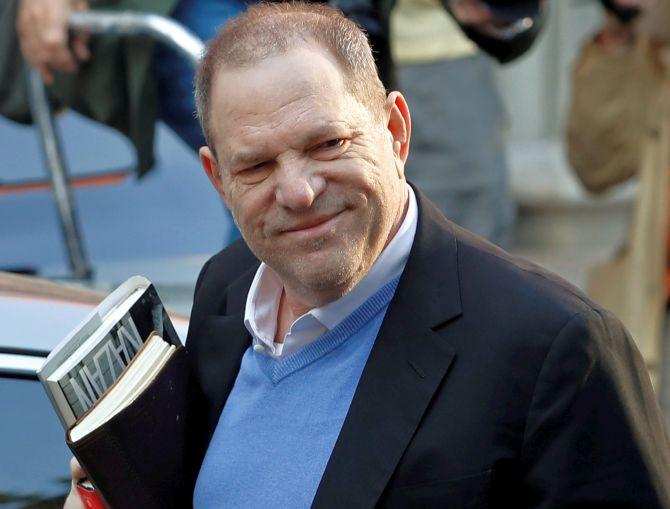 His defense attorney Benjamin Brafman told reporters that Weinstein would enter a not guilty plea.
"Mr Weinstein has always maintained that he has never engaged in non-consensual sexual behavior with anyone. Nothing about today's proceedings changes Mr Weinstein's position. He has entered a plea of not guilty and fully expects to be exonerated," Brafman was quoted as saying in the US media.
"We intend to move very quickly to dismiss these charges. We believe that they are constitutionally flawed. We believe that they are not factually supported by the evidence, and we believe that at the end of the process Mr Weinstein will be exonerated," Brafman, one of US' renowned criminal defense attorneys, told reporters outside the courthouse.
The New York Times had said in a report that as part of a bail package negotiated in advance, Weinstein will put up $1 million in cash and will agree to wear a monitoring device.
His travel will be restricted and will have to surrender his passport, the report said.
More than 80 women, including prominent Hollywood celebrities such as Gywneth Paltrow, Angelina Jolie, Salma Hayek, Ashley Judd, Uma Thurman and Asia Argento, have publicly accused Weinstein of sexual misconduct, including rape with some allegations dating back to decades.
Once one of the biggest power centres in Hollywood for independent cinema, Weinstein had a spectacular fall from grace after a New York Times investigation unveiled his history of sexual misconduct. The number increased further in another investigation by Ronan Farrow for the New Yorker.
Farrow, who won Pulitzer Prize for uncovering the Weinstein scandal along with the New York Times journalists Jodi Kantor and Megan Twohey, said it was an "incredible and unexpected moment" for the accusers as they did not believe they would every see justice.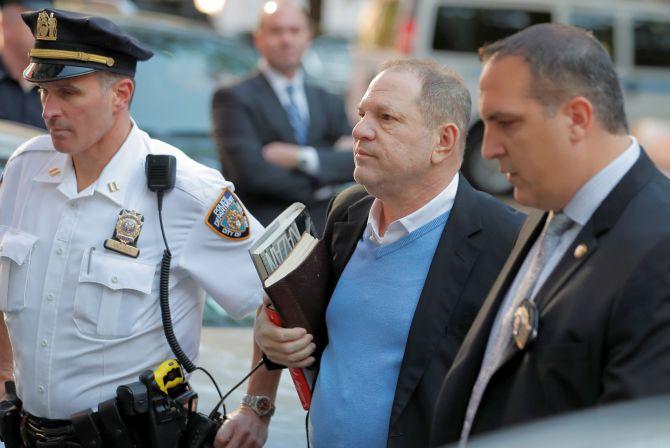 As women opened up about Weinstein's history of sexually abusing and assaulting them, others from across the world came forward with their own accounts of being sexually harassed and assaulted by powerful men, triggering the global #MeToo movement.
"Weinstein had until recently seemed untouchable, harnessing his wealth and his influence in the movie industry to intimidate women out of speaking publicly and, only three years ago, withstand an investigation into groping allegations," the NYT report said.
The criminal sex act charge against Weinstein stems from an encounter with Lucia Evans, who told The New Yorker and then investigators from the Manhattan district attorney's office that Hollywood producer forced her to perform oral sex on him during what she thought would be a casting meeting.
The victim in the rape case has not been publicly identified.
Weinstein has been accused of sexually harassing and assaulting movie stars and employees of his former namesake company over the course of decades and then paying them or coercing them to stay silent.
Weinstein's lawyer Brafman declined to comment, the report said.
In the past, Brafman had said that Weinstein denied any allegations of "non-consensual sex".
Authorities opened investigation into Weinstein's conduct. Prosecutors in the office of the Manhattan district attorney Cyrus Vance conducted dozens of interviews in New York and elsewhere and issued hundreds of subpoenas, and their inquiry is not over.