French President Emmanuel Macron, accompanied by his wife Brigitte Marie-Claude Macron, besides senior ministers from his Cabinet, began their four-day visit to India by meeting Prime Minister Narendra Modi and President Ram Nath Kovind and his wife.
On Friday night, Macron was received at the airport Prime Minister Modi in a special gesture.
Here are glimpses from Macron's visit.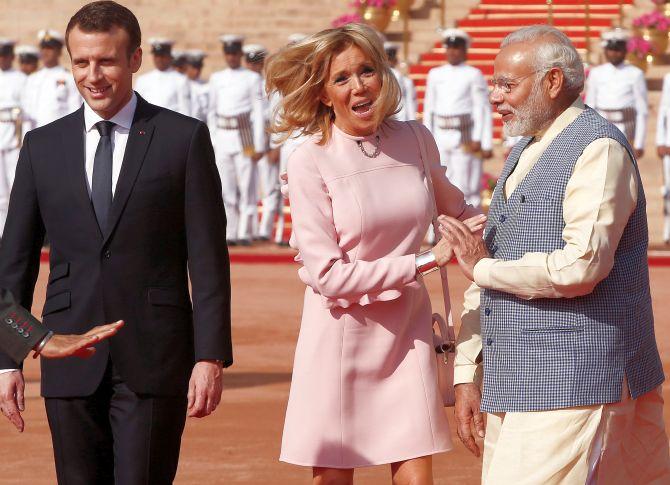 French President Emmanuel Macron and wife Brigitte Marie-Claude Macron were accorded a ceremonial welcome at the Rashtrapati Bhavan on Saturday. After inspecting a guard of honour and meeting with other officials, Macron said, "I am very happy and proud of this visit. I thank the President (Kovind) and Prime Minister (Modi) for this welcome. I think we have a very good chemistry and our two great democracies have a historic relationship." Photograph: Adnan Abidi/Reuters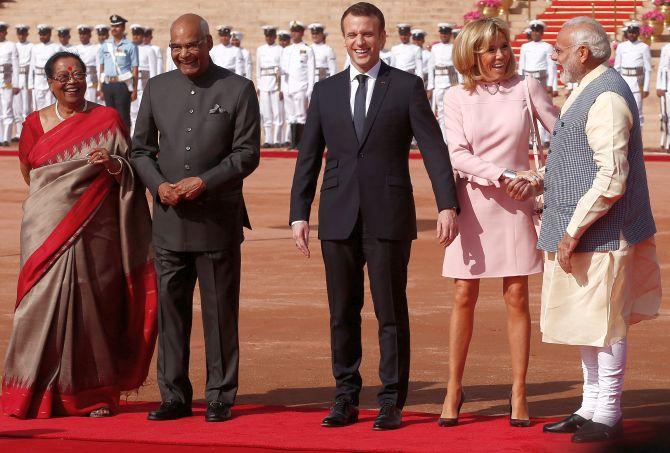 All smiles! President Kovind and his wife along with France's Macron and his wife along with PM Modi. The French president stated that the visit would open a new era of strategic partnership in the coming decades. "Our two democracies have common channels like terrorism, lots of common risks and common threats. But we have to protect this history and the state for freedom," President Macron added. Photograph: Adnan Abidi/Reuters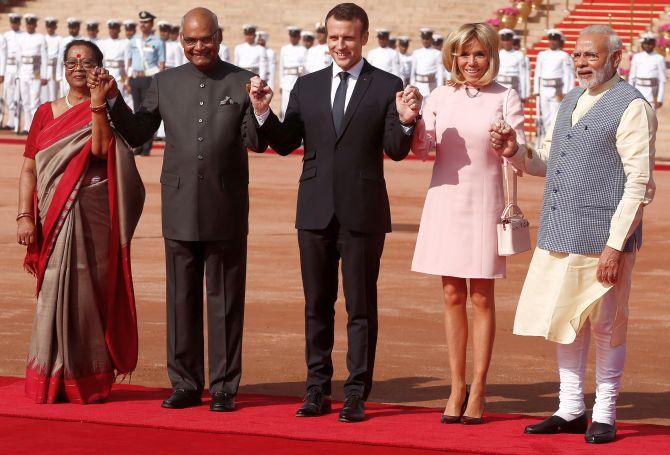 Macron called for his country to be India's best partner in Europe. "I want my country to be the best partner in Europe. This is a strong message. I want Indian citizens coming to France for studying, becoming entrepreneurs and opening start-ups." Photograph: Adnan Abidi/Reuters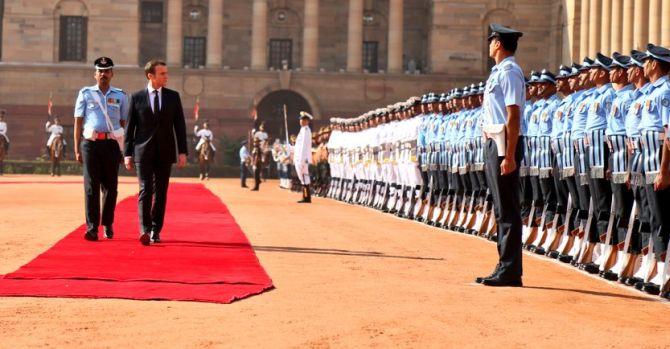 Macron inspects the Guard of Honour accorded to him at Rashtrapati Bhavan. Photograph: @MEAIndia/Twitter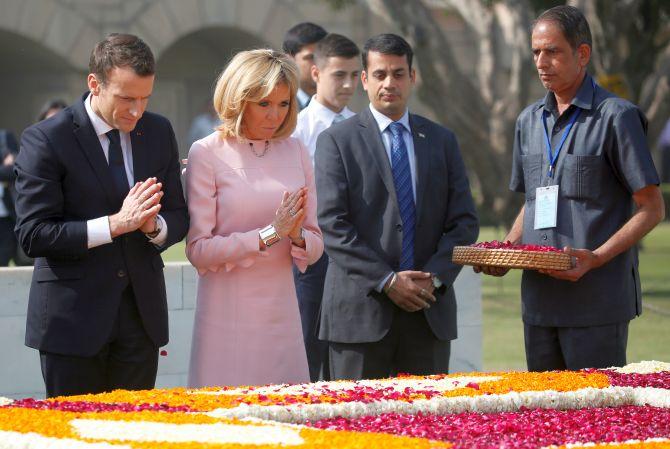 French President Macron and his wife Brigitte Macron pay their respects at the Mahatma Gandhi memorial at Rajghat. Photograph: Altaf Hussain/Reuters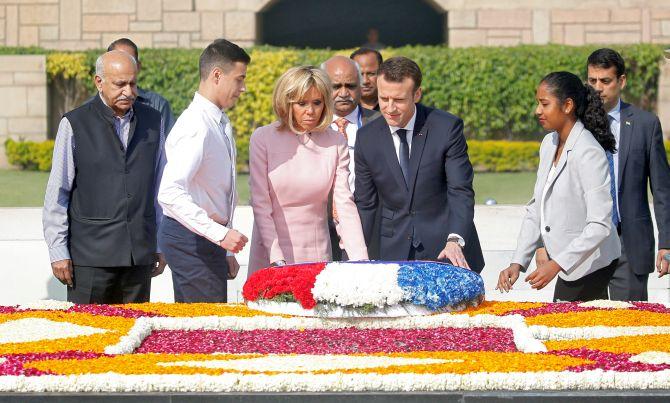 Macron's busy day schedule includes delegation-level talks with Modi, a Town Hall and an interactive session, in which nearly 300 students from different institutions are expected to participate. Photograph: Altaf Hussain/Reuters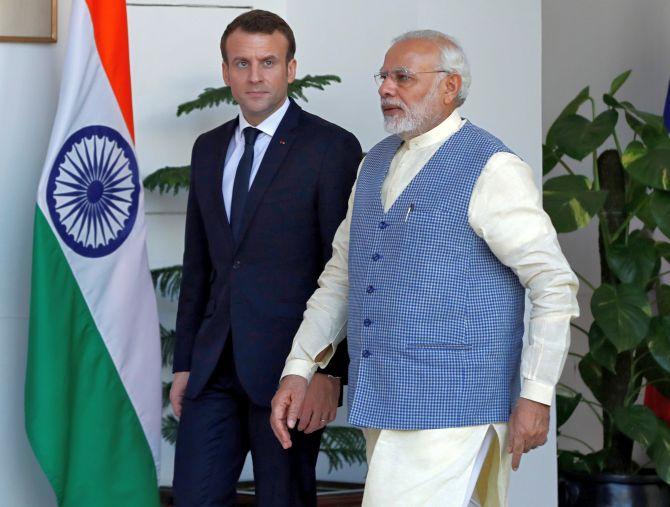 Modi and Macron at Hyderabad House for delegation-level talks. Besides defence, talks in the areas of nuclear energy and space will also be discussed. Photograph: Cathal McNaughton/Reuters
Macron greets External Affairs Minister Sushma Swaraj during a meeting at Alliance Francaise cultural centre in New Delhi. Photograph: Chandan Khanna/Pool/Reuters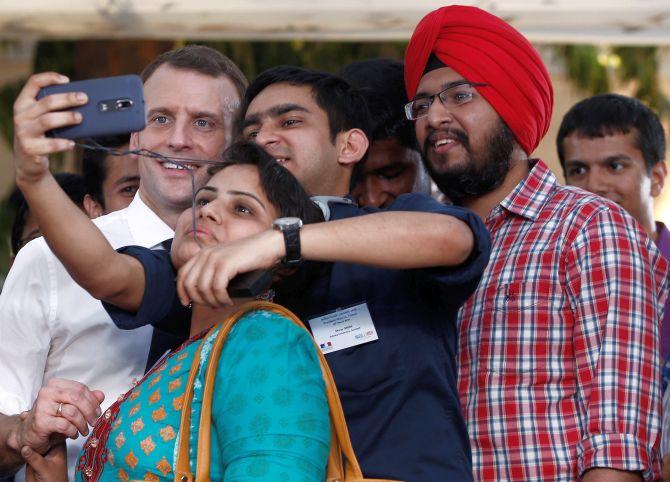 French President Macron takes a selfie with students at Delhi's Bikaner House. During his interaction with students, the French president said, "I want to double the number of Indian students coming to France and also want to increase the number of French students going to India." Photograph: Adnan Abidi/Reuters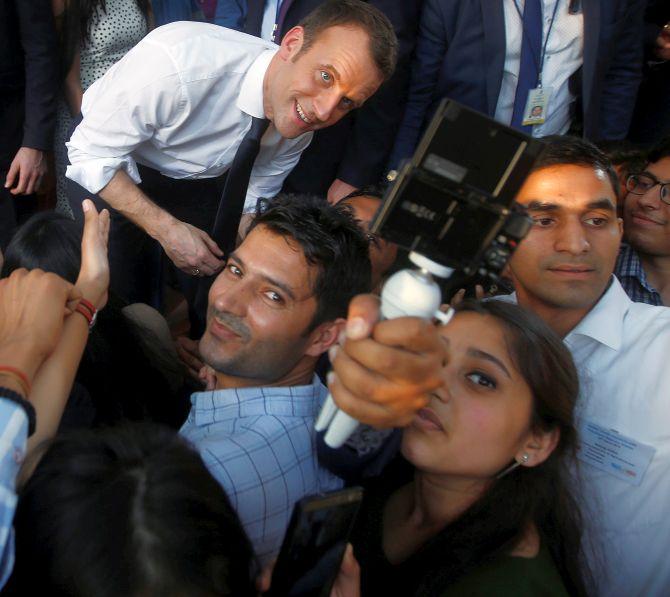 The French president had a very engaging discussion with the students during which he doled out some advice, including, "When facing difficulties: accept to go to sleep with doubts but always refuse to wake up with them." Photograph: Adnan Abidi/Reuters