As former premier Atal Bihari Vajpayee turned 93 on Monday, greetings poured in for the veteran statesman, with President Ram Nath Kovind and Prime Minister Narendra Modi extending their wishes.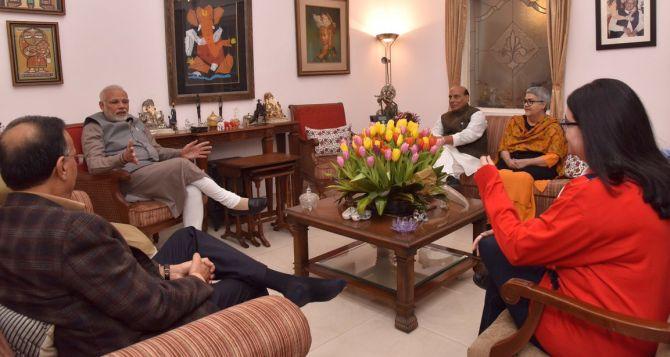 IMAGE: Prime Minister Narendra Modi at Atal Bihari Vajpayee's residence to wish the former PM on his birthday. Photograph: @narendramodi/Twitter
Vice President M Venkaiah Naidu went to meet Vajpayee at his residence.
"Birthday wishes to our much-loved and respected former Prime Minister, Shri Atal Bihari Vajpayee #PresidentKovind," the official Twitter handle of the President of India read.
Modi was among the first to meet the BJP veteran at his residence.
"Visited Atal ji to convey birthday greetings to him. Spent time with his family as well," the prime minister wrote on Twitter.
Earlier in the day, Modi credited Vajpayee's phenomenal and visionary leadership which "further raised our prestige at the world stage. I pray for his good health".
Naidu posted a poem in Hindi on Twitter by the former prime minister, who is keeping indifferent health and has not been seen in public for a long time now. The poem urged people to remain united and not to give up hope in tough times.
Bharatiya Janata Party president Amit Shah and Home Minister Rajnath Singh also visited Vajpayee's residence to greet him.
"Visited Atal ji's home to wish him on his birthday," Shah said in a tweet.
"Warm wishes to our beloved leader and guide, Shri Atalji on his birthday today. Atalji is a towering and visionary leader who introduced good governance, development and politics of performance in Indian polity. I pray for his good health and long life," Singh said in a tweet.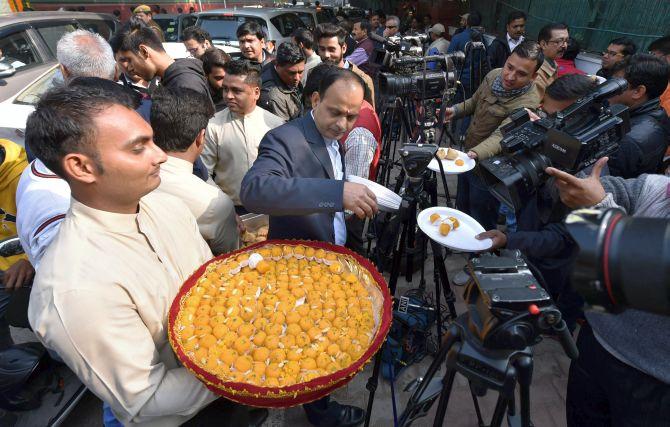 IMAGE: Distribution of sweets on the occasion of the former prime minister Atal Bihari Vajpayee's 93rd birthday, outside his residence in New Delhi. Photograph: Arun Sharma/PTI Photo
Jammu and Kashmir Chief Minister Mehbooba Mufti also wished the BJP veteran well on his birthday.
"Warm birthday wishes to Atal Bihari Vajpayee Ji. A visionary leader who called for peace, progress & prosperity in J-K by imbibing the spirit of Insaniyat, Jamhuriyat & Kashmiriyat," Mehbooba said on Twitter.
Several union ministers, including Ravi Shankar Prasad, Arun Jaitley, Smriti Irani and Nirmala Sitharaman, also greeted Vajpayee.
The prime minister also paid tributes to freedom fighter Madan Mohan Malaviya on his birth anniversary.
"His impact on India's history is strong and unforgettable. His efforts to further education and a spirit of patriotism will always be remembered," Modi said in a
tweet.
Born in 1924, Vajpayee entered politics during the Quit India movement in 1942. He was the first external affairs minister to deliver a speech in the UN Assembly in Hindi.
Vajpayee was elected to Lok Sabha from Lucknow in 1991, 1996, 1998, 1999 and 2004. He is the first and the only non-Congress leader who completed his full term as prime minister.