First Lady Michelle Obama left many in Saudi Arabia upset as she did not wear a veil. Grim-faced she met the new king as many members of his entourage refused to shake her hand.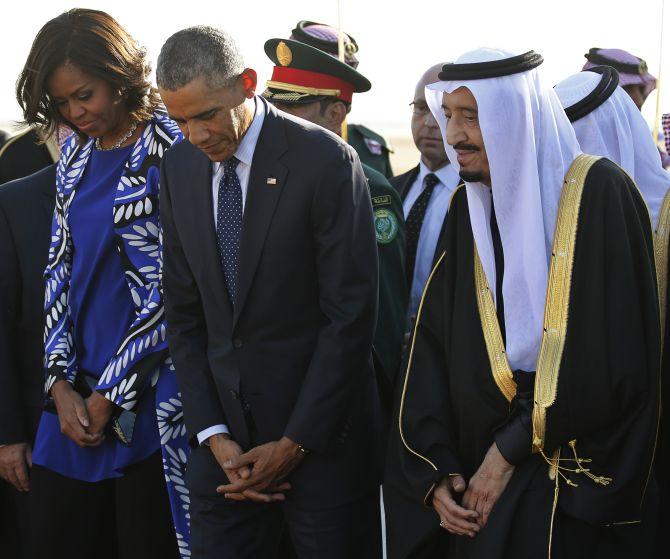 US President Barack Obama and First Lady Michelle Obama stand with Saudi Arabia's King Salman after arriving at King Khalid International Airport in Riyadh. Photograph: Jim Bourg/Reuters

POTUS cut short his much-hyped India visit to pay respect to Saudi Arabia's late King Abdullah. He swapped the magnificent Taj Mahal for the conservative kingdom. And Mrs O is clearly not impressed. (Don't miss her grim face!)
First Lady Michelle Obama landed in Saudi Arabia wearing loose clothing, but chose not to wear the headscarf.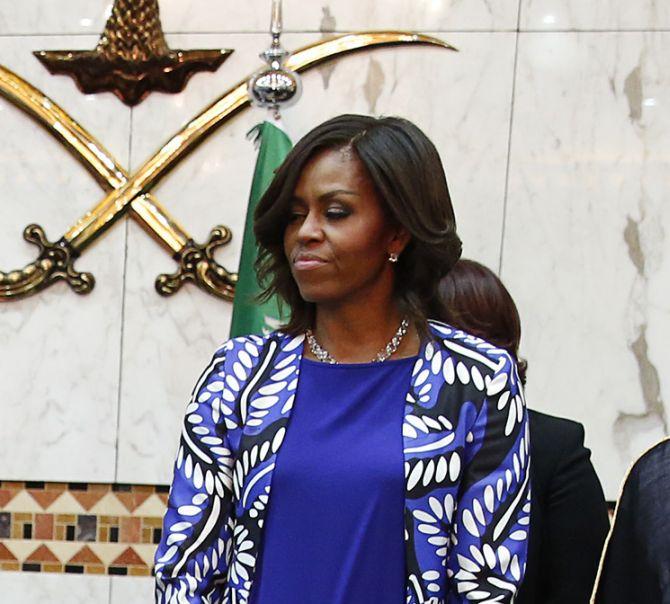 Michelle didn't appear too pleased to be in Saudi Arabia. Photograph: Reuters

Under the strict dress code in Saudi Arabia, women are required to wear a headscarf and loose black robes -- the niqab -- in public. Though this diktat does not apply to foreigners Michelle earned criticism on Twitter.
There were more than 1,500 tweets with a hashtag in Arabic that translates roughly to #MichelleObamaunveiled, reports The Washington Post. Some pointed out she wore a headscarf during her visit to Indonesia then why not Saudi Arabia? She even donned a black veil when she met the Pope in Vatican.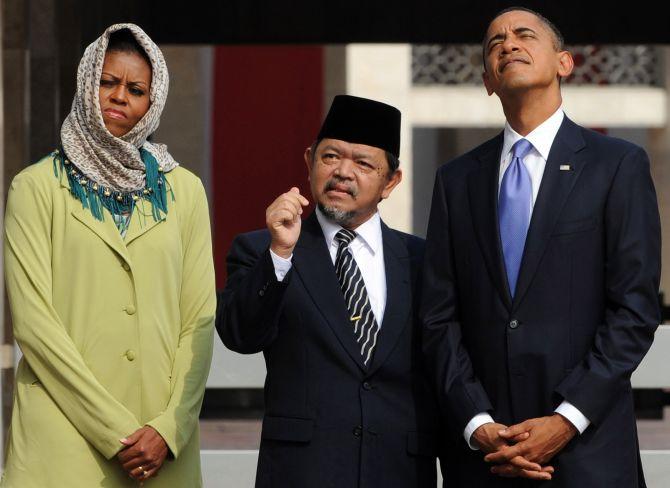 The first lady covered her head as she was led by Grand Imam Ali Mustafa Yaqub at the Istiqlal Mosque in Jakarta, Indonesia in November last year. Photograph: Adek Berr/Reuters

Amid the controversy, reports emerged that Saudi's state television had blurred out the first lady as her husband US President Barack Obama met new Saudi King Salman. Video clips on YouTube showed that the Saudi Arabia state television had blurred out Mrs Obama.
But the Saudi embassy clarified a tweet, "Report by Bloomberg View's Josh Rogin that Saudi TV "blurred" image of First Lady Michelle Obama is FALSE. Should check facts, not Facebook."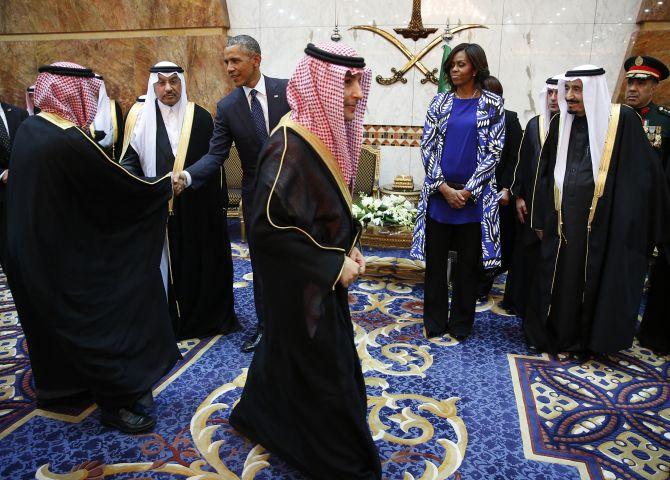 While delegates in Saudi Arabia shook the US president's hand, many acknowledged Mrs O with just a nod. Photograph: Jim Bourg/Reuters

Michelle was not impressed and she had yet another reason. As the Obamas stepped out of Air Force one in Riyadh was greeted by the new king and his all male delegates. While some shook hands with her, others acknowledged her with just a nod avoiding a handshake.
Saudi Arabia's laws strictly segregate genders not allowing men and women to mingle in public. According to the guardianship laws, women are required to get permission from a male relative to travel, get married, enroll in higher education or undergo certain surgical procedures.

REDIFF RECOMMENDS

Bizarre bans in Saudi Arabia

7 SHOCKING laws that haunt women in Saudi Arabia