One of the oldest and most revered idol of Lord Ganesh, the Lalbaugcha Raja, was unveiled by the Lalbaug Sarvajanik Ganeshostav mandal in Mumbai on Thursday evening, three days before the Ganesh Chaturthi festival start.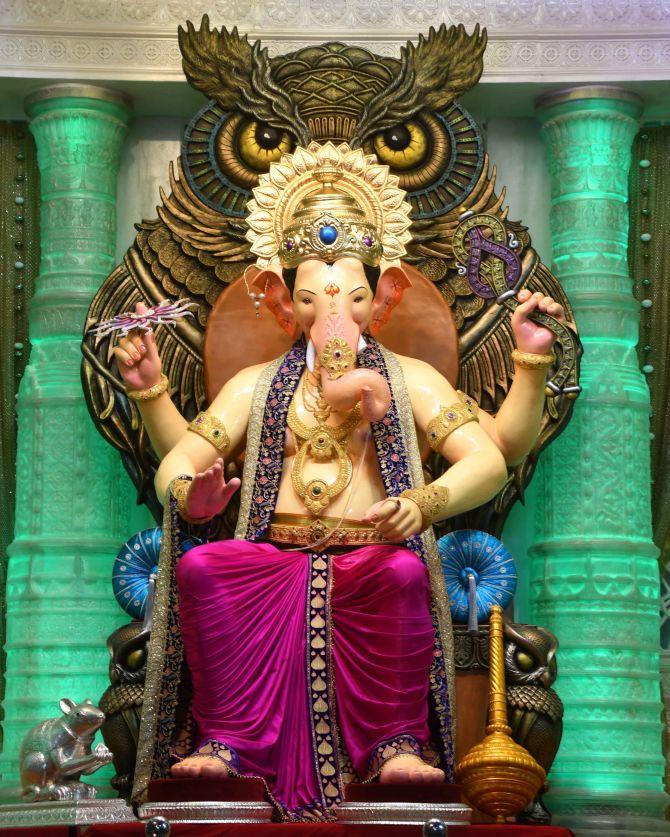 Lalbaugcha Raja is truly a King in all respects and it pays to seek his audience. A mere glance of the deity, called mukh darshan, takes about two-and-a-half-hours wait in the queue during weekdays and eight to nine hours during weekends.
Lakhs of people turn up from far-off places, including foreigners, and stand for hours in queues running into several kilometres only to get a 'darshan' of the idol. This year, to cut down on long queues, a Lalbaug360 app has been launched on which devotees will be able to witness live coverage of the festival via virtual reality.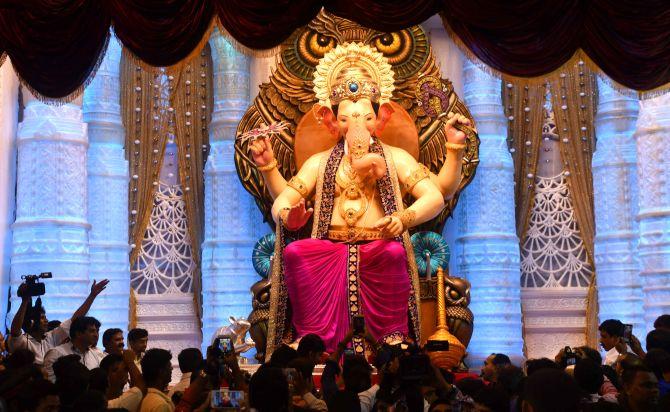 IMAGE: Lalbaugcha Raja idol unveiled on Thursday evening. Photographs: Sahil Salvi.
The users can access the event -- the darshan, aarti and other ancillary activities in the app.
It is believed that Lalbaugcha Raja's idol is Navsacha Ganpati, or 'one who fulfills all wishes'. For the devotees who go seeking the fulfillment of their prayers to the Lord, it is more arduous path, as it takes about six hours during the weekdays particularly during the initial days.
The ideal time to get a darshan by having to spend minimum time in the queue would be to reach Lalbaug by 3.30 am in the morning.
Video: Afsar Dayatar/Rediff.com