Anti-terror operations to flush out two terrorists, suspected to be linked with the Bhopal-Ujjain train blast, holed up in a house in the outskirts of Lucknow continued late Tuesday night, police said.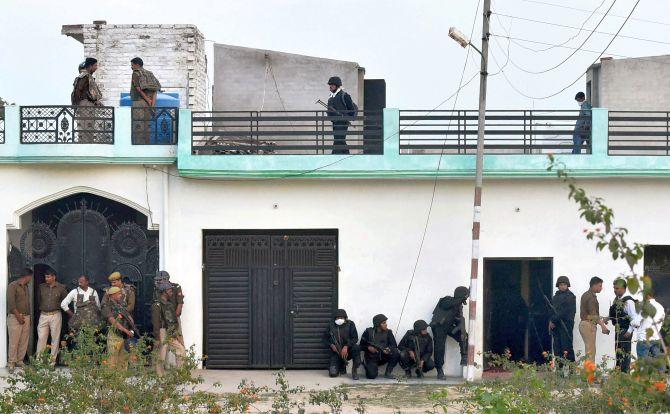 IMAGE: Uttar Pradesh anti terror squad personnel and commandos during their operation against suspected terrorists holed up inside a building in the Thakurganj area of Lucknow. All photographs: Nand Kumar/PTI Photo
It said it had found that two terrorists, instead of one, were hiding in the house and had earlier resorted to intermittent firing. An anti terror squad officer said "we have withheld firing from our side" to try to catch them alive.
At least 10 people were injured, three of them seriously, in the IED blast near Jabdi station in Shajapur district of Madhya Pradesh on Tuesday morning.
Additional Director General of Police-Law and Order Daljit Chaudhary said, "After drilling a portion of the roof of the house (where the terrorist are holed up), we were surprised to know that actually there are two terrorists holed up in the house. Initially, we had thought that there was only one terrorist."
"Both of them are very much alive. Two weapons have also been spotted lying there," he said.
Chaudhary said that adequate time was given to the suspected terrorists to surrender, but they did not choose to do so.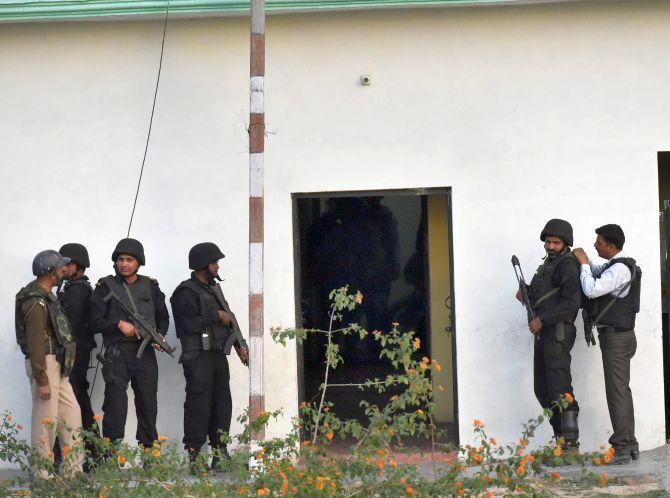 IMAGE: Security forces cordoned off the area. At least 20 commandos were involved in the operation.

The ADG also said that the UP Police want to capture them alive. "We still want to arrest them," he said.
Meanwhile, Union Home Minister Rajnath Singh spoke to UP DGP Javeed Ahmad, who briefed him about the incident and the action taken.
Commandos of paramilitary forces are being rushed to assist the anti-terror squad and local police in capturing the person hiding here.
The ATS operation was launched hours before the final phase of polling in Assembly election covering 40 seats in eastern Uttar Pradesh.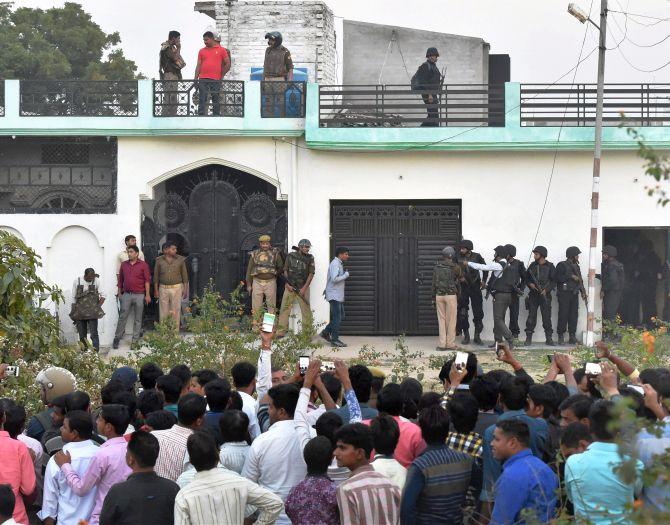 IMAGE: The UP Police was tipped off by central intelligence agencies about terror suspects.
According to the locals, at around 3.30 pm ,over 30 policemen started vacating the houses in the locality to corner the suspects.
The residents said as the suspect got wind of police plans, he started firing at police party and gunshots were fired from both the sides.
IG ATS Aseem Arun summoned elite commandos from Bijnaur police facility. The ATS team is trying to ensure that the suspect runs out of ammunition before barging inside.
IG Lucknow Zone A Satish Ganesh said, "The suspect was not surrendering. Instead he was resorting to firing. Chilli bombs were used to smoke him out."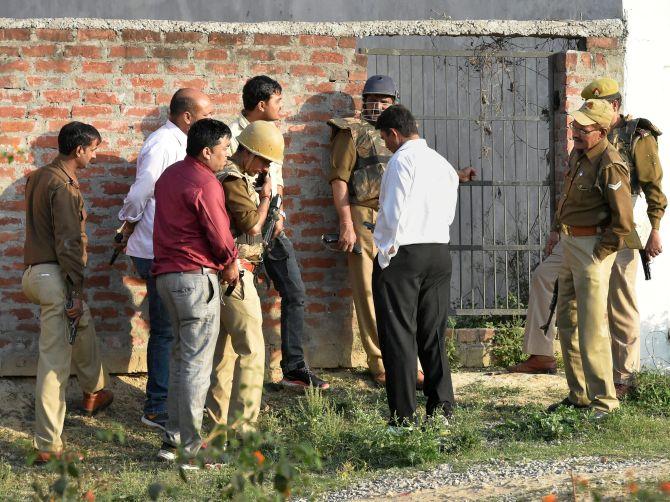 IMAGE: Police personnel in action during their operation.
Arun, who was conducting the operation, said, "When the police knocked the door (of the house where the terror suspect is holed up), he closed the door, and then there was a sound of pistol cocking, which proved that he has weapons."
He said the suspect resorted to intermittent firing. "We have withheld firing from our side. It appears only one person is hiding inside the house," he said.
Meanwhile, in an official statement released late night, the UP Police said three persons were arrested by the Madhya Pradesh Police in Piparia. Two of the arrested persons are from Kanpur, while one is from Aligarh.
Those arrested are Danish Akhtar alias Zafar, son of Raees Akhtar and a resident of KDA Colony in Kanpur, Aatish Muzaffar alias Al-Qasim, son of Muzaffarul Haque Naqvi and a resident of Jajmau in Kanpur, and Syed Meer Hussain alias Hamza, son of Syed Ehsan Hasan and a resident of Aligarh.
"As per the information received from the Madhya Pradesh Police, one of the terrorists holed up in a house on the outskirts of Lucknow (on Lucknow-Hardoi Road under Kakori police station) has been identified as Mohammed Saifullah alias Ali, a resident of Kanpur," the statement said.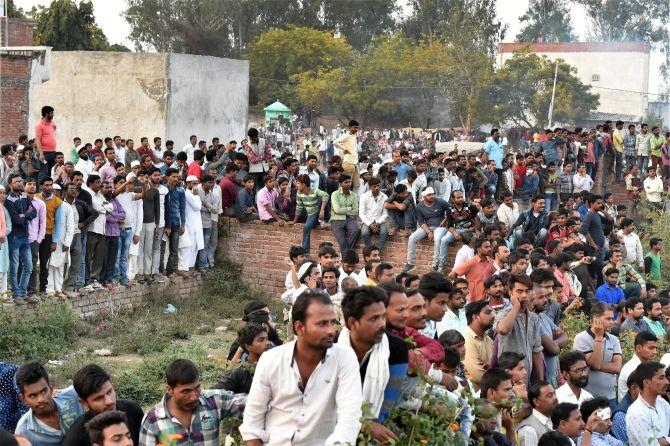 IMAGE: People gather in large numbers near the site of the encounter.
Two of the suspected terrorists arrested by the UP Police from Kanpur are Mohammed Faisal Khan and Mohammed Imran alias Bhaai Jaan. Both are residents of Kanpur. The suspected terrorist who has been arrested from Etawah is Fakr-e-Alam alias Rishu.
Police has also recovered a laptop, some mobile phones and videos and literature related to Islamic State from the accused arrested in Kanpur.
"The suspected terrorists are said to be the members of Kanpur-Lucknow IS Khurasam Module," UP Police said.