Vast swathes of the country are reeling under scorching heat with the mercury soaring to above 40°C mark in many areas.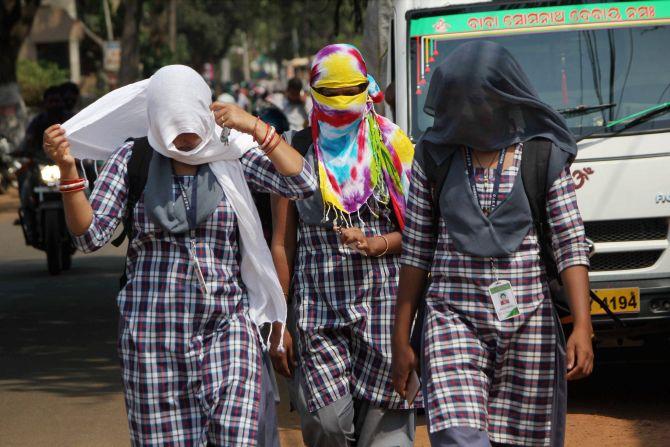 IMAGE: Girls cover their faces to protect themselves from scorching heat in Khurda, Odisha. Photograph: PTI Photo
Banda in Uttar Pradesh was the hottest place in the country on Monday, recording a maximum of 43.6°C, followed by Nowgong (Madhya Pradesh) 42.7°C, Bankura (West Bengal) and Jaisalmer (Rajasthan) 42.6°C each, and Daltonganj (Jharkhand) 42.5°C.
Residents of Delhi and Chennai reeled under searing heat as day temperature rose to nearly 40°C.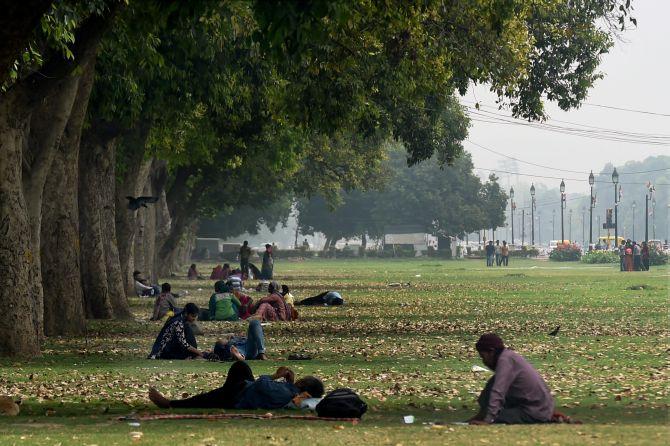 IMAGE: People rest in tree shades to beat the heat at India Gate in New Delhi. Photograph: Atul Yadav/PTI Photo
In the national capital, the maximum temperature was recorded at 39°C, seven notches above the season's average, while the minimum temperature settled at 21.4°C, three notches above the normal.
The weatherman has forecast light rain in some areas in north India on Tuesday.
In the desert state of Rajasthan, heat wave continued in western parts and Jaisalmer reeled under 42.6°C.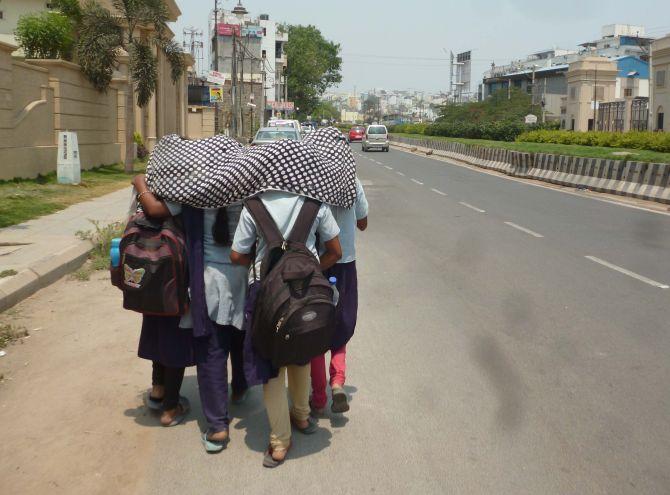 IMAGE: Schoolchildren in Hyderabad. Photograph: SnapsIndia
Bikaner and Churu recorded day temperatures of 42.4°C and 42.3°C, respectively, while Kota, Barmer, Pilani and Jaipur recorded maximums of 41.3°C, 41°C, 40.7°C and 40.3°C.
Heat wave conditions continued at some places in Uttar Pradesh as the weather remained dry. The MeT office in Lucknow said Banda recorded a maximum temperature of 44.2°C.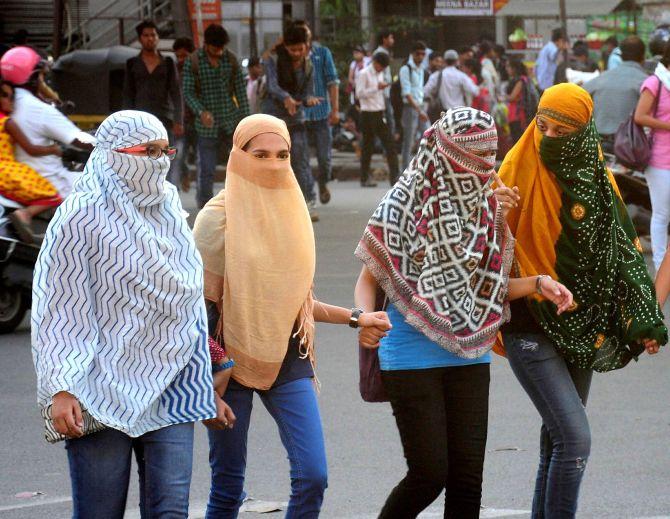 IMAGE: Girls protect themselves from Sun in Nagpur. Photograph: PTI Photo
In Punjab and Haryana, maximum temperatures hovered above normal levels. Chandigarh recorded a high of 36°C.
In Haryana, Hisar experienced a hot day with a maximum temperature of 39.5°C, four notches above normal, while Ambala registered a high of 37.3°C. Karnal registered a maximum temperature of 37.8°C.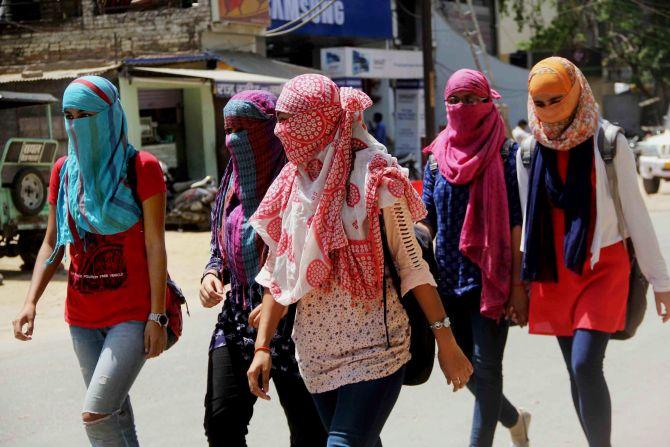 IMAGE: Braving a hot sunny day in Allahabad. Photograph: PTI Photo
In Punjab, Patiala recorded a high of 37.9°C. Ludhiana, too, experienced a hot day at 36.8°C, while Amritsar registered a maximum temperature of 34.8°C.
In Himachal Pradesh, there was, however, marginal relief from searing heat with the mercury dipping by a few notches in some areas.
The MeT office in Shimla has warned of thunderstorm accompanied with squall and hail at isolated places in mid and lowers hills on April 4 and 5 and predicted rain or snow at mid and higher hills at many places from Tuesday onwards.