The death toll due to the novel coronavirus pandemic rose to 111 and the number of infections climbed to 4,281 in the country on Monday registering a record jump of 704 cases in 24 hours, according to Union Health Ministry data.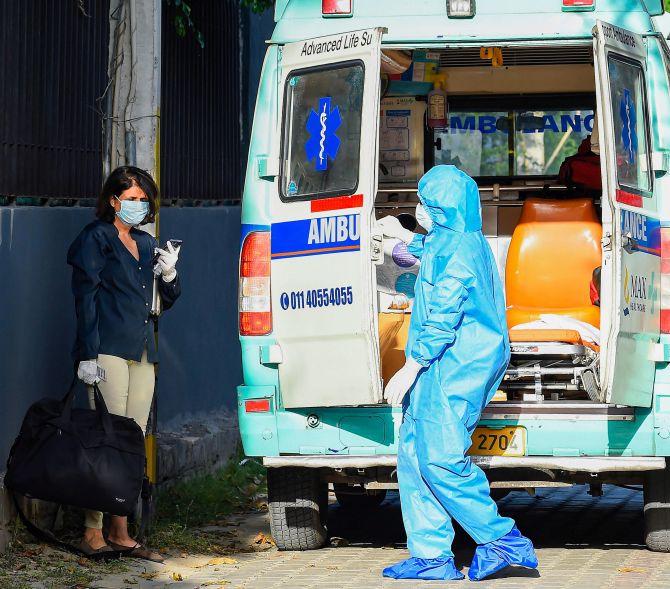 The active COVID-19 cases stood at 3,851, while 318 people were either cured or discharged and one had migrated, the ministry stated.
According to the data updated at 6 PM, 28 deaths were reported in the last 24 hours -- 21 from Maharashtra, two each from Andhra Pradesh and Tamil Nadu, and one each from Punjab, Gujarat and Uttar Pradesh.
The Indian Council of Medical Research (ICMR) said 1,01,068 samples have been tested for COVID-19 till 9 pm on Monday.
According to the ministry, Maharashtra has reported the most coronavirus deaths at 45, followed by Gujarat (12), Madhya Pradesh (9), Telangana (7), Delhi (7), Punjab (6) and Tamil Nadu (5).
Karnataka has reported four deaths, while West Bengal, Uttar Pradesh and Andhra Pradesh have recorded three fatalities each. Two deaths each have been reported from Jammu and Kashmir and Kerala.
Bihar, Himachal Pradesh and Haryana have reported a fatality each, according to the data.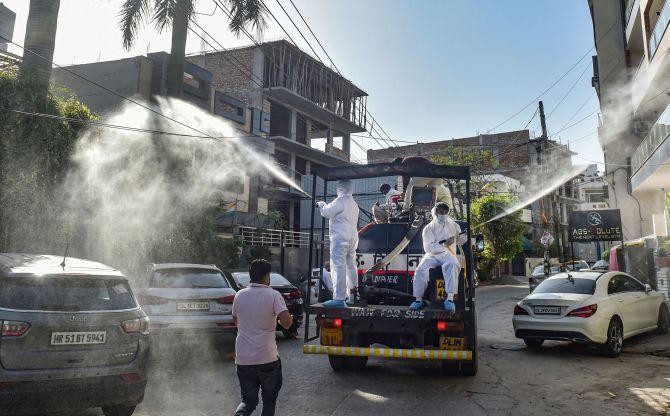 The total number of cases includes 66 foreign nationals. The country-wide death toll on Sunday was 83.
However, a PTI tally based on figures reported by states directly showed at least 138 deaths across the country, while the confirmed cases reached 4,683.
Of them, 359 have been cured and discharged.
There has been a lag in the Union Health Ministry figures, compared to the numbers announced by different states, which officials attribute to procedural delays in assigning the cases to individual states subject to verification.
According to the ministry data, the highest number of confirmed cases are from Maharashtra (748), followed by Tamil Nadu at 571 and Delhi with 523 cases.
Cases in Telangana have gone up to 321, in Kerala to 314, in Uttar Pradesh to 305, while the number of cases has gone up to 274 in Rajasthan.
There are 226 cases in Andhra Pradesh.
COVID-19 cases have risen to 165 in Madhya Pradesh, 151 in Karnataka, followed by 144 in Gujarat.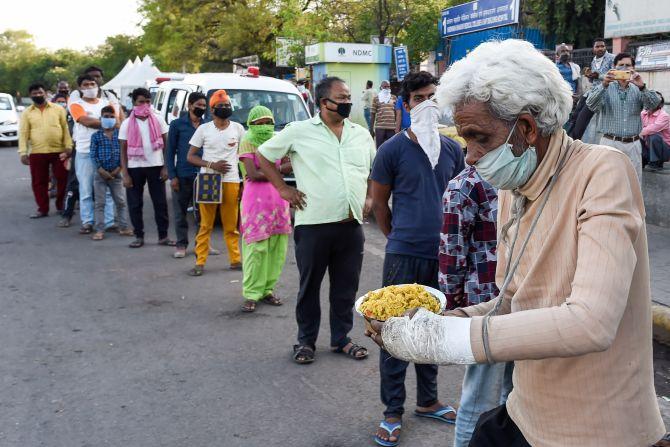 Jammu and Kashmir has 109 cases and Haryana has 84 cases. West Bengal has reported 80 infections, followed by Punjab at 76.
32 people are infected with COVID-19 in Bihar, while Assam and Uttarakhand have 26 cases each.
Odisha has 21 positive patients, Chandigarh has 18, Ladakh has 14 and Himachal Pradesh has 13 patients.
10 cases have been reported each from the Andaman and Nicobar Islands and Chhattisgarh. Goa has reported seven COVID-19 infections, followed by Puducherry with five cases.
Jharkhand has reported four cases, while Manipur has reported two cases. Mizoram and Arunachal Pradesh have reported an infection each.
'State-wise distribution is subject to further verification and reconciliation,' the ministry said on its website.
The ministry said that India is between Stage 2 and 3 of the pandemic with large number of cases being found in particular areas, the Union Health Ministry said on Monday concurring with the All India Institute of Medical Sciences Director's remarks that localised community transmission is being observed in some pockets of the country.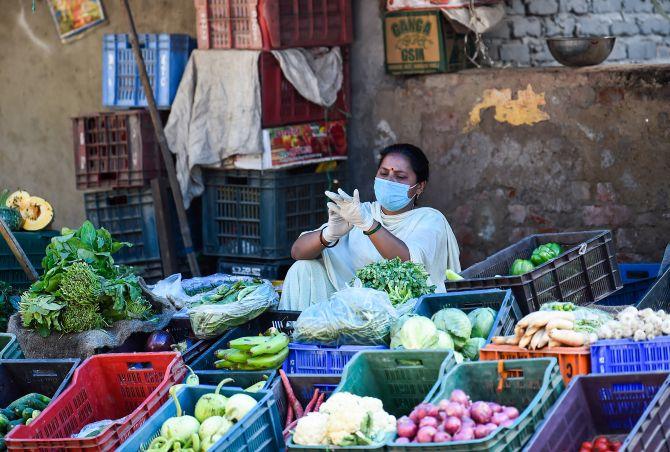 AIIMS Director Dr Randeep Guleria, who is also a member of a Task Force on COVID-19, on Monday reportedly said that 'localised community transmission' has been seen in some pockets and that India is between Stage 2 (local transmission) and Stage 3.
He had clarified that the most of India is currently at Stage 2 of the COVID-19 pandemic.
Asked about Guleria's remarks, Joint Secretary in the Ministry of Health Lav Agarwal said, "What the AIIMS Director has said is not in variance with what we have been explaining to you."
Explaining further, Agarwal said that they go for a cluster containment strategy when limited cases are reported from a particular area while the government's action and intervention gets intensified when larger number of cases are reported.
"We tell you every time that if there will be a community transmission we will be the first one to tell you so that everyone gets alert. If we go by the wordings (of AIIMS Director), he said localised community transmission, which implies larger number of cases are being found in a particular area," the official said.
"We are in between Stage 2 and 3 and that implies that our efforts and actions should be focused on ensuring we do not shift to stage 3," the joint secretary said, adding there are clear defined strategies for containment in areas reporting larger number of cases and the government was working according to that.
In Stage 2, disease transmission is limited to those with travel history to affected countries or those in contact with the infected persons.
Community transmission or Stage 3 means a patient was infected though he had no known contact with another confirmed case of COVID-19 or travelled from a country affected by the pandemic.
1,445 cases linked to Tablighi Jamaat event: Health Ministry
Out of the over 4,000 cases of coronavirus, at least 1,445 have been found to be linked to the Tablighi Jamaat congregation in Delhi, the Union health ministry said on Monday.
The ministry's updated data came a day after it said the rate of doubling of COVID-19 cases in India accelerated to 4.1 days from the perviously estimated 7.4 days due to the Jamaat event held in Nizamuddin West last month.
Agarwal said males account for 76 per cent of the positive cases and females 24 per cent.
Agarwal said people aged below 40 years account for 47 pc of the total cases, those between 40 and 60 for 34 pc, and those aged 60 years and above account for 19 pc.
Males account for 73 per cent deaths due to coronavirus while females 27 per cent, he said, adding that 63 per cent deaths have been reported among people aged 60 and above, 30 per cent among people between 40 to 60 years and 7 per cent among people below 40 years.
"As of now, 86 per cent death cases have exhibited comorbidity related to diabetes, chronic kidney issues, hypertension and heart-related problems. Since 63 per cent deaths have been observed among elderly, they form a high risk population," Agarwal said.
Young people with comorbidities are also at high risk of COVID-19, he said, while urging them to be equally careful and follow social distancing.
On AIIMS Director Randeep Guleria reportedly saying that there has been "localised community transmission" in some parts of the country, Agarwal commented, "What the director has said is not in variance with what we have been explaining to you. He said localised community transmission, which implies a larger number of cases have been found in a particular area."
According to an ICMR official, there is limited evidence on the efficacy of hydroxychloroquine to deal with COVID-19 cases and therefore, there is not enough proof to advise it for the general public.
The Cabinet Secretary has been interacting through video conference with various district officials at cutting edge levels to ensure uniformity of response in all state. All districts have been advised to have a district-level Crisis Management Plan for COVID-19.
States have already been advised to use funds under the National Health Mission (NHM) and State Disaster Relief Fund (SDRF) to create quarantine centres, dedicated COVID-19 hospitals and treatment of patients, he said.
"In addition to this, Rs 1,100 crore has been sanctioned to all the states under the National Health Mission and Rs 3,000 crore of additional funds were released today. Also, N-95 masks, ventilators and PPEs are being procured from the central pool and distributed to all the states across the country," he said.
Head of Epidemiology and Communicable diseases at ICMR Raman R Gangakhedkar said orders have been placed for procuring 5 lakh rapid antibody test kits for conducting COVID-19 tests. Around 2.50 lakh kits are likely to delivered by April 8 or 9.
When asked whether hydroxychloroquine is recommended for public consumption, he said the government has allowed its use as a preventive medication for healthcare workers dealing with coronavirus infected patients.
"There is limited evidence on the efficacy of the drug," Khedkar said, adding that the drug has side effects and people should not take it unless advised by a doctor.