This is the second major building collapse in the city in just over a month.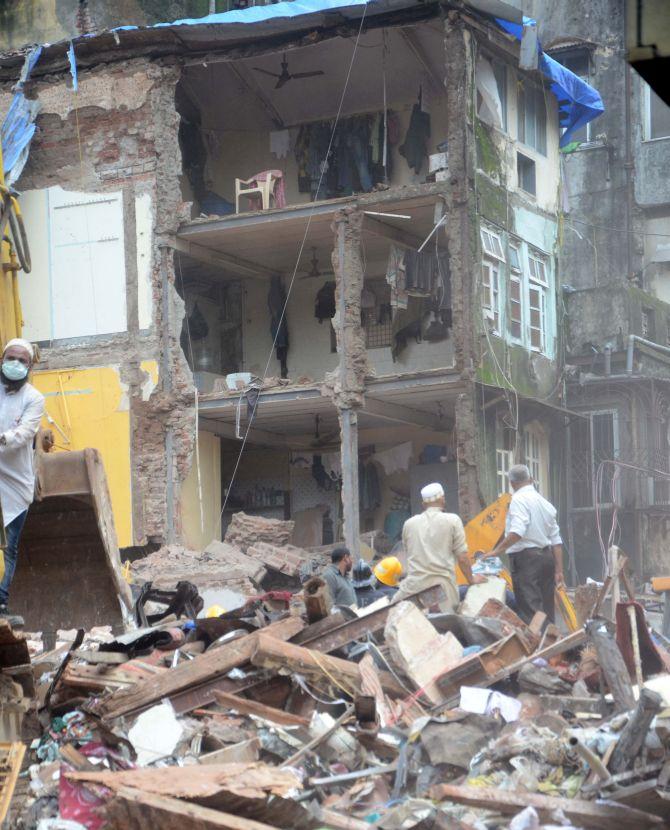 A rickety 117-year-old building with residences, godowns and a play school collapsed in the congested Bhendi Bazaar in south Mumbai on Thursday, killing 24 people and wounding 12 others, officials said.
Eight to 10 people were still suspected trapped under the rubble of the five-storey structure, they said.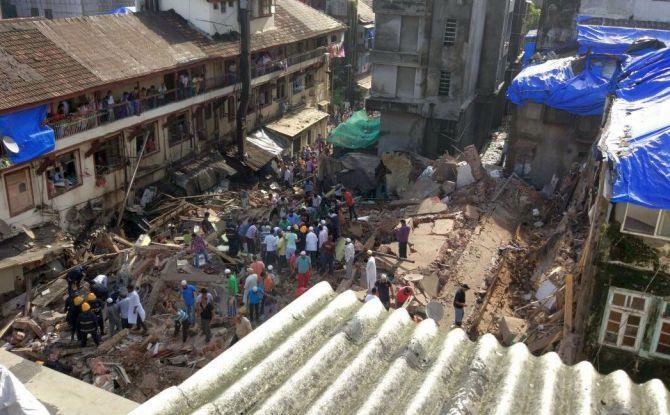 Thirty-four people were pulled out of the massive stone-and-twisted-steel debris of whom 21 were either declared brought dead at the state-run J J Hospital or succumbed during treatment. These included five women.
The tragedy struck barely two days after torrential rain brought the city to its knees, crippling road, rail and air services, inundating homes and leaving at least 10 people dead. Many suspect the downpour caused further damage to the ramshackle structure, causing its crash.
Five fire brigade personnel and a National Disaster Response Force jawan also sustained injuries during the rescue operations and were shifted to the J J Hospital. Two of them were said to be critical, while four others were discharged after treatment.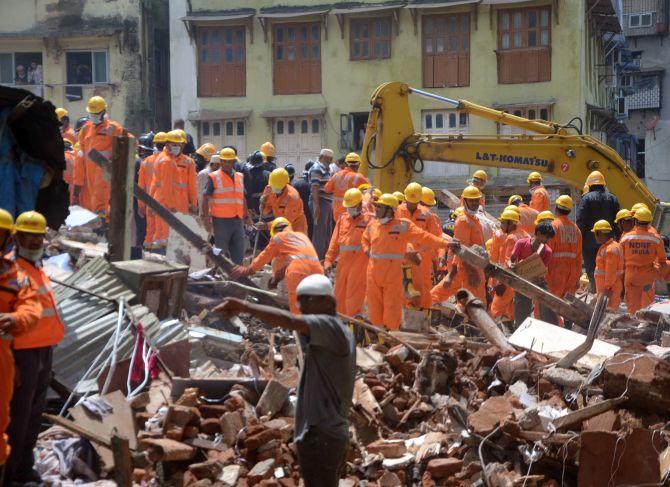 Fire brigade officials said some nine families lived in the dilapidated HusainiBuilding, which also housed a play school. The children had a providential escape as the building came crashing down minutes before they arrived.
The ill-fated building had got clearance for redevelopment in 2011, and was supposed to be vacated, Minister of State for Housing Ravindra Waikar said.
Chief Minister Devendra Fadnavis, who visited the spot, ordered an inquiry by the state's additional chief secretary.
He also announced a compensation of Rs 5 lakh for the kin of the deceased. The government will bear all medical expenses of those injured, he said.
Additional chief secretary has been asked to conduct a probe to find out what led to this unfortunate incident, the chief minister said.
"The redevelopment project had been approved by the agencies concerned, and subsequently this building was supposed to be demolished. The final approval for demolition was granted in May 2016, but a few families opted to stay in the dilapidated building which led to this unfortunate loss of life," he said.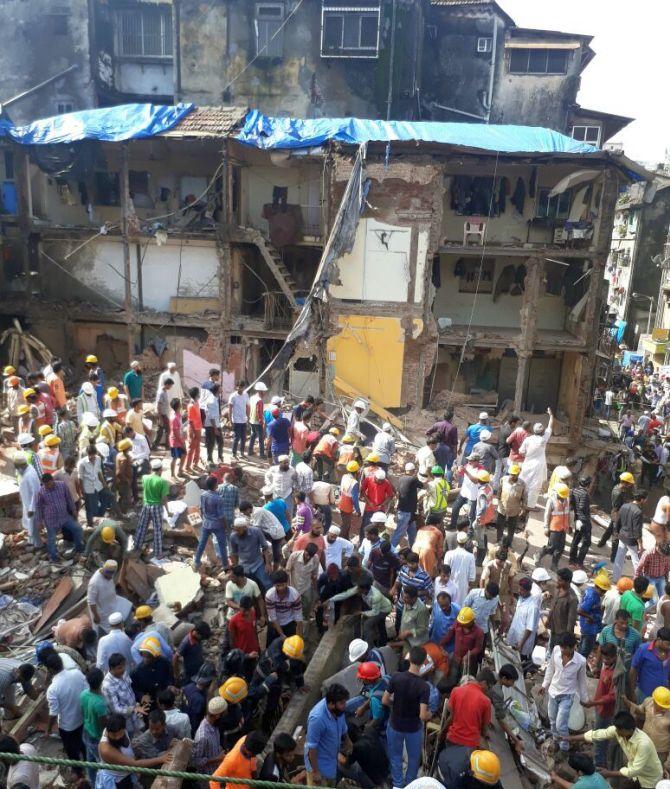 Soon after the building crumbled around 8:30 am, rescue workers in hard hats were seen clambering up the mound and banging large concrete slabs with hammers to reach underneath to pull out the survivors and bodies. Cranes and bulldozers were deployed to scoop up the debris. Residents helped with the rescue efforts, hauling concrete slabs with bare hands.
Siren blaring ambulances had a trying time navigating the narrow streets in the presence of large crowds that had gathered around the place.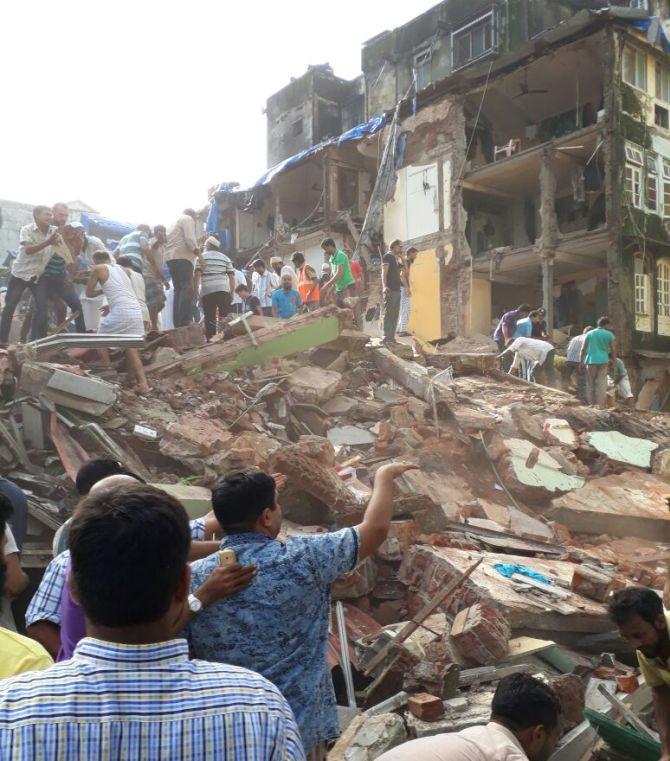 Prabhat Rahangdale, the city's chief fire officer, said that salvage operations will continue overnight. "The operations will continue till the time the entire debris has been cleared and all bodies and survivors pulled out," he said.
A 90-member team of the National Disaster Response Force is also involved in the operations.
Some residents claimed that about 40 people belonging to nine families lived in crammed rooms in the structure, which was declared "unsafe" by the Maharashtra Housing and Area Development Authority.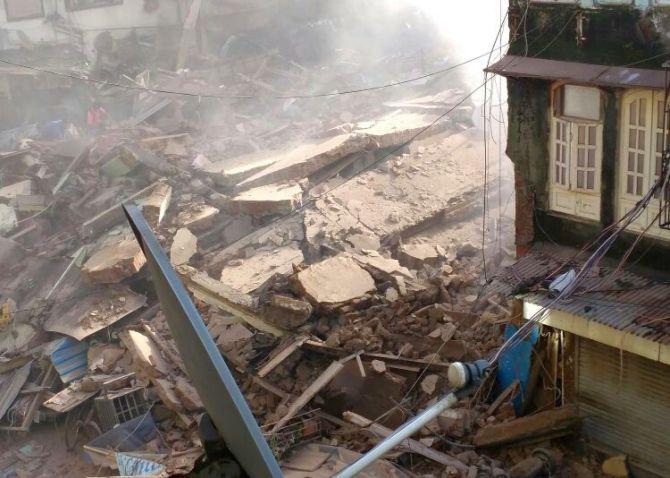 The Saifee Burhani Upliftment Trust, which was to have undertaken redevelopment of the 117-year-old structure, said the building housed a total of 13 tenants -- 12 residential and one commercial. "Of them, the trust had already shifted seven families in 2013-14," it said in a statement.
"MHADA notices dated March 28 and May 20, 2011, declaring the building dilapidated, were issued along with an offer of transit accommodation to the remaining tenants and occupants," it said.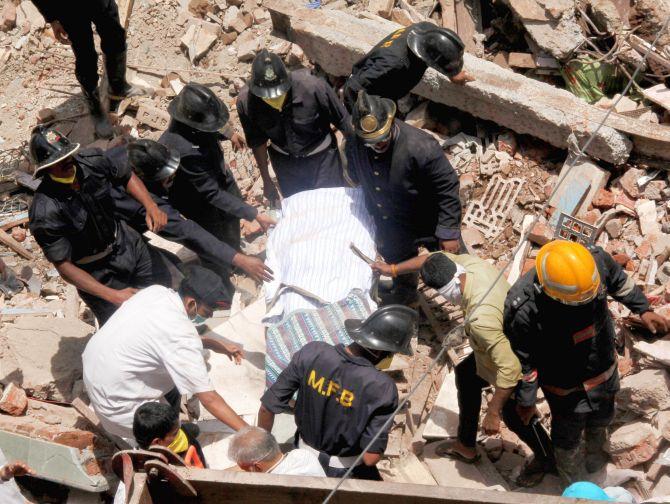 This is the second major building collapse in the city in just over a month, after the crash of a residential complex in suburban Ghatkopar on July 25 which left 17 people dead.
WATCH: Man rescued from rubble
Photographs: Sahil Salvi
'There was an explosion-like sound'
There was an explosion-like sound, followed by a swirl of dust as the five-story Husaini building in his neighbourhood collapsed, said Iqbal Kaskar, absconding gangster Dawood Ibrahim's younger brother.
Kaskar, who lives in a nearby building, said he was at home and had just woken up when he heard a loud "explosion-like sound"", followed by a swirl of dust. "I immediately rushed down," he said.
"We felt our building vibrate," Kaskar said.