Britain's Prince William and wife Kate are expecting their third child, Kensington Palace announced on Monday, bringing delight to the royal family.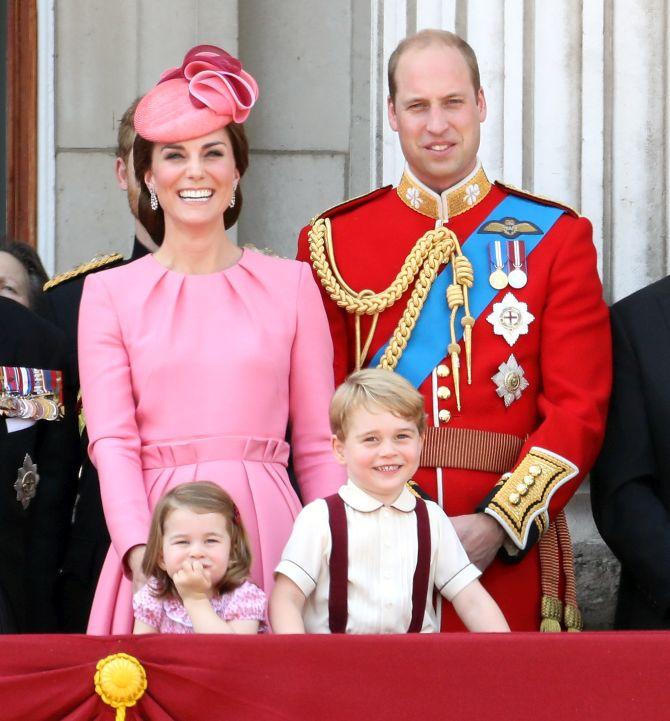 IMAGE: Catherine, Princess Charlotte of Cambridge, Prince George of Cambridge and Prince William, Duke of Cambridge look out from the balcony of Buckingham Palace during the Trooping the Colour parade on June 17. Photograph: Chris Jackson/Getty Images
There had been little indication that the 35-year-old Kate, the Duchess of Cambridge, was pregnant.
The royal couple already have two children -- Prince George and Princess Charlotte -- aged four and two. George is set to start school in London this week and Charlotte celebrated her second birthday on May 2 this year.
The palace said the Queen and members of both families "are delighted with the news."
Kate is suffering from severe morning sickness or hyperemesis gravidarum as in the early stages of her previous two pregnancies. Her condition forced her to cancel a planned engagement at a children's centre in London on Monday.
"The Duchess is being cared for at KensingtonPalace," the palace noted in the statement.
The expected child will become the fifth in line to the throne behind Prince Charles, William, George and Princess Charlotte.
A change to the rule of male primogeniture -- which meant sons took precedence over their female siblings in Britain's line of succession -- had come into force in March 2015.
The Duke and Duchess of Cambridge's third child and Queen Elizabeth II's sixth great-grandchild will also push William's brother Harry further down the succession line to sixth.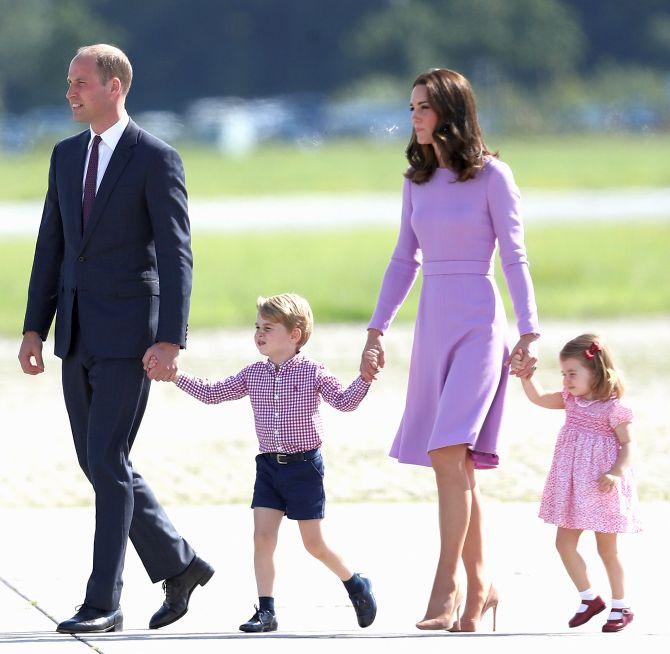 IMAGE: Prince William's third child will be born fifth in line to the throne. Photograph: Chris Jackson/Getty Images
The news of pregnancy comes as Prince George will be attending the Thomas' Battersea school near the royal couple's KensingtonPalace home in London from later this week.
It is expected that Kate will choose to have her baby in the Lindo wing of St Mary's hospital in Paddington, London, where she has already experienced two deliveries.
On a recent royal tour of Poland in July, Kate seems to have dropped a hint at plans to have more babies after being given a present designed for new-borns.
She had turned to William to say: "We will just have to have more babies."
William had resigned from his job as an air ambulance rescue pilot in July to take on royal duties full time and spend more time with his family.
The 35-year-old Duke of Cambridge had ended his job as a pilot for the East Anglian Air Ambulance after two years with the charity.
The second in line to Britain's throne is also set to take on additional royal responsibilities as his grandfather and the queen's husband, Prince Philip, commenced his retirement from royal duties last month.
The Queen and Prince Philip had already cut down on long-haul travel for some years now, with younger royals taking on those duties.