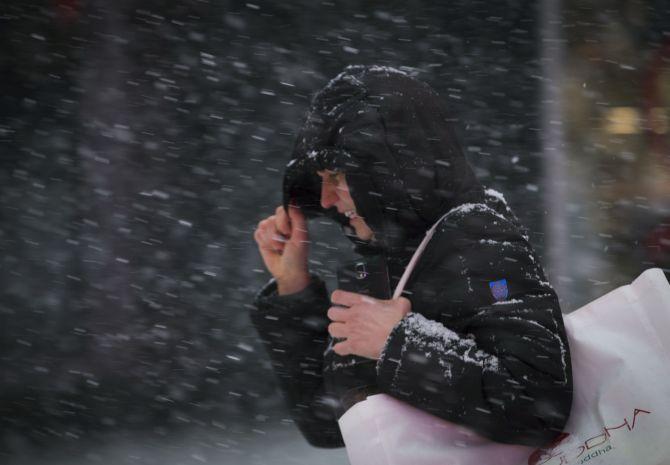 Image: A woman covers her face from heavy falling snow as she makes her way through Times Square in New York. Photograph: Mike Segar/Reuters
What forecasters predicted to be one of the worst ever blizzard's in New York left only moderate snow in the Big Apple. But coastal New England was battered on Tuesday by a blizzard of blinding snow, ferocious waves and winds that topped hurricane speed.
As government officials vigorously defended the measures put in place as Winter Storm Juno moved in, Travel bans were lifted and subways and buses slowly started rolling again in the city.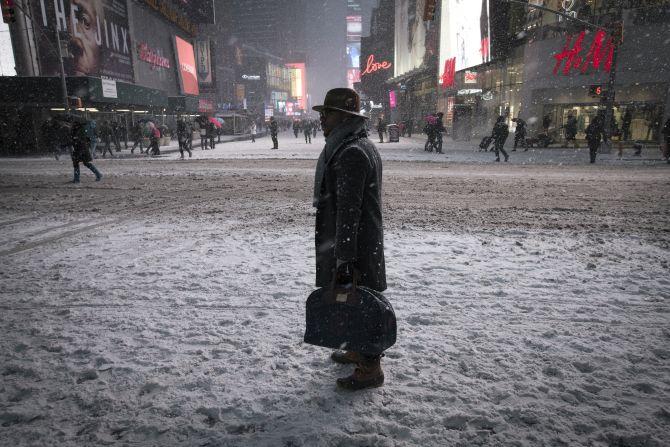 Image: A man stands in falling snow on West 42nd street in Times Square in New York. Photograph: Mike Segar/Reuters
Parts of Connecticut, Maine, Massachusetts, New Hampshire, New York and Rhode Island have seen more than a foot of snow. Blizzard warnings remain in effect for parts of five states, including Maine, New Hampshire, Massachusetts, Rhode Island and a small part of Connecticut, Weather.com reported.
Meteorologists across the Northeast were scrambling to get back the public's good graces on Tuesday — apologizing on Twitter for forecasting the "historic blizzard" that never was, nypost.com reported.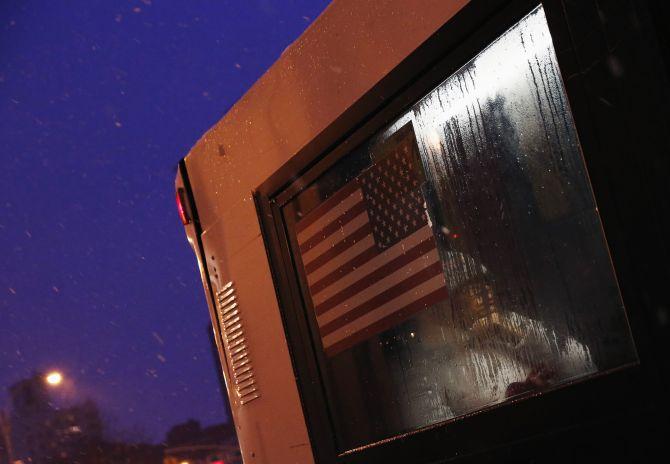 Image: A woman is seen on a public transportation bus during snowfall in the Queens borough of New York. Photograph:Shannon Stapleton/Reuters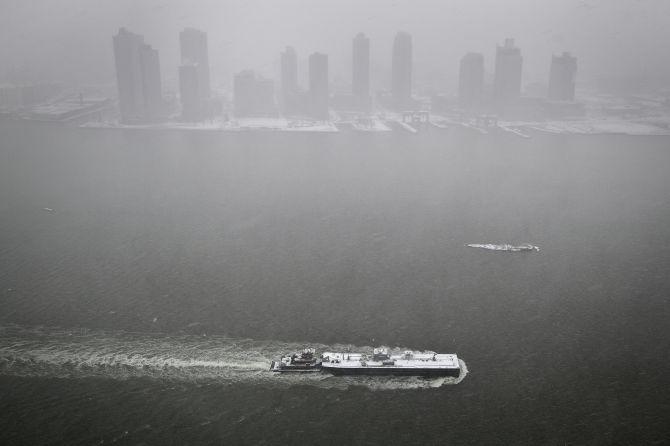 Image: A tug boat pushes a barge down the East River as pictured from the United Nations building as it snows in the Manhattan borough of New York January. Photograph: Carlo Allegri/Reuters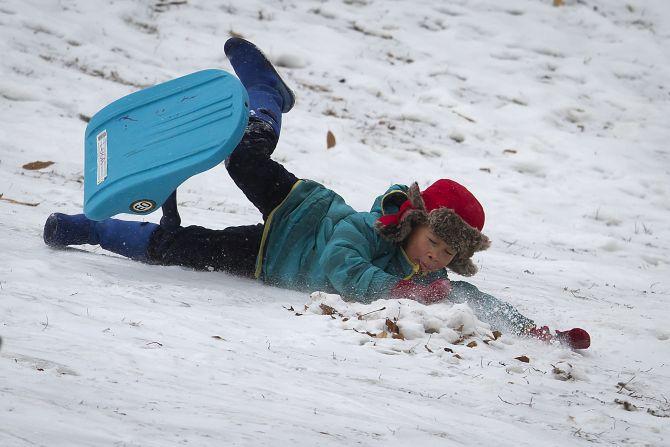 Image: A child plays in Central Park as it snows in the Manhattan borough of New York January. Photograph:Carlo Allegri/Reuters
Image: A view looking up 7th Avenue in Times Square in falling snow near dusk in New York. Photograph: Mike Segar/Reuters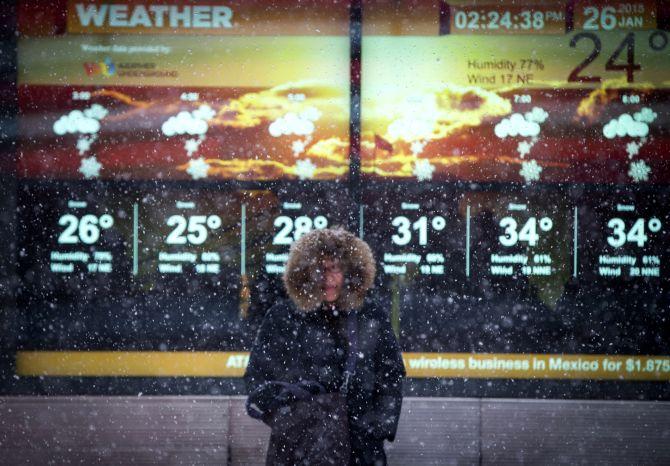 Image: A woman stands in falling snow in front of an electronic sign displaying the weather forecast in Times Square in New York. Photograph: Mike Segar/Reuters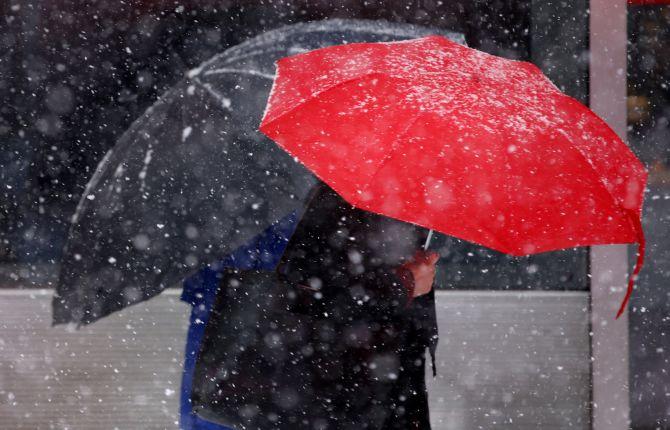 Image: People make their way through falling snow in Times Square in New York. Photograph: Mike Segar/Reuters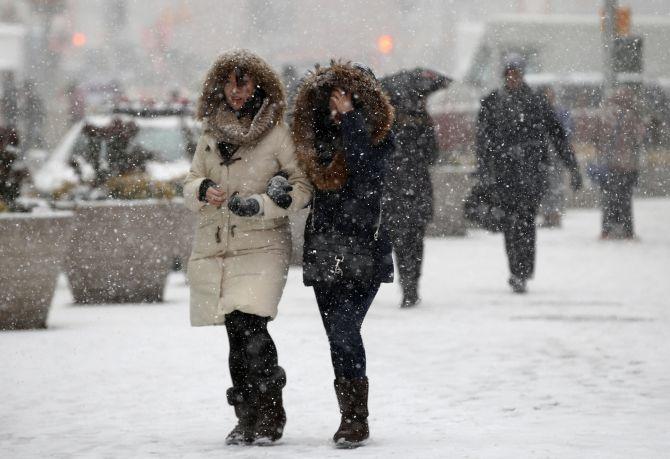 Image: People walk through heavy falling snow in Times Square in New York January. Photograph: Mike Segar/Reuters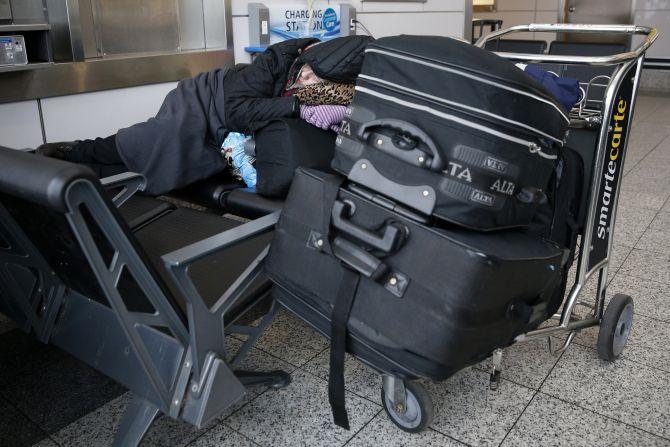 Image: A woman sleeps next to baggage at LaGuardia Airport in New York. Photograph: Shannon Stapleton/Reuters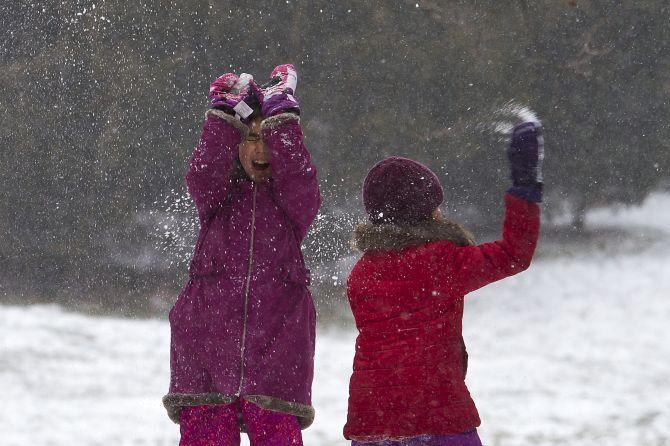 Image: Children play in Central Park as it snows in the Manhattan borough of New York. Photograph: Carlo Allegri/Reuters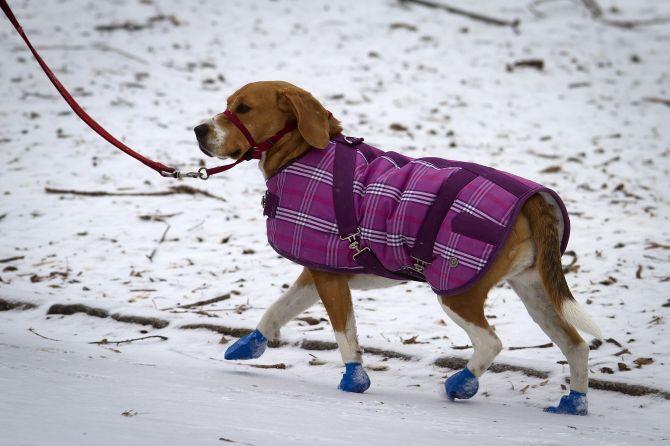 Image: A dog walks with a jacket and booties in Central Park as it snows in the Manhattan borough of New York. Photograph: Carlo Allegri/Reuters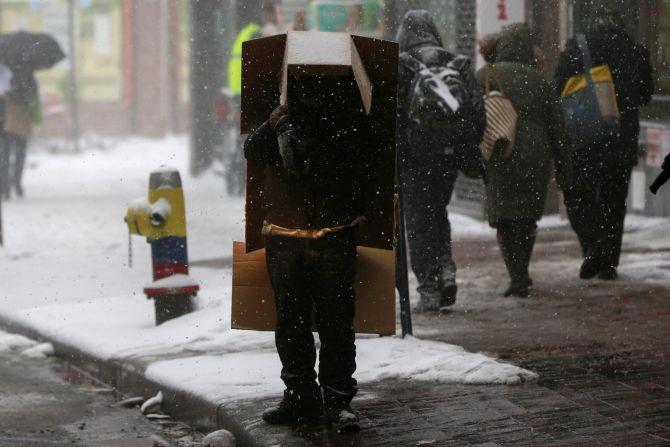 Image: A man stands with a box over his head as it snows in the Queens borough of New York. Photograph: Shannon Stapleton/Reuters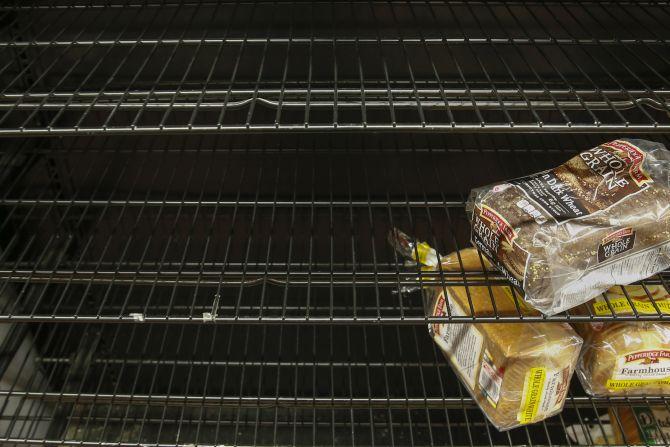 Image: Loaves of bread sit on a sparse shelf of bread items at a grocery store in Port Washington, New York. Photograph: Shannon Stapleton/Reuters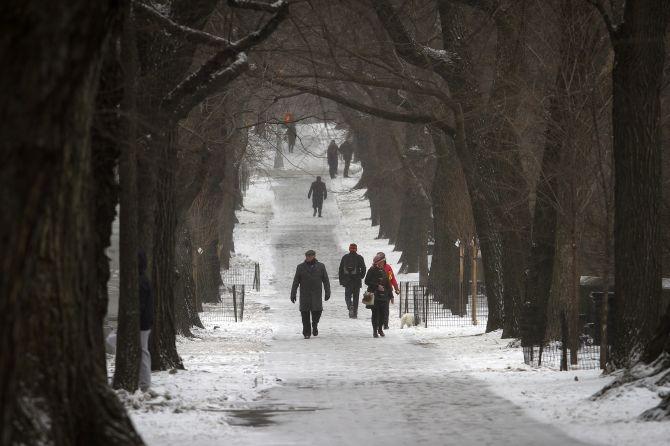 Image: People walk up 5th Avenue at Central Park as it snows in the Manhattan borough of New York. Photograph: Carlo Allegri/Reuters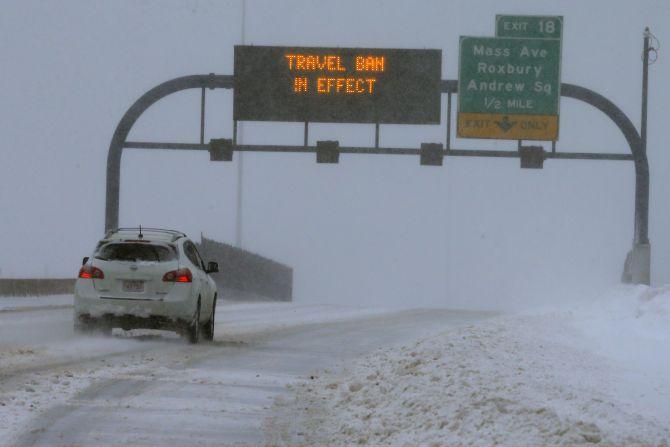 Image: A driver passes under a sign announcing a travel ban while traveling south on Interstate 93 during a winter blizzard in Boston, Massachusetts. Photograph: Brian Snyder/Reuters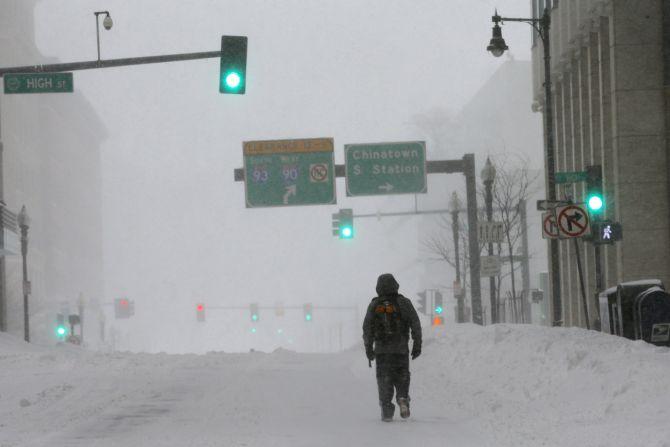 Image: A pedestrian walks along a snow-covered street during a winter blizzard in Boston, Massachusetts. Photograph: Brian Snyder/Reuters
Image: A man stops with dogs to take a photo of Cedar Hill in Central Park following Winter Storm Juno in the Manhattan borough of New York January. Photograph: Carlo Allegri/Reuters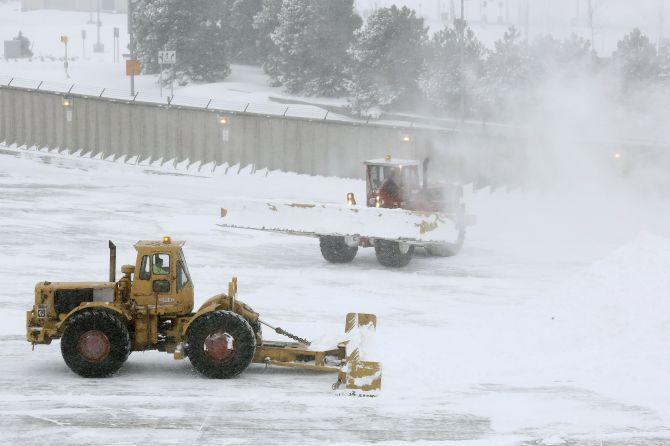 Image: Workers use snow removal equipment to clear the tarmac at Logan Airport during a blizzard in Boston, Massachusetts. Photograph: Reuters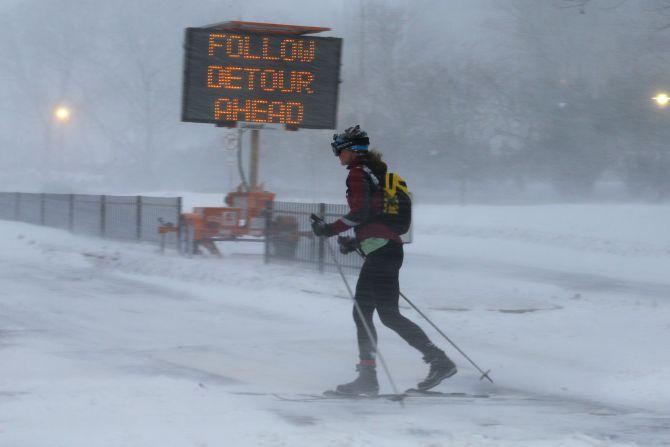 Image: A woman cross country skis on snow covered roads during a large winter blizzard in Cambridge, Massachusetts. Photograph: Brian Snyder/Reuters