At least 6 persons died in MP, 2 in UP, one in Rajasthan during protests against the alleged dilution of the SC/ST (Prevention of Atrocities) Act.
Other states hit with violence included Punjab, Bihar, Jharkhand, Odisha, Gujarat, Haryana, Maharashtra and Delhi.
Those arrested included a former Bahujan Samaj Party MLA in UP.
READ: 'Modi is not defending SC/ST Atrocities Act'
ALSO: Bharat bandh: CBSE postpones exams in Punjab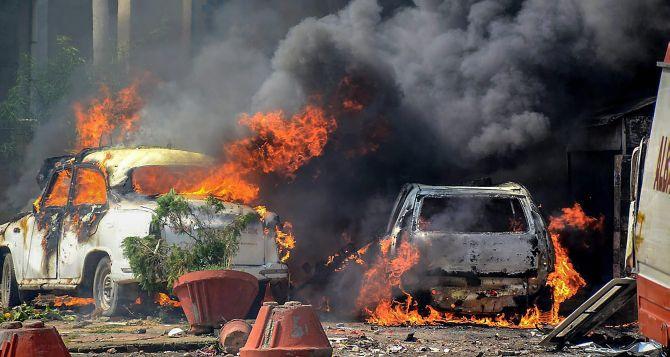 IMAGE: Cars set on fire by protesters in UP's Muzzaffarnagar. Photograph: PTI Photo
At least nine persons were killed and hundreds injured on Monday in violence across several states as protesters blocked trains, clashed with police and set fire to private and public properties, including police posts, during a nationwide bandh called by Dalit groups, officials said.
Thousands were detained following widespread incidents of arson, firing and vandalism across over 10 states, several of them being Bharatiya Janata Party-ruled including Madhya Pradesh where at least six persons died during the protests against the alleged dilution of the SC/ST (Prevention of Atrocities) Act.
Two persons died in Uttar Pradesh and one in Rajasthan, according to officials there.
Other states hit with violence included Punjab, Bihar, Jharkhand, Odisha, Gujarat, Haryana, Maharashtra and Delhi.
Those arrested included a former Bahujan Samaj Party MLA in UP.
Curfew was imposed in several places, while the Union Home Ministry, which rushed 800 anti-riot policemen to MP and UP, asked all states to take preventive steps and maintain public order to ensure safety of lives and property.
The army and paramilitary forces were also put on standby in Punjab.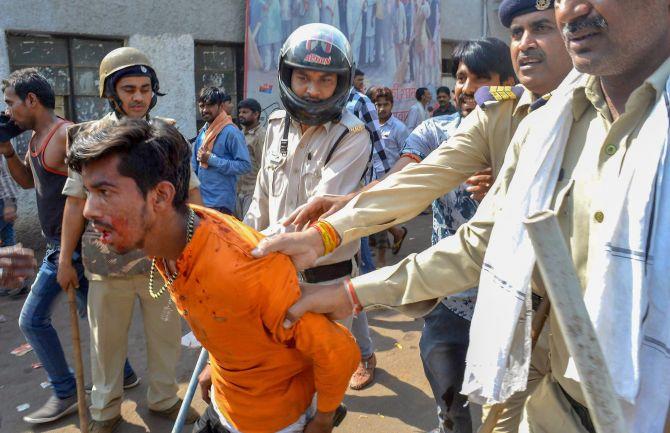 IMAGE: Police personnel detain a protester in Gwalior. Photograph: PTI Photo
In Madhya Pradesh, the deceased included four Dalits and two upper caste Hindus, while several others were injured across the state, the officials said.
Inspector General (law and order) Makrand Deoskar told PTI that the casualties occurred during fights between the bandh supporters and its opponents and not due to police firing.
A sub-divisional magistrate and a police official were also injured in the protest in Gwalior-Chambal division, he said.
MP Chief Minister Shivraj Singh Chouhan appealed to the protesters to maintain peace in the state.
Transport, mobile and internet services were hit in many states with over 100 trains getting affected due to protests, even as the Centre moved the Supreme Court seeking review of its recent judgement on the SC/ST Act, maintaining that the verdict will violate constitutional rights of these communities.
The Supreme Court had on March 20 diluted certain provisions of the Scheduled Caste and Scheduled Tribe (Prevention of Atrocities) Act, in a bid to protect 'honest' public servants discharging bona fide duties from being blackmailed with false cases under the Act.
The verdict is being widely criticised by Dalits and the Opposition who claim that the dilution of the Act will lead to more discrimination and crimes against the backward community.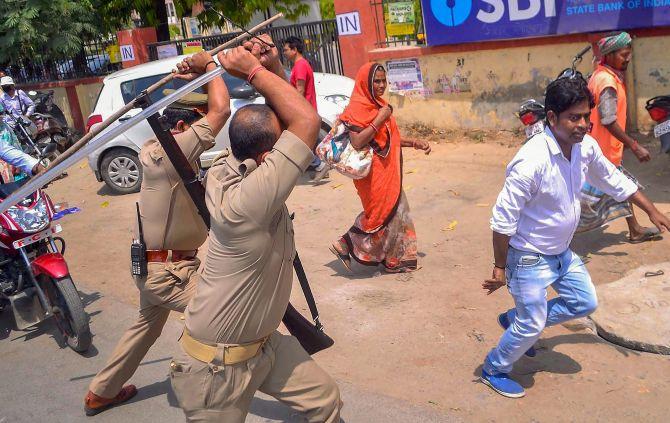 IMAGE: Police lathi charges protesters in Varanasi. Photograph: PTI Photo
While some states had ordered closure of educational institutions as a precautionary measure, incidents of arson, firing and vandalism were reported from various parts of the country and the properties facing the wrath of protesters included railway tracks, police stations as also public and private vehicles.
The bandh supporters damaged a railway track, disrupting rail traffic in Morena, the main Station Master, B K Sharma, said.
Trouble started at around 10.30 am when the protesters, carrying sticks, spilled onto the streets in the Malanpur area of Bhind district and indulged in violence, including breaking window panes of buses, the police said.
The violence then spread to the other parts of the district.
Mahavir Ragawat, 40, a Thakur by caste, died during the violence in the Machand area, some 40 km from the Bhind district headquarters, the police said.
Akash Jatav, a Dalit, died of gunshots in a clash between two groups in Mehgaon tehsil, 17 km from the Bhind district headquarters, they added.
In Gwalior's Thatipura police station area, two Dalits -- Rakesh Jatav and Deepak Jatav -- were killed in a gunfight between two groups, according to the police.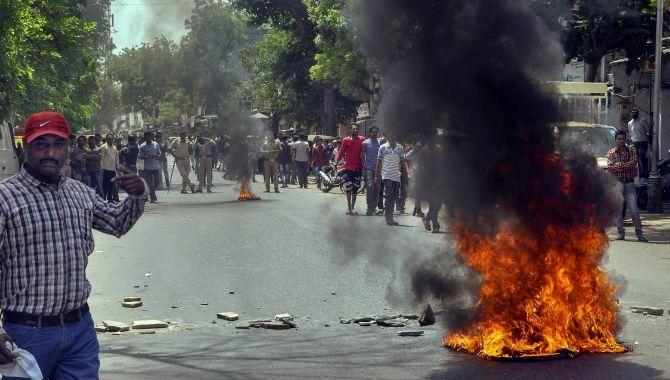 IMAGE: Protesters burn tyres in Ahmedabad. Photograph: PTI Photo
Vimal Bodh, a Dalit, died of gunshot wounds in Gwalior's Dabra area, the police said.
Rahul Pathak, a Brahmin, was killed in firing at the station area in Morena at around noon.
Violence during the protests was also reported from other districts of the state, including Jhabua.
In Bhind, the Rapid Action Force (RAF), the specialised anti-riot force, was pressed into service to control the situation, the IG said.
Earlier, Bhind Superintendent of Police (SP) Prashant Khare had said the Army was called out, but the IG clarified that it was the RAF which had been pressed into service.
Reports of violence between the supporters of the bandh and those opposing it were received from Balaghat, Sagar and Datia districts, where prohibitory orders under section 144, CrPC were enforced, the IG said.
Gwalior Commissioner B M Sharma said, "Curfew has been imposed in several parts of Gwalior city, following violence during the protests."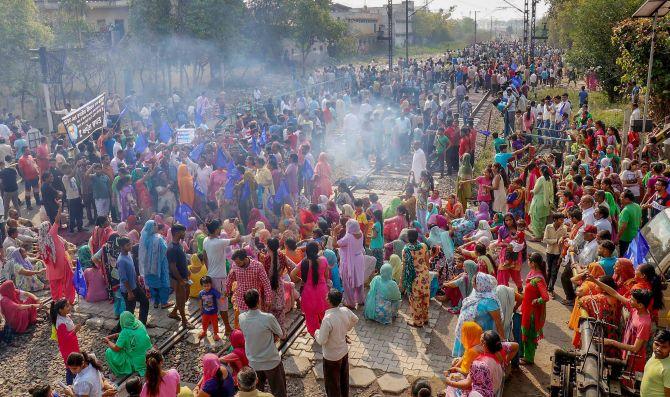 IMAGE: Protesters stage rail roko in Jalandhar. Photograph: PTI Photo
In Jhabua, the protesters looted shops, triggering tension in the tribal town, eyewitnesses said.
However, Jhabua SP Mahesh Chandra Jain said no incident of robbery took place during the protests, adding that the situation was peaceful in the district.
Protests were also held in state capital Bhopal, with the agitators blocking a road on the Board Office Square, near the statue of Dalit icon Dr B R Ambedkar.
In Bhopal, the bandh supporters, carrying sticks and blue flags, resembling those of the BSP, were seen forcing closure of shops.
A large number of vehicles were damaged, several of them torched by the protesters, eyewitnesses said.
Congress leader Jyotiraditya Scindia also appealed for peace and asked the BJP-led state government to take immediate measures to maintain harmony.
In Uttar Pradesh, one person was killed in Muzaffarnagar and another in Meerut, while nearly 75 persons including 40 policemen were injured in violent protests in various parts of the state. Police has detained nearly 450 people there.
IMAGE: Protesters vandalise a police vehicle in Meerut. Photograph: PTI Photo
Several towns in western UP saw violence and in Meerut, a former BSP MLA Yogesh Verma, was among those arrested, police said.
There were several incidents of violence in Meerut, including the torching of a police post while in the neighbouring Muzaffarnagar, a man was killed and several vehicles were damaged, they added.
"During the bandh, violence broke out in Muzaffarnagar, Hapur, Meerut, Agra and they were the most affected areas. Reports of violence have come from some other districts too. As of now, 448 persons have been detained in different districts. There were no incidents in 90 per cent of districts. We have sounded a high-alert in the state," DIG, Law and Order Praveen Kumar told reporters.
He added that one person lost his life in the violence in Muzaffarnagar.
"We are yet to get the detailed reports. As of now about 35-40 policemen and 30-35 protestors were stated to be injured. Of them three are serious," the DIG said.
Asked about the extent of damage to public properties, the official said the police were yet to do a detailed analysis.
"Some anti-social elements were involved in the protests and they created problems. Some of them had illicit fire arms too. We are conducting a detailed probe and also trying to identify people involved in spreading rumours and misleading Dalits on SC order," he said.
IMAGE: Protesters hurl stones in Morena, MP. Photograph: PTI Photo
The situation was controlled by 2 pm in the affected districts, he said. It's normal now, he added.
Early in the day, Chief Minister Yogi Adityanath appealed to the people to maintain law and order and asserted that his government was 'serious towards the development and progress of Dalits'.
However, angry protesters pelted stones on buses in the Sagdi area of Azamgarh on the Gorakhpur-Azamgarh damaging their widow panes. They also set afire two roadways buses injuring some passengers, police said.
In Agra, Gatiman Express, India's fastest train, was stopped at the Billochpura station for over an hour.
A hotel owned by a senior BJP leader was targeted and the police had to open fire in air to disperse the rowdy mob, officials said.
Director General of Police O P Singh said additional force from the Centre.
Urging people not to resort to violence, Chief Minister Adityanath said, "Both the Centre and the state government are dedicated to the welfare of the backward castes, the scheduled castes and the scheduled tribes. If there is any issue, one can bring it to the notice of the government."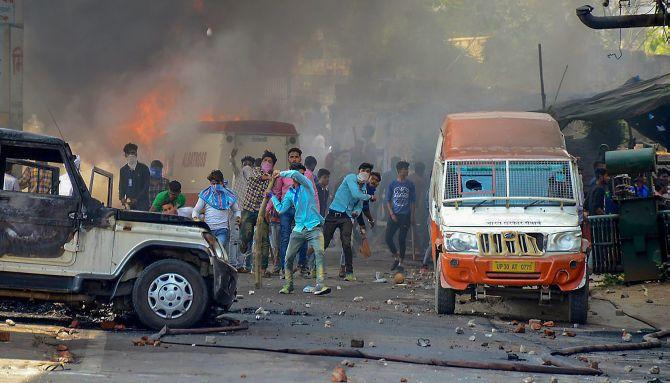 IMAGE: Protesters hurl brickbats as smoke billows out of burning cars in Muzzaffarnagar. Photograph: PTI Photo
BSP chief Mayawati, however, targeted the Centre saying if it had taken prompt steps, there would not have been the need for a 'Bharat bandh' and 'some anti-social elements would not have got the chance to indulge in violence and arson because of government laxity'.
BSP condemns violence but BJP governments need to extend help to the dead and injured without any bias, she said in a statement.
Mayawati said that though she was not in Parliament, her politics and struggle outside will force the Narendra Modi government 'to kneel down and change its stance'.
Meanwhile, former BSP MLA from Hastinapur Yogesh Verma, was arrested by the Meerut police in connection with the violence, according to SSP Manzil Saini.
Verma's family claimed he had been wrongly arrested.
Samajwadi Party chief Akhilesh Yadav also targeted the Modi government claiming it should have talked to the Dalit leadership in time. Now it seems that Dalits have lost faith in the government, he said.
In Rajasthan, one person was killed and 26 others, including nine policemen, were injured in Alwar.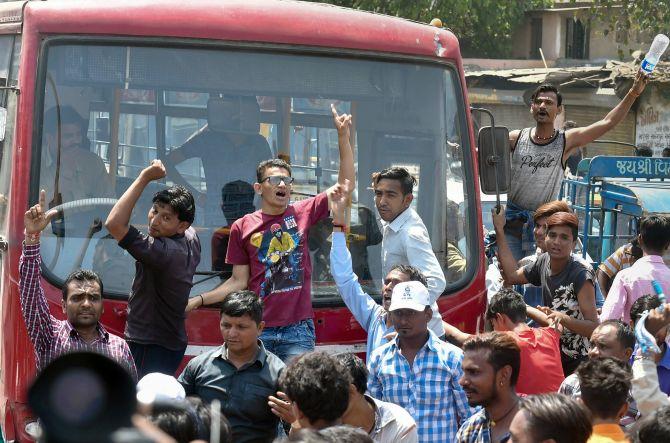 IMAGE: Members of the Dalit community block a road disrupting traffic movement during the Bharat Bandh in Gujarat's Ahmedabad. Photograph: Santosh Hirlekar/PTI Photo
Protesters, shouting 'Jai Bhim', blocked roads and rail routes, forcibly shut down shops, pelted stones, vandalised public property, torched several vehicles, and even attacked police in several parts of the state.
Police officials said more than 150 people were detained across Rajasthan for alleged involvement in the violence.
Additional Director General of Police (law and order) N R K Reddy said more than 75 civilians and over 70 police personnel were injured in the violence.
In Khairthal of Alwar district, a 28-year-old man, son of a former village sarpanch, was killed and 26 others, including nine policemen, were injured in the violence.
Officials claimed police resorted to firing after some miscreants in a mob opened fire at them.
Some protesters allegedly attempted to torch a police station during which a godown there suffered severe damage.
Protestors also torched a vehicle, officials said.
Tension prevailed in Sikar, Bikaner, Barmer, Bharatpur, Jodhpur, Bhilwara, Hindaun, Gangapur and other areas where police and protestors came face to face. In several instances police personnel had to fire tear gas shells, cane-charge and even fire at the mob to defuse the situation, officials claimed.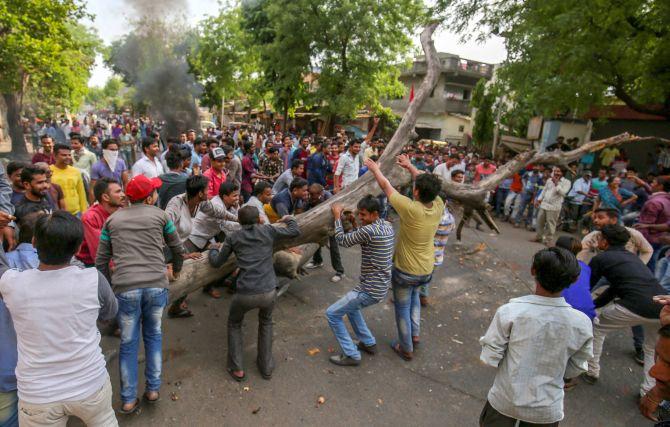 IMAGE: Members of Dalit community block a road with a tree in Ahmedabad. Photograph: PTI Photo
Prohibitory orders under section 144 of the CrPC were imposed in Bikaner, Barmer, Sikar, Jalore and Ahore while internet services were suspended in 12 districts as a precautionary measure.
Chief Minister Vasundhara Raje appealed to the people to maintain peace and harmony, saying the central government was committed to securing the rights of SC/STs.
Violence was, however, reported in almost all the districts of the state where protesters damaged public property while the police used force to disperse them.
Rajasthan DGP O P Galhotra said the situation was now under control.
"There is a provision in law to peacefully put forth your views. People should not take law into their hands. Cases will be registered against anti-social elements," he said.
Reddy said an additional 25-30 companies of paramilitary forces were deployed across Rajasthan in view of the protests.
According to the officials of the North-Western Railways, protestors damaged the glass windows of the Shatabdi Express at Khairthal railway station. Movement of at least seven trains was affected in the region due to the protests.
Rajasthan State Road Transport Corporation (RSRTC) officials said normal operation of buses, stopped at 11 am after the protests escalated, resumed by 5 pm.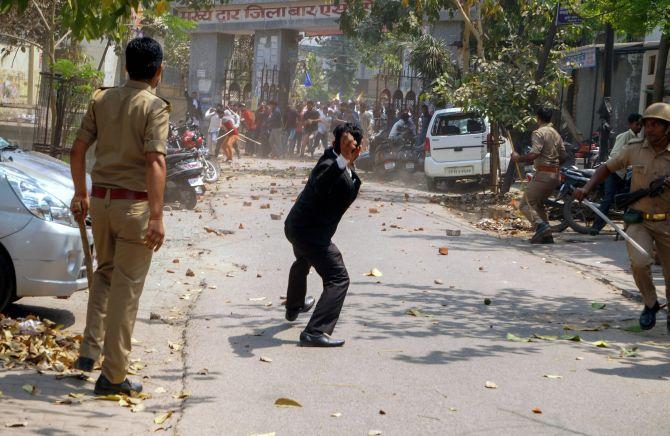 IMAGE: A lawyer retaliates by hurling a stone at protesters as police personnel look on outside District Bar Association office in Meerut. Photograph: PTI Photo
Normal life was paralysed as violence erupted at many places in Punjab and Haryana while rail and road traffic too was adversely affected during the protest by Dalit organisations.
Police had to resort to cane charging in several towns after protesters indulged in stone-pelting and vandalism, blocking roads and squatting on rail tracks in the two states, officials said. At least 50 persons were injured in the violence, officials said.
In view of the 'Bharat Bandh' call given by Dalit organisations, the Congress-led Punjab government had ordered closure of educational institutions, suspended bus services, and curtailed mobile and Internet services.
In the neighbouring BJP-ruled Haryana, there were no orders to shut schools or suspend bus services.
However, tight security arrangements were in place in both the states and their common capital -- Chandigarh.
The Punjab government had on Sunday itself ordered a security clampdown as a precautionary measure with the Army and paramilitary forces asked to be on standby.
Protesters squatted on railway tracks at a few places in Punjab and Haryana, crippling rail traffic, officials of the Ambala and Ferozepur rail division told PTI.
At many places, they burnt tyres on roads and blocked highways.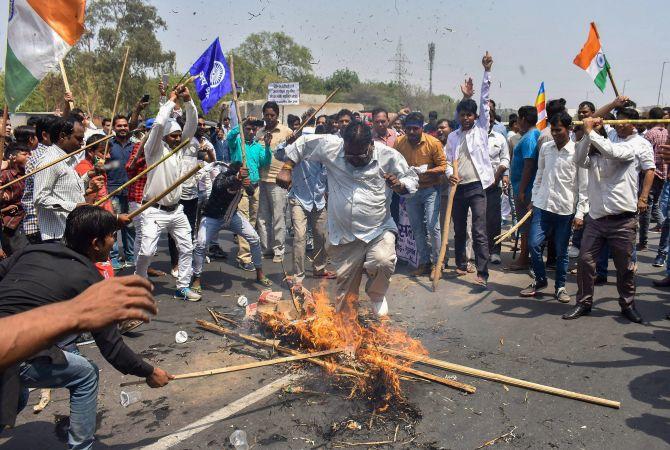 IMAGE: Protesters block Delhi-Gurugram Expressway near Rajiv Chowk, Gurugram, Haryana. Photograph: PTI Photo
At Kaithal in Haryana, a protesting mob resorted to stone pelting and damaged a railway engine, police said. Prior to that, they protestors had marched through the streets after which there were some reports of alleged vandalism.
The Kaithal Police resorted to 'lathi charge' and lobbed tear-gas shells to disperse the protesters, they said. Around 10 policemen were injured in the incident, they said.
Protests also turned violent in Faridabad, where a train was reportedly pelted with stones.
Marches were taken out by Dalit activists in Jalandhar, Patiala, Sangrur, Hoshiarpur, Ropar, Bathinda, Ferozepur, Kapurthala, Phagwara and other places in Punjab, and at Panchkula, Ambala, Kaithal, Hisar, Karnal, Rohtak, Yamunanagar, Bhiwani, Sirsa, Faridabad and Gurgaon in Haryana as well as in Chandigarh.
Markets across the two states wore a deserted look as shops and other commercial establishments remained closed while vehicles largely remained off the roads. In some towns 'lathi'-weilding protesters marched through the bazaars.
The Indo-Pakistan bus service, 'Sada-e-Sarhad', that runs between Delhi and Lahore was also disrupted. A Lahore-bound bus was halted at Sirhind and a Delhi-bound bus at Amritsar for several hours, police said.
In Punjab's Bathinda, two persons were injured in a clash between the protesters and shopkeepers near Mehna Chowk.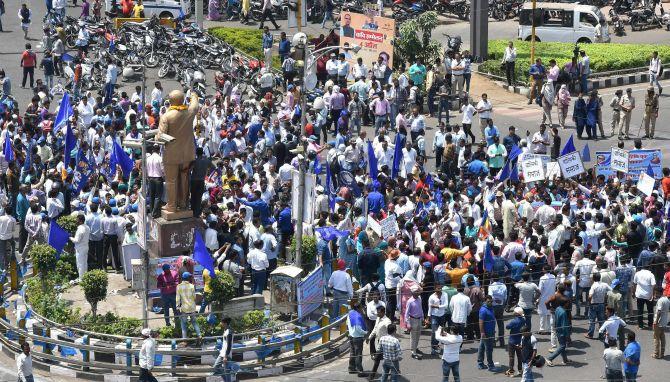 IMAGE: Members of Dalit community stage a protest in Bhopal. Photograph: PTI Photo
In Kapurthala, the protesters allegedly damaged about a dozen two-wheelers, smashed window panes of a lawyer's car and vandalised a chemist shop, police said.
The agitators also disrupted traffic on the Kapurthala-Ferozepur section by staging a 'dharna' on the rail track at the Khojewal and Kapurthala railway stations.
Kapurthala-Jalandhar, Kapurthala-Nakodar, Kapurthala–Sultanpurlodhi and Subhanpur and Kartarpur were among the roads blocked, police said. The railway track was also blocked at a crossing in Jalandhar while the Jalandhar-Hoshiarpur road was also blocked for a while at Nasrala, police said.
In Karnal, Haryana, protesters held up a train for several hours, with some climbing over its roof while others squatted on the track.
At Bhiwani and Faridabad, protesters barged into shopping malls to force their closure while stone pelting and violence was reported from Jagadhari, Jind and Hisar. Protesters also blocked the Ambala-Hisar highway near AmbalaCity and NH-1 near Ambala Cantt for about an hour.
Across the two states, thousands of Dalit protestors, backed by various political outfits, social and religious bodies, took out marches to protest what they claimed was the dilution of the Act.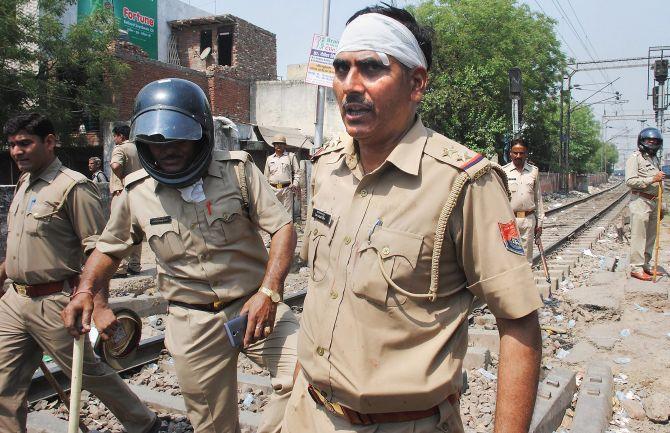 IMAGE: An injured policeman in Ghaziabad. Photograph: PTI Photo
They burnt effigies of the National Democratic Alliance government at the Centre, alleging it had failed to protect the interests of the Dalits.
Dalit organisations' protests brought traffic to a standstill in Lutyens' Delhi.
Police said there were no reports of any untoward incident in the city, even as protests in many other states turned violent.
Taking no chances, Delhi police had deployed additional force between Mandi House and Parliament Street since it was anticipated that the protesters would march towards Parliament.
In other areas of Delhi, the respective deputy commissioners of police, assistant commissioners of police, station house officers were out in the field to ensure that peace is maintained.
"We had inputs about there being protests and unrest near Loni roundabout in northeast Delhi. Force was deployed in the area and security was beefed up," a senior police officer said.
He added that there were no reports of any violence in Delhi.
Protesters numbering 2,500 to 3,000 gathered at Mandi House and blocked the road outside the metro station there, bringing traffic to a halt and inconveniencing commuters travelling towards ITO and other stretches.
Shouting slogans of 'Jai Bhim', the protesters blocked one of the carriageways of Barakhamba Road affecting traffic on the stretch, police said.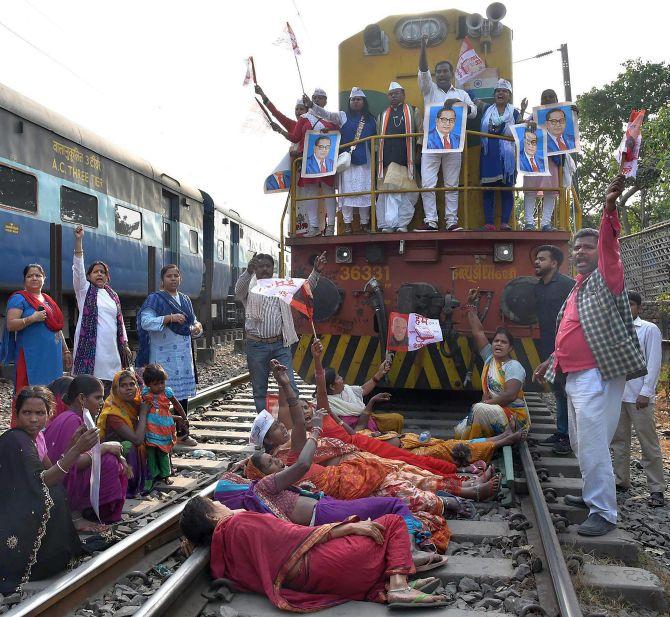 IMAGE: Hindustani Awam Morcha-Secular activists stop a train at Rajendra Nagar Terminal during Bharat Bandh against the dilution of provisions for the Scheduled Caste/Scheduled Tribe Act, in Patna. Photograph: PTI Photo
Traffic was also affected in the Connaught Place's outer circle as protesters squatted on the road.
The Dalit organisations said the Centre had announced that it will be filing a review petition only after they called for the bandh demanding that the law that protects the scheduled castes and tribes against discrimination and atrocities be restored in its original form.
Police had closed the traffic movement on Sansad Marg from Patel Chowk to Jantar Mantar.
In Himachal Pradesh, a strike call given by various Dalit outfits was, however, largely ineffective.
The protests were peaceful. A large number of people led by former minister Singhi Ram and former Shimla mayor Sohan Lal assembled at Cart Road in Shimla and blocked traffic for an hour.
Dalit activists took put protest marches in Paonta and other places.
Normal life was disrupted in various parts of Gujarat as protests turned violent and police resorted to teargas-shelling and lathi charge at some places, said officials.
Agitators disrupted road and rail traffic, and asked commercial establishments to down their shutters as they went around enforcing the nationwide bandh.
The police lobbed teargas shells and resorted to cane-charge to scatter a mob in Sarangpur area of Ahmedabad, an official of the city police control room said.
The area, which has a sizeable Dalit population, saw some protesters forcing shop owners to close their establishments and some locals also alleged incidents of vandalism and loot.
"Though we agreed to shut our shops, these agitators started vandalising our shops. Some even looted cash. Many shop owners incurred huge losses due to the vandalism.
"Protesters even snatched mobile phones from bystanders who were recording the incident," a shopkeeper told mediapersons in Sarangpur.
IMAGE: Property was burnt and damaged during a protest in Amritsar. Photograph: PTI Photo
In the Chandkheda area of Ahmedabad, protesters came out on roads in large numbers and forced several commercial complexes and shops to join the shutdown.
Following violent protests in several parts of Ahmedabad, civic-run transport services were halted after some of the buses were targeted by agitators, said the officials.
Following reports of roadblocks and attacks on some BRTS (bus rapid transit system) buses in the city's eastern part, the Ahmedabad civic body halted its services on some of the routes, Municipal Commissioner Mukesh Kumar said.
"Some of the BRTS buses were targeted by protesters following which we discontinued our services on some of the routes. Operation of buses on some of the routes of AMTS (Ahmedabad Municipal Transport Service) was also suspended," he said.
Meanwhile, Chief Minister Vijay Rupani appealed for peace and urged Dalits not to get 'misguided'. He accused the Opposition Congress of doing politics in the name of Dalit rights.
"The Centre has already filed a review petition in the Supreme Court about its earlier verdict on the SC/ST Act.
"The BJP governments at the Centre and in Gujarat are committed to the welfare of Dalits. The Congress is only doing politics. I urge Dalits not to get misguided," he said.
Earlier in the day, protesters took to streets in several parts of the city such as Dani Limda, Naroda, Bapunagar, Kalupur and Amraiwadi, among others.
According to Rahul Parmar of the Dalit Panther group, several roads were blocked in these areas, while shops were asked to down shutters by the protesters.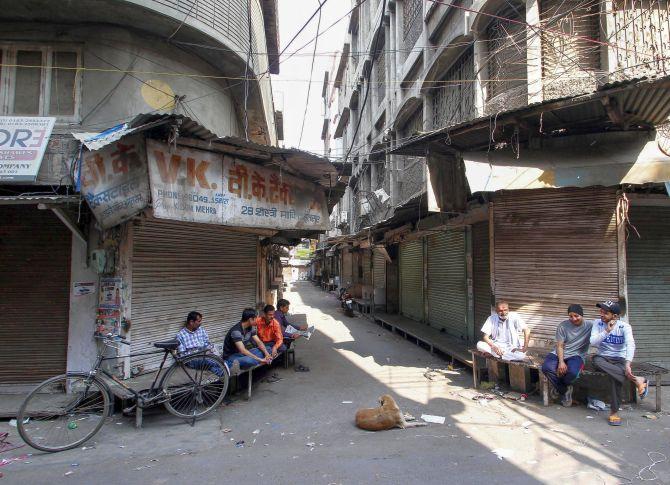 IMAGE: Shopkeepers sit outside their closed shops during Bharat Bandh in Amritsar. Photograph: PTI Photo
Dalit leader and independent MLA Jignesh Mevani joined the protests in Ahmedabad and said the apex court verdict was against the Constitution.
"The case before the SC was related to a single person charged under the Atrocities Act, who pleaded that he was not guilty. The petitioner did not ask for any revision of the entire SC/ST Act.
"But, the apex court gave a verdict as if it is over and above Parliament or the Constitution," Mevani told reporters.
According to in-charge city Police Commissioner K L N Rao, adequate police personnel were deployed across Ahmedabad to deal with any law and order problem arising out of the protests.
"The situation is under control. We have deployed adequate force to deal with any unwarranted situation. The police have been regularly patrolling in the city," said Rao.
In state capital Gandhinagar, Dalit protesters held a rally near the main bus station.
In Surat, several persons were detained by the police for trying to shut shops in a textile market on Ring Road, said the officials.
Police had to resort to cane-charge to disperse an unruly mob in Surat, a diamond trading and textile manufacturing hub, they said.
In Rajkot also, agitators asked shopkeepers to close their establishments in several parts of the city, a local official said.
Several Dalit activists and Congress workers burnt purported copies of the Supreme Court order at Trikon Baug in Rajkot, he said.
Some protesters entered a mall on Kalavad Road in Rajkot and forced the management to close the complex, the official added.
Protests were reported from Surendranagar, Kutch Jamnagar, Mehsana and other parts of Gujarat.
In Jamnagar, a mob tore posters of Prime Minister Narendra Modi put up inside a bus depot and vandalised some shops, an official said.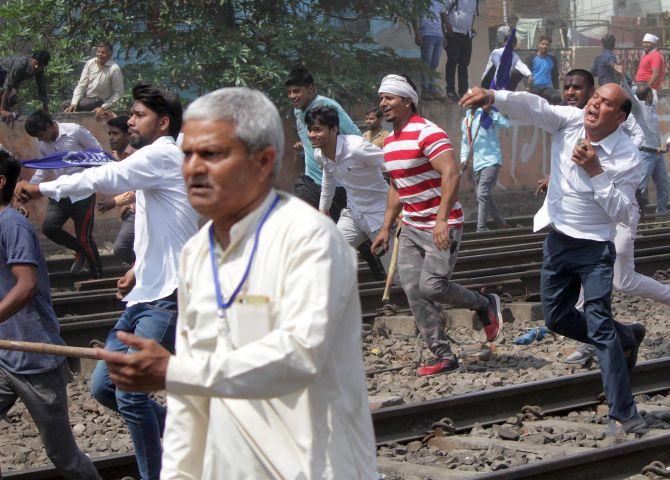 IMAGE: Protesters throw stones during Bharat Bandh in Ghaziabad. Photograph: PTI Photo
Rail and road traffic got disrupted and properties vandalised across Bihar, Jharkhand and Odisha as violence erupted during the protests.
Police arrested thousands of agitators in Bihar and Jharkhand during the day-long bandh which threw life out of gear in several parts.
Though the impact of the bandh was minimal in West Bengal, Chief Minister Mamata Banerjee expressed support to the Dalit cause.
She expressed shock over deaths in violent protests in Madhya Pradesh during the nationwide bandh.
Reports from Patna said that more than 3,000 people were held by the police across Bihar for disruption of public order during the bandh.
In the state, the shutdown was marked by widespread disruptions in rail and road traffic, forced closure of various establishments and vandalism of private and public properties.
The issue also rocked the state assembly, which witnessed adjournment till lunch break within minutes of commencement of proceedings, followed by a 'human chain' formed by Dalit MLAs cutting across party lines who also marched to the Raj Bhavan and presented Governor Satya Pal Mallik with a memorandum on the issue.
"At least 3619 people have been detained by the police across the state. The maximum number of 2500 persons were rounded up in Muzaffarpur, followed by 600 in Kaimur district. Thirty-five persons were held in the state capital," Additional Director General of Police (Headquarters), S K Singhal, said.
According to police sources, rail and road traffic got disrupted for hours in districts like Patna, Muzaffarpur, Kaimur, Gaya, Jehanabad, Darbhanga, Nawada and East Champaran.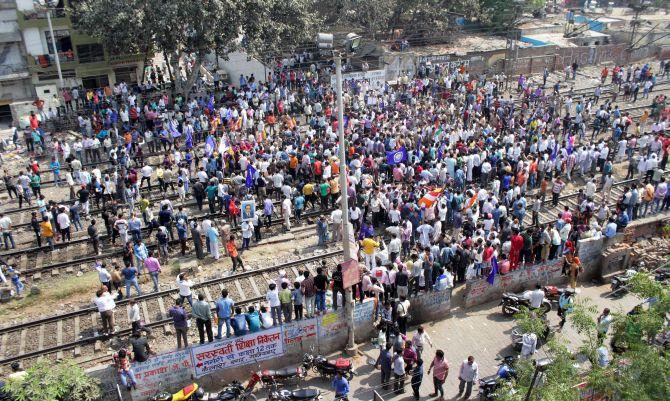 IMAGE: Hundreds of protesters block the railway track in Ghaziabad. Photograph: PTI Photo
Private properties, railway stations, courts and state transport buses were vandalized by the agitators at various places while forced shutdown and vandalism was witnessed by many commercial establishments like showrooms, coaching institutes and petrol pumps.
The agitators, among whom there were a sizeable number of women and children, carried blue flags bearing names of 'Bhim Sena' or similar pro-Dalit outfits.
They also raised slogans alleging that the Narendra Modi government at the Centre was 'anti-Dalit' and that there was a conspiracy to deprive them of reservations.
The Rashtriya Janata Dal, the Hindustain Awam Morcha and the Communist Party of India-Marxist-Leninist -- which had openly come out in support of the shutdown -- were seen hitting the streets to express support to protesters.
In Ranchi, police had to resort to tear gas and baton charge after the bandh supporters hurled stones on police.
"Minimum force was used after the bandh supporters hurled stones on the police. Baton charge and tear gas were used to control the situation," a senior police official said.
As many as 777 persons were arrested in Ranchi district, he said but added there was no untoward incident in the district.
In Palamau, about 200 bandh supporters were taken into custody.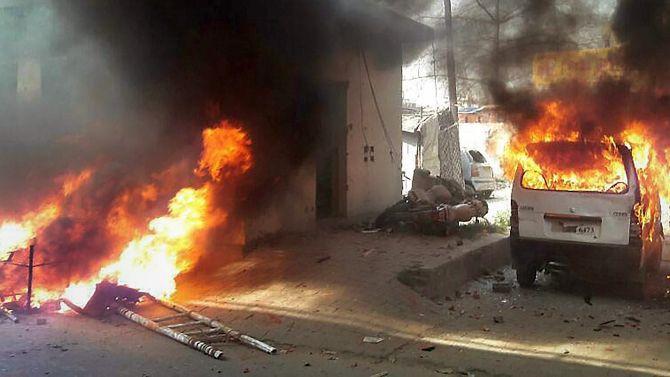 IMAGE: Vehicles set on fire by a group of protesters during Bharat Bandh call in Meerut. Photograph: PTI Photo
In Odisha, vehicular movement was affected in several areas, including Jharsuguda, Sundargarh, Malkangiri, Sambalpur and other tribal-dominated districts, the police said.
Buses also remained off the roads at Biramitrapur, Malkangiri, Kalahandi and Bolangir.
Shops and business establishments remained shut in several areas of tribal-dominated Malkangiri, Kalahandi, Sundargarh and Bolangir districts, the police added.
Activists of the Adivasi Dalit Sena staged a rail roko at the Khetrajpur station in Sambalpur, which delayed some trains, they said.
Stray incidents of violence in parts of Maharashtra marred the bandh.
Incidents of stone pelting on buses were reported from Nandurbar in North Maharashtra during the protests.
"Protesters pelted stones on four state transport buses at Shahada in Nandurbar district," a police official said.
In Nagpur, the second capital of Maharashtra, the bandh evoked good response in the Dalit-dominated areas.
Protesters blocked trains near Kadbi Chowk in the city, while an attempt was made to torch a bus at Jaripatka, police said.
Trains left for their destinations after agitators were cleared from the rail tracks, they said.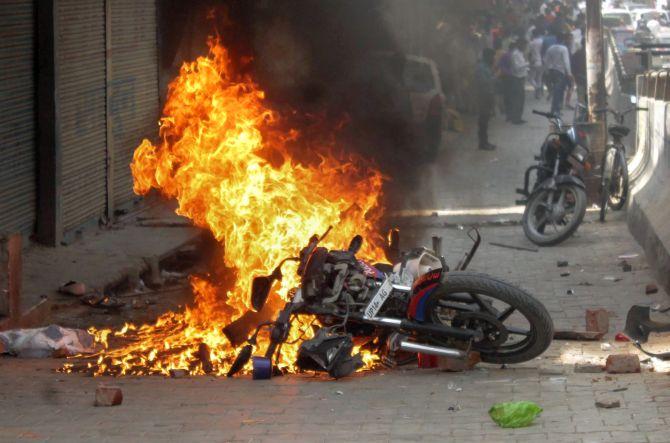 IMAGE: A bike set on fire by a group of protesters during Bharat Bandh in Ghaziabad. Photograph: PTI Photo
A few incidents of stone pelting on civic-run buses were reported from Indora and Kamal Chowk areas in North Nagpur, which has a substantial Dalit population, a police officer said.
The demonstrators used burning tyres to block vehicular traffic in certain areas, the police said.
Normal life was affected in the Dalit-dominated North Nagpur, where most of the shops and business establishments remained closed in response to the bandh. Other parts of Nagpur remained largely unaffected.
Jet Airways and Vistara announced waiving cancellation and charges for change of dates for those passengers booked for flights operating to and out of airports in places affected due to Dalit protests.
Over 100 passenger and mail train services were affected, nine were cancelled and a few more short-terminated, officials said.
Of the nine train services cancelled, five were scheduled to have run on Monday.
As the protesters squatted on the tracks, hurled stones at the trains and wreaked havoc on the platforms, the railways cancelled the Amritsar-Jaynagar Saryu Yamuna Express, New Delhi-Amritsar Shatabdi Express, Jaipur-Chandigarh Intercity Express, Ajmer-New Delhi Shatabdi Express and the Sealdah-Varanasi Express, scheduled to have run on Monday.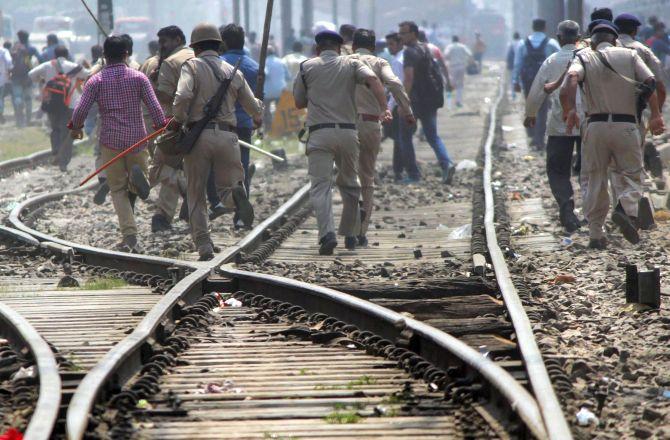 IMAGE: Police personnel try to disperse the protesters who were trying to block the railway track during Bharat Bandh in Ghaziabad. Photograph: PTI Photo
The national transporter also cancelled three trains -- the Amritsar-New Delhi Shatabdi Express, the Amritsar-Chandigarh Superfast Express and the Chandigarh-Jaipur Intercity Express -- which were scheduled to run tomorrow, along with the Jaynagar-Amritsar Shaheed Express, scheduled to run on April 4.
The railways also short-terminated and partially cancelled 17 trains scheduled for today and tomorrow, including the New Delhi-Amritsar-New Delhi Swaran Shatabdi Express and the New Delhi-Ajmer Shatabdi Express.
Passengers, stuck for hours onboard trains in Rajasthan and Uttar Pradesh, tweeted to the railway ministry about the violence on platforms, stone-pelting and the lack of amenities in the trains. Some even said the tracks were uprooted in certain areas by the agitators, which the railways did not confirm.
Some passengers onboard the Kota Jan Shatabdi Express were injured when the protesters went on a rampage at the Faridabad New Town Railway Station.
"There were some incidents of gathering of agitators at Firozpur, Hapur, Moradabad, Ghaziabad yard (Gaushala), but there was no damage to railway property. Stray incidents of stone-pelting were reported from one or two places, but no passenger or railway personnel was hurt," Nitin Chowdhury, Spokesperson, Northern Railways said, adding that the 0ther trains were run as and when the situation was brought under control by the civil administration.
WATCH: shots fired during protests in Madhya Pradesh's Gwalior
WATCH: Protesters resort to stone pelting in Bhind during the Bharat Bandh
Union Home Minister Rajnath Singh appealed for peace, while Law Minister Ravi Shankar Prasad said the government was not a party to the Supreme Court decision on the SC/ST Act and 'respectfully' did not agree with its reasoning behind the verdict.
Prasad said the government has filed a very comprehensive review petition in the matter.
Union Minister Ram Vilas Paswan, a prominent Dalit leader and head of NDA constituent Lok Janshakti Party, appreciated the government's quick decision.
Senior Congress leader Ghulam Nabi Azad alleged that incidents of atrocities on Dalits and minorities have increased in the country since the NDA came to power in 2014, while Aam Aadmi Party leader and Delhi Chief Minister Arvind Kejriwal extended his support to the protesting groups.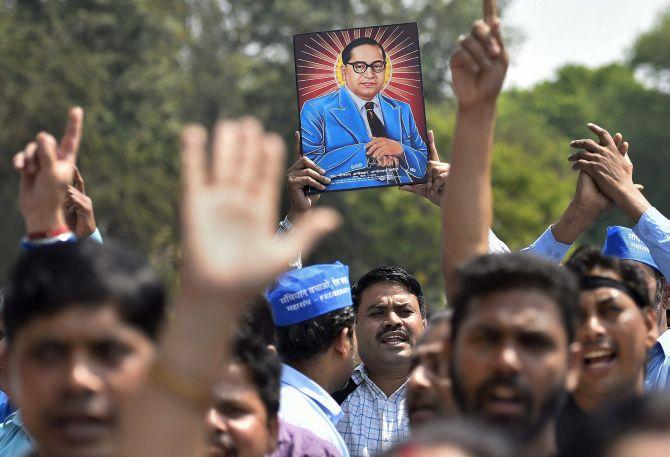 IMAGE: Dalits display a portrait of Bhimrao Ambedkar during Bharat Bandh in New Delhi. Photograph: Ravi Choudhary/PTI Photo
Rahul slams RSS/BJP for plight of Dalits
Congress president Rahul Gandhi slammed the Rashtriya Swayamsevak Sangh and the BJP for the plight of Dalits and said he saluted "brothers and sisters" from the community who have hit the streets to demand protection of their rights from the Modi government.

Gandhi's comments came as several Dalit organisations called for a nation-wide shutdown against the dilution of arrest provisions under the SC/ST Atrocities Act by the Supreme Court.
"It is in the DNA of the RSS/BJP to keep Dalits at the lowest level in Indian society. Any one who challenges this thought is crushed with violence.
"Our Dalit brothers and sisters are today on the streets demanding protection of their rights from the Modi Government. We salute them," he said on Twitter.
Gandhi and his Congress party have slammed the BJP and the Modi government for its 'anti-Dalit' mindset.
The BJP, however, underlined the government's measures for the development of Dalits and dubbed Gandhi a 'political vulture' out to seek 'advantage'.