'In 2013, Modi said his government would be of Dalits and OBCs.'
'During his tenure, the highest number of atrocities have taken place.'
'What they want is that this Ambedkar Constitution must not be practised in India in the future.'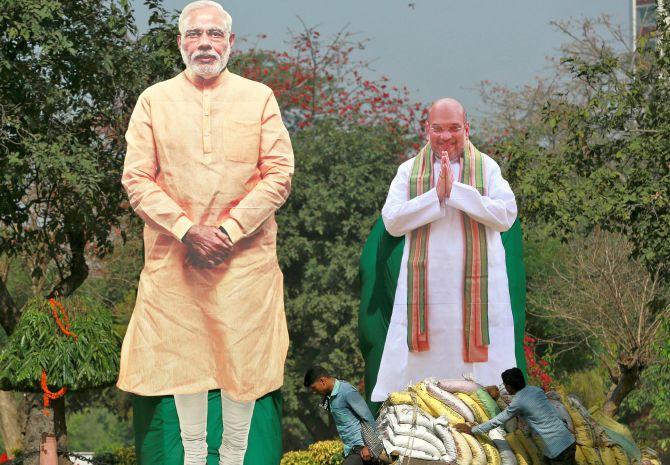 IMAGE: 'The government and the bureaucracy do not want Dalits to be liberated or be treated as equal,' says Kancha Ilaiah. Photograph: Cathal McNaughton/Reuters
On March 20, 2018, the Supreme Court diluted the provisions mandating immediate arrest under the Scheduled Castes and Scheduled Tribes (Prevention of Atrocities) Act, which has raised fears among Dalit leaders and activists.
Reacting to the judicial pronouncement, the Dalit Shoshan Mukti Manch, a Dalit rights organisation, said the verdict would lead to a 'great miscarriage of justice'
'It must be remembered that in many cases the accused are government servants and officials,' the Manch's national executive committee said in a statement.
'Government offices and departments are sites of discrimination and injustice to SCs and STs (scheduled castes and scheduled tribes). The police also has a record of committing grave crimes against these sections of society,' the Manch pointed out.
"There is nothing in Modi's hands. Everything is run by Mohan Bhagwat. Modi has no power in his hands," Kancha Ilaiah Shepherd, one of India's prominent thinkers on caste issues, tells Rediff.com's Syed Firdaus Ashraf.
What is your take on the Supreme Court judgment on the Scheduled Caste and Scheduled Tribe (Prevention of Atrocities) Act?
The lawyers representing the central government did not make any case before the court. There are several judgments of late that are going against reservations.
The government is trying to change the rules based on those judgments.
It is happening because there is a huge gap between Prime Minister Narendra D Modi's promise for Dalits and people belonging to the backward communities that he will give an administration of empowerment to them, but the entire structure is of caste and cultural inequality.
They do not want Dalits to be liberated or equals.
You mean the Modi government...
The official structure, I mean to say.
The lawyers who are arguing in the courts, the people who feed information to the courts and the government officers which the government has chosen, are against SCs, STs and OBCs.
The SC/ST Atrocities Act has been misused often. Has it not?
In my book Post-Hindu India: A Discourse in Dalit-Bahujan, Socio-Spiritual and Scientific Revolution, there is a chapter called Social Smugglers. This chapter created a major agitation in Andhra Pradesh and Telangana.
The BJP used a Dalit BJP member to file a case against me under the SC/ST Atrocities Act.
The argument in the FIR was that we are also Dalit Hindus and this book hurts our sentiments.
This was definitely misuse, but this kind of misuse is exceptional. I may even go to jail for this case against me.
There have been several instances of the Act being misused in Uttar Pradesh.
The question here is: Why does untouchability exist in India?
Do Dalits practise it?
How many people are in jail because of the misuse of the SC/ST Atrocities Act?
Can you show me one Hindu priest in jail for denying temple entry (to Dalits)?
Can you show me one Brahmin officer in jail for treating an untouchable badly?
I am an OBC, but even OBCs are against the SC/ST Atrocities Act.
All my OBC friends say these SCs/STs register cases against us. The conflict in rural areas is between the OBCs and Dalits.
Brahmins and Banias are beating Dalits intellectually in offices and industries, but Dalits are being beaten physically by the OBCs.
The Constitution has accommodated the SCs/STs by giving them reservations...
Where are they accommodated?
Why did the Constitution not abolish private English medium (schools) for the rich and upper castes?
Why should government schools run only in Tamil, Telugu, Malayalam or Marathi?
What happens to equality there?
The question here is: Why does untouchability exist in our system after 70 years?
The same Supreme Court gave a judgment that a Hindu priest should be appointed only from the Brahmin community.
According to the Agamas (Hindu treatises) no Hindu OBC, no Hindu Shudra can become a temple priest.
Why did the central government not intervene like it did in the triple talaq case?
In the same way, why did the central government allow the dilution of this SC/ST Atrocities Act?
It is because the BJP government didn't want it (to intervene).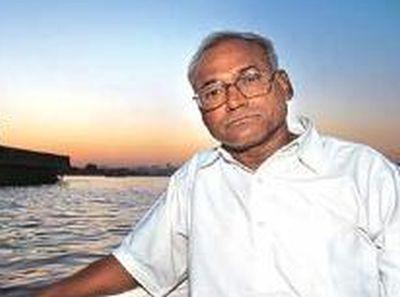 My question is that you have data from the P L Punia report that 54,000 cases (against the Dalits) were committed and only a few hundred (of the accused) were convicted.
This report was tabled in Parliament too; but did the Modi government take this data to the Supreme Court?
Courts give judgments based on what data is put before them and what kind of arguments are put before them.
Why are these reversals happening only under the BJP government?
The BJP is not for Dalit equality and nor is the RSS (Rashtriya Swayamsevak Sangh).
BJP Dalit MPs have come out against the judgment on the SC/ST Atrocities Act. They are putting pressure on the Modi government to intervene.
In 2013, just before the elections, Narendra D Modi said in Kerala that his government would be of Dalits and OBCs.
During his tenure, the highest number of atrocities have taken place and now the Modi government is not even defending the SC/ST Atrocities Act.
No attorney general is defending the SCs/STs because the BJP government does not believe in such things.
When the government's lawyers do not believe it, then how do you defend such cases?
Do you see a design?
It is a design of the BJP and RSS that all these things have to be reversed.
The nation should go the Ram Rajya way. In Ram Rajya, Brahmins were on top and Kshatriyas were ruling.
The Brahmins were advising Kshatriyas and Shudras were making pots, tilling the land and feeding the cattle.
What they want is that this Ambedkar Constitution must not be practised in India in the future.
Dalits vote for Modi in large numbers.
Dalits trusted Modi like they did Indira Gandhi, but Indira Gandhi had full control on the system.
She bulldozed her lawyers and she changed attorney generals if they did not listen to her. She had a bureaucracy committed to her.
Within the Congress, there was no (RSS Sarsanghchalak) Mohan Bhagwat to checkmate Indira Gandhi.
There is nothing in Modi's hands. Everything is run by Mohan Bhagwat.
Modi has no power in his hands.
Why was the SC/ST Atrocities Act implemented? Why did it become law?
Initially, people from the scheduled tribes were hardly employed. In 1989, under the V P Singh government, the SC/ST Atrocities Act came into being.
It was then that a lot of Dalit leaders became big and Ambedkarism became very active.
Critics of the BJP say L K Advani divided the country on Hindu-Muslim lines. Do you think V P Singh divided the country with the SC/ST Atrocities Act and the Mandal Commission?
The Hindu-Muslim divide is different. Today, my Muslim friends ask me to defend them and I am an OBC. I tell them there are 56 Muslim countries to defend you.
For Christians, there are 105 countries to defend them.
Who is there to defend me? I was humiliated as a shepherd for the last 4,000 years.
The sufferings of Dalits are worse than those of the Muslims.
If V P Singh had not brought in this Act, Hinduism would have died.
Why did Pakistan, Bangladesh become Muslim countries? The answer is there was caste and untouchability in those regions. Islam, Christianity, and Buddhism gave protection to these people (lower caste people).
V P Singh saved Hinduism.
On the contrary, he divided Hindus with the Mandal Commission report.
Brahmins crush me everywhere, in offices and temples. Still I will remain a Hindu.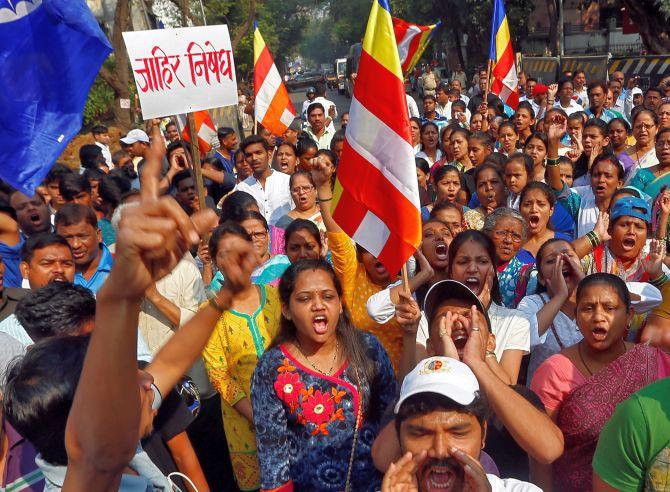 IMAGE: 'The current dispensation wants the nation to go the Ram Rajya way. In Ram Rajya, Brahmins were on top and Kshatriyas were ruling. The Shudras tilled the land and fed the cattle,' says Kancha Ilaiah. Photograph: Shailesh Andrade/Reuters
Don't we need to remain one as a country?
Do you mean that Brahmins and Banias crush us every day and we must remain united as one with them?
Where do we (Dalits) go when Brahmins and Banias attack us every day? We have to die here.
Let them remove reservations and let them see where the Hindu religion will be.
Do you believe Hinduism will weaken if reservation was removed and the SC/ST Atrocities Act abolished?
Absolutely. Hinduism will weaken if they remove reservations and abolish the SC/ST Atrocities Act.
Hinduism has survived for thousands of years.
Where did it survive? In just 300 years, all of Pakistan and Afghanistan have gone to Islam.
The whole of Bangladesh went to Islam.
Indonesia, which was Sanskrit and headed by brahmins in every institution, has gone to Islam in just 300 years.
Hinduism is a flourishing religion.
Where is it flourishing? Which country is it spreading to?
After Prophet Mohammed, 56 countries turned Muslim.
From that period, how many countries have converted to Hinduism?
That is the beauty of the Hindu religion, that its practitioners do not propagate it by the sword/
The BJP promotes vegetarianism and yoga.
Can yoga and vegetarianism win a war with China?
Vegetarianism and yoga will see that China will engulf our country in no time.