A state of emergency has been declared in Washington, DC and five states as 30 inches of snow and high winds may shut down up to a third of the country.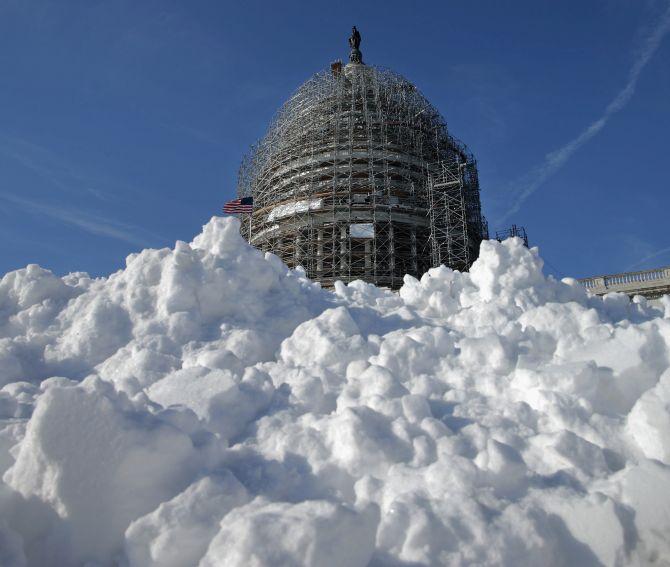 A pile of shovelled snow stands in the plaza on the east side of the US Capitol in Washington, DC. One inch of snowfall delayed school openings in the greater Washington, DC, area on Thursday as people along the Easter Seaboard prepare for a blizzard to arrive within the next 24 hours. Photograph: Chip Somodevilla/Getty Images
Beware Americans, winter is coming!
After an historically warm Christmas, nature is striking back this weekend with a full-on blizzard, and Washington, DC is going to get hit particularly hard.
A dangerous winter storm will bring snow by the foot to the U.S. mid-Atlantic, including Washington, threatening at least 50 million people in its path while cancelling thousands of flights and closing schools and government offices.
Washington and Baltimore have a good chance of getting more than 30 centimetres of snow by Saturday, and Philadelphia could see almost as much. New York may get buried in 6 to 10 inches. Blizzard warnings and watches stretch from Virginia to Long Island, including New York and Washington.
At least five states have declared emergencies with the Washington Metropolitan Area Transit Authority, which includes the second-busiest US subway system, announcing that it would suspend operations from late Friday through Sunday.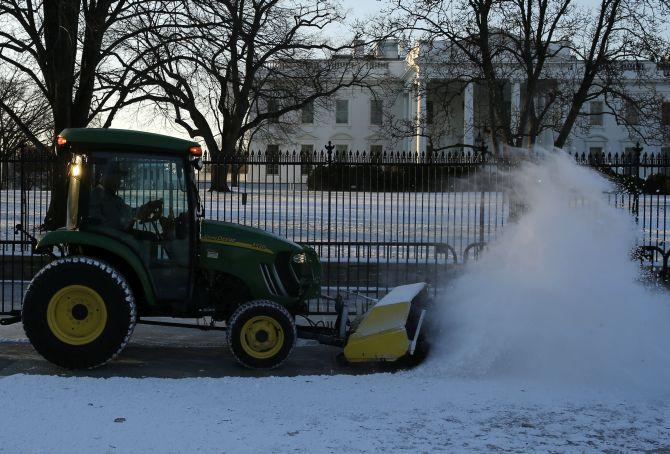 Workers plough snow from the sidewalk in front of the White House in Washington. Photograph: Jonathan Ernst/Reuters
In Virginia, the national guard said it planned to bring in up to 300 troops to assist in response operations.
Weather Prediction Center meteorologist Paul Kocin compared the storm to "Snowmageddon," the first of two storms that "wiped out" Washington in 2010 and dumped up to 30 inches of snow in places.
Washington Mayor Muriel Bowser and New York mayor Bill de Blasio urged motorists to stay off roads, starting on Friday.
"Anyone who has the illusion you're going to be taking big trips over the weekend, get that out of your mind," de Blasio said at a news conference.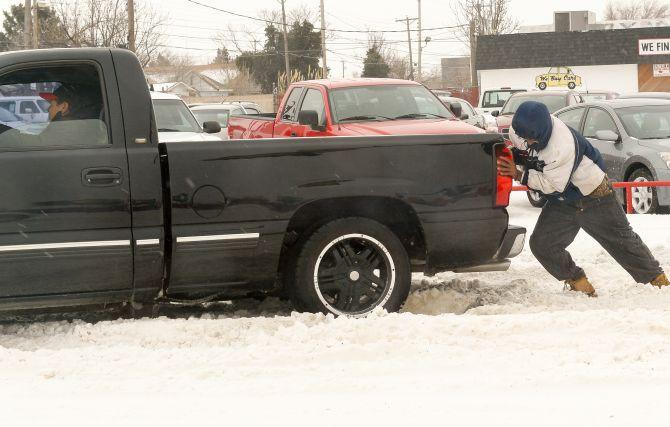 A driver receives a helpful push to escape from a snow drift. Photograph: John Weast/Getty Images
Ahead of the first snowflakes, American Airlines said it was canceling hundreds of flights, including at Washington's two airports on Saturday. All flights on that day will also be scrapped in Baltimore and Philadelphia, a spokeswoman said, adding that service would likely resume Sunday and be reduced Friday.
United Airlines announced it would be suspending flights at Washington's Dulles and other Mid-Atlantic airports starting Friday afternoon.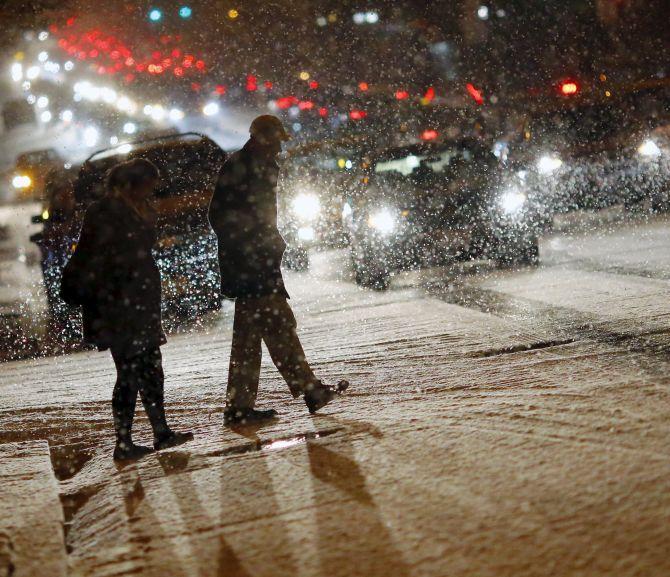 People cross a street as it snows in Washington, DC. Icy roads and freezing temperatures prompted school closings and emergency preparations in several states in the US. Photograph: Carlos Barria/Reuters
The US capital was already struggling after Wednesday snow flurries left traffic at a standstill, even snaring President Barack Obama's motorcade, which spent more than an hour navigating the icy streets from Andrews Air Force Base to the White House -- normally a trip of 20-25 minutes.
Asked how Obama planned to weather the big storm, White House spokesman Josh Earnest said: "My guess is he will stay warm and toasty inside the White House."
Many kids, however, were excited about the snow, and parents across the region traded tips on where to take them sledding once the blizzard died down.