Villagers speak in utter disbelief of the havoc wreaked by the storm, which claimed the live of over 100 people.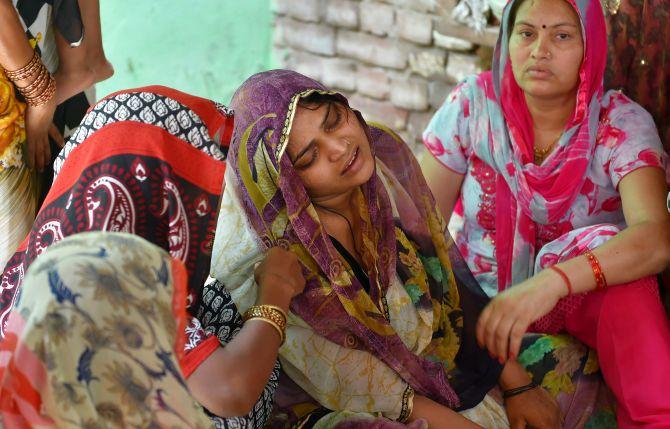 Ram Bharose stares blankly at the dark, still damp patch of earth where his son and nephew bled to death two nights ago, when a high-intensity dust storm reduced to a crumpled heap his home and his family's hopes for the future.
Walls crumbled, roofs collapsed and tin sheets flew through the air as winds of over 100 kmph raged through parts of Uttar Pradesh and Rajasthan on the night of May 2, killing more than 100 people in the two states.
More than 40 people died in Agra district alone, officials said.
The cries of those grieving for their dead and those in hospital with lacerations, broken bones and head injuries echo across the region, just beyond the spanking expressway linking the national capital to the state.
But Ram Bharose has been stunned into silence.
His son Sunil Kumar and nephew Gautam Singh, one 20 years old and the other two years older, were amongst those killed, the names beyond the bland statistics.
The family in Mahuakhera village had been prepared for impending but inevitable sadness. After all, they were marrying off one of their dearest daughters.
But little did they know that the bittersweet moment of separation would transform into a lifetime of mourning.
It was the day after they had bid her farewell and seen her off to her marital home, said Udaiveer, Ram Bharose's brother, narrating the events of the night.
Gautam, who had come from Katra in Jammu for the wedding, decided to stay back and help wind up when the most destructive dust storm in years and accompanying rain lashed the village.
The cousins ran out to bring a cot inside so it didn't get wet and rushed inside. In the next instant, the roof collapsed on their heads.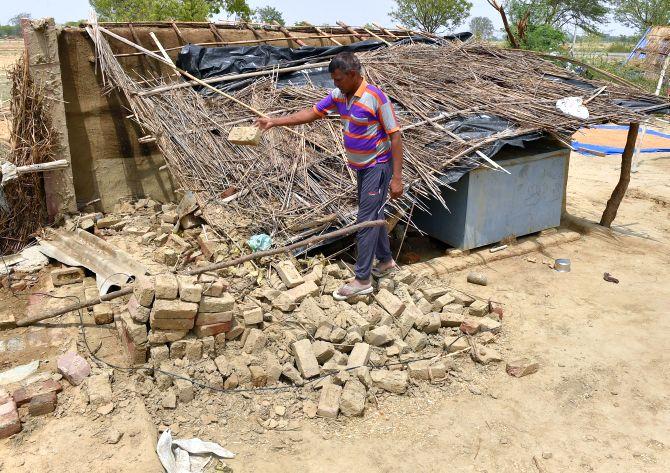 "We cried for help but in such a storm, nobody could hear us or come out for help. And by the time we could dig them out from under the debris they had already died," Udaiveer said.
While Gautam's head was crushed under the debris, Sunil received severe injuries in the abdomen.
Sunil, who has a four-month-old baby, was the only brother among four sisters and the sole bread-earner of the family with Ram Bharose too old to earn a living.
"How are we going to survive such a shock? We are still under so much debt from the wedding," Sunil's aunt managed to say between sobs.
Uttar Pradesh Deputy Chief Minister Dinesh Sharma, who visited the village, has promised support to the family of the deceased.
"Full financial support will be provided to the affected families. The SDM has already given cheques for Rs 8 lakh," he said.
He also promised financial help towards the destroyed harvest and other damages.
Besides the loss of human lives and structural damage, a great number of cattle and birds died, and huge portions of harvest destroyed.
Burera, a village close to Mahuakhera in the Kheragarh tehsil region, is also in mourning.
Here, too, two cousins died -- five-year-old Dev and 10-year-old Vivek. Also killed was 70-year-old Sunderlal.
The two cousins were taking an evening nap in a little hut, when a wall collapsed, bringing down the ceiling and crushing them under it.
All that is left of the once happy home is knee deep rubble.
Dev's mother and younger sister who were also injured in the mishap are currently undergoing treatment.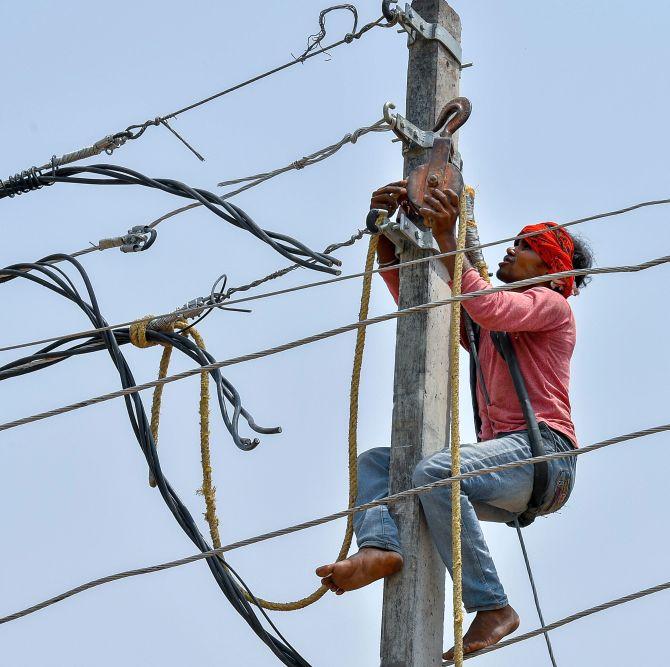 As the villagers lamented the loss of lives, they spoke in utter disbelief of the havoc wreaked by the storm.
"It was a clear sky and suddenly there was this heavy wind blowing, uprooting trees, toppling transformers and electric poles. We have never seen anything like this before," recalled a villager with a shudder.
There are also those who lived to tell their terrible tales.
Chandrabhan, a labourer in a village near Agra, and his wife Kiran had to dig into a heap of rubble for over an hour before they could find their six-month-old daughter Divyanshi.
Divyanshi and her two brothers Divyansh (2) and Aashu (5) have been admitted to Agra's SarojiniNaiduMedicalCollege. While Divyanshi has bruises all over her body, Divyansh has head injuries and Aashu a fractured arm.
Their house had collapsed after a neighbouring hutment caught in the storm fell over the one room brick and mortar structure.
Chandrabhan was holding onto a tin sheet on their veranda when the storm hit.
"Our entire house has collapsed, burying under it our monthly ration and whatever little possessions we had," the 23-year-old labourer said.
But now he is just thankful that his family is alive.
His 18-year-old sister Yashodhara has also sustained injuries after a flying tin sheet hit her leg.
Vinod Rajput's family from Kheragarh village took shelter inside their house but the roof collapsed under the weight of the neighbour's wall.
Six people of the family, including Ankit and Ravi, both seven years old, sustained severe injuries with fractures and lacerations and being treated at the hospital.
The surgery wards and trauma centre at the medical college received 21 casualties after the storm. About 50 people were injured in the area.
"Most of them have superficial injuries as well as fractures. Since most of them come from the same families, we have kept the children and the adults in the same ward," Saroj Singh, principal, SN Medical College said.