It's been over a month that Tamil Nadu Chief Minister Jayalalithaa has been hospitalised.
And to pray for their leader's good health, around 3,000 All Indian Anna Dravida Munnetra Kazagham workers joined a yagna on Tuesday, which was presided by over 200 priests.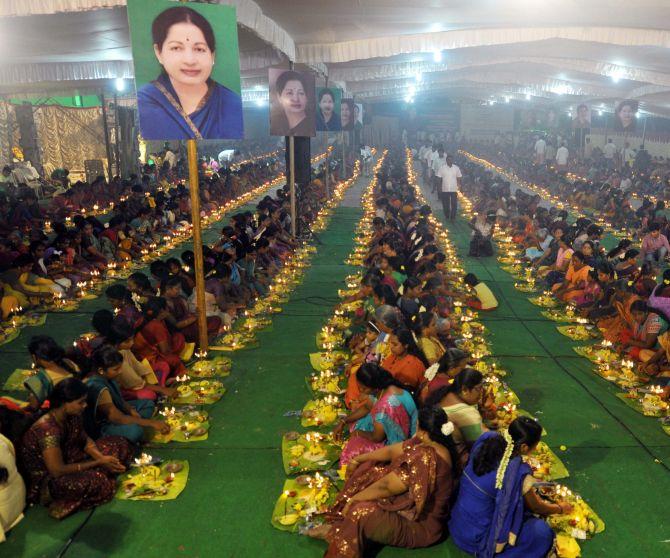 IMAGE: AIADMK female members offer prayers by lighting 1508 lamps at a temple for the speedy recovery of their leader and Tamil Nadu CM J Jayalalithaa who is hospitalised. Photograph: PTI Photo
The yagna was organised by lawmaker R Vetrivel, a Jayalalithaa loyalist who has spent a fortune on prayers for his unwell leader.
According to a NDTV report, the yagna has cost Vetrivel Rs 35 lakh.
"We worship her like anything. We want her to come back fully recovered," Vetrivel was quoted as saying by NDTV.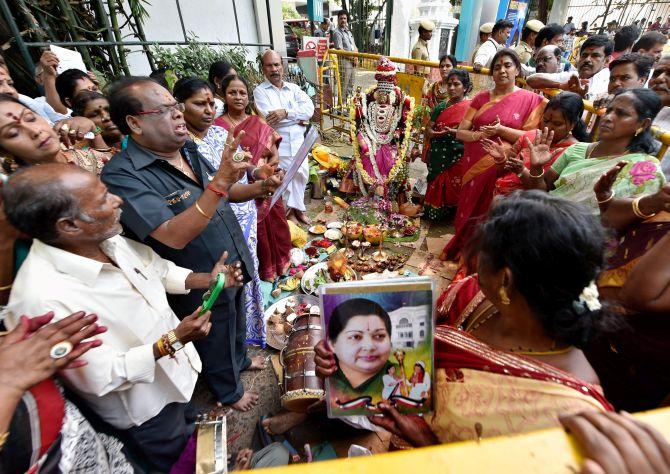 IMAGE: Party loyalists and supporters have been camping outside Apollo Hospital ever since September 22 when Jayalalithaa was admitted. Photograph: PTI Photo
On Sunday, another prayer was held by members of the North Indian Sangam in Coimbatore. The group also organised annadanam (offering of food) for about 500 children.
Since Jayalalithaa was hospitalised at Chennai's ApolloHospital on September 22, supporters have been fervently praying for her speedy recovery.