A "terrified" woman who accused judge Brett Kavanaugh of sexual assault on Thursday told United States senators that the incident "drastically altered her life" and she felt it was her "civic duty" to share her story about what happened to her 36 years ago at the hands of the man nominated by President Donald Trump as a Supreme Court judge.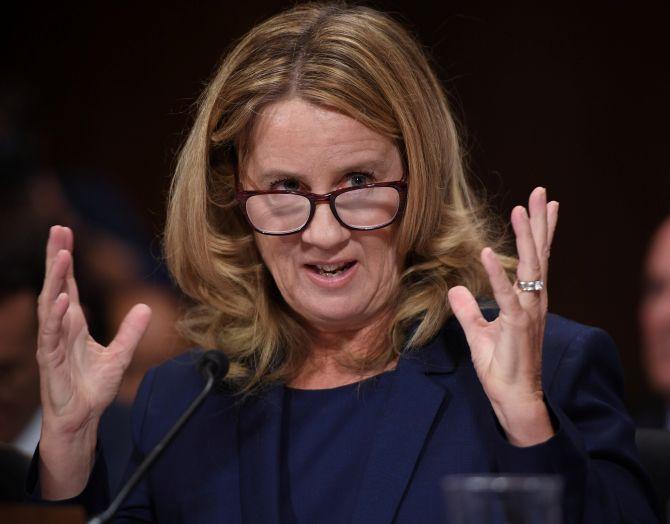 Christine Blasey Ford, 51, has alleged that at the age of 15 she was sexually assaulted by Kavanaugh in 1982.
Both of them were in high school in suburban Maryland at that time.
Kavanaugh, 53, has denied the allegations.
"My motivation in coming forward was to provide the facts about how Mr Kavanaugh's actions have damaged my life, so that you can take that into serious consideration as you make your decision about how to proceed," an emotionally choked Ford told a historic hearing before the Senate Judiciary Committee.
"It is not my responsibility to determine whether Mr Kavanaugh deserves to sit on the Supreme Court. My responsibility is to tell the truth," she said.
"I am here today not because I want to be. I am terrified," Ford said.
Asked by Sen. Dick Durbin, D-Ill., how certain she is that Kavanaugh assaulted her, Ford replied: "100 percent."
To a question posed by Senator Dianne Feinstein whether she is sure it was Kavanaugh who assaulted her, Ford responded, "The same way I'm sure I'm talking to you right now..."
"Absolutely not," Ford said when Feinstein followed up with another question: "So what you're telling us is this could not be a case of mistaken identity?"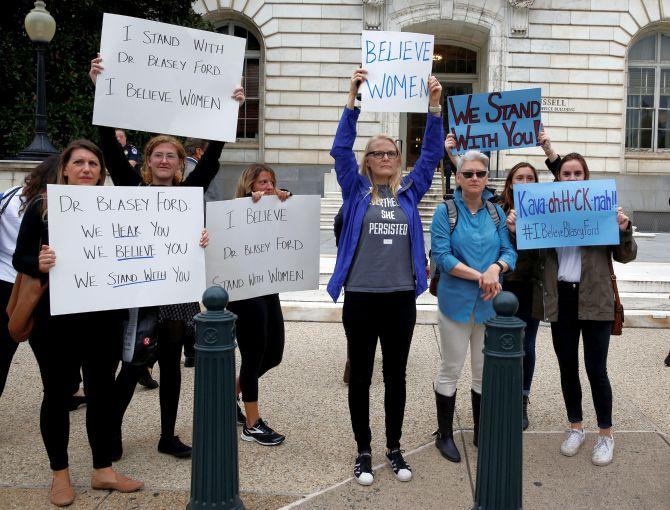 As Ford was giving her testimony, Kavanaugh's protesters were standing silent outside the hearing room, clogging halls and elevators. Their mouths were taped shut with "Believe survivors" and "Believe women" inscribed on the tape. Similar messages are written on their raised palms, "I believe...We believe."
Ford said she had kept the episode a closely-guarded secret, except for sharing it with her husband and few of her friends, till the time it started appearing in the press that Kavanaugh was going to be nominated as a Supreme Court Judge.
In early July 2018, Ford said, she saw press reports of Kavanaugh shortlisted for potential Supreme Court nominees.
"I thought it was my civic duty to relay the information I had about Mr Kavanaugh's conduct so that those considering his potential nomination would know about the assault," she said.
"On July 6, 2018, I had a sense of urgency to relay the information to the Senate and the President as soon as possible before a nominee was selected. I called my congressional representative and let her receptionist know that someone on the President's shortlist had attacked me," she said.
"I also sent a message to The Washington Post's confidential tip line. I did not use my name, but I provided the names of Brett Kavanaugh and Mark Judge. I stated that Mr Kavanaugh had assaulted me in the 1980s in Maryland. This was an extremely hard thing for me to do, but I felt I couldn't NOT do it," Ford said.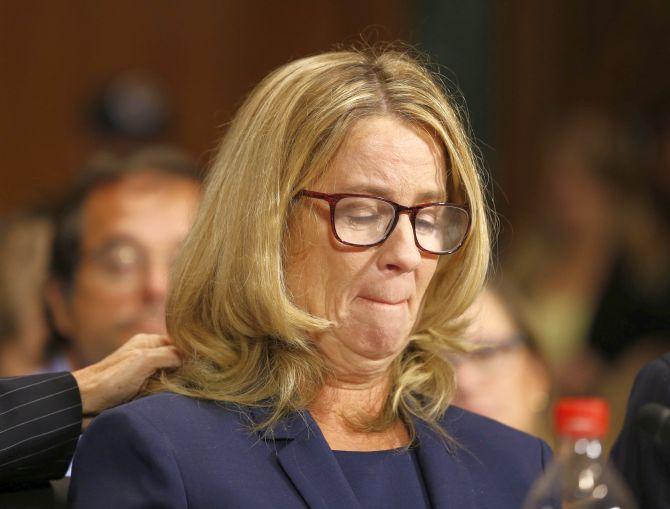 Giving details of the incident, Ford, who was seemingly on the verge of tears, said it happened one evening at a common friends place in Chevy Chase area where they had gathered.
"When I got to the small gathering, people were drinking beer in a small living room on the first floor of the house. I drank one beer that evening. Brett and Mark (Judge) were visibly drunk," Ford, a clinical psychology professor at Palo Alto University in San Francisco, said.
Ford said she was accosted by Kavanaugh and his friend Mark. They thrust her into an upstairs bedroom at the house and locked the door.
"I was pushed onto the bed and Brett (Kavanaugh) got on top of me. He began running his hands over my body and grinding his hips into me...Brett groped me and tried to take off my clothes...I believed he was going to rape me," she said.
"I tried to yell for help. When I did, Brett put his hand over my mouth to stop me from screaming. This was what terrified me the most, and has had the most lasting impact on my life. It was hard for me to breathe, and I thought that Brett was accidentally going to kill me," Ford alleged.
Ford said she was finally able to escape and rushed out of the house with an "enormous sense of relief" that the duo did not follow her.
She said that the assault on her "drastically altered" her life.
"For a very long time, I was too afraid and ashamed to tell anyone the details," she said.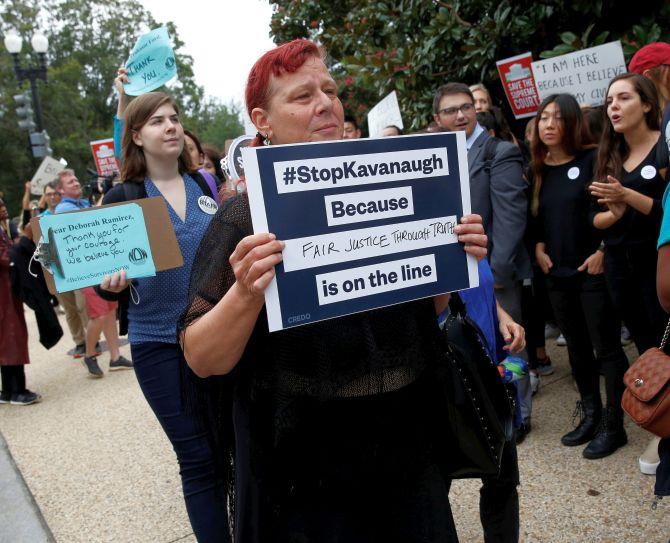 Ford said apart from the assault itself, these last couple of weeks have been the hardest time of her life.
"I have had to relive my trauma in front of the entire world, and have seen my life picked apart by people on television, in the media, and in this body who have never met me or spoken with me. I have been accused of acting out of partisan political motives. Those who say that do not know me," she said.
Instead of questioning Ford themselves, Republicans hired Rachel Mitchell, the Arizona sex crimes prosecutor, to question Ford.
The hearing marks a pivotal moment in what has become a raucous confirmation process. Kavnaugh's chances, once thought to be assured, have been thrust into uncertainty since Ford came forward. On Thursday, a number of senators who are thought to be critical to Kavanaugh's confirmation vote, have said they will be watching closely.
Trump himself, who has called all the allegations false, said Wednesday that he was open to Ford persuading him otherwise.
"I'm going to be watching, you know, believe it or not, I'm going to see what's said," Trump said. "It's possible that (Ford) will be convincing."