The third India-Africa Summit was the biggest gathering of international leaders in India since the Non-Aligned Movement summit 30 years ago.
Over the last four days, Prime Minister Narendra Modi greeted the heads of over 50 African nations, some of whom have extremely unsavoury reputations. Meet the 10 most controversial leaders who visited Delhi this week:
---
1. Robert Mugabe, Zimbabwe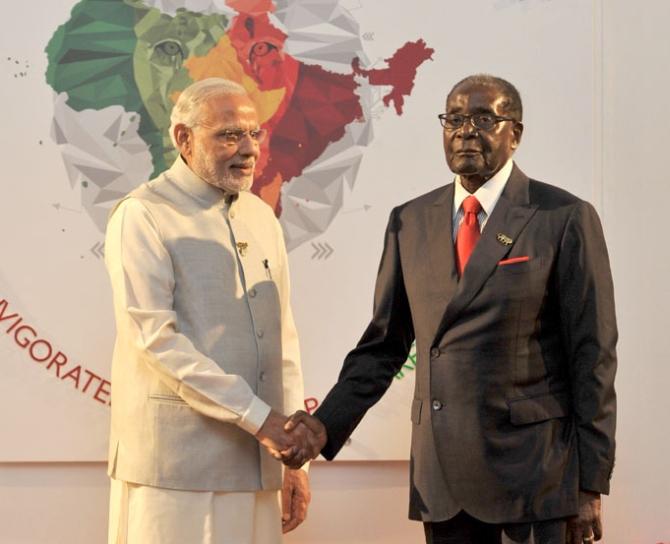 IMAGE: Prime Minister Narendra Modi greets Zimbabwe's President Robert Mugabe, the oldest leader at the Africa Summit. Photograph: Press Information Bureau
Length of rule: 36 years
Gushungo -- as Mugabe is referred to in Zimbabwe -- has ruled with iron fists for over 35 years.
Controversial For: In 1998, he sent Zimbabwean troops to intervene in Congo's civil war, a move viewed as a grab for that country's diamonds and other minerals.
Under Mugabe, the only leader Zimbabwe has known since independence in 1980, the economy hit a deep recession from 1999 to 2008, with inflation reaching 500 billion percent amid widespread food shortages. It has yet to fully recover.
Critics accuse Mugabe's government, which has seized white-owned commercial farms since 2000 (some farms were grabbed even when Mugabe was in Delhi), of trampling human rights and undermining the rule of law.
---
2. Teodoro Obiang Nguema Mbasogo, Equatorial Guinea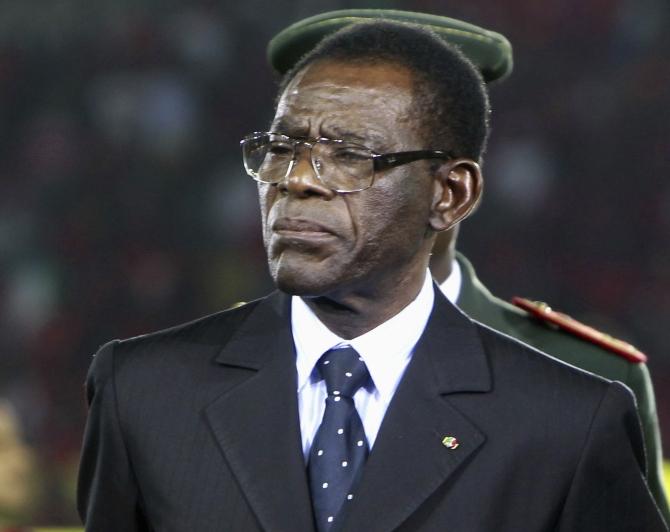 IMAGE: Equatorial Guinea President Teodoro Obiang Nguema Mbasogo attends the African Nations Cup soccer tournament in Estadio de Bata. Photograph: Amr Abdallah Dalsh/Reuters
Length of rule: 36 years
Mbasogo has been in power in the tiny, oil-rich West African nation for 36 years, making him the continent's longest serving dictator. He took power in a bloody coup in August 1979, from his uncle Francisco Macias Nguem, the then dictator.
Controversial For: Mbasogo has been accused of cannibalism, abduction, torture and murder among other crimes. His son was accused of splurging $100 million of his impoverished country's money on luxuries including a private jet, a mansion in Malibu, California, and a trove of Michael Jackson memorabilia.
---
3. Jose Eduardo dos Santos, Angola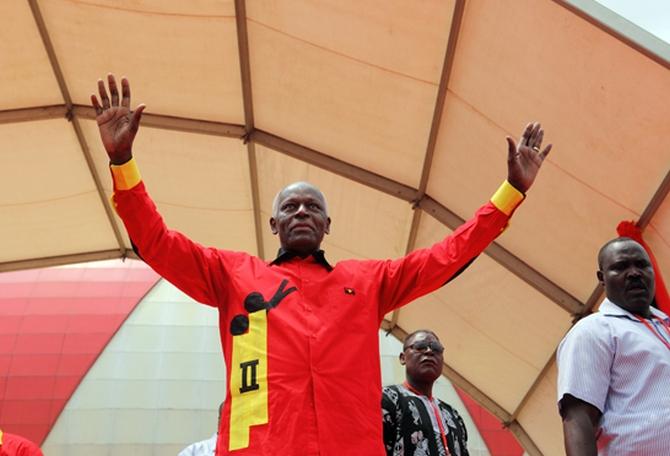 IMAGE: Angola President Jose Eduardo dos Santos.
Length of rule: 33 years
Santos is also commander-in-chief of the Angolan armed forces and president of the People's Movement for the Liberation of Angola, the party that has ruled Angola since it gained independence in 1975.
Controversial For: Santos faces grave allegations of corruption and human rights abuses.
---
4. Paul Biya, Cameroon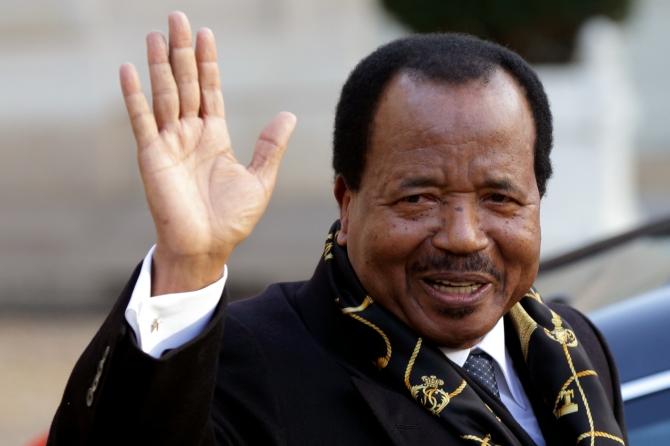 IMAGE: Cameroon's President Paul Biya after a meeting at the Elysee Palace in Paris. Photograph: Philippe Wojazer/Reuters
Length of rule: 33 years
The 'Lion Man' has been president of Cameroon since 1982.
Controversial For: Biya's forces have been accused of many heinous acts, including the killing of as many as 100 protesters in 2009 and the use of violence, arbitrary arrests and unlawful detentions to prevent political activists from holding meetings.
In 2008, Biya had the constitution changed so he is immune from prosecution once he leaves office, which could be unnecessary since it may be in a coffin.
---
5. Omar al-Bashir, Sudan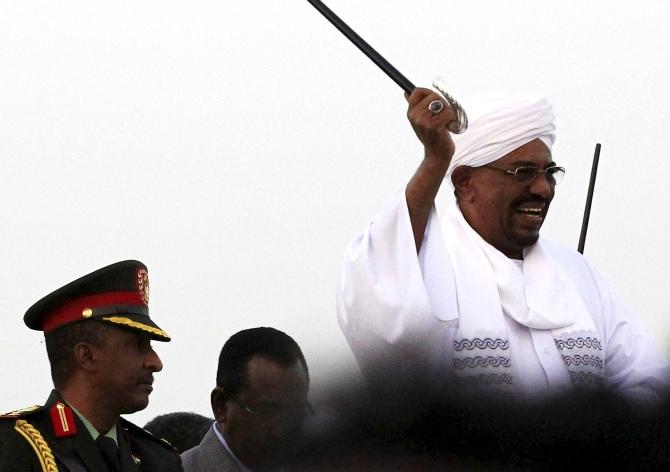 IMAGE: Sudanese President Omar al-Bashir at Khartoum airport. Photograph: Mohamed Nureldin Abdallah/Reuters
Length of rule: 26 years
As a colonel in the Sudanese military, Bashir was well positioned to lead a bloodless military coup against his predecessor Sadiq al-Mahdi in 1989. In 1993, Omar appointed himself president of Sudan.
Controversial For: Since he assumed office, Sudan has been in a near perpetual state of civil war, with more than 1 million reported dead.
Bashir is accused of masterminding and implementing a plan to destroy in substantial part the Fur, Masalit and Zaghawa groups, on account of their ethnicity.
Since 2003, armed forces and the Janjaweed militia, allegedly on Bashir's orders, have destroyed villages and pursued survivors in the desert.
He mobilised the entire State apparatus, including the armed forces, the intelligence services, the diplomatic and public information bureaucracies, and the justice system, to subject the 2,450,000 people living in camps for internally displaced persons to conditions of life calculated to bring about their physical destruction
In March 2009, the International Criminal Court in the Hague issued an arrest warrant for him -- a first for a sitting head of State -- for instigating crimes against humanity.
Before his visit to Delhi, and despite the ICC declaring him a 'war criminal' and having issued two warrants for his arrest, India went ahead and hosted him.
---
6. Isaias Afwerki, Eritrea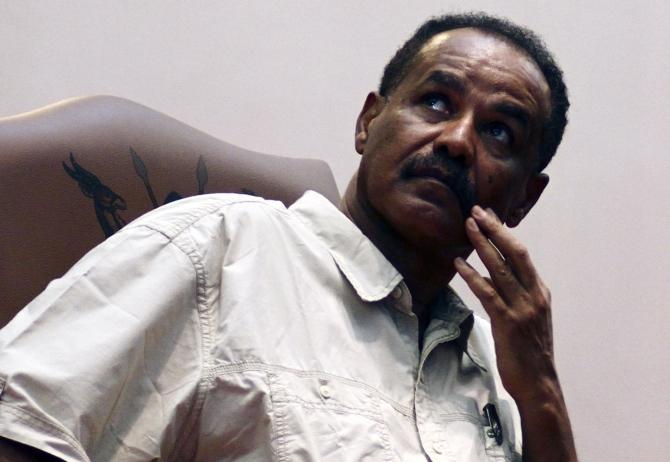 IMAGE: Eritrea's President Isaias Afwerki at a news conference in Entebbe. Photograph: James Akena/Reuters
Length of rule: 18 years
Often called Africa's Kim Jong-un, Afewerki, whose name literally translates to 'mouth of gold' in his native Tigrinya, was elected president of Eritrea in 1993.
Controversial For: He has been accused of major human rights abuses, including forced labour and detainment without due process.
According to WikiLeaks, Afewerki has been described as 'unhinged,' 'cruel and defiant.' He has also been accused of starting a 'pointless' war with Ethiopia in 1998 that led to at least 70,000 deaths on both sides.
---
7. Idriss Déby, Chad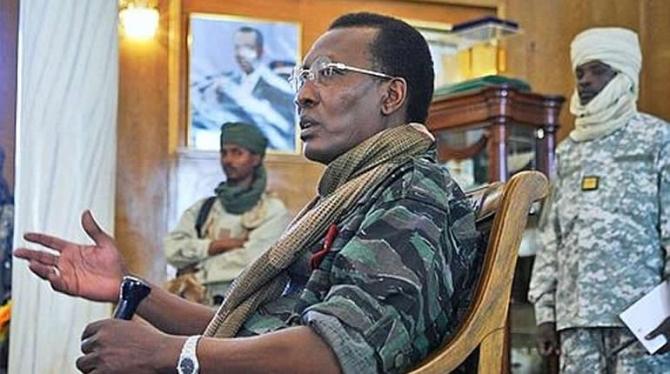 IMAGE: Chad's President Idriss Déby.
Length of rule: 25 years
Deby led a military coup -- with support from his now-occasional nemesis, Sudanese President Omar Bashir -- that overthrew his predecessor in 1990 and has since survived various rebellions against his rule.
Controversial For: Deby played a key role in escalating a bloody proxy war between Chad and Sudan throughout the 2000s, much of which manifested itself in the Darfur crisis, and has resulted in accusations of gross atrocities on both sides.
The Chad army is currently beset by accusations that it frequently uses child soldiers in its many conflicts, sometimes as young as ten years old.
According to Amnesty International, as part of the Deby regime's unending fight against insurgents, state security forces are accused of carrying out 'a regime of murder, torture and enforced disappearance of suspected government opponents.'
---
8. Abdel Fattah el-Sisi, Egypt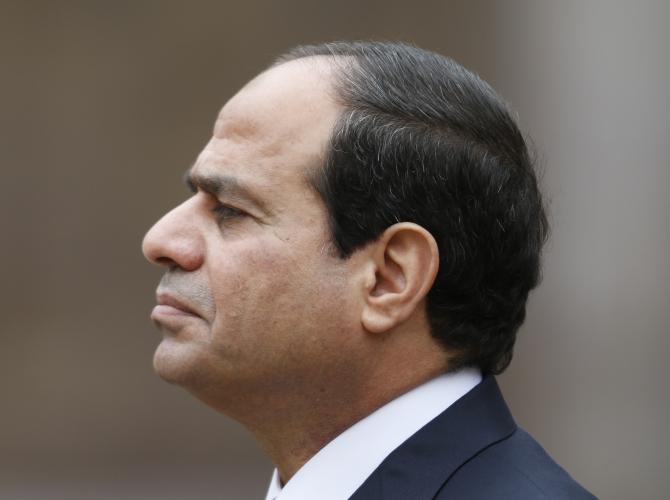 IMAGE: Egyptian President Abdel Fattah al-Sisi attends a military ceremony in Paris. Photograph: Charles Platiau/Reuters
Length of rule: 1 year
Former Egyptian defense minister and commander-in-chief of the armed forces, Abdel Fattah el-Sisi took over leadership of the most populous Arab country well before he was elected president in June with 96.6% of the vote.
Controversial For: Sisi is blamed for the deaths of hundreds killed in the crackdown on Islamists after the ouster of then president Mohamed Morsi in July 2013.
Hundreds of Muslim Brotherhood supporters are believed to have been killed in August 2013, when security forces stormed two protest camps in Cairo set up by Morsi's supporters.
Sisi's government -- according to the Egyptian Centre for Economic and Social Rights -- has detained at least 41,000 people between July 2013 and May 2015.
---
9. Yahya Abdul-Aziz Jemus Junkung Jammeh, Gambia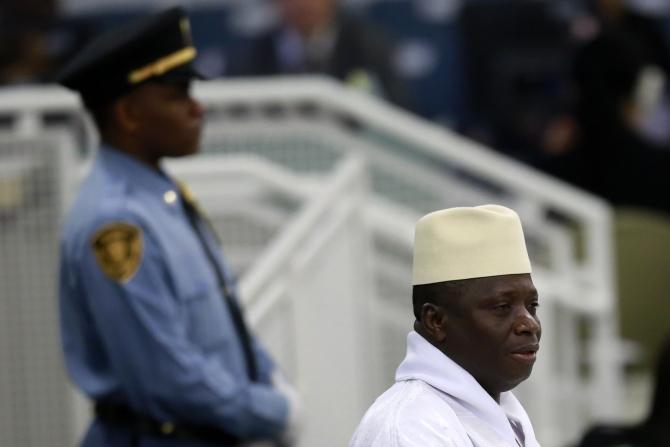 IMAGE: Gambia President Yahya Jammeh at the UN. Photograph: Shannon Stapleton/Reuters
Length of rule: 19 years
The youngest in this list of dubious dictators, the 49 year old has ruled Gambia since 1994.
Controversial For: When he isn't claiming to have cured AIDS, Yahya Jammeh has a history of homophobic comments (external Link).
According to Human Rights Watch's State of Fear report, Gambia under Jammeh is a country in a state of constant fear characterised by repression, torture, detentions and disappearances.
---
10. Yoweri Museveni, Uganda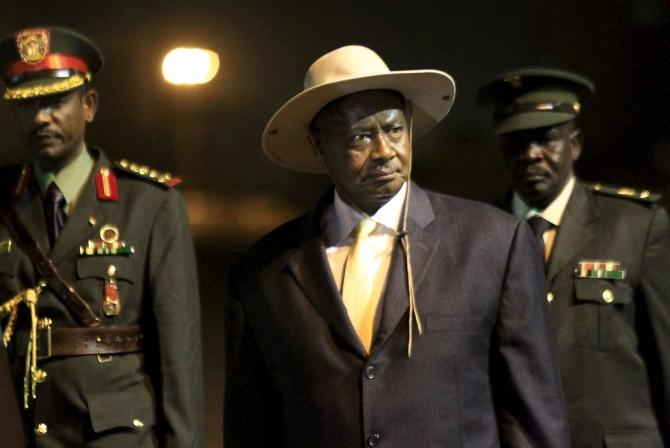 IMAGE: Uganda's President Yoweri Museveni inspects a guard of honour at Khartoum airport during a visit to Sudan. Photograph: Mohamed Nureldin/Reuters
Length of rule: 29 years
Museveni was involved in rebellions that toppled Ugandan leaders Idi Amin and Milton Obote.
Controversial For: The United Nations has accused Uganda -- with Rwanda's help -- of supporting rebels engaged in an armed struggle against the government of Congo.
Museveni has drawn widespread criticism for his support of legislation instituting the death penalty for homosexuality.