Armed with a rifle and three handguns, a white man spewing anti-Semitic threats blasted his way into a prominent synagogue in the United States city of Pittsburgh, killing 11 worshippers and injuring six others, in the deadliest attack on Jews in the history of America.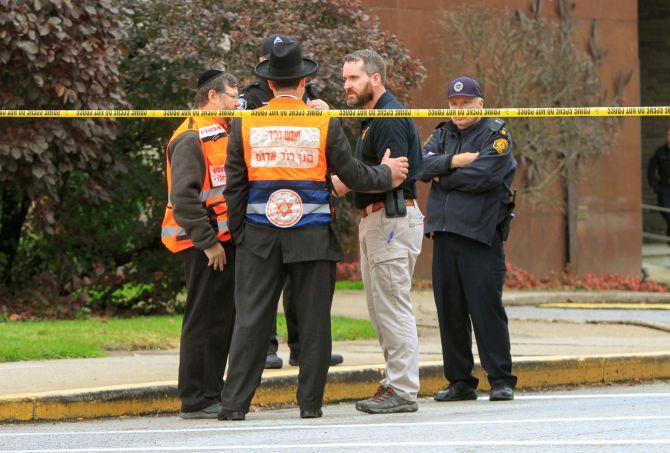 The shooter, identified as 46-year-old Robert Bowers, yelled "all Jews must die" as he stormed Saturday the 'Tree of Life' Congregation Synagogue at Squirell Hill in Pittsburgh, where a large number of people had gathered for a baby naming ceremony.
He surrendered after he was injured in firing with the police.
Pittsburgh Public Safety Director Wendell Hissrich said that 11 people, including three women, were killed and six others injured including four policemen.
He added that there were no children among fatalities or injured.
Bowers told officers that Jews were "committing genocide" and that he wanted them all to die, according to a document made public on Sunday.
"After difficult work by the medical examiner's office, all 11 victims were positively identified and next of kin notifications took place," Robert Jones, the Federal Bureua of Investigation agent in charge of the investigation, said at a press briefing.
Tree of Life is located in Pittsburgh's Squirrel Hill neighbourhood, which is known as the heart of the local Jewish community.
Bowers, whose social media account reflected his hatred against the Jews, was charged with 29 counts of federal crimes of violence and firearms offenses, federal prosecutors said.
The charges include 11 counts of obstruction of exercise of religious beliefs resulting in death; and 11 counts of use of a firearm to commit murder during a crime of violence.
Bowers frequently wrote on the social network Gab, where he made a specific threat against Jews hours before allegedly conducting Saturday's attack.
In the post, Bowers said that the Hebrew Immigrant Aid Society, a humanitarian aid nonprofit group that provides assistance to refugees, brought immigrants to the United States to do violence against others.
"Screw your optics, I'm going in," he wrote.
The FBI is investigating this as a "hate crime".
Before opening fire, Bowers reportedly yelled, "All Jews must die!"
Bowers posted about the "migrant caravan", a group of several thousand refugees walking to the US-Mexico border from Honduras to seek asylum.
FBI Pittsburgh Special Agent in Charge Bob Jones said the investigation was in its early stages and there was no knowledge if the shooter was known to the law enforcement till this date.
"Gunman targeted (people) because of their faith. At this time, we believe that he was acting alone," he said.
Describing the mass shooting as an "anti-semitic act", President Donald Trump called for death penalty for such shooters.
"This wicked act of mass murder is pure evil, hard to believe, and frankly something that is unimaginable. Our nation and the world are shocked and stunned by the grief. This was an anti-semitic act," he said.
US President Donald Trump ordered that American flags be flown at half-staff at the White House and upon all public buildings and grounds, and all military bases till October 31 as a mark of "solemn respect" for the victims.
Despite his earlier reservations, Trump continued with his days programme and addressed a well-attended election rally in Illinois arguing that one cannot let their schedules or lives change.
"It's just the way it is. No matter how you look at it, you just can't let them get away with it. They're evil, they're bad, this was an anti-Semitic act which is incredible in this day and age that something like that can happen, but it happened," he told reporters in Murphysboro, Illinois.
The US goes to mid-term polls on November 6 wherein people would be electing members of the House of Representatives, one-third of the Senate and several State Governors.
Trump said the country felt terribly after this tragic incident. "This was just a horrible, horrible event," he said. He said he planned to go to Pittsburgh.
"I will be going to Pittsburgh. I've been in touch with the governor, and I've been in touch with the mayor," he said.
Asserting that hatred and violence on the basis of religion can have no place in society, Attorney General Jeff Sessions said every American had the right to attend their house of worship in safety.
"Hatred and violence on the basis of religion can have no place in our society. These alleged crimes are reprehensible and utterly repugnant to the values of this nation. Accordingly, the Department of Justice will file hate crimes and other criminal charges against the defendant, including charges that could lead to the death penalty," Sessions said.
Former president Barack Obama called his fellow countrymen to fight the rise of anti-Semitism.
"All of us have to fight the rise of anti-Semitism and hateful rhetoric against those who look, love, or pray differently. We have to stop making it so easy for those who want to harm the innocent to get their hands on a gun," he said.
Israeli Prime Minister Benjamin Netanyahu said, "I was heartbroken and appalled by the murderous attack on a Pittsburgh synagogue".
Pope Francis, who led the prayers for the victims on Sunday in St Peter's Square, described the shooting as an "inhuman act of violence".
German Chancellor Angela Merkel denounced the deadly shooting, calling it a "blind anti-Semitic hatred".
Extra police officers have been deployed at synagogues and Jewish centres across the US after the attack.