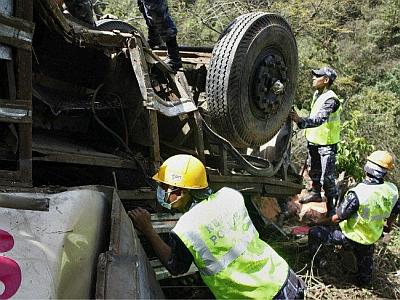 As many as 22 persons, including seven children, were killed on Saturday when their vehicle fell off a bridge over Godavari river at Dowleswaram in Andhra Pradesh's Rajahmundry district, police said.
The tragedy occurred as a group of pilgrims was returning in an SUV after a visit to the Tirupati temple, police said, adding that the ill-fated travellers hailed from Achyutapuram near Visakhapatnam.
A boy, who sustained injuries, is the lone survivor of the mishap. He is undergoing treatment at a hospital, police said.
"The vehicle hit a railing, which broke under the impact of the collision, and fell off the bridge," East Godavari Collector Arun Kumar told PTI.
Among the deceased are seven children, eight women and seven men, including the driver of the vehicle, who was also its owner, he added.
The incident is understood to have occurred in the early hours and police said they were alerted at around 5am.
"It's purely (a case of) negligent and rash driving. It was not a vulnerable point of the road and neither was there any traffic," the officer said.
Post-mortem procedures were on and the bodies were being handed over to relatives of the deceased, Kumar said, adding that inquiries are being made into the incident.
Meanwhile, AP chief minister N Chandrababu Naidu expressed grief over the incident and also posted a message on twitter that the lone survivor in the mishap is undergoing treatment.
"Deeply saddened about tragic death of 21 people travelling in a van after it fell off Dowleswaram bridge. I'm monitoring the situation," he tweeted.
"The kid, a lone survivor, is undergoing treatment. Spoke to our Home Minister who visited the spot. We're providing all possible help," added Naidu.
Deputy Chief Minister N China Rajappa, who belongs to East Godavari district, visited the spot and spoke to the officials.
Prime Minister Narendra Modi, too, condoled the loss of lives in the mishap and termed the incident "saddening and unfortunate".