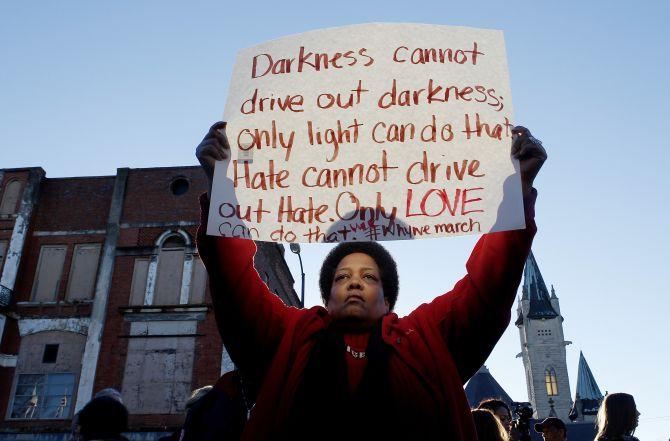 Image: Barbara Carter of Tuscaloosa holds a sign as she waits on a commemorative march by the cast of the movie "Selma" in Selma, Alabama. Stars of the Oscar-nominated movie "Selma" marched with thousands of people in the Alabama city in honor of Martin Luther King Jr.'s birthday. Photograph: Tami Chappell/Reuters
Rich tributes were paid to civil rights leader Martin Luther King Jr across the United States on Monday even as there were protests over the deaths of unarmed black men and boys at the hands of police around the country.
Speakers honouring the slain civil rights activist gathered at his Atlanta repeating the same message on his national holiday.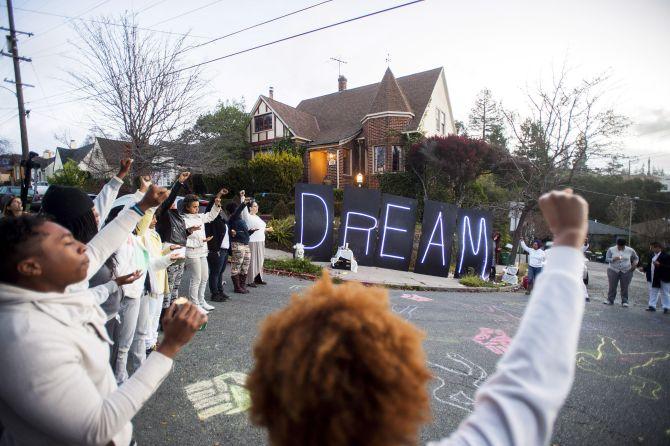 Image: Black rights protesters gather near illuminated letters spelling "DREAM" outside a house which they identified as the residence of Oakland Mayor Libby Schaaf, in Oakland, California. The group of about 30 demonstrators projected images of Martin Luther King Jr. onto the home's garage as they called on the mayor to fire police officers with violent records. Photograph: Noah Berger/Reuters
King's daughter, the Rev Bernice King, urged those gathered at Ebenezer Baptist Church in Atlanta for the 47th annual Martin Luther King Jr. Annual Commemorative Service to act out against injustice, AP reported.
'We cannot act unless we understand what Dr. King taught us. He taught us that we still have a choice to make: nonviolent coexistence or violent co-annihilation,' she said.
'I challenge you to work with us as we help this nation choose nonviolence.'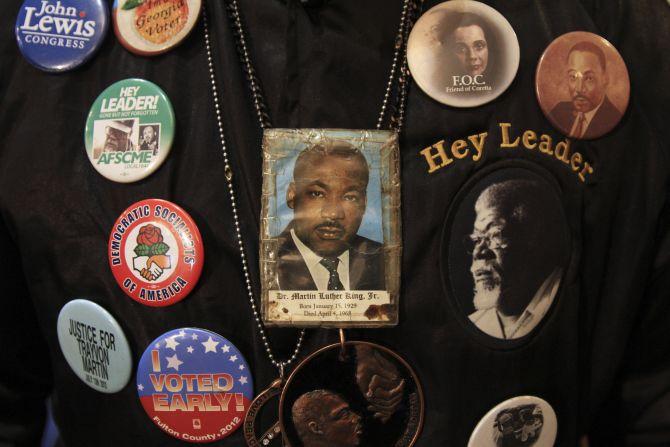 Image: Larry Platt's jacket is seen adorned with pins at The King Center's 47th Annual Martin Luther King Jr. Commemorative Service in Atlanta January 19, 2015. Tributes to civil rights leader Martin Luther King Jr. were held around the United States on Monday as protests over the treatment of minorities by law enforcement rolled on across the country. Observers of Martin Luther King Jr. Day have this year linked the federal holiday to a rallying cry in recent months during demonstrations over police brutality: "Black lives matter." REUTERS/Christopher Aluka Berry
More than 60 people demonstrating against police brutality were arrested after blocking traffic on the San Mateo-Hayward Bridge, a major thoroughfare in the San Francisco Bay Area, said California Highway Patrol Officer Damian Cistaro, Reuters reported.
About 400 protesters blocked traffic in New York City as they walked about 60 blocks from Harlem to near the United Nations, chanting "Black lives matter!" Reuter reported.
There similar demonstrations in other US cities too.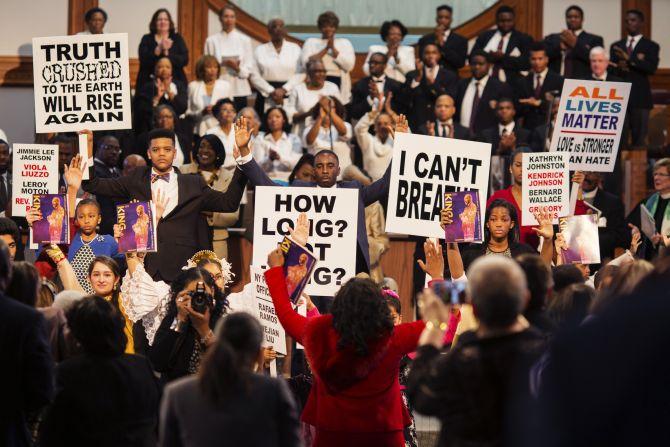 Image: High school and college students hold civil rights signs during The King Center's 47th Annual Martin Luther King Jr. Commemorative Service in Atlanta. Photograph: Christopher Aluka Berry/Reuters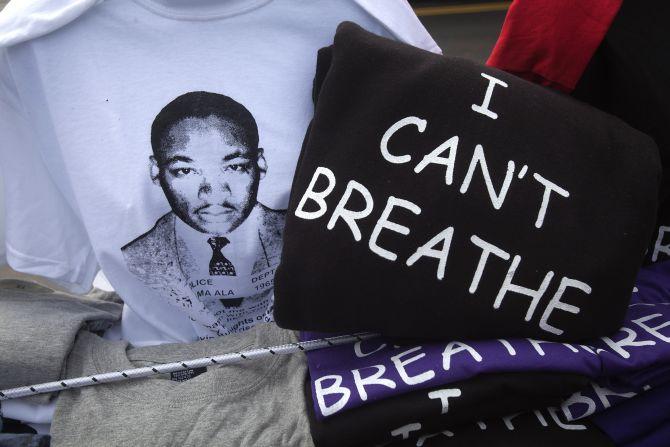 Image: T-shirts with the image of Martin Luther King and with the words "I can't breathe" are pictured for sale during a Martin Luther King day rally in the Harlem section of New York. Photograph: Carlo Allegri/Reuters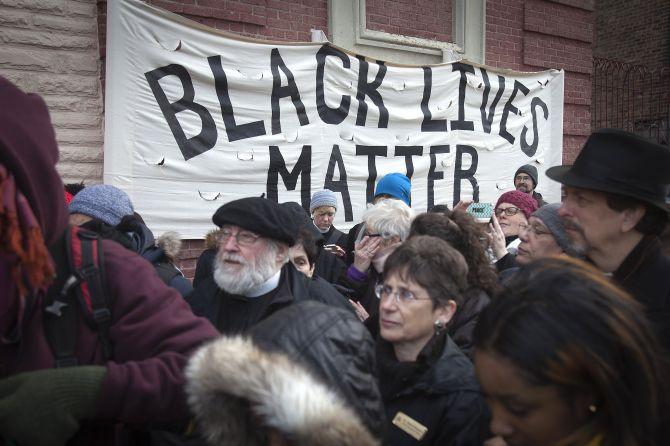 Image: People attend a Martin Luther King day rally in the Harlem section of New York. Photograph: Carlo Allegri/Reuters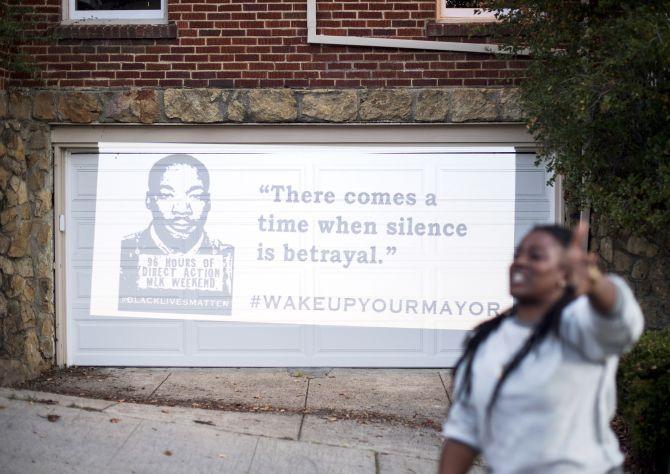 Image: A black rights protester chants in front of a residence demonstrators identified as the home of Oakland Mayor Libby Schaaf in Oakland, California January 19, 2015. About 30 demonstrators projected images of Martin Luther King Jr. onto the home's garage, erected illuminated letters spelling "DREAM" and called on the mayor to fire police officers with violent records. Photograph: Noah Berger/Reuters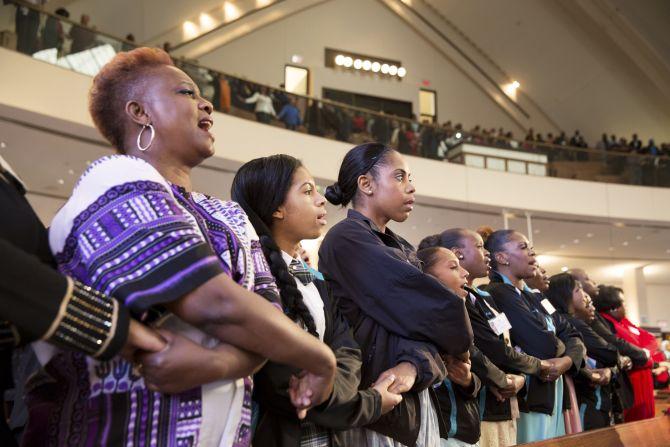 Image: People sing "We Shall Overcome" at the conclusion of The King Center's 47th Annual Martin Luther King Jr. Commemorative Service in Atlanta. Photograph: Christopher Aluka Berry/Reuters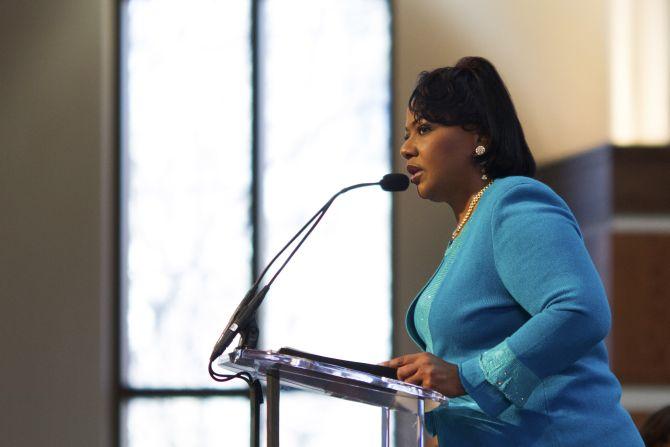 Image: Dr Bernice King, the daughter of Dr. Martin Luther King Jr., addresses the audience during The King Center's 47th Annual Martin Luther King Jr. Commemorative Service in Atlanta. Photograph: Christopher Aluka Berry/Reuters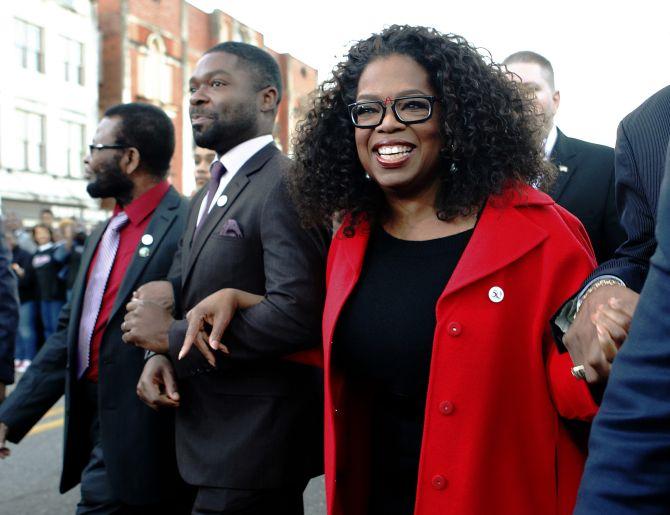 Image: Producer and cast member Oprah Winfrey locks arms with fellow "Selma" actor David Oyelowo (C) as they participate in a march in Selma, Alabama. Photograph:Tami Chappell/Reuters