Prime Minister Narendra Modi will launch his dream 'Swachh Bharat' campaign by sweeping the streets of Delhi on Thursday.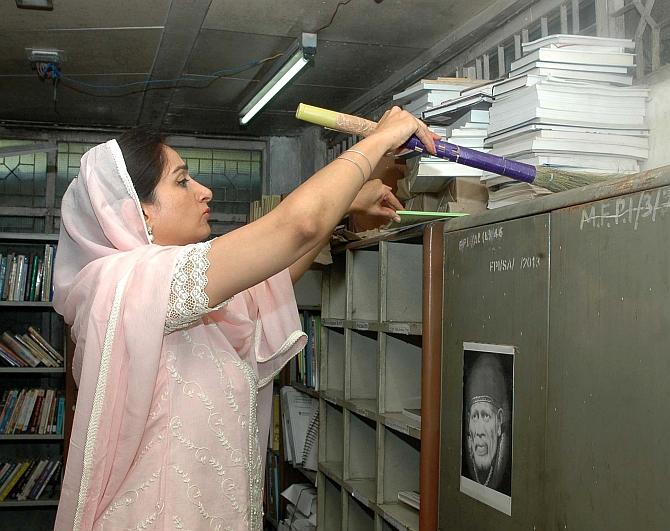 Union Minister for Food Processing Industries Harsimrat Kaur Badal cleans a office
at Panchsheel Bhawan, in New Delhi. Photograph: Press Information Bureau

Prime Minister Narendra Modi's 'Clean India' campaign has driven his ministers to the broom.
On Modi's orders, about 31 lakh central government employees including bureaucrats and ministers will be working on Thursday on Mahatma Gandhi's birthday (a national holiday) and will take a pledge of cleanliness in various functions across the country.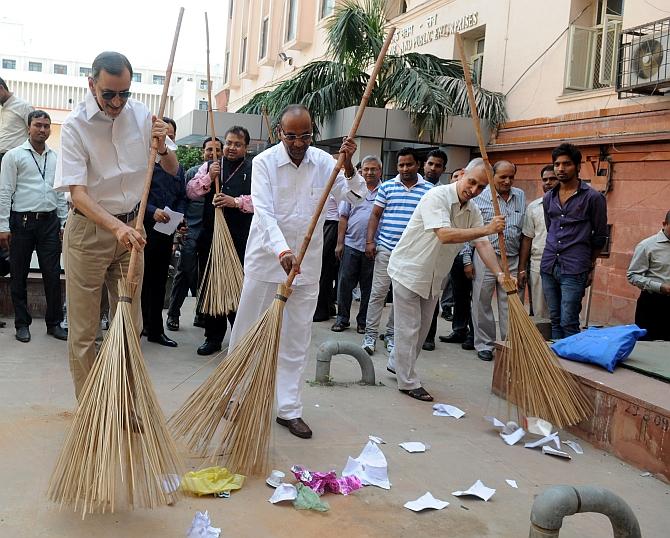 Union Minister for Heavy Industries and Public Enterprises Anant Geete (centre) leads the cleanliness drive in his department. Photograph: Press Information Bureau

Team Modi has been setting a fine example. Over the last few days Union ministers Smriti Irani, Ravi Shankar Prasad and Ram Vilas Paswan have been cleaning up their offices. On Wednesday, their colleagues Harsimrat Kaur Badal and Anant Geete joined in.
The move is part of a PM's pet project -- a nationwide 'Swachh Bharat' campaign -- which will be launched on Thursday. Modi has given a call for 'Swachh Bharat' as a mass movement to realise Mahatma Gandhi's dream of a clean India by 2019, when the country will celebrate 150th birth anniversary of the Father of the Nation.

The PM is expected to take the broom to a slum cluster in north Delhi.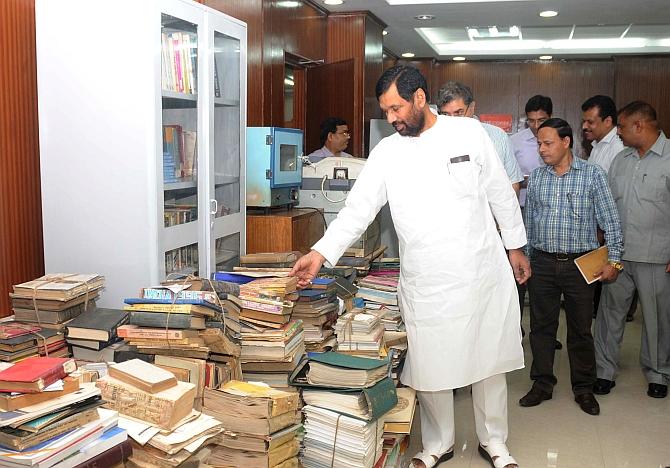 Union Minister for Consumer Affairs, Food and Public Distribution Ram Vilas Paswan undertakes surprise checks to see cleanliness in his ministry. Photograph: Press Information Bureau
In addition, lakhs of state government employees have been asked to be part of this massive drive.

"It has been decided that on October 2, 'Swachhta Shapath' (cleanliness pledge) will be administered to all in government offices and at public functions and the cleanliness drive led by senior officers will be undertaken in all government and public offices," Cabinet Secretary Ajit Seth said in a communique to secretaries of all departments.
There are about 30.98 lakh central government employees in the country. Each central government department has made plans to administered the oath to its employees.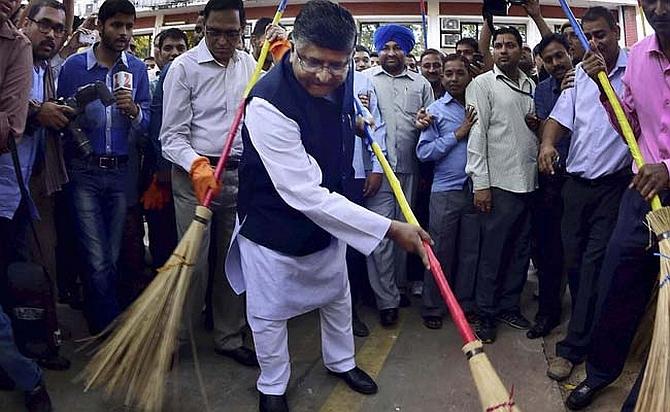 Ravi Shankar Prasad cleans the street outside Shastri Bhawan. Photograph: PTI
Home Secretary Anil Goswami will administer the cleanliness pledge to employees of the home ministry and the personnel ministry on Thursday in the North Block premises.
"For a campaign of this nature to be successful, there is a need to create massive public awareness and to ensure participation and action for cleaning homes, government offices, schools, hospitals, work places, streets, roads and markets, railway stations and bus terminals, statues, monuments, rivers, lakes,ponds, parks and other public places."
"It is important to involve government and public sector officials at every level, non-government organisations, education and health institutions, rural and urban local bodies, self-help groups, youth organisations, resident and market associations as well as business and industrial chambers and associations in the cleanliness and awareness drives," Seth said in his letter.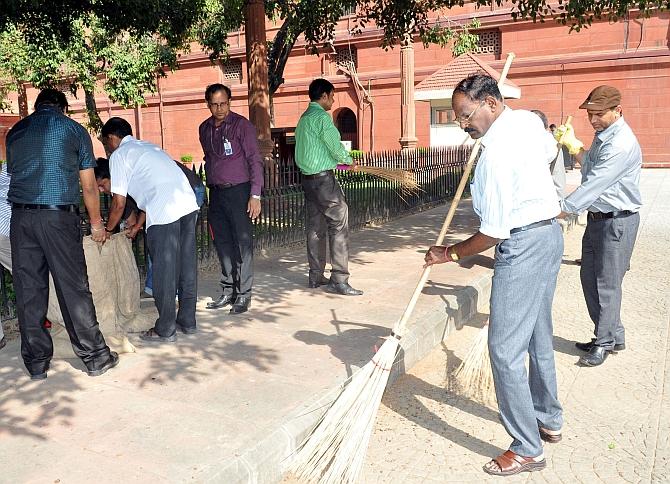 PMO officials undertake clean up the office ahead of the launch of Swachh Bharat Mission. Photograph: PTI
A variety of activities such as pledge-taking marches, marathons, debates, street plays, music and essay competitions, cleaning drives and other community activities may be used to focus public attention on this campaign and on the need for cleanliness, Seth said.
Meanwhile, the department heads have swung into action and directed concerned officials to clear office premises of clutter, garbage, building materials, unused vehicles and others.

With inputs from PTI