The four-day long Chhath festival ended on Thursday with millions, braving the chill and taking a dip in the river to offer prayers to the rising sun.
In Bihar, where the festival is celebrated with much vigour, it was a big relief for top officials after it went off without any untoward incident unlike last month's stampede during Dassehra celebrations in which 32 people were killed.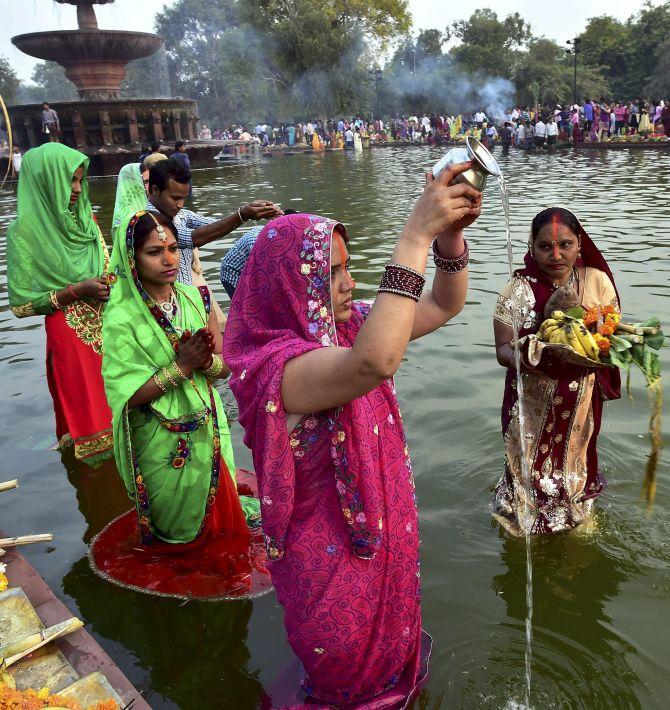 Devotees offer prayers at the bank of Ganga river during Chhath festival in Patna. Photographs: PTI Photo
Devotees, known as 'varti', dressed in new finery, sang folk songs as they prayed to the Sun God and lit small earthen lamps, which were set afloat.
A family offers prayers to the Sun god in Bihar. Photograph: MI Khan
"We prayed to the rising sun with traditional offerings such as homemade sweets like thekuas, pedas, pakwan, laddoos and fruits to mark the end of Chhath," said Asha Devi, a devotee.
A devotee offers prayers to the rising sun during the Chhath festival in Kathmandu. Photograph: Reuters
According to officials, over 300,000 people gathered on the banks of the Ganga morning to offer prayers.

Similar crowds were seen in Muzaffarpur, Bhagalpur, Begusarai, Darbhanga, Madhepura and other districts.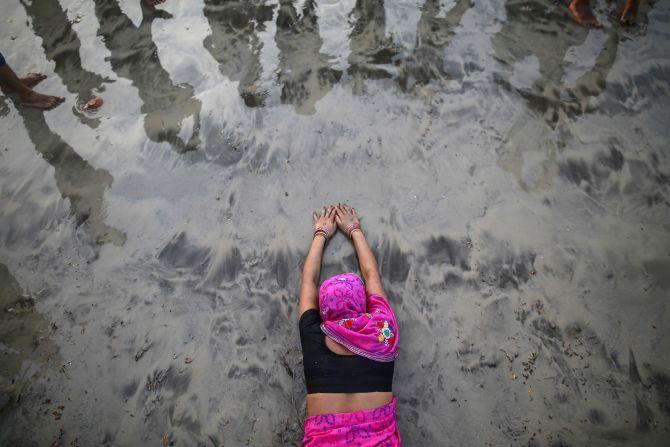 A Hindu devotee lies along the shores of the Arabian Sea as she offers prayers to the Sun god during the Chhath festival in Mumbai. Photograph: Reuters
The festival also witnessed a large number of non-resident Indians returning to celebrate with family. Speaking about his return, Manish Singh, a NRI in California, said that he had returned to Patna two days ago to mark festivities with his near and dear ones. "Chhath is a special occasion that should be enjoued with family," he said.

Another NRI, Nishant Kumar, returned to his ancestral village in Bhojpur district from America to mark Chhath.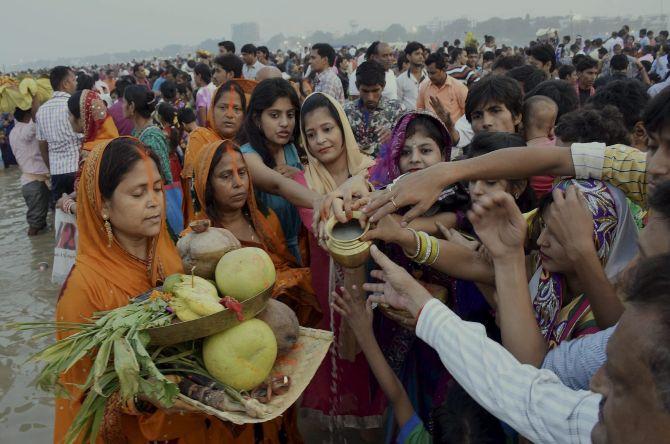 Devotees take holy bath and offer prayers during Chhath festival in Ranchi. Photograph: PTI Photo
"I have come along with my family to celebrate Chhath as it is a time to reconnect with our culture, tradition and people," said Manoj Singh of Dumaria in Bhojpur, a businessman settled in Dubai.
Married women arrive near a lake at daybreak to offer prayers to the Sun God Surya.

Meanwhile, Rashtriya Janata Dal party chief Lalu Prasad Yadav and wife Rabri Devi, known for their colourful festivities, did not celebrate it this year. In an unusual break, the duo stayed away from the celebrations. A senior RJD leader said that the RJD chief's health-related problems was the reason that they were staying away.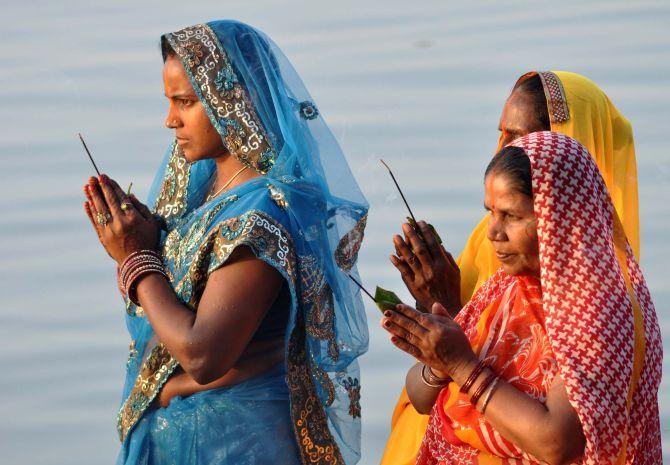 Women take part in the suryoday argha (final day prayers) in which they offer obeisance to the sun asking it for a new lease on life.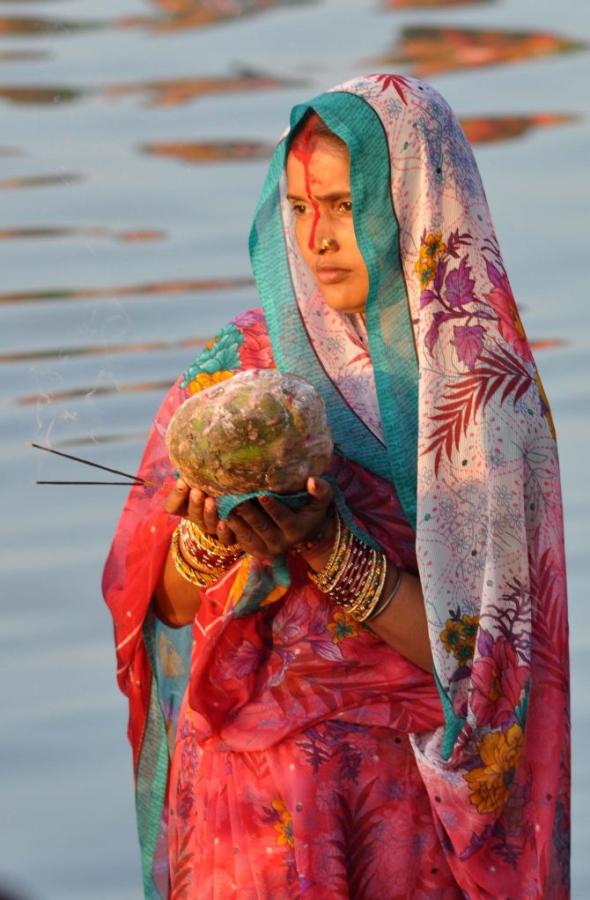 A woman prays offers prasad.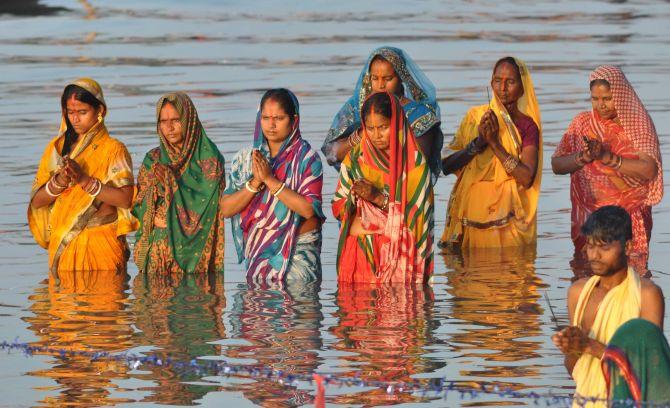 Married women pray as they bask in the light of the rising sun.

Devotees flock to a lake just as dawn breaks.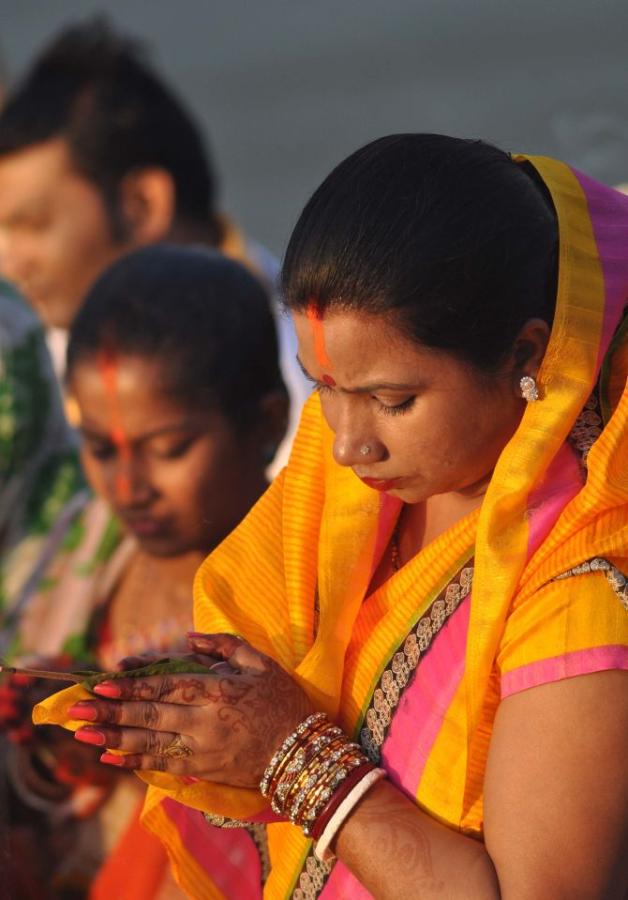 Thousands of women flocked to river banks on the last day of the 4-day festival.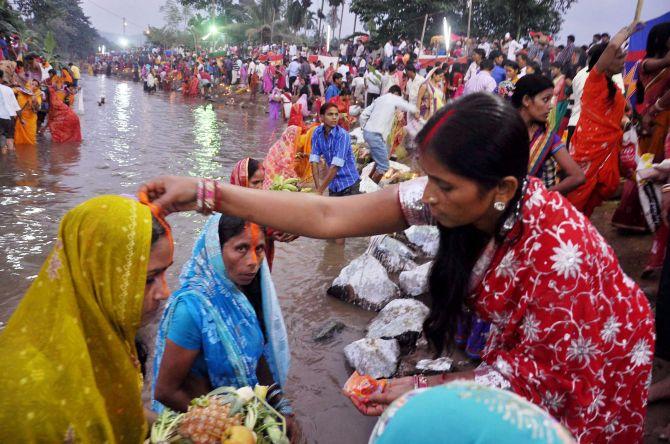 Married women take part in the ritual prayer in which they ask for the well-being and prosperity of their children and family. Photograph: PTI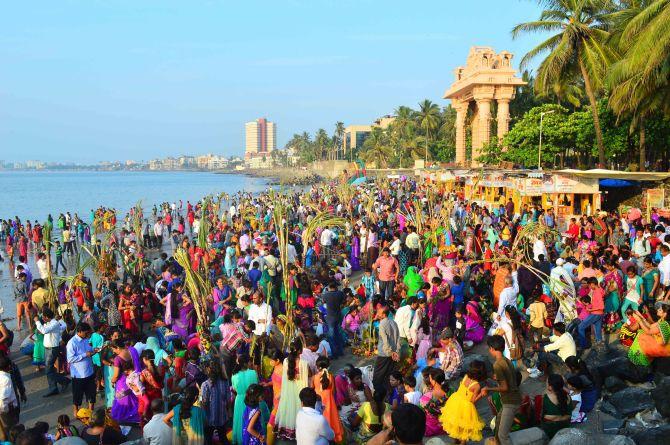 Devotees arrive at the Juhu beach in Mumbai to offer their prayers.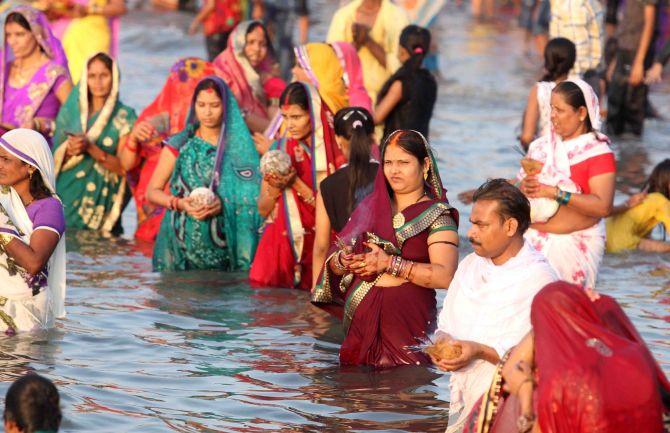 Tradition dictates that the water body must be a one of three rivers: Kosi, Karnali or Ganga, however, many modern devotees bathe in other water bodies as well.