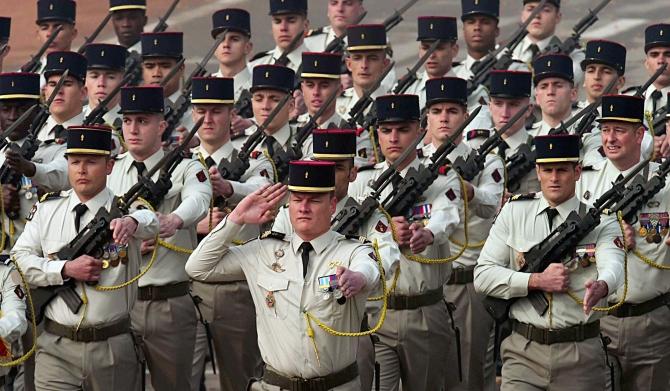 The French army contingent marches during the 67th Republic Day parade at Rajpath in New Delhi. Photograph: Shahbaz Khan/PTI
French army soldiers on Tuesday created history by marching down the Rajpath during the Republic Day parade, becoming the first foreign military contingent to take part in the celebrations.
Led by Lt Col Paul Bury of the French army's 35th Infantry Regiment, one of the oldest regiments of France, the 76-member contingent marched before an audience that included
President Pranab Mukherjee, visiting French President and Chief Guest Francois Hollande and Prime Minister Narendra Modi.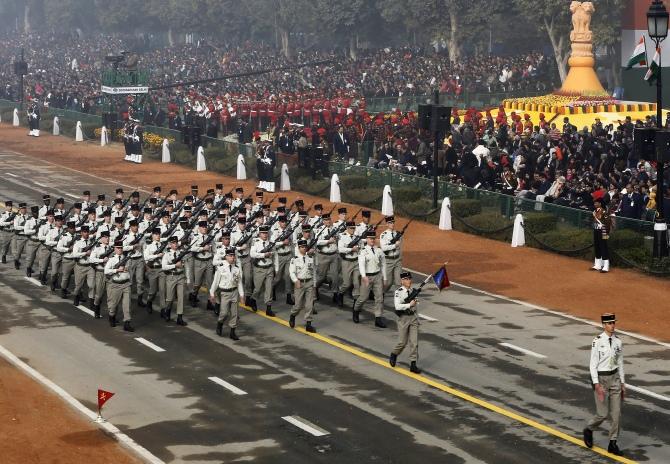 French soldiers march during India's Republic Day parade in New Delhi. Photograph: Altaf Hussain/PTI
Forty-eight members of 'The Music of the Infantry', a ceremonial band based in Lyon in France, played two military tunes at the parade as the spectators cheered them.
Talking about the Republic Day, Bury, who has twice served in Afghanistan, has said it was a matter of pride and honour for his men to participate in the celebrations and the march past on the Rajpath.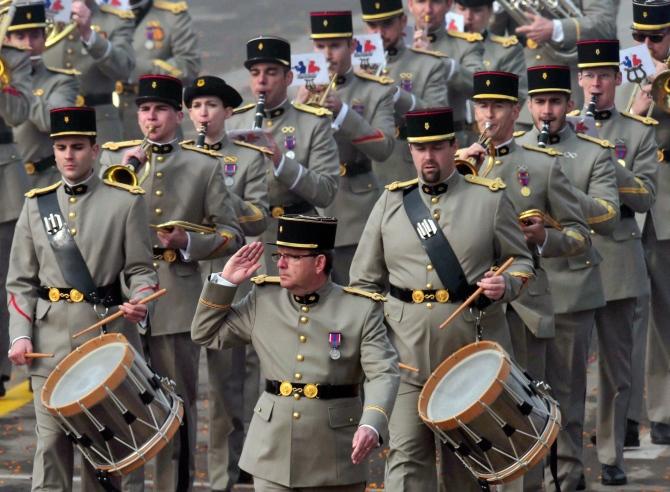 The French army's band cotingent marching past at the Rajpath in New Delhi on Tuesday. Photograph: Shahbaz Khan/PTI
Maj Gen Rajesh Sahai, Chief of Staff Delhi Area of the Indian Army, said the parade was evolving, and added that a foreign contingent should be a regular affair.
The French Army's 35th Infantry Regiment traces its origin back to 1604 when it was raised in Lorraine in France. The regiment has as many as 12 battle honours to its credit. It has varied combat experiences, having served in Algeria, Africa, Iraq and Afghanistan among other places.