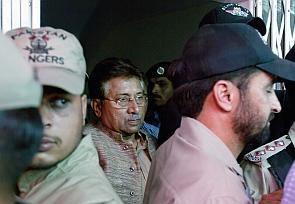 Former Pakistani military ruler Pervez Musharraf was on Tuesday indicted by an anti-terrorism court in the 2007 assassination of ex-premier Benazir Bhutto.
Musharraf, who has been under house arrest for last four months, was charged with murder, conspiracy to commit murder and facilitation of murder, said state prosecutor Chaudhry Muhammad Azhar.
The 70-year-old former president was brought under heavy security to the anti-terrorism court of judge Habibur Rehman in Rawalpindi. If convicted, Musharraf can be sentenced to death or life imprisonment.
Musharraf denied the allegation on Tuesday in the court and his legal team will continue to defend him in the case in which he has been falsely implicated, the information secretary of his All Pakistan Muslim League, Aasia Ishaq, told PTI.
"He was not in the list of accused till 2008 but later his name was included on the basis of an email by Benazir to the United States journalist Mark Segal," said Ishaq.
"When this email has been considered by the court, why it has not considered another email by her to Musharraf in which she nominated three people as culprits for her (future) murder."
Ishaq said that the court has fixed next hearing on August 28 and the former president will now face the trial in the case. Bhutto was killed in suicide attack in 2007 in Rawalpindi when Musharraf was president of the country. Musharraf had blamed her killing on Pakistani Taliban chief Baitullah Mehsud, who denied any involvement. Mehsud was killed in a US drone strike in 2009.
Musharraf is currently being held at his farmhouse in Islamabad, which has been declared a "sub-jail". He was arrested shortly after he returned to Pakistan from self-exile in March to participate in general elections.
However, he was barred by a Pakistani court from contesting polls for the rest of his life.
The former president is also facing charges in other cases, including the killing of Baloch leader Akbar Bugti in a military operation in 2006 and for taking unconstitutional steps by imposing emergency and removing judges in 2007.
His indictment is an unprecedented event in Pakistan that is ruled by the military for half of its 66-year history.
Image: Pakistan's former president and head of the All Pakistan Muslim League political party Pervez Musharraf is escorted by security officials as he leaves an anti-terrorism court in Islamabad. F
Photograph: Tanveer Ahmed/Reuters