While bifurcation is a painful issue for many, one must understand it is the way forward, Union Minister of State for Finance J D Seelam tells Rediff.com's Vicky Nanjappa.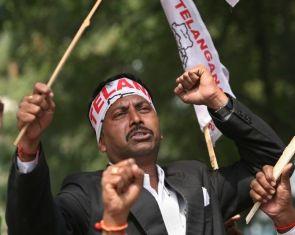 Union Minister of State for Finance J D Seelam, who has often been criticised for his views on the bifurcation of Andhra Pradesh, described the ruckus in Parliament on Thursday as shocking.
Seelam, an MP from Andhra Pradesh, has always maintained that bifurcation would benefit all three regions of the state.
"People will feel hurt (due to the bifurcation), but the primary goal is to see that every region is benefitted. Nothing will be gained through disruptions," Seelam told Rediff.com
"It pains me to see such scenes. Differences should be amicably resolved," the minister added. "I hope order is restored and a healthy debate is initiated. Everything should be done in the interest of the people."
The minister, who had suggested that Hyderabad be granted Union territory status, says had his proposition been considered, many issues would have been resolved.
"It was well-known that the Seema-Andhra leaders would do everything under the sun till the last minute to stall the bifurcation," Seelam added.
"I had said that the decision taken by the Congress Working Committee (to create India's 29th state, Telangana) will not be changed. While bifurcation is a painful issue for many, one must understand that it is the way forward," the minister said.
"Water sharing issues should be resolved amicably. The areas of Rayalaseema and coastal Andhra need special attention, as there is very little growth in these regions," Seelam pointed out. "These are the issues we need to take up. We need a special package that will benefit the people."
Most importantly, he felt, peace should not be compromised at any cost. "There is a need to create awareness among everyone in the state that division (of the state) has become a reality. It is for the leaders to make the people understand the benefits of such a decision and also ensure that their rights are upheld, and they get the best out of it."
"Our primary goal is to ensure that there is a special package for Seema-Andhra and the safety of all people living in Hyderabad. We believe there is no point in fighting and have decided to tow the party line on the issue," Seelam, who is a member of the Congress election campaign committee said.
"We can benefit more by a healthy debate on the issue rather than fighting over it and ending up with nothing."