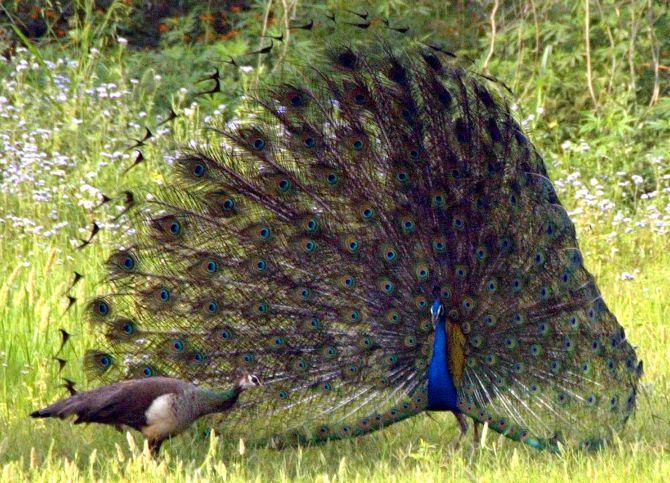 Peacocks don't mate peahens but sire offsprings with their tears, according to a Rajasthan high court judge who on Wednesday presented this unique theory after passing a verdict.
Justice Mahesh Chand Sharma's contention sparked reactions in the social media with one of the users tweeting,
'Peahen attacks peacock after he tells her, 'Pushpa, I hate tears'.'
Congress spokesperson Priyanka Chaturvedi wrote: 'Cow intakes oxygen, emits oxygen. Peacock is a brahmachari (celibate). Some wise words from Judge saab (sahib). Must correct our textbooks ASAP."
Earlier, Justice Sharma directed the state government to coordinate with the Centre and take necessary steps to declare cow as a national animal.
Talking to reporters outside the court after passing the order, Justice Sharma, who retired on Wednesday, presented his unique theory on the mating of peacocks, the national bird.
In reference to his verdict, he said, "Peacock too has his qualities. He is a life-long celibate. He does not indulge in sex with peahen. The peahen gives birth after it gets impregnated with the tears of the peacock. A peacock or a peahen is then born... Lord Krishna used peacock's feather for celibacy of the bird."
The judge made the remarks while 'comparing the holiness' of a cow to a peacock.
Photograph: Reuters