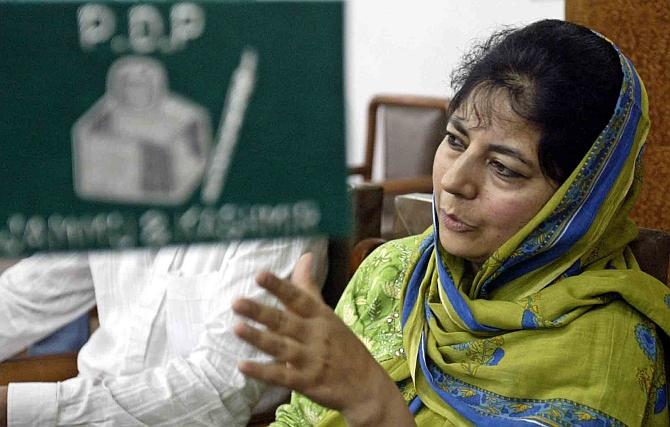 Image: Mehbooba Mufti, chief of the Peoples Democratic Party, in Srinagar. Photograph: Fayaz Kabli FK/Reuters

Peoples Democratic Party on Tuesday said it is in a "difficult" situation over choosing a post-poll ally as election trends show that it won't be able to form government on its own.
The party headed by Mufti Mohammed Sayeed said while it has ideological differences with the Bharatiya Janata Party, the vote was against also against Congress rule.
"The trends are showing that we will not be forming a government on our own. It is a difficult situation for us," PDP's chief spokesperson Naeem Akhter told reporters in Srinagar.
Asked about the possibility of an alliance with the Congress, Akhter evaded a direct reply but said that the vote was against the national party.
In response to another question, the PDP spokesman said there were ideological differences with the BJP but he would not comment on a possible alliance with the party.
Peoples Democratic Party is leading in 28 seats and has won a seat and the BJP is a close second with 24 and has also bagged one seat in 87-member assembly, according to the Election Commission website.