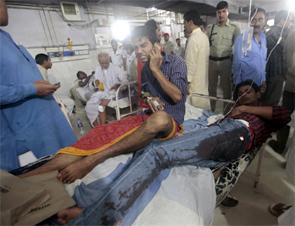 "It was like a horrible dream. There was blood all around and people were crying in pain and pleading for help".
This is how Jitendra Kumar, one of the many people injured in the terror attack in Patna on Sunday, remembers the excruciating minutes after a blast hit Gandhi Maidan, where Gujarat Chief Minister Narendra Modi was scheduled to address a rally later in the day.
Jitendra is currently undergoing treatment at the Patna Medical College and Hospital.
He was knocked unconscious by the impact of the blast, which left him with splinters in his chest and leg.
"I remember people running for cover after the blast. By the time I regained conscious, I was already in the hospital," said Jitendra, who is a resident of Fatuha, a small town near Patna.
Avnish Kumar, a student of class 8 from the town of Barbiga, was one of the many who had travelled to Patna to listen to Modi.
"I ran for safety after a blast near the Gandhi statue. But I was injured in the second blast and I fell unconscious," said Avnish.
Avinish's mother Usha Kumari, who had rushed to Patna after hearing about the blasts, cursed her decision to allow her son to attend the rally.
"I will never allow him to attend any rally. Why should we risk our lives," she asked.
Parmod Rai, a resident of Sarmera in Nalanda district, had come to attend the rally with many of his fellow villagers.
"I was chatting with another man when the blast happened," said Rai.
Prem Kumar Thakur, another injured victim, recalled that even the policemen deployed at the venue had started running away after the blasts.
"I cried for help, as did the other injured victims, but there was no one there to help us. Some people who had come to attend the rally carried us to the ambulances," Thakur said.
Image: Injured bomb blast victims at the hospital ' Photograph: Reuters