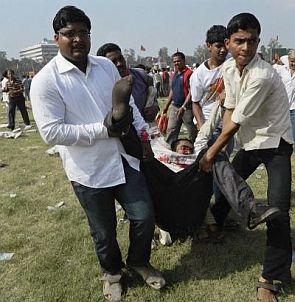 Ainul alias Tarique, one of the main accused in the Patna blasts targeting Narendra Modi's rally, has succumbed to injuries.

Patna SSP Manu Maharaj said Tarique died in the hospital late Thursday night.

"With a splinter lodged in his brain, the chances of his recovery were very poor. He was unconscious and not responding to medication after admitted to hospital," Arun Kumar, director of the Patna-based Indira Gandhi Institute of Medical Sciences, said.
Tarique was injured when the first of the seven bombs exploded at the Patna railway station on Sunday. He had been in coma at the city's Indira Gandhi Medical Institute since then.
He and another accused, Imtiaz Ansari, were assembling bombs in the toilet at the station when loud ringing on a Chinese-made mobile phone in the next stall startled them. Tarique panicked and allegedly dropped the bomb in the toilet cistern, causing it to explode. He was critically injured.
Ansari was caught while trying to escape with a bag containing explosives. The police say he was the mastermind of the attack. Ansari and Tarique were believed to be members of the Ranchi module of the terror group Indian Mujahideen.
Six people were killed and 83 injured in the blasts that took place at Gandhi Maidan, the venue of Narendra Modi's 'Hunkar rally' on Sunday.