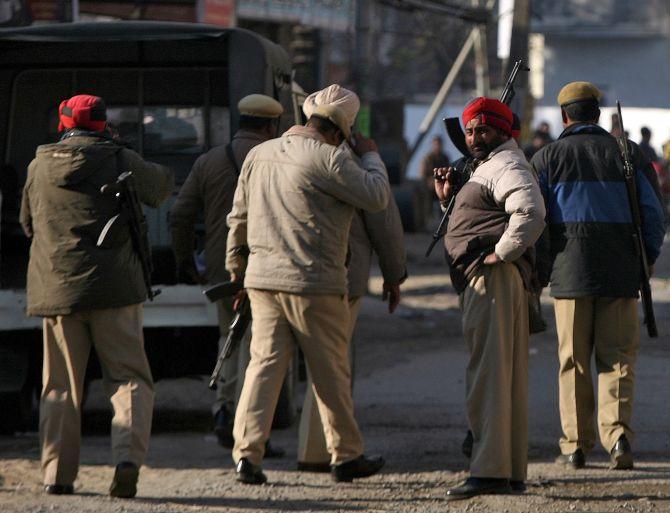 As the anti-terror operation continued at the Air Force base in Pathankot for the third day on Monday, residents expressed anger over frequent cross-border strikes and sought enhanced border security and strengthening of the police set-up even as they feared that such attacks will put their lives in peril.
"We want the government to take immediate measures to enhance security along the border with Pakistan, stop infiltration and strengthen police set-up in these areas to prevent such attacks in future," Ravi Sharma, a local resident and president of the Punjab unit of Akhil Bhartiya Hindu Suraksha Committee, told PTI in Pathankot.
"This is the second and the longest drawn terror attacks in Punjab border districts in the past less than six months. It has created a fear psychosis among the people who had seen the worst days of terrorism in Punjab in the past.
"We want to live in peace as we have already seen the worst and deadly time of terrorism here. We have lost our kith and kins in that terrorism," Sharma said.
The people of Pathankot do not want to see the re-birth of terrorism as they have paid huge prices earlier to bring peace to these border areas.
"We cannot afford to see return of terror to this border state. People are now in perpetual fear while travelling on highways and along the border areas due to apprehension of further attacks," Sharma said.
Similarly, 53-year-old Avtar Singh, who runs a furniture shop near the Pathankot Air Force station, fears that the localities around defence installations and highways have become target of terrorists from Pakistan.
"My shop is very close to this station and is closed for past three days following the attack. Bullets landed up hitting walls of our house. We were scared throughout the night," Singh said, adding the government must take measures to instill confidence in the people and ensure that such attacks do not reoccur.
The attack at Pathankot Air Force Base, in which seven security personnel including one Lt Col of NSG have been killed, came nearly six months after a group of terrorists took over a police station in Gurdaspur in July last year. Seven persons were killed in the July attack.
The residents held dozens of anti-Pakistan protests and burnt effigies of Pakistan as the anti-terror operations continued for the third day.
The Air Force station and its surrounding areas have become a theatre of battle since January 2 as scores of bullets damaged the walls of neighbouring houses and several rounds of bigger ammunition landed on their rooftops, spreading fear among the residents.
"Is this what we get in return from Pakistan... A major terror attack for Prime Minister's peace initiative of extending hands of friendship to Pakistan... This cannot be tolerated," said Amlok Singh, another resident.
The Punjab government has announced a roadmap to check infiltration. Deputy Chief Minister Sukhbir Singh Badal had yesterday announced deployment of a commando battalion and a special SWAT team in Pathankot as a "second line of defence" and also sought deployment of more BSF troops along the state's border with Pakistan.
"It has happened in our territory so we need to take our own initiative and come up with second line of defence," he said.
"I request the Government of India to increase the security along the border with increase in the deployment of BSF at par with that in Jammu and Kashmir," Badal said.