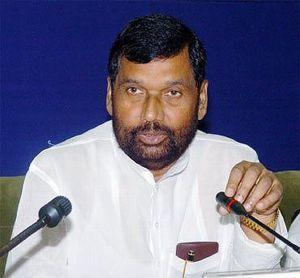 Coming full circle, Ram Vilas Paswan's Lok Janshakti Party, which left the National Democratic Alliance in 2002, is all set to align with in Bihar for Lok Sabha polls, giving a jolt to Congress' plans to have a "secular" alliance with LJP and Rashtriya Janata Dal.
The alliance between BJP and LJP is likely to be announced in a couple of days as the party's parliamentary board authorised Paswan to take a final decision in this regard and did not hide its bitterness towards Lalu Prasad's RJD.
"LJP parliamentary board has passed a resolution that all steps, even if they are strong ones, should be taken in the interest of the party and if an alternative alliance is to be firmed up, party chief Ram Vilas Paswan should take the decision", Chirag Paswan, who heads the parliamentary board, told reporters.
He said that there was a "deadlock" on the issue of alliance between RJD-Congress and LJP.
To a question whether LJP will tie-up with BJP, he said that "all options are now open for the LJP".
The LJP chief said members in the parliamentary board were of the opinion that the option of going with BJP should also be kept open.
Ram Vilas Paswan said :"We had our grievances with RJD for a long time. I had even gone to meet Lalu Prasad in jail. But soon after he was out, RJD leaders started saying LJP should be given three seats. That is why we left to Congress to decide the seat sharing. I waited for months, but there was no decision..
"They assumed that LJP is nothing, it is irrelevant. If one takes 25 seats (RJD) and the other 15 (Cong). It means they do not treat LJP as part of the alliance.... That is why the party has authorised me to explore new alternative".
The LJP had also explored possibility of a tie-up with Janata Dal-United.
To questions whether LJP has no problems aligning with Narendra Modi-led BJP, Ram Vilas Paswan said, "Opinion in LJP is not against going with BJP. A decision on alliance will be taken in 3-4 days since the party has given the responsibility for it....
"The party looks for a new option. It means that there is a deadlock in the old alternative. Our alliance was with the RJD. That option is now deadlocked. There is now no dialogue, no communication."
Several BJP leaders have met Chirag. Talk is that BJP has offered seven seats to LJP, which is pressing for nine seats in Bihar.
BJP MP Shahnawaz Hussain had called on LJP chief a few days back while senior BJP leader Ravi Shankar Prasad had visited Paswan on January 14 on the day of Makar Sankranti.
Ram Vilas Paswan had left the NDA and resigned from the Vajpayee government in the wake of the Gujarat riots in 2002.
LJP was part of the Congress-led UPA from 2004 to 2009 with Paswan being a Cabinet Minister at the Centre.
Paswan's party had been an alliance partner of NDA government but the LJP chief was the first to quit the BJP-led alliance in 2002 post-Godhra riots when Modi was the Chief Minister of Gujarat. Paswan's exit from NDA was followed by some six NDA allies leaving the alliance in quick succession.
NDA had virtually disintegrated paving the way for Congress-led UPA to come to power in 2004.
Paswan had joined the UPA alliance in 2004 and became a Cabinet minister. His party had then got only four seats. RJD chief Lalu Prasad Yadav was Railway Minister in UPA-I.
After a bitter rivalry for some time in UPA-I, the two had inched closer by the end of 2008.
In 2009 Lok Sabha polls, while RJD and LJP fought together, Congress walked out of the alliance.
In 2004, when Congress, RJD and LJP had contested together in Bihar they had won 29 of the 40 seats with RJD winning 22, LJP four and Congress three.
In 2009, when they fought minus Congress, LJP failed to open its account and Paswan himself lost from home turf Hajipur, RJD won only four seats and Congress two.
This time both Paswan and Prasad had shown inclination to ally with Congress. While Prasad met Congress President Sonia Gandhi as well as Rahul Gandhi, Paswan had also held consultation with the Congress Chief on the issue. There where, however, hitches on the issue of seat sharing. PTI
Pawan also dismissed talk of emergence of Third Front noting that even if it means a grouping of non-Congress and non-BJP parties, SP and BSP cannot work together in UP, RJD and JD(U) cannot join hands in Bihar and Left and Trinamool Congress cannot go together in West Bengal.
"Where is the Third Front?"
Paswan, said that he made attempts for alliance with Congress and RJD, met Sonia Gandhi twice but "when things crossed all limits then I left it on the party (to take a call on alliance)".
He also said that he had tears in his eyes when he saw the RJD President in jail after the fodder scam verdict.
"I was restless for last six months for the tie-up. Big parties can carry on even with delay. But small parties need time to prepare for polls. Our party is a small party.
"I met Sonia Gandhi twice. We also met and talked on phone to AICC general secretary in-charge for Bihar C P Joshi twice. It was said that a decision would be taken by December 31 last year. But nothing moved," he said.
Chirag refused to divulge what was the dominant view in the party meeting today, but party leaders speaking on condition of anonymity said that there was no protest from any leader on the issue of a tie-up with the BJP and it is just a matter of time, when the alliance is sealed.