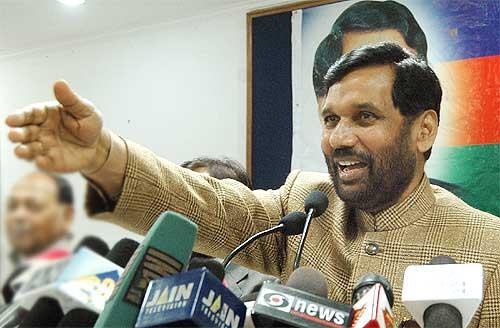 Bharatiya Janata Party President Rajnath Singh on Tuesday told a gathering of Muslim intellectuals and community leaders that his party would bow down to seek forgiveness if it had committed any mistake -- a reference, unmistakably, to the 2002 Gujarat riots.

The previous day, Singh had admitted Dalit leader Udit Raj to the BJP fold. Also, the party has been anxious to stitch an electoral alliance with its former-friend-turned-foe Ram Vilas Paswan in Bihar.

In a matter of 48 hours, the BJP has not only reached out to communities that are not its traditional vote bank – the Dalits and Muslims -- but wooed people from these communities more vigorously than earlier.

In a season of political deal-making, it would seem the party is not only keener to win new friends but is ahead of rival Congress in the game. Its only competition, if at all, has come from regional satraps and the Left parties, which on Tuesday resolved to fight the elections together against both the Congress and BJP.
Party sources said the BJP's outreach to the two communities had the blessings of the Rashtriya Swayamsevak Sangh. Though Singh didn't mention the 2002 Gujarat riots, party insiders suggested the effort was part of the 'Modi for PM:272' campaign.

BJP Scheduled Caste Morcha President Sanjay Paswan told Business Standard an alliance with Paswan's Lok Janshakti Party was, to his understanding, nearly sealed. "It will be a betrayal if Ram Vilasji reneges now," said Paswan, who was a junior minister in the Atal Bihari Vajpayee government.

The party's SC Morcha head claims to have worked for over a year to get Udit Raj in the fold and explore an alliance with LJP in Bihar. He had once been part of the LJP as well. "Paswans are a dominant Dalit community in Bihar. We are six per cent of the population," he said, explaining the rationale behind BJP's anxiety to finalise the alliance.

Sanjay Paswan said both admitting Raj and a possible alliance with LJP would send a positive signal across India about the BJP being friendly to Dalit interests. Of the 543 constituencies, 84 are reserved for SCs. Uttar Pradesh has as many as 17 SC constituencies and, Paswan said, the party would give seven of those to Jatavs, the caste arch-rival Bahujan Samajwadi Party head Mayawati represents.
Paswan, who sits in a room with posters of not only B R Ambedkar but Dalit icons like Jagjivan Ram, Kanshi Ram and K R Narayanan, claims he has faced opposition in the party for his political convictions. None of these icons was ever in the BJP. He says he faced much resistance from leaders for putting these posters. "But Rajnath Singhji and Narendra Modiji supported me," he says, adding up the BJP is undergoing a process of democratisation and is no longer a Brahmin-Baniya party.
Party sources said it should not be assumed the RSS would be unhappy. "These are crucial months in the run-up to the elections. For us, each seat will be important. We need to try and reach as close to the 272-seat mark as possible," said a source. He said the current BJP president was close to the RSS, which had pushed for his appointment as the president, even at the cost of upsetting veteran L K Advani.

A BJP-LJP alliance will be a major jolt to the Congress's efforts in Bihar to put together "a secular alliance and stem the BJP-led communal forces". The Congress is hoping to still wean away Ram Vilas Paswan to its side, since no camp has yet made an official announcement. There have only been claims that "talks are on" and backroom deals are learnt to be underway to decide how parties will align themselves.

According to sources, the LJP is bargaining hard for seven to eight seats in Bihar, while the Congress camp is not willing to offer more than five. Among the contentious seats both parties are fighting is Jamui, from where Ram Vilas Paswan wants to field his son, Chirag Paswan. The Congress camp has reportedly been opposed.

From the Congress side, senior leader Ahmed Patel and Congress General-Secretary CP Joshi were spearheading the talks. The gambit to prolong the talks with the LJP chief does not seem to have worked in the Congress's favour; it has given Paswan the window to hammer out a far more favourable deal with BJP. The BJP, according to sources, is willing to offer LJP six to seven seats.

The Congress hopes another round of talks with LJP might help sort out issues. "Let's take Jamui, for instance. We will give it up, if need be," said a Bihar leader. "We cannot overlook the fact that Paswan holds sway over five per cent of votes and could bring in the much-needed Dalit vote we need," he added.

The Rashtriya Janata Dal's Lalu Prasad, who was present at a meeting called by the Congress chief at the party's 'war room' in the capital Monday evening, was on Tuesday fire-fighting to keep his own party unit intact in Patna. It was reported that 13 of his 22 legislators had switched sides and extended support to the Nitish Kumar government. Prasad claimed it was Kumar's conspiracy to poach his party's legislators.

The Congress is watching the events in Patna closely, as it will impact the nature of political formations that might materialise in the run-up to the Lok Sabha elections.
Image: Ram Vilas Paswan.