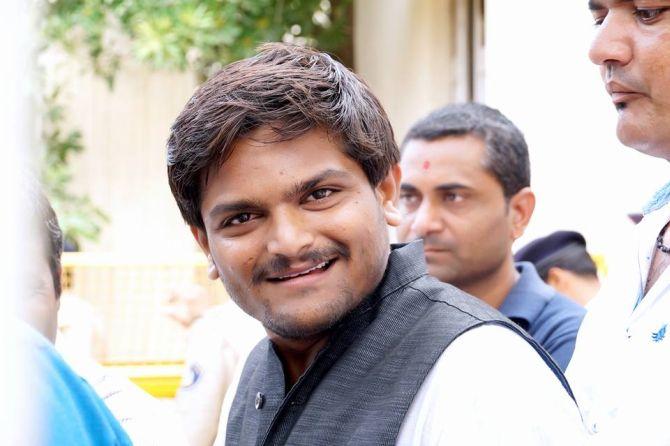 In a partial relief to Patel quota agitation spearhead Hardik Patel, the Gujarat high court on Tuesday dropped the treason charge against him for which death sentence is the maximum penalty but declined to quash the sedition charge that is punishable up to life term.
Justice J B Pardiwala, after hearing the arguments, ordered the removal of three Indian Penal Code sections in the First Information Report – Section 121 (waging war against the government), 153-A (promoting enmity between different communities) and 153-B (assertions prejudicial to national integrity) -- against Hardik and five of his close aides.
The court, however, refused to drop IPC Sections 124 (sedition) and 121-A (conspiracy to wage war against the government), which attract punishment of life imprisonment or up to 10 years.
In October, the Crime Branch had lodged an FIR against 22-year-old Hardik and five of his close aides under charges of sedition and waging war against the government.
Later, Hardik, Chirag Patel, Dinesh Bambhaniya and Ketan Patel were arrested. They are currently behind bars.
Two other aides of Hardik--Amrish Patel and Alpesh Kathiriya -- were not arrested as the high court had granted them interim protection.
In another development, the high court today extended their interim relief from arrest for another 15 days.
This was the second sedition complaint against Hardik after he was booked under the same charge by the Surat Police.
In November, Hardik and others moved the high court to set aside the FIR against them, claiming that their protest to seek reservation for Patel community does not amount to 'sedition or waging war against the government'.
During the arguments on November 2, public prosecutor Mitesh Amin had strongly defended the stand of crime branch for slapping stringent charges against the Patel leaders, stating that the FIR is based on the call interceptions made by it.