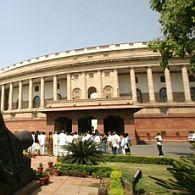 Parliament failed to transact any business for the fourth consecutive day on Friday with Opposition creating uproar over coal block scam and other issues, stalling proceedings in both Lok Sabha and Rajya Sabha.
Sharpening its attack on the government on the coal issue, BJP was adamant on its demand for resignation of Prime Minister Manmohan Singh and dismissal of Law Minister Ashwani Kumar, while the Left raised the issue of alleged nexus of chit fund companies and politicians in West Bengal.
In the Rajya Sabha, SP members trooped into the Well protesting the questioning of senior party leader Azam Khan at Boston airport. "America ki dadagiri nahi chalegi, nahi chalegi (America's high-handedness will not be tolerated)," SP members shouted.
All India Anna Dravida Munnetra Kazhagam members held newspapers carrying reports that the lawyer wife of a senior UPA minister took money from the West Bengal chit fund fraud case accused.
While the Upper House witnessed three adjournments before it was adjourned for the day, there were two adjournments in the Lok Sabha as members from BJP, BJD, SP, Trinamool Congress and Left stormed the Well shouting slogans.

When Lok Sabha reassembled after an adjournment earlier, BJP members walked into the Well raising slogans against the Prime Minister over alleged attempt by some ministers to influence CBI probe into the coal scam.

Left members were also in the Well raising the chit fund issue. Interestingly, Trinamool Congress members were also in the Well on the same issue, raising slogans like "chit fund ke zimmedaar mantri, isteefa do" (ministers involved in the chit fund scam should quit) and chit fund bandh karo (stop chit funds).
BJD members displayed placards in the Well seeking special financial package for Odisha, while AIADMK members showed newspaper copies to demand ouster of P C Chacko as the head of JPC on 2G spectrum scam.
Similar scenes were witnessed in the Rajya Sabha. As the din continued even after two adjournments in the pre-lunch sitting, Deputy Chairman K Rahman Khan adjourned the House for the day. Earlier, both the Houses witnessed the first adjournment within minutes after they met at 11am.