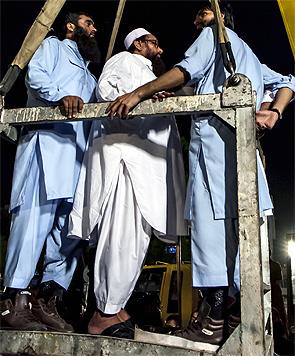 The 26/11 trial going on in Pakistan may end up being a mere farce, Indian investigators tell Vicky Nanjappa
The fifth anniversary of the 26/11 attack on Mumbai may be around the corner, but Pakistan is in no hurry to punish those who masterminded the worst terror strike in India's history.
And the ongoing trial of 26/11 suspects, arrested by investigators in Pakistan, is nothing more than a cruel joke on India.
Lashkar-e-Tayiba founder Hafiz Saeed, the mastermind of 26/11, is still a free man.
Zaki-ur-Rehman Lakhvi, a top Lashkar operative who was thrown behind bars for allegedly orchestrating the attack, enjoys a lavish lifestyle in jail.
Mohammad Safiullah Khan, a crucial witness who had seen the ten terrorists who attacked Mumbai leave the shores of Pakistan, recently took the stand at the 26/11 trial.
He was constantly interrupted and his testimony, fear Indian intelligence agencies, was an exercise in futility.
Khan, who appeared nervous, could not give proper answers when he was asked to identify the ten terrorists.
Since the 26/11 terror strike was launched from Pakistan, Islamabad is bound to have more evidence about the attack, believe sleuths of the National Investigation Agency.
India had little proof beyond arrested terrorist Ajmal Kasab's statement but managed to build an entire case on its basis. New Delhi has also handed over evidence running into 600 pages to Pakistani investigators.
The trial going on in Pakistan may end up being a mere farce, warn Indian investigators, adding that the court may convict only the ten terrorists who attacked Mumbai -- nine of them were killed during the siege while Kasab was hanged later.
The court may also convict some inconsequential players in the 26/11 attack plan, such as the owners of the boat used by the attackers.
Pakistani authorities have claimed that the evidence about Lashkar leaders like Saeed, Lakhvi, Sajid Mir, Major Iqbal and Major Samir Ali are based on intelligence inputs, which cannot be used in a court of law.
Indian agencies point out that Islamabad can carry out its own investigation but is reluctant to do so.
They claim that Lakhvi has been imprisoned not for his terror activities, but to safeguard him from United States' relentless drone attacks.
Pakistan has no intention of ever convicting the actual planners of 26/11 like Lakhvi or Saeed. In fact, they have not even taken the revelations made by convicted LeT terrorist David Headley, who conducted reconnaissance of several 26/11 targets, into consideration.
India is frustrated with the snail-like pace of investigations into the terror strike, as Islamabad already has access to enough evidence, given that the attack was launched from Pakistani soil.
Islamabad, meanwhile, wants to prove that that a rogue group within the Lashkar carried out this attack.
Pakistan fears that if the government acts against either Saeed or Lakhvi, the considerable number of supporters the two Lashkar leaders have can disrupt the already fragile law and order situation in the country.
The duo can even hit back by either spilling the beans on Pakistani spy agency Inter Services Intelligence's role in the 26/11 attack or stalling the 'battle' going on in Kashmir.
Unlike terror outfits like Taliban and Al Qaeda, Lashkar has remained loyal to its mentor ISI and is considered a strategic ally of the Pakistani establishment.
So it is difficult to imagine how a Pakistani court of law will find some of the top-most LeT operatives guilty for the 26/11 attack.
Image: Hafiz Saeed (second from left) is lifted up with a crane to the top of a container used as a podium to address his supporters during a rally ' Photograph: Zohra Bensemra/Reuters